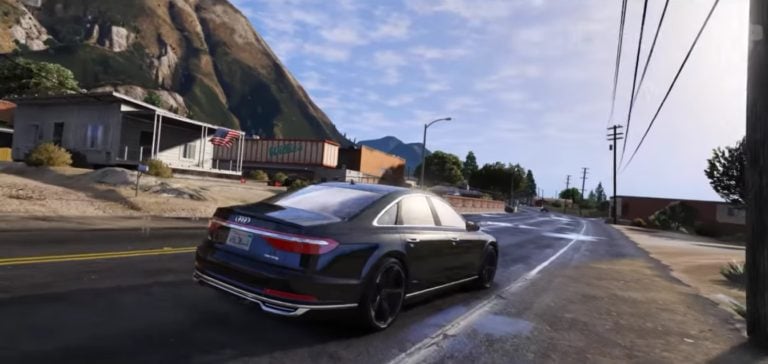 While GTA 5 continues to thrive due to its impressive online mode, all eyes are set on GTA 6 with hopes that the title will improve upon its already-impressive predecessor. New information suggests a new setting and release date for everyone's favorite crime-filled action title.
Grand Theft Auto: Rockstar's Cash Cow
While many studios have had to struggle to find a formula that works for them, Rockstar struck gold with the release of Grand Theft Auto. The series has stood the test of time for decades at this point, and there's no doubt that GTA 6 will provide us with a fresh take on this incredibly successful franchise
Fund Manager Profile: Kris Sidial Of Tail Risk Fund Ambrus Group
A decade ago, no one talked about tail risk hedge funds, which were a minuscule niche of the market. However, today many large investors, including pension funds and other institutions, have mandates that require the inclusion of tail risk protection. In a recent interview with ValueWalk, Kris Sidial of tail risk fund Ambrus Group, a Read More
GTA 5 provided us with the largest world to explore, and thousands of players continue to explore the city of Los Santos both in single player and in the thriving online community of GTA Online. Although Los Santos was a new area for Rockstar to build upon, it certainly paid homage to the world of San Andreas – and it's a possibility that we'll see something similar in cities moving forward.
Unlike other series that see near-yearly releases, the world of Grand Theft Auto takes years to develop. With much of the real currently focused on putting the finishing touches on Red Dead Redemption 2 – another wildly successful Rockstar franchise – the release of GTA 6 may yet be a couple of years away. If there's one thing that's certain, however, we'll likely see one of the most polished and expansive titles to date. Rockstar has repeatedly one-upped themselves with each Grand Theft Auto release, and some have worried whether the scope and expectations of the game have grown too large. Rockstar always takes their time with games and release dates have often been pushed back, but at the end of the day we're often left with a masterpiece with the staying power to impress gamers for years to come.
Where Will GTA 6 Be Set?
New information comes from YouTubers "The Know", and they have been pretty reliable in terms of previous leaks and releases. However, as with any information about an upcoming game from sources other than the initial developer, it's important to take this news with a grain of salt. With that said, this is some of the best info we have thus far regarding the setting and features of GTA 6 and fans are chomping at the bit to understand what Rockstar had in store for their upcoming game, so this tidbit – however speculators – is certainly worth discussing.
According to the YouTube channel, GTA 6 will be located in Vice City – a locale we've visited in previous games that will likely be quite familiar to fans of the Series. However, with that said, there is no doubt that the GTA 6 version of Vice City will be a significantly upgraded version of what we've seen before – likely surpassing the already-expansive map of GTA 5.
For those who are unaware, Vice City is Rockstar's fictional version of Miami. Back when the first iterationof this setting released 16 years ago, the game was lauded for its 1980s setting and a story that put many other action and adventure titles to shame.
The question remains, however, whether this iteration of Vice City coming with GTA 6 will be also set in the past or if it will be a more modern take on the environment. With the last couple of games giving us a modern playground to run wild in, it wouldn't be surprising to see something similar with GTA 6. However, there's always the possibility that Rockstar will do something unexpected. While the company has arrived at a method of making great games that works for them, they have the skill and the following to do something a little different with this next installment and still see a massive success. As long as we see a crime-centric and enjoyable shooter with an engrossing story and progression that keeps us coming back for more, it's likely that Rockstar will continue to see the massive success to which they've become accustomed.
When is the GTA 6 release date?
While everyone is excited and anxiously anticipating the release of GTA 6, it's looking like we'll be in for a bit of a wait. As mentioned above, the next major release for Rockstar is Red Dead Redemption 2 – the hotly anticipated sequel for the company's incredibly successful open world Wild West rpg. With all hands on deck, development on GTA 6 is no doubt slowed. Once we see the Red Dead title released later this year, all of the development resources will likely be dedicated to bringing our next trip to Vice City to life in an impressive and expansive GTA 6.
As for the release date of GTA 6, the exact window is anyone's guess. Many believe that we won't see the title until 2021, which is quite a long time from now. With the incredible profits continuing to pour in from GTA 5 Online, there doesn't really seem to be a rush to get GTA 6 to market – at least from a financial perspective. With a large amount of time and a release date years in the future, Rockstar should have ample time to deliver a polished title we'll all grow to love.
Until we get closer to an announcement, we largely have to rely on speculation and rumors to get a vague sense of what is coming with GTA 6. However, fans likely have little to worry about. With the impressive team at Rockstar at the helm, we're no doubt in for a treat when 2021 or 2022 rolls around. While we wait, we'll have to be content with exploring the continued releases Rockstar continues to pour out for GTA Online.