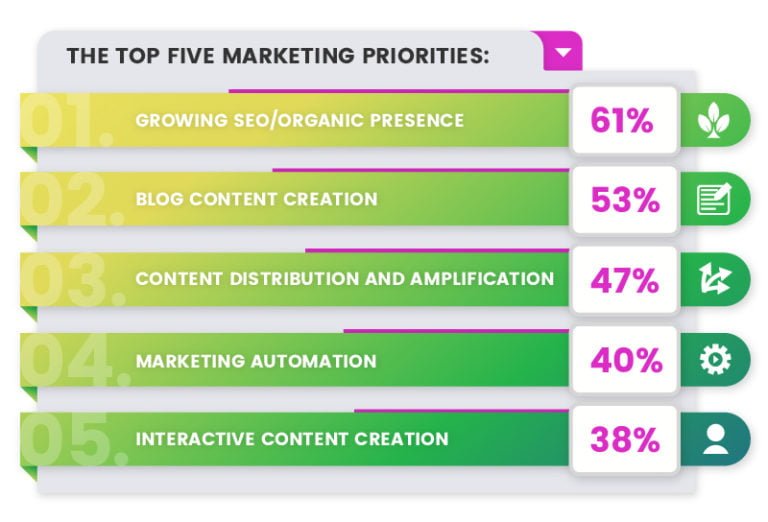 Research reveals just 61% of 6,399 global professionals believe their marketing strategy is effective. Considering this, online marketing and SEO specialists, Reboot sought to investigate how companies feel toward marketing in 2018 – establishing what is a priority, challenge and trend in their hopes of generating traffic towards their websites and mediums.
Reboot utilised the report State of Inbound by HubSpot to refine their research and found several facts and points to highlight. Points which won't fail to revitalise marketing plans across the globe, this new year.
It is proven, in 2018, 70% of marketers will focus on converting leads into customers and a further 55% will focus on growing traffic to their website. In fact, to combat lack of faith and disappointment in their 2017 marketing strategy, many marketers will focus on growing SEO/organic presence (61%), creating new blog content (53%) and where and how they choose to distribute and amplify their content (47%), above any other marketing priorities.
Gates Capital Management Reduces Risk After Rare Down Year [Exclusive]
Gates Capital Management's ECF Value Funds have a fantastic track record. The funds (full-name Excess Cash Flow Value Funds), which invest in an event-driven equity and credit strategy, have produced a 12.6% annualised return over the past 26 years. The funds added 7.7% overall in the second half of 2022, outperforming the 3.4% return for Read More
The top five marketing priorities, 2018:
Growing SEO/organic presence – 61%
Blog content creation – 53%
Content distribution and amplification – 47%
Marketing automation – 40%
Interactive content creation – 38% The
The most over-rated marketing tactics were also revealed in the research, defined as: paid advertising (print, outdoor, broadcast) – 32%, social media organic – 13% and online paid advertising (social media ads, PPC) – 11%. These factors established as "least priority" in any digital marketing plan, moving forward into 2018.
However, with change comes challenge. Echoing their priorities, marketers today have expressed they feel " generating traffic and leads" (63%) to be their biggest challenge, followed by proving ROI (return on investment) – at 40%, and securing budget (28%) for marketing programs.
The top five marketing challenges, 2018:
Generating traffic and leads – 63%
Proving the ROI of marketing activities – 40%
Securing budget – 28%
Identifying the "right technologies" – 26%
Managing the company website – 26%
Alongside this, global professionals identified the main disruptors in marketing – moving into 2018 – to be: Artificial intelligence (A.I.), Virtual Reality (V.R.) and social platforms.
Interestingly, just 61% of company respondents are happy with their marketing strategy, and believe it is effective. To combat this, Reboot chose to look at five effective marketing swaps to transform your business in 2018.
Shai Aharony, managing director or Reboot exclusively comments:
"Keeping on top of your digital marketing strategy is a must in 2018. Many companies feel safe treading the boards they've always known – but what is familiar is not always what is effective.
2018 is a key time to replace old marketing tactics, with those that are innovative; those that will breathe new life into your business.
Think swapping big, complex text for short, visual stories. You won't believe the difference it will make to your marketing plan – and your ability to attract and secure new leads.