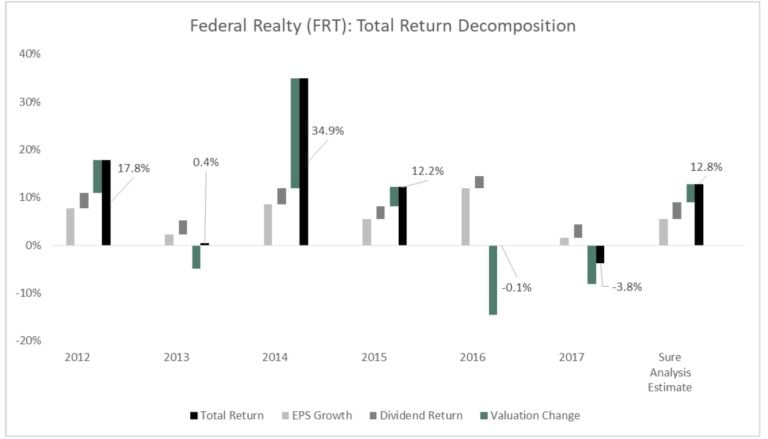 Key Metrics
Q1 hedge fund letters, conference, scoops etc, Also read Lear Capital
Guy Spier And Mohnish Pabrai On What Makes A Great Investor
"I am a better investor because I am a businessman, and a better businessman because I am no investor" - Warren Buffett In the past, the value investor Mohnish Pabrai has spoken about why investors need to have some first-hand business experience. Pabrai started his own IT consulting and systems integration company, TransTech, Inc, in Read More
ValueWalk readers can click here to instantly access an exclusive $100 discount on Sure Dividend's premium online course Invest Like The Best, which contains a case-study-based investigation of how 6 of the world's best investors beat the market over time.
Overview & Current Events
Federal Realty is one of the larger REITs in the US. Its terrific track record of growth since its founding in 1962 has afforded shareholders strong returns over the long term. FRT concentrates in high-income, densely-populated coastal markets in the US, allowing it to charge more per square foot than its competition. FRT's market cap is $8.5B today.
The company's recent Q4 report showed moderate levels of growth as comparable operating income grew 2.6% and new signed leases continued to move up average revenue per square foot. Strong guidance for FFO growth of 6% to 9% was given for this year as management is optimistic for a return to higher levels of growth starting in 2018.
Growth on a Per-Share Basis
We use Funds-From-Operations instead of EPS for REITs as the latter is messy and uninformative for this industry. FFO gives us a true idea of how much income a REIT produces without quirky accounting rules muddying the waters.
FRT's FFO hasn't dipped year-ove-year at any point in the past decade, a tremendously impressive feat given that we had the Great Recession and that FRT is in the highly cyclical real estate sector. While growth numbers haven't always been huge, the simple fact that FRT has such an impressive track record of safety and stability when it comes to FFO makes it one of the most desirable REITs in the market. We are forecasting 5.5% annualized FFO growth for the next five years in a continuation of this trend, with 2018 in the 6% to 9% range.
FRT's growth will be comprised of a continuation of higher rent rates on new leases and its impressive development pipeline fueling asset base expansion. Margins are expected to continue to rise slightly as FRT redevelops pieces of its portfolio and same-center POI continues to move higher. This will also allow for its dividend to continue to rise in the mid-single digits moving forward as the payout continues to be well-covered by growing FFO.
Valuation Analysis
FRT is actually cheaper right now than it has been for much of the past decade. The years between 2011 and 2016 saw a sizable, sustained rise in the valuation based upon FFO but the past two years have seen the stock drift steadily lower. FRT's current P/FFO using expected 20128 FFO is just 18.8 and we are therefore forecasting a 3.8% tailwind to total annual returns from a return to a more normalized valuation; FRT looks very cheap indeed and in particular, when one considers that the fundamentals haven't deteriorated. The development pipeline looks as strong as ever and thus, FRT looks like good value here.
Based upon a return to a more normalized valuation, a rising stock price will outpace the growth in the dividend and as a result, the yield on the stock will fall from today's level – which is high by historical standards – back to a more
normalized level. Investors surely won't begrudge this as it means capital returns will be strong. Indeed, FRT's yield is one more way to see plainly that the stock is very cheap right now.
Safety, Quality, Competitive Advantage, & Recession Resiliency
FRT's quality metrics have remained very steady throughout this period and thus, haven't improved or deteriorated. FRT's management has seemingly found the financing mix it prefers – roughly two-thirds of assets financed by debt – and interest coverage is strong for a REIT as a result, given FRT's strong operating income rates and relatively conservative debt usage. There are certainly no concerns about profitability as margins continue to creep higher, and the company's balance sheet is clean. No major changes are forecast for FRT's quality metrics going forward, which is a good thing considering it is simply continuing a favorable historical pattern.
FRT's competitive advantages include its superior development pipeline, its focus on high-income, high-density areas and its decades of experience in running a world-class REIT. These qualities allow it to perform admirably and even grow through recessions at times when some of its lesser peers struggle to keep the lights on.
Final Thoughts & Recommendation
We are forecasting total annual returns of 12.8% going forward comprised of 5.5% FFO growth, the current 3.5% yield and a valuation tailwind of 3.8%. FRT is a high-quality name that is on sale today and offers not only capital appreciation potential, but a strong and growing yield as well. FRT is therefore a good pick for someone that is seeking value, a strong current yield, or a safe and growing dividend. This is a truly unique opportunity to own a best-in-class REIT for a valuation that is cheap by historical standards and a commensurately high yield.
Total Return Breakdown by Year
Article by by Josh Arnold, Sure Dividend
ValueWalk readers can click here to instantly access an exclusive $100 discount on Sure Dividend's premium online course Invest Like The Best, which contains a case-study-based investigation of how 6 of the world's best investors beat the market over time.