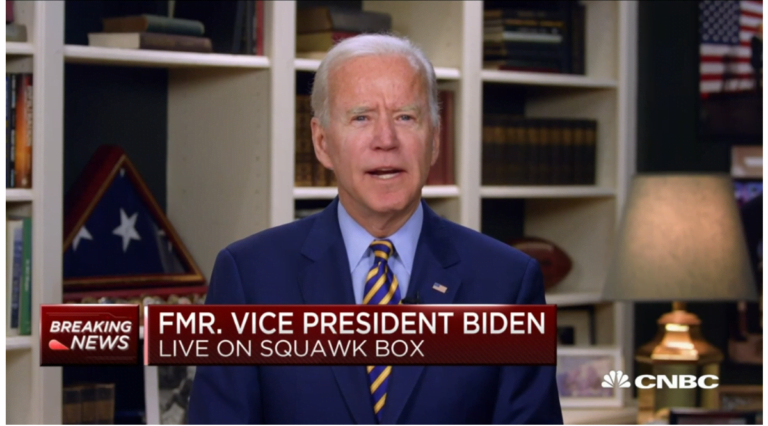 Emerging markets are going to love Joe Biden (except for China perhaps) By Alexey Kirienko, co-founder of international investment firm, EXANTE.
Q3 2020 hedge fund letters, conferences and more
According to US website BETFAIR, the odds of Joe Biden winning the US November presidential contest exceed 65%. Most of the opinion polls conducted in the US point out to the same outcome. What would Biden's victory imply for emerging markets?
Gates Capital Management Reduces Risk After Rare Down Year [Exclusive]
Gates Capital Management's ECF Value Funds have a fantastic track record. The funds (full-name Excess Cash Flow Value Funds), which invest in an event-driven equity and credit strategy, have produced a 12.6% annualised return over the past 26 years. The funds added 7.7% overall in the second half of 2022, outperforming the 3.4% return for Read More
Biden's Victory: Implications For Emerging Markets
In spring 2020, US journal Foreign Affairs published an article by Joe Biden outlining changes to the US foreign policy that he would implement should he become the next US President. In the article, entitled Why America Must Lead Again, he pledged to make fighting corruption, defending against authoritarianism, and advancing human rights as his foreign policy priorities.
Under Biden, the US is likely to return to the rules-based framework of international trade. According to Biden, he believes in fair trade and wants to take down trade barriers separating nations. He wrote that the US, not China, should be leading the process of writing the rules of international trade. Following a delay by the Trump administration, the new cabinet will likely appoint judges onto the WTO panel for international dispute resolution, which would allow WTO members to resume resolving international trade disputes using WTO bodies.
In his April foreign policy manifesto, Biden included his views on the required direction of policy towards several key emerging market nations, starting with China. In the US, the need in stringent China policy has become a bipartisan consensus during Trump's presidency. Containing China is likely to remain the issue dominating America' foreign policy agenda during the next presidential term. However, as Biden's administration should be more open to free trade, it is unlikely to pursue China for not complying with the Phase One trade deal negotiated by Trump's administration. Biden is not going to harangue China for having a sizeable trade surplus with the US.
Biden emphasised that the US would fight China's practice of using subsidies to give its companies an unfair advantage. However, according to him, it would seek to cooperate with China on issues where their interests converge, such as non-proliferation of weapons, global health challenges and climate change. The relationship between the US and China will remain competitive but move into a more constructive mode during Biden's presidency.
A generally softer tone would not mean that the Biden administration would backtrack on all policies that emerged during Trump's presidency. In Biden's words, "the United States does need to get tough with China". The US will keep widening the split in the global technology sector that began with the ban on 5G equipment produced by Huawei. The US authorities will continue to identify and seek to exclude from the US markets all Chinese companies whose equipment could potentially pose a security threat.
More Investment In Research And Development
As for the competition in the fields of clean energy, quantum computing, AI and 5G, Biden believes that more investment in R&D in the US is the way to go. Given Biden's roots in the American working class, he is likely to continue pursuing an industrial policy aimed at moving production back into the US.
Given Biden's emphasis on green policies, the US will push China, who is the largest emitter of carbon dioxide, to cancel subsidies for coal exports and stop financing energy projects using other "dirty" fuels, such as oil and gas, under its Belt and Road initiatives.
In the benign scenario, the decoupling of the two giant economies is going to be gradual and will not undermine China's ascent. With USD gradually weakening vs the major currencies, the strengthening of the renminbi is going to be the other side of the coin. As geopolitical tensions between them persist, both US and China will invest less directly into each other's economies via participation in equity capital. That said, the US investors should continue to plough money into China's domestic bond market, lured by juicy yields. On the other hand, a big question mark is hanging over China's future appetite for US Treasuries.
The impact of Biden's presidency on other emerging economies in Asia is going to be mostly positive. The breaking up of China-based supply chains that began under Trump should benefit China's smaller neighbours with cheaper labour, such as Vietnam (which has already won from the early stage of this process), Cambodia and Myanmar.
Fortifying Relations With US's Strategic Partners In Asia
In his article, Biden pledges to fortify links with US's strategic partners in Asia (Japan, South Korea and Australia) and to deepen partnerships "from India to Indonesia". It is hard, however, to predict how the US relations with India are going to develop, given the autocratic and nationalist tendencies of the latter's current leader, Narendra Modi. The only area where their future cooperation seems secure is defence, given the growing rift between India and China.
The Middle East is likely to be one of the critical areas of foreign policy changes under President Biden. Diplomacy will likely become the weapon of choice in dealing with Iran, and the likelihood of US actions potentially causing shocks for the oil market, such as the January 2020 assassination of Qasem Soleimani, the commander of Iran's Quds Force, will diminish. Biden administration is likely to re-enter negotiations with Iran to revive JCPOA (the multilateral deal on nuclear weapons), signed in 2015. Iran, which has been hit hard by the multi-year recession, should willingly return to the negotiations table.
The US stance on other Middle East countries may also undergo significant changes under President Joe Biden. Saudi Arabia will probably be the biggest net loser from the changes at the helm in the US. Under Joe Biden, the US is going to have less tolerance towards the breaches of individual freedoms in the country. Biden has specifically mentioned that the war in Yemen needs to end. The US may exert pressure on crown prince Mohammed bin Salman to stop the military campaign there and reassess its ties with the kingdom if violations of human rights continue.
US policy towards Israel is likely to return to the principles followed by Obama's administration. Biden's administration is less likely to give the green light to Israel's claims on Palestinian territories. However, the US is going to remain Israel's stalwart ally; according to Biden, its commitment to Israel's security is "ironclad".
Policy On Latin America
Election of Joe Biden could herald a shift in the US foreign policy towards more active involvement and a greater influence on Latin America. Biden understands the issues facing its countries and has a particular interest in the region. During his vice-presidency, Biden visited Latin America 16 times; he practically oversaw Obama cabinet's policy on this region.
During Biden's tenor as the US vice-president in 2013-2017, he secured bi-partisan support for a $750mn assistance programme for El Salvador, Guatemala and Honduras against their leaders' commitment to fight corruption and reduce poverty and violence. Its results had been mixed; the anti-corruption efforts under the programme were most successful. In his April article, Biden mentioned a comprehensive four-year $4bn strategy to build on the lessons from his previous initiative. If implemented, the new regional programme could lead to a reduction in migrant flows from Central America to the US via Mexico. As it would require governments to contribute their funds and undertake reforms, it could potentially improve the economic outlook and creditworthiness of these countries.
Sanctions against Venezuelan President Nicolas Maduro and his government began under President Obama and Vice-president Biden. Biden is unlikely to lift the sanctions that multiplied under Trump. Biden is also unlikely to approve an outright military intervention to overthrow Maduro's regime. It would be perhaps too optimistic to expect the Venezuela problem to be resolved during Biden's presidential tenure.
Under Biden's leadership, the US will seek to strengthen NATO and improve its relations with its members. There will be one notable exception – Turkey, which has recently gone rogue and purchased S-400 anti-aircraft defence systems from Russia. Turkey has also annoyed other NATO members, in particular Greece and Cyprus, by beginning exploration for oil and gas in their territorial waters. Unlike Trump, who seems to hold personal admiration for Eurasian strongmen, Biden is unlikely to turn a blind eye on Turkey's actions contradicting the interests of the US and NATO in the Middle East and the Mediterranean. The likelihood of the US sanctions against Turkey will rise during Biden's presidency.
Tightening Of The US Sanctions Regime Against Russia
Finally, Biden has emphasised that he is going to be tough on Russia. It is premature, however, to expect a substantial tightening of the US sanctions regime against Russia under Biden's leadership. We recall that when Trump was elected US President in 2016, many observers expected him to be "soft" on Russia due to his fascination with its leader, Vladimir Putin. Nevertheless, Trump's administration introduced several rounds of new "biting" sanctions against the Russian state and major businesses.
While it is hard to imagine a scenario in which a Democratic administration would relax Russia sanctions, the process may lose steam during Biden's presidency as there is not much gunpowder left in the US Treasury arsenal. It will also be up to Russia whether it chooses to engage in activities that could prompt further US sanctions. That said, the new Biden administration will likely impose sanctions for the poisoning of Russia's opposition leader Alexei Navalny. These sanctions are unlikely to be approved until spring 2021 and will likely target Russia's officials rather than sectors of the economy or large companies.
On the positive side, Biden has announced that he would pursue an extension of the New START treaty, which he considers an anchor of strategic stability between the US and Russia. Biden also said that he would use it as a basis for new arms control treaties. On 16 October, Putin instructed his foreign minister to relay a proposal to the US to extend the New START, which is expiring in January, for another year on the same terms. The current US policy team turned it down. What is positive though is that Russia also seems to be willing to talk. A resumption of the dialogue on nuclear non-proliferation between the two nations would be a good sign for Russian markets.
Development Of The US Domestic Policy
What matters for all emerging markets is how the US domestic policy is going to develop during the next presidential term. The crucial question is whether the Democrats manage to win the 2020 elections in a clean sweep, i.e. secure control of the presidency and also of both houses of the US Congress. From emerging markets' perspective, Biden's victory would be the most favourable outcome. The clean Democratic victory would ease the passage through the US Congress of the additional fiscal stimulus that the US economy needs very badly. The new assistance package would generate positive spill-over effects for the global economy and cheer up markets for EM assets.
An additional reason why Biden's victory could lift emerging market asset prices is the trend for the weaker US dollar that is likely to prevail during his presidency. During Trump's term, the significant fiscal easing in the US resulted in the over-performance by the US economy and markets. They sucked in capital from all over the world, which led to the strengthening US dollar. The easing of trade tensions and the more predictable US foreign policy should create conditions for the better global economic sentiment. It should make assets of other economies more attractive and cause the gradual unwinding of the dollar strength. This phenomenon would prop up EM currencies and make servicing dollar-denominated debt easier for EM sovereigns.
Finally, during the current presidential term, global markets have often suffered from bouts of volatility on the back of President Trump's tweets. As Joe Biden is unlikely to use his Twitter account in the same way, EM assets could benefit from relative stability while he is in office.