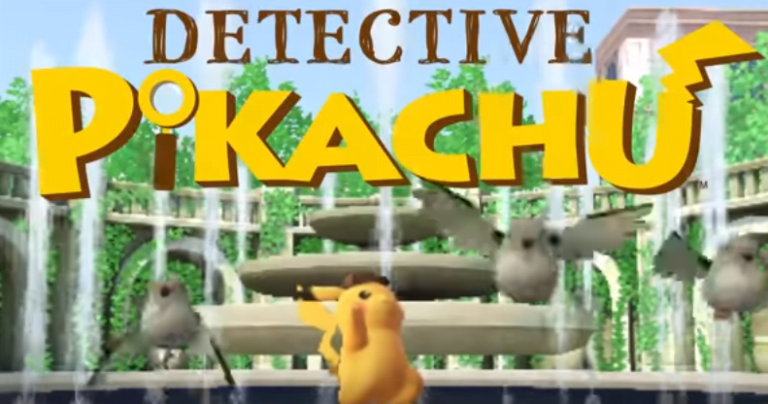 Detective Pikachu will finally arrive in North America and Europe on March 23. The Pokemon Company launched the title last year in Japan, but until now, there has been no information on when the game will reach the rest of the world. The game is a Nintendo 3DS exclusive.
Detective Pikachu gets a huge Amiibo
Detective Pikachu features a talking Pikachu and his pre-teen human sidekick. Detective Pikachu can even shoot, and in the game, he is helping a boy named Tim find his father. The Pokemon Company has released a new trailer for the game, along with a Detective Pikachu Amiibo. This Amiibo is much bigger than the standard figures, and when used in the game, it provides players valuable hints to solve the case.
A live-action movie adaptation of the title is also in the works, with Ryan Reynolds donning the character of Pikachu. The film also stars Big Little Lies actress Kathryn Newton and The Get Down actor Justice Smith and is set for release on May 10, 2019. The movie's script is being written by Nicole Perlman (Guardians of the Galaxy) and Alex Hirsch (Gravity Falls).
Gates Capital Management Reduces Risk After Rare Down Year [Exclusive]
Gates Capital Management's ECF Value Funds have a fantastic track record. The funds (full-name Excess Cash Flow Value Funds), which invest in an event-driven equity and credit strategy, have produced a 12.6% annualised return over the past 26 years. The funds added 7.7% overall in the second half of 2022, outperforming the 3.4% return for Read More
Rare Pokemon coming soon
In other Pokemon news, a new line of code for the game Pokemon Go has surfaced, suggesting the existence of a new or rare Pokemon similar to Unown. For now, Unown is one of the rarest Pokemon with over 20 different variations, each based on a different letter of the alphabet. Being a rare Pokemon, Unown is frequently brought to various live events, notes comicbook.
A Reddit user claimed that Chimecho could be the next "Super-rare" Pokémon. The recently revealed code indicate that players would get 1,000 Stardust for capturing a single Chimecho. Pokemon is surely offering much more for an un-evolved Pokemon, indicating that players will be rewarded handsomely whenever they find one.
Introducing a rare Pokemon will surely help increase the popularity of the game, something that the company does from time to time. Similarly, during the recent Christmas event, Pokemon Go offered players a limited chance to capture special Pikachu wearing festive hats. They were the same Pikachu that were released in 2016.  Players were also given an opportunity to purchase special boxes in the in-game store to get hands-on Super Incubators, new Star Pieces and Lure Modules.
Bad news for iOS users
In an important development, iPhone users who are still using the older version of iOS will not be able to play the game. Recently, Pokemon Go developer Niantic announced that the latest update, which is based on Apple's ARKit, will offer a better augmented reality experience. However, devices that cannot run iOS 11 will be barred. Niantic stated that the update will roll out starting at the end of February.
"Trainers using affected devices may no longer be able to access their Pokémon GO accounts from that device, or use their PokeCoins or other items in their Bags. They will need to switch to a supported device to continue playing Pokémon GO," Niantic said.
Certainly, this is not good news for users who are not planning to upgrade to a newer Apple device anytime soon.