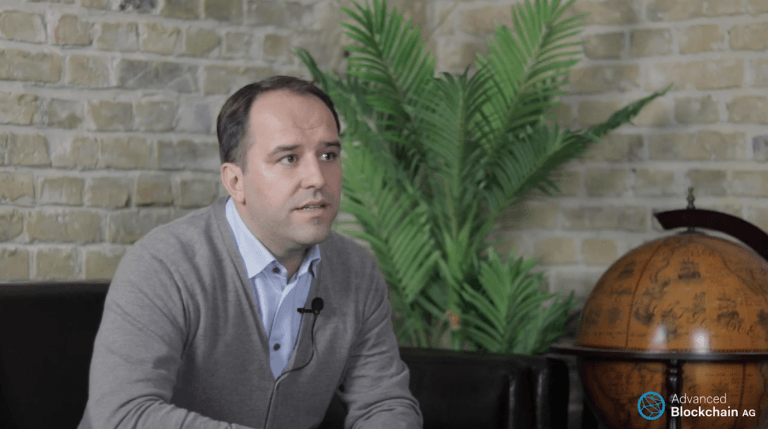 At the start of 2018, the cryptocurrency bubble popped. By September of that year, cryptocurrencies had collectively lost more than 90% of their value, making the crypto bubble burst bigger, in percentage terms, than that of the dot-com bubble in 2002. Nobody came closer to predicting the burst of the 'bitcoin bubble' than Sebastian Markowsky. His prediction in a report titled "Token Frenzy – the fuel of the blockchain," was almost perfect, predicting not just the size of the sell-off but also when it would happen.
The report is one of the most read and most acknowledged reports on crypto and blockchain in the tech world, having reached an estimated audience of over 100 million people globally. Mr. Markowsky was Director at GP Bullhound, an investment bank based in London, at the time of the prediction. He's since left the firm to dive into the blockchain space full-time, taking up the role of Partner at Blockchain Valley Ventures in Switzerland. We caught up with him to listen to what the person who predicted the burst had to say about the prospects of another boom.
Sebastian, you're best known for *that* prediction. For the few who never read the report, in April 2018 you successfully predicted that the cryptocurrency markets would crash by 90% — and you didn't just predict the scale, you predicted when it would happen almost perfectly — the closest anyone, anywhere came to doing so. How?
Fund Manager Profile: Kris Sidial Of Tail Risk Fund Ambrus Group
A decade ago, no one talked about tail risk hedge funds, which were a minuscule niche of the market. However, today many large investors, including pension funds and other institutions, have mandates that require the inclusion of tail risk protection. In a recent interview with ValueWalk, Kris Sidial of tail risk fund Ambrus Group, a Read More
We wanted to make sense of the sector from a venture capital perspective and in that sense, quite a few things stuck out. Most businesses were basically selling a vision and the ICO provided the perfect solution. People were trying to raise money for anything and everything. 50% of businesses typically go out of operation within the first year, about 85 to 90% go out of business without a meaningful exit event, and if you then take into consideration the fact that an ICO basically front-loads funding for this sort of project — that's not healthy. So I made the prediction that this would definitely be on the higher end, a 90%-plus correction.
Timing-wise we gave the crypto bubble a 12 month shot. I was really surprised about the speed, about how fast the market actually corrected itself. We made this prediction at the beginning of 2018 in a state of total market euphoria. We put the prediction out anyway and got lucky to some extent. Another important point behind the 90% correction prediction is that we foresaw very few protocols actually surviving in the medium-long term. Maybe ten short term, maybe 50 to 100 in the longer term. Those would then be the ones that would go on to create the foundations on which Web 3.0 and the economic systems of the future will run on.
The crypto bubble prediction turned out incredibly well. 2019 is now drawing to a close with the vast majority of companies behind the 'token frenzy' having little or nothing to show for the money they raised, rapidly losing market share or closing up shop altogether. Where are the blockchain and cryptocurrency markets heading next?
I think a couple of predictions we made along with the 90% crypto bubble prediction have proven to be quite accurate already. The emergence of the STO market as a more regulated version of the ICO market, for example. It is still in its early days, but it's coming. We see de-fi (decentralized finance) picking up and having the potential to become even bigger than the ICO. Tokenization of assets was just slightly visible two years ago, now it is going mainstream and will continue to do so.
Venture capital is back and everyone is looking at equity rather than ICOs because there is no dumb money in the space anymore. There is a lot of blockchain activity among corporates. A lot of big corporates have announced their activities, even states have announced activities in the space. I think Libra has probably shown what is possible in the space and how much legitimacy there is now from the corporate world. These are all predictions which have been proven to be fairly accurate so far and have a lot of potential going forward.
Where does it go from here? We're seeing a lot of activity that is mostly top-of-funnel. Digital assets, stablecoins, financial products on the blockchain, that's where the activity is happening. I think exchanges are living proof of adoption, but exchanges are limited in the way that they can approach future users, so a lot of those users need to be approached through a mainstream format. This has not yet happened yet. In summary, we see a lot of the developments in the financial top-of-funnel, I would even say the "superficial side" which is mainly ruled by greed and fear. Knowing this, decentralization will likely come into play over the coming five- to ten-year horizon.
Despite the weak state of the blockchain market after the crypto bubble burst, you recently left your role as Director at GP Bullhound to dive into the blockchain space full-time. Can this be seen as a vote of confidence for blockchain's future potential?
I think we are still in some form of crypto winter. That being said, volatility is back, which allows exchanges to make more margin. I can see further signs of improvement, but it generally feels like most activities are more focused on consolidation than expansion. On the regulatory side there have been a couple of big announcements. None have really initiated signs of the next bull run but I think it's generally good that states, banks and major stakeholders in the economy are taking a more reflective stance on digital assets and digital currencies, promoting the idea of digitized euros or digitized dollars, for example.
We see blockchain as the fundamental technology to make the world a more inclusive, transparent and sustainable one. This is what I have a passion for; leveraging the experience and skills that I have gained from 15 years in investment banking and enabling the entrepreneurs of the future. I think it's about the vision of being able to shape the future; it is hard to imagine but it drives the intellectual curiosity that that we all have, that I have and this makes it feel like the next logical step. Of course it's a huge potential area that I see, that probably not too many people see at this point in time, but that's all going to be proven at some point, so I'm happy to see how that evolves.
I see a lot of interesting companies that have generated the relevant traction, are onboarding first customers and will grow to a relevant level where raising 20 million or more actually makes sense. In many cases revolutionary tech is being built; that's extremely exciting for anyone who wants to take a deeper look into the future.
Full interview on the crypto bubble call and to the future:
---
About the Author:
Max is co-founder and Head of Marketing at German publicly listed Blockchain-as-a-Service firm, Advanced Blockchain AG. He is also the co-author of Das Krypto-Jahrzehnt, a book detailing the evolution of cryptocurrency over the past decade published in Germany in 2018, and a fellow of the Kairos Society.
---
About Advanced Blockchain AG:
Advanced Blockchain AG is an end-to-end Blockchain-as-a-Service company based in Berlin, Germany. We develop next generation blockchain infrastructure and applications for the world's largest companies in the IoT, automotive, telecommunications and machine industries. Our next-generation blockchain infrastructure combines blockchain technology with DAG technology to create the DAGchain. We develop industry applications on top of our DAGchain infrastructure. Our clients include one of the largest car manufacturers in the world. Advanced Blockchain AG is the first blockchain company to be listed on the German Stock Exchange.