Conditions are continuing to prove for the company despite macroeconomic headwinds
Shares of Irish-domiciled Cimpress plc (NASDAQ:CMPR) are poised to extend gains this morning after the parent company of Vistaprint reported third-quarter earnings well ahead of market expectations. The news pushed CMPR stock up by 21% yesterday.
The reaction to Wednesday's earning report has enabled the stock to almost recover all of its losses of 2022 as share price momentum in 2023 continues to build with shares currently up 100.7% year to date.
The company reported sales of $742 million, beating the consensus estimate of around $710 million, with adjusted EBITDA of $69 million, well ahead of the $53 million forecast. The positive results were due to the Vista product mix shifting seasonally back toward faster-growing small business products, stabilizing input costs, and year-over-year increases in pricing.
Losses Narrow
The company's revenue grew by 13% on a reported basis and 16% on an organic constant-currency basis. Operating expenses, advertising, and operating loss all decreased as a percentage of revenue. Adjusted free cash flow increased by $68.2 million, over the prior year's quarter.
At the bottom line, net losses narrowed from $71.8 million last year to $49.3 million this quarter.
Fintel financial metrics and ratios data (shown below) for CMPR shows that operating cash return on investment levels have deteriorated in recent months.

Ahead of Consensus
Management also provided updated guidance for the remainder of FY2023 and FY2024.
In the final quarter, the company expects to generate operating income in the range of $33 million to $37 million, well ahead of consensus around $23 million and adjusted EBITDA of $90 million to $94 million vs expectations of ~$82 million.
The company expects profitability expansion in Q4 to be accompanied by seasonally strong free cash flow conversion, even after restructuring payments.
For the full year 2023, Cimpress expects to report adjusted EBITDA in the range of $316 to $320 million and in 2024, $400 million.
The chart below from Fintel's forward forecast page for CMPR shows analyst expectations through to 2027. The market expects that 2021 and 2022 will only be a short drop in the long term upward trajectory.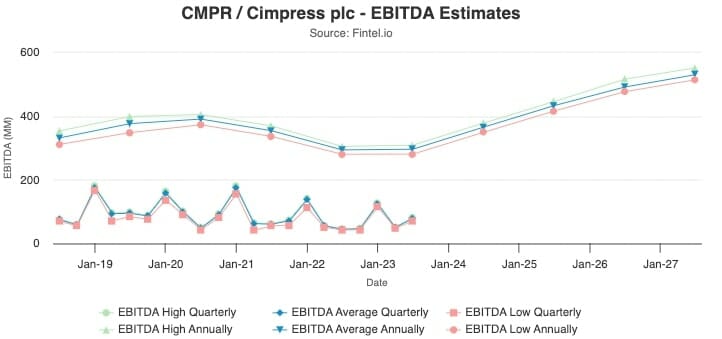 According to analysts at Truist Securities, the Cimpress stock price is likely to be lifted by the strong Q3 earnings and updated guidance. They noted that the company's positive earnings were due to a combination of factors, including a shift in product mix towards small business products, stabilizing input costs, and year-over-year increases in pricing.
The analysts also think the stock can achieve high single-digit revenue growth with mid-teen growth at the bottom line over the next several years. Truist has a 'buy' call on the stock and increased its price target from $50 to $68.
Fintel's consensus target price of $54.57 suggests the Street thinks CMPR could rise 26% over the next year.
Insiders Buying
Data compiled by Fintel indicates there has been insider buying activity in the stock by chairman and CEO Robert Keane who purchased more than 100,000 shares over February.
Keane owns a total of 220,503 shares after doubling his exposure in 2023.
That helped push Fintel's officer sentiment score to be bullish 75.49 reading of insider buying activity. The score ranks Cimpress in the top 3%, at 382nd out of 11,824 globally screened securities.
The post Cimpress Rises 21% as Momentum Continues Through Q3 With Optimistic Management Outlook appeared first on Fintel.