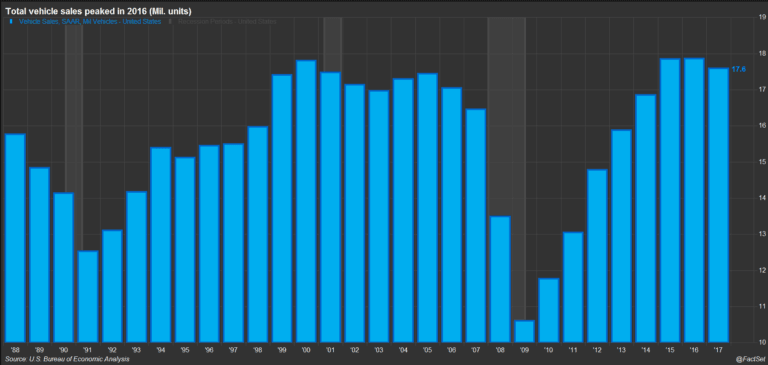 After seven consecutive annual increases, 2017 marked the first year in which U.S. vehicle sales declined. Following a record-high 17.9 million units sold in 2016, total vehicle sales retreated to 17.6 million in 2017 according to data from the U.S. Bureau of Economic Analysis. Much of the strength in vehicle sales came in the last four months of the year, as consumers in hurricane-ravaged states replaced their storm-damaged vehicles. Vehicle sales averaged 18.4 million units during the September-December period, compared to an average 17.2 million in the first eight months of the year.
[REITs]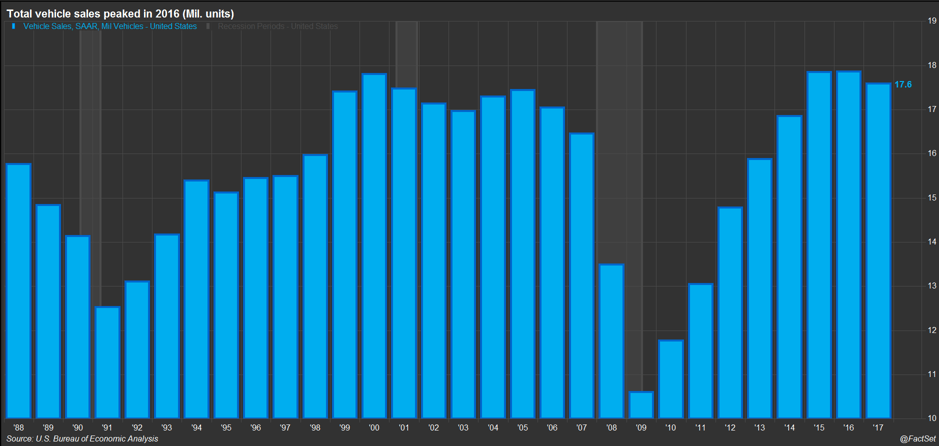 Gates Capital Management Reduces Risk After Rare Down Year [Exclusive]
Gates Capital Management's ECF Value Funds have a fantastic track record. The funds (full-name Excess Cash Flow Value Funds), which invest in an event-driven equity and credit strategy, have produced a 12.6% annualised return over the past 26 years. The funds added 7.7% overall in the second half of 2022, outperforming the 3.4% return for Read More
According to monthly U.S. retail sales figures from the Commerce Department, sales at motor vehicle retailers drove overall retail sales in September and October, but it was nonstore (online) retailers who fueled sales in November and December, not surprising during the holiday shopping season. For all of 2017, auto retailers saw a 5% year-over-year increase in dollar sales; this was up from 2016's 4% growth, driven by the increasing dominance of more expensive trucks.
Trucks Lead the Pack
The trend away from cars and toward trucks appears to be accelerating. This began in 2015 following the steep decline in oil prices, with auto sales slipping by 0.2 million that year, followed by a 0.6 million dip in 2016 and a .8 million drop in 2017. Meanwhile, sales of light trucks, which includes pickups, minivans, SUVs, and crossovers, have been climbing steadily since the end of the recession. In 2009, light truck sales bottomed out at 5 million units; in 2017, 11.1 million were sold, an increase of 121%. Truck sales in particular were boosted by post-hurricane replacement purchases in the last few months of 2017, since the state of Texas tends to lead the country in pickup truck purchases.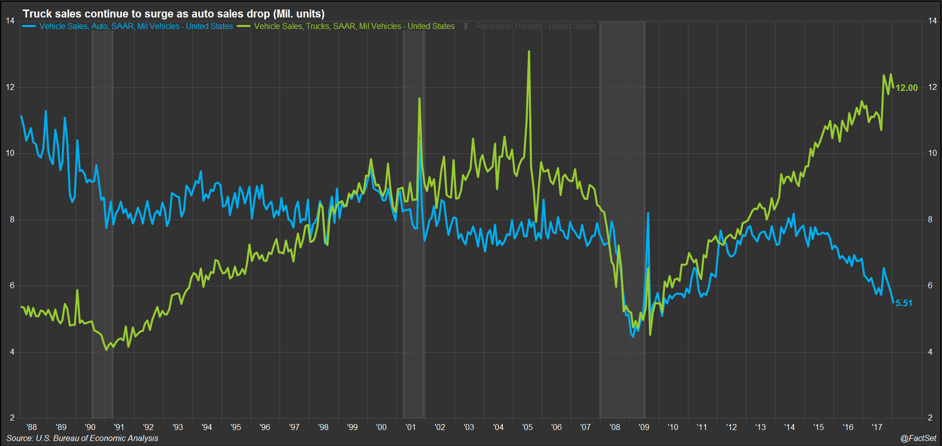 Looking at the breakdown of the top-selling vehicles by model highlights this overall trend. The top three selling vehicles in the United States last year were all trucks, with Ford leading the pack by a mile, followed by GM (Chevrolet) and Fiat Chrysler (Dodge). SUV/crossover vehicles dominate in the middle of the list, while the first car on the list appears at number six. Three of the four cars on the list saw their sales fall in 2017, further evidence of the continued trend away from smaller vehicles.
Table 1: 2017 Best Sellers
| | | | | |
| --- | --- | --- | --- | --- |
| Rank | Model | Classification | 2017 Sales (units) | Annual % Change |
| 1 | Ford F-Series | Truck | 896,764 | 9.3% |
| 2 | Chevrolet Silverado | Truck | 585,864 | 1.9% |
| 3 | Ram Pickup | Truck | 500,723 | 2.3% |
| 4 | Toyota RAV4 | SUV/Crossover | 407,594 | 15.7% |
| 5 | Nissan Rogue | SUV/Crossover | 403,465 | 22.3% |
| 6 | Toyota Camry | Car | 387,081 | -0.4% |
| 7 | Honda CR-V | SUV/Crossover | 377,895 | 5.8% |
| 8 | Honda Civic | Car | 377,286 | 2.8% |
| 9 | Toyota Corolla | Car | 329,196 | -13.0% |
| 10 | Honda Accord | Car | 322,655 | -6.5% |
Source: Auto manufacturers' sales reports
What's on The Road Ahead?
Looking ahead, there are potential areas of concern for automakers. Sustained low interest rates since the last recession have pushed the percentage of consumers looking for a new car higher relative to those planning to buy a used car. As of January 2018, 13.4% of consumers planned to buy an automobile in the next six months, with 5% planning to buy new vs. 6.3% buying used. At 2.1%, a relatively high percentage were unsure whether they would buy new or used. This uncertainty is not surprising given the current interest rate environment. On the heels of the three FOMC rate hikes in 2017 and with the promise of three (or more) rate hikes in 2018, rising interest rates are likely to put a damper on new auto sales over the next two years, pushing many consumers back toward used vehicles and potentially reducing overall demand. Rising fuel prices could also impede vehicle sales. Oil prices are now at their highest levels in more than three years and if the upward trend in fuel prices continues, it could negatively impact those highly profitable truck sales. Speaking of profits, automakers have traditionally used incentives to boost sales in lean times. If we see a sharp pullback in vehicle purchases as interest rates and fuel prices move higher, the auto industry will need to determine how much they want to use incentive deals to move inventory.
As released in their 2017 year-end results, all three major U.S. automakers have similar outlooks for 2018. Ford projects that total vehicle sales (including heavy trucks) will fall from an estimated 17.5 million units in 2017 to the low 17s in 2018. This implies light vehicle sales below 17 million. Similarly, Fiat Chrysler is predicting total vehicles to fall from an estimated 17.6 million units in 2017 to 17.3 million in 2018.
In General Motors' Q4 2017 earnings call, Chief Financial Officer Charles K. Stevens outlined the company's baseline macro assumptions. "Here specific in the U.S., it was an environment where there are going to be moderate increases in interest, 75BPS, moderate inflation, moderate wage growth, continued GDP growth and an industry that was going to be in the low 17 millions [sic]."
The auto industry has prepared itself for another year of declining sales in 2018, but how close will producer forecasts match reality? Rising interest rates and energy prices present downside risk, but continued strong economic growth could help support auto sales through 2018, especially if we see additional job gains and higher wage growth.
Article by Sara Potter, FactSet