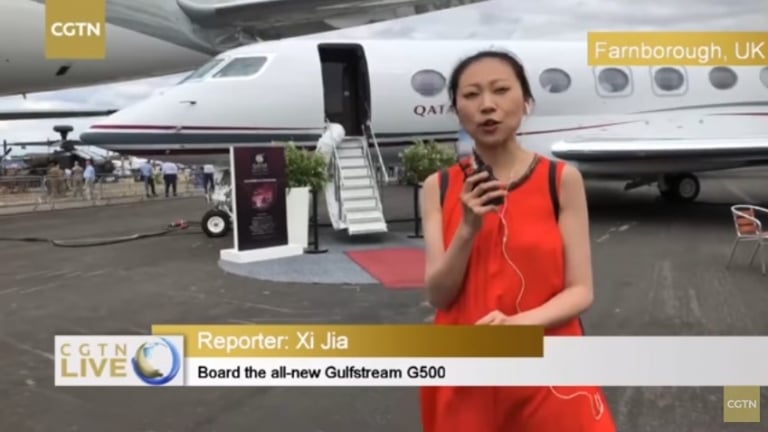 What's it like to travel on a luxury private jet like the Gulfstream G500? Gulfstream has earned a reputation for being among the best in business aviation by consistently creating aircraft that meet business travelers' evolving aspirations. Join CGTN reporter Xi Jia on board the ultramodern technologically advanced jet at the Farnborough International Airshow.
Q2 hedge fund letters, conference, scoops etc Board The All-new Gulfstream G500
Gates Capital Management Reduces Risk After Rare Down Year [Exclusive]
Gates Capital Management's ECF Value Funds have a fantastic track record. The funds (full-name Excess Cash Flow Value Funds), which invest in an event-driven equity and credit strategy, have produced a 12.6% annualised return over the past 26 years. The funds added 7.7% overall in the second half of 2022, outperforming the 3.4% return for Read More
Transcript
Hello everyone. This is Xi Jia here. So now I'm at the Farmborough international air show and found rollies in the south west of London. And it takes you like an hour and a half to drive here. So talking up this Fombonne national air show this is the 50 first off the air show and it happens every two years and it rotates with the Herries International Air Show. And both of these big air shows they take a Moldau Katra off the commitments and orders from all over the world. So the Bumbo International Air Show every year there are more than 1500 exhibitors from more than 100 countries and among them there is nature lovers as well the traders. And yesterday the air show kicked off here and it will last for a whole week and only the opening day of this air show. There was forty six point three billion dollars orders made yesterday. So that is BIEC there are many static displays as well as the Herro aerobatic performances as well as entertainments here. And we will introduce you the aerobatic performances maybe the other day but today I'm going to take you to the Wannop the most luxury business jets name Gulfstream G 500 which is you know it has fans all over the world. And we will take you to the place. Have a look at it. And now let me introduce my guest today. And his name is Eric and he flew especially from Melbourne to here to take part in this air show. So think he's something to try and I'm. I'm the deputy chief editor of China's leading social media innovation.
The name is of 83 aviation and I'm also doing a Ph.D. in Asia in Melbourne Australia. That's why I flew all the way from Melbourne to here for this show. So Eric it seems that Eric is the expert and he told me that he began Lap This Lap that things about aviation from very young. So what brings you here. Why do I love it so much. Talking about my love from aviation is just I don't know it's embedded in my DNA. I love airplanes things I can't remember. I don't know why. And that's what brings me here to to see all these great planes and all these you know fly displays. So now let's just get onto the plane and have a look at the TRL. And after that we'll introduce about the appearance of this great so now we have entered the interior off this Gulfstream 5 A G 500 a one off. One of the most luxury business jet around the world. And my question is why the billionaires like the small Jack Jack like this and what how it feels like sleeping at all having coffee. It's small yes the most important thing about them is exclusive and come we needn't because your.