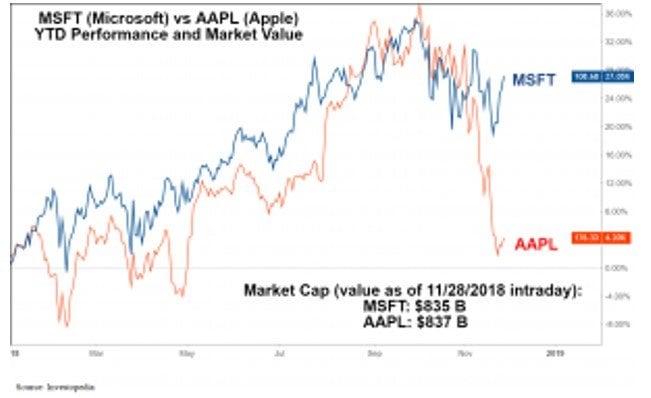 A week ago, Microsoft overtook Apple in market cap for the first time in eight years. On Nov. 26, 2018, Microsoft briefly clinched a market cap of $812.93B while Apple's market cap at that time stood at $812.6B.
While Microsoft briefly held the title of the most valuable company in the United States, it is likely that the two companies will trade back and forth for this title, at least in the short term.
Fund Manager Profile: Kris Sidial Of Tail Risk Fund Ambrus Group
A decade ago, no one talked about tail risk hedge funds, which were a minuscule niche of the market. However, today many large investors, including pension funds and other institutions, have mandates that require the inclusion of tail risk protection. In a recent interview with ValueWalk, Kris Sidial of tail risk fund Ambrus Group, a Read More
Apple overtook Microsoft in 2010
Apple first overtook Microsoft about eight years ago. It was described to be a watershed move, highlighting that "the most important technology product no longer sits on your desk but rather in your hand."
Q3 hedge fund letters, conference, scoops etc
In 2010, the Apple iPhone was just two years into its launch and was fast gaining traction in the smartphone market. The device, in fact, revolutionized the usage of mobile devices and even compelled mobile heavyweights such as Nokia [NOK] and Blackberry [BB] to exit markets.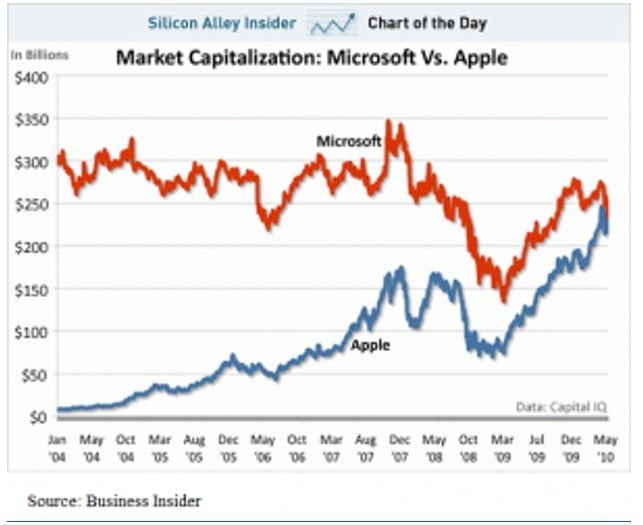 The iPhone is still Apple's flagship product and accounts for almost 60% of company sales. Driven by phenomenal growth, Apple was the first public company in the country to be valued at $1T earlier this year.
Slow iPhone demand
The global smartphone market is in a cycle of decline. Though Apple continues to outperform the global market, demand for its iPhone has been lower than estimated. Analysts have been concerned for some time over Apple's slowing iPhone demand driven by supply chain reports.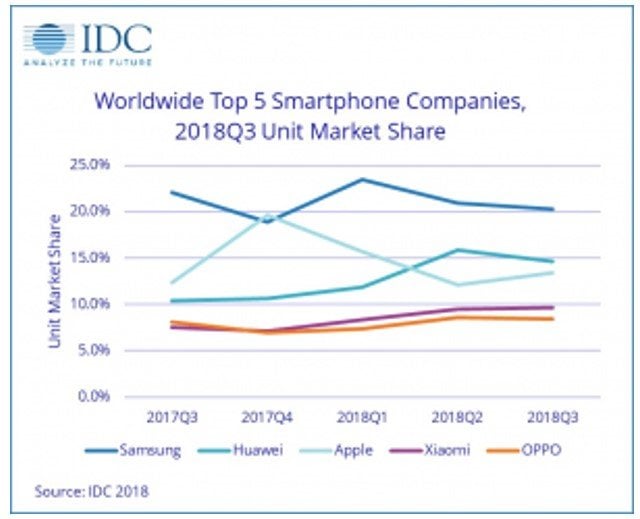 Apple also stated that it would no longer publish device sales going forward, further adding fuel to fire. The tariff war between United and China might further amount to a short-term weakness for Apple shares.
Microsoft a top performing stock
Microsoft has been a top pick for investors in this extended bull run. Despite the upbeat momentum, Apple's mind-boggling growth has dwarfed Microsoft's spectacular returns.
Microsoft's Satya Nadella was appointed the company's CEO back in 2014, post which the company upped the ante on the development of cloud products and services. Microsoft overtook Google in market value earlier this year and surpassed Amazon last month.
As seen below, Amazon overtook Microsoft in market cap early this year before Microsoft returned the favor.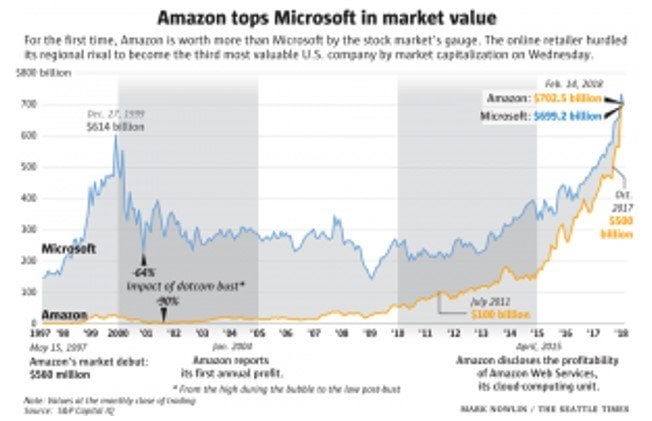 Its diversified business portfolio provides more cushion for Microsoft in a downturn. For example, Microsoft's sales from Windows, Xbox and Surface verticals accounts for 36% of total revenue. Compare this with Google where advertising accounts for 86% of sales.
Microsoft unsuccessfully tried to enter the smartphone space with the Windows phone. Its now trained its guns on high growth areas such as artificial intelligence, cloud, and cross-platform technologies.
Can Microsoft beat Apple to $1T?
We've seen that growth concerns for the iPhone coupled with macroeconomic uncertainty in terms of the tariff war will continue to weigh in on Apple's stock price. Apple's sales are expected to rise by 5.2% to $279.3B in 2019 and 4.2% to $291.14B in 2020.
Comparatively, Microsoft's sales are expected to rise 13% in 2019 and 10.6% in 2020. A higher growth rate might benefit Microsoft's share price especially when uncertainty looms large over Apple.