Artificial intelligence and automation related news are constantly hitting mainstream headlines. Whether it is Duplex – Google's fully autonomous conversational bot,  or Bayou – a software coding application fueled by deep learning, the excitement around such inventions is astronomical.
Q1 hedge fund letters, conference, scoops etc, Also read Lear Capital: Financial Products You Should Avoid?
Since Facebook switching off two of its own chatbots as they invented their own language to communicate, predicting AI trends is a difficult challenge. But the lack of clear future vision on the industry as a whole does not scare off professional investors, neither ordinary people to try and invest their money in the robotics and AI "theme".
Carlson Capital Tells Investors: Twitter Still Has Tremendous Upside [Exclusive]
Carlson Capital's Double Black Diamond Fund returned 85 basis points net in August, bringing its year-to-date net return to 4.51%. According to a copy of the fund's September update, which ValueWalk has been able to review, its equity relative value and event-driven strategies outperformed during the month, contributing 131 basis points to overall P&L. Double Read More
Finding the right way of AI investing
Thematic investing relates to a possibility for the investor to select a basket of instruments put together by portfolio managers around a given theme. A quarter of a century ago, first  exchange-traded funds (ETFs) like the SPDR S&P 500 simply mimicked the move of the broad market, enabling a cost-effective but diversified way of investing. Due to their simplicity and cheapness, ETFs are poised to attract further cash from investors. Depending on your online broker ETF minimum fees typically range between 1-20 USD, and many are offered as zero-commissioned.
According to EY's survey, the current $5.4 billion market size will further increase by a 21 percent cumulative annual growth rate.

Source: EY, Global ETF Research 2017
Unless you are a really seasoned stock-picker being able to screen out, monitor and rebalance your own portfolio, doing some research on the currently available artificial intelligence ETFs should be your first step. The investment goal of such funds will be to achieve the performance of their benchmark index. Since ETFs are passive instruments - except for smart beta ones - the key point is to look behind the curtain of the benchmark index itself.
As an example, Robo Global - leading index provider for the industry - operates with a strategic advisory board, with over 200 years of robotics experience and five PhDs. Initially, they screen over 1000 companies and reduce the number of index constituents below one-hundred by adding filters based on revenue, trading volume, market cap and even Environmental, Social and Governance (ESG) factors excluding arms and weapons manufacturers.
There are several other artificial intelligence benchmark indices, another well-known is Indxx Global Robotics & Artificial Intelligence Thematic Index. Their methodology relies upon screening companies that earn above 50 percent of their revenues from robotics, autonomous vehicles or AI applications. To spread risk Indxx applies single security cap that maximizes the basket share of a company to maximum 8 percent.
Performance of AI & robotics ETFs
For investors, historical performance is a primary indicator even though all disclaimers state that past performance isn't indicative by any means for the future. Looking at the chart it is noticeable that both leading AI funds running under ticker codes BOTZ and ROBO have beaten Wall Street's tech index-based ETF that tracks the Nasdaq composite index (QQQ).
For example, investing $10.000 in BOTZ three years ago would accumulate to $15.930 today. After deducting the yearly expense ratio of 0.69 percent it would still be a decent return.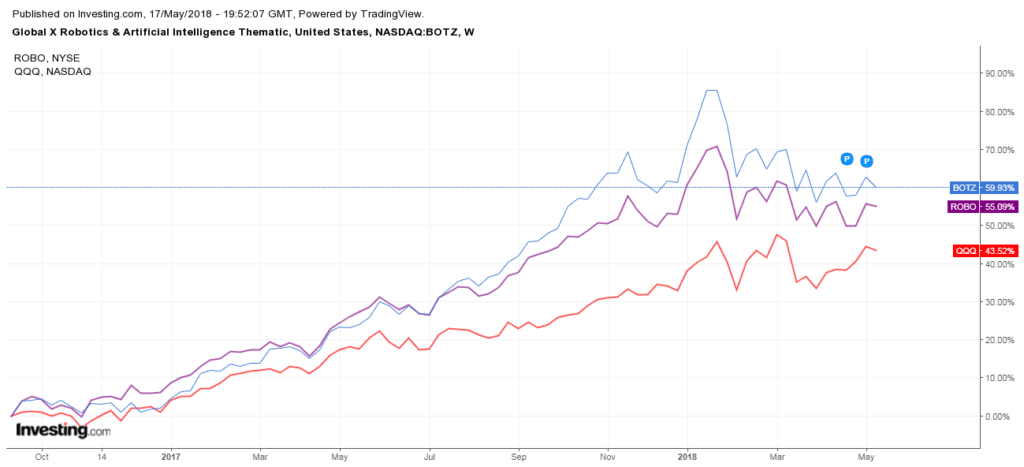 On a shorter time-frame, the YTD return is less attractive though. In fact, only the broader tech ETF, QQQ is in gain territory, and that points out a key risk. AI and robotics related ETFs are more volatile. Although they move together with the broader market, ups and downs have a greater amplitude.
Going forward these funds can expect to have several headwinds. Recent events like the Cambridge Analytica scandal and car manufacturers like Tesla admitting to over-automating their production have created ground for general skepticism towards the tech sector.
Legislators and regulators of developed nations also need to tackle several questions like how to make algorithmic decision-making more accountable, how to prevent AI being misused by criminals or how to secure privacy and personal data protection.
In spite of these red flags, other data suggests market participants trust AI and robotics funds.
Total net asset flows: the inflow of investors money is constant. Just recently, BOTZ ETF surpassed $2.5 billion in assets. For an ETF having launched less than two years ago that's pretty remarkable.
Institutional buyers: both BOTZ and ROBO ETFs have institutional buyers. Banks like Morgan Stanley, UBS, Bank of America, Wells Fargo are among top owners, moreover, they typically continue to buy based on their 2018 first quarter filings data.
Market size expansion: The growth of market size is key in revenue generation. Based on BCG's estimation, global robotics market size will reach $87 billion, driven by the consumer sector's need for self-driving cars and smart home devices.
Ample acquisition options: The number of active US startups developing AI systems has increased 14x since 2000 to above 600 firms - as stated in Stanford University's AI index project. Incumbent tech firms have the potential of acquiring a vast amount of innovative startups bringing in added value services.
Summary thoughts
After a very strong year in 2017, AI and robotics ETFs are taking a breather due to several reasons. One is a general stock market halt as the bull market is celebrating its ninth anniversary, but secondly, there are also tech sector-specific concerns about the need for stricter rules and regulations. Due to their high market sensitivity, ETFs like BOTZ and ROBO tend to underperform while there is a risk-off sentiment on the markets but the opposite is true when risk-taking is on.
The current state - going sideways on the charts - is ideal for a wait and see investment approach, for potential new investors there is no reason to rush and buy artificial intelligence funds asap.
Article by Robert Soos
---
Guest Contributor:
Robert is a professional trader and a former portfolio manager with a deep interest in helping individuals to invest on their own. With Brokerchooser he is working on matching self-directed investors to the best investment firm they need.