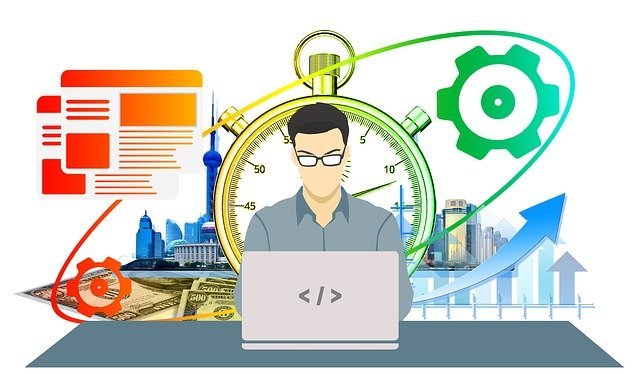 After the outbreak of Covid 19, everything shifted to online, from learning, workouts to doctor appointments. As more people learned, worked, exercised, and even sought medical care while at home, during the outbreak, they got a unique crash course in the amounts that can be accomplished at home.
When it's already a year into the pandemic, several countries have gone back to normal daily life, while others have experienced a resurgence of cases, therefore, resorting back to lockdowns. As vaccines continue to be doled out, fully returning to normal remains uncertain to many, however, there's a certain thing, the pandemic has impacted some industries. Looking at how much we've moved to digital spaces, it's difficult to think that people will fully get back to brick-and-mortar alternatives.
In some cases, the technological shifts brought about by Covid-19 will come in the form of the acceleration of current trends, like contract-less payments and automation in industries. And in other cases, like 3D printing and virtual reality, the crisis is likely to change the course the industry takes, allowing companies to prove value that until this moment consumers have failed or didn't want to see.
Jim Chanos Unveils Lastest Short As Fund Manager Bets On Further Market Declines
Jim Chanos has a new short target in his sights. Earlier this week, the hedge fund manager disclosed that he is betting against "legacy" data centers that face growing competition from the trio of technology giants, which have previously been their biggest customers. The fund manager, who is best known for his winning bet against Read More
Industrial real estate
When we figure out about an e-commerce distribution enterprise, we find out that they need almost 3 times that of a normal business-to-business facility to hold complex pick-pack systems and offer access to a wider variety of products. With an interest in returning several industries to the United States to allow better control when there are disruptions and a new trend of adding more safety stock, the demand for space for industries is likely to move up. Seeing the growth of e-commerce, retailers beginning their venture business will come up with marketplaces restricted to online activities and have management either working from home or the distribution facility.
Augmented reality
The ability to see goods as well as hold them before buying hasn't developed in the US yet, however with a new norm of being close to home, augmented reality of the shopping environment is likely to get in the place of part of the desire to go to a store. The transition will happen with ease, due to improving technologies and reducing costs.
Robotics
The benefits of relying on machines rather than humans have been much evident during this pandemic period. Before the Covid 19. most companies who used artificial intelligence did it mostly because of the increasing wage needs and unavailability of workers. At the moment, unemployment means lots of workers available however to incorporate social distancing in the working spaces a huge transformation of warehouse operations needs to be done. Adoption of these technologies is on the rise, as many employers look for cheap and flexible automation solutions that can replace humans where it's possible.
Micro-Transport
Micro-transport options are going to become increasingly popular post pandemic. As people look to move around their cities in a faster and more efficient, green manner – they're going to require a solution. Escooters and bikes are going to provide that. Currently, legislation is throttling adoption, however expect this soon to change.
5G and the increasing bandwidth needs
With an increase in the number of people working from home, the growth of many sectors listed here will heavily depend on the speed of connections available. It's impossible without faster connections, and a lot of homeowners are out there searching for any ideas to increase their bandwidth as children are schooling from home while the parents work from home as well. Here they are.
Virtual meetings
Before Covid 19, the sole video conferencing platform that was somehow popular was Facetime. Now, Skype, Zoom, and Microsoft Teams are being used extensively in various businesses. Maybe Zoom is like Virtual Human Connection similar to the AOL dial-up was to the internet connection.
Online last-mile distribution centers and groceries
What if shopping for groceries was like choosing food online without the food going into a grocery store, but rather causes a pick-up window at a small building that has AI robots set up to serve you within a pre-determined time duration? What if all these are set up now in parking spaces of currently present grocery stores? Are retail stores going to shift to last-mile distribution centers?
Cooler and freezer supply chain
Whenever there's a crisis, delivery of food becomes crucial like the basic need it is. One of the industries that experienced the boom first from the moment the pandemic began was the one for food and especially frozen food. People stocking more on necessities to an unknown time has brought more stress to the food supply chain, forcing this sector to re-think the supply chains. High chances are it will mean more need for safety stock of foodstuff supplies in cities all over the country. If the facilities are facing bulk shipments, they're likely to automate processes more, and there's a chance of running semi-autonomously. There are some food facilities in the country already using this model. In the future, you can expect to see more.
Dark kitchens
These are virtual restaurants without chairs or tables. As many restaurants rely on home deliveries of food, and an increasing cost of maintaining a physical location as well as staff, the "dark" kitchen model will keep on growing. It is similar to the next iteration of a gourmet food truck, where instead of remaining in one location, the restaurant is highly flexible to deliver food to the customers. Centralized kitchens are likely to be used as a restaurant and deliver many different food choices to the homes of customers through Uber eats and others. The delivery speed of food will continue to receive a positive impact post-pandemic
Updated on