More than 1,500 studies in the US, Japan, Korea, China, Serbia, Mexico, Germany, and Slovakia highlight the health benefits of hydrogen water.
Hydrogen water is gaining popularity with more than 30% of Japanese and 20% of South Koreans regularly drinking it.
1008 Hydrogen Water is the best eco-friendly alternative to normal water bottles which have a devastating effect on the environment.
1008 Hydrogen Water will become available in Spring 2021 on the company website, and with select gyms and grocery chains.
Hydrogen water has been touted for its health benefits and in excess of 1,500 studies conducted all over the world including the US, Japan, Korea, China, Serbia, Mexico, Germany, and Slovakia have been made available on the effects that hydrogen water has on the body.
According to research conducted by the Molecular Hydrogen Institute, more than 30% of the Japanese population and more than 20% of the South Korean population frequently consume hydrogen water. In fact, these countries stand at the forefront of the hydrogen water revolution and have contributed the most to the studies which convey its benefits.
Why is hydrogen water gaining in popularity?
Even though tap and bottled water do contain hydrogen, hydrogen water has more hydrogen gas added. This doesn't affect the pH level of the water and seeing as hydrogen gas is odorless and tasteless, hydrogen water tastes the same as normal bottled water. However, the health benefits associated with hydrogen are vast and attractive to consumers.
The health benefits of hydrogen water is well-known in Japan. It is known for strengthening the immune system, its anti-inflammatory properties, easier recovery after injuries, better skin tones, and as an anti-aging property. It is commonly believed that hydrogen water helps people live longer, and feel younger.
According to co-owner of 1008 Hydrogen Water, Brooke Duplechain, "we were very surprised when we came to realize how little the US population knew about hydrogen water, especially when considering its many benefits. Once we learnt about the anti-aging and anti-inflammatory in Japan, we decided that we wanted to bring it to the US, and so 1008 Hydrogen Water was born."
What makes 1008 Hydrogen Water unique to the market and potential investors?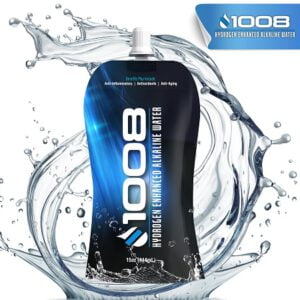 Unlike traditional water, 1008 Hydrogen Water comes in a pouch with a sleek and innovative design. This design isn't purely aesthetic in nature – rather, it is a required adaptation as diatomic hydrogen is the smallest molecule. As such, it can easily escape through a traditional plastic or glass bottle.
The packaging of 1008 Hydrogen Water is BPA-free and also recyclable. This decreases the negative impact on the environment significantly, as well as increasing its health benefits. The concave shape and latch hole is very easy-to-use and unlike other popular brands, it has no additives and is naturally enhanced.
This is especially important as ValleyWater.org reports that the bottles that are used to package water take more than 1,000 years to finally bio-degrade. Furthermore, they cannot be incinerated as they then give rise to toxic fumes. More than 80% of single-use water bottles in the US become littler. For a population that is increasingly concerned with the environment, this is a worrying statistic, especially when one considers that landfills in the US contain 2 million tons of disposed of water bottles.
Do you know which under-the-radar stocks the top hedge funds and institutional investors are investing in right now? Click here to find out.
Adriana Steverson, co-owner of 1008 Hydrogen Water, says that "it is increasingly important for all of us to do what we can for ourselves and our world. Well-being is essential – both for us and nature."
That is the thought which stands behind the business – the health benefits of hydrogen water have an immense impact on the general well-being of those who consume it. By thinking about personal well-being, and the well-being of the planet, 1008 Hydrogen Water is an attractive prospect to the modern individual.
Following the innovators:
The product will launch in the Spring of 2021 and can be purchased on the company's website Drink1008.com. This organization has built significant relationships with gyms and grocery store chains so that their product can be made increasingly available.