New cryptocurrency projects offer a much higher upside when compared to Bitcoin, Ethereum, and other large caps. Investing in new cryptocurrencies from the ground up means you'll likely secure the lowest cost price.
Newly launched projects typically have a small market capitalization too – meaning they can grow much faster. The critical barrier for investors is knowing which new cryptocurrency to invest in.
This guide reveals 11 newly founded projects that could generate significant returns for early investors. We also provide guidance on how to build a portfolio of new cryptocurrencies, and what risk-management strategies should be considered.
List of the Best New Cryptocurrencies to Buy Today
We'll start with an overview of the 11 best new cryptocurrency to invest in today:
Bitcoin ETF Token (BTCETF) – Offers passive income opportunity with high staking yields, a deflationary model through token burns tied to Bitcoin ETF milestones, and a dynamic presale price structure designed to reward early investors in the evolving Bitcoin ETF landscape.
Bitcoin Minetrix (BTCMTX) – Having already raised over $3.4 million, Bitcoin Minetrix is generating a lot of hype with presale investors. This new project is making Bitcoin mining more accessible. Users can earn Bitcoin mining power simply by staking BTCMTX tokens, without minimums or long contract requirements.
Meme Kombat (MK) – Bridging the gap between meme coins and play-to-earn gaming, Meme Kombat is a hot new project to watch. It allows players to bet on virtual battles between meme characters, such as FLOKI and Shiba. MK tokens need to be staked to access the Meme Kombat platform, which is backed by AI and smart contracts. Over $1.2 million has been raised from presale investors so far.
TG.Casino (TGC) – This brand-new casino offers regulated gambling services on the Telegram app. Hundreds of games are supported, alongside instant payments and anonymous accounts. TGC tokens offer 25% cashback to players, not to mention staking rewards of almost 300%. The TG.Casino presale is ongoing, having raised $1.7 million to date.
Wall Street Memes (WSM) – Raising over $25 million from presale investors, Wall Street Memes now trades on crypto exchanges. At its core, WSM shares memes on social media, which are viewed more than 40 million times each month. Elon Musk is a follower and has previously commented on several memes. WSM has also built a casino, ensuring token holders have utility.
Launchpad XYZ (LPX) – Another top-rated presale project, Launchpad XYZ simplifies the world of Web 3.0 for consumers. Key features include AI-backed cryptocurrency ratings, trading signals, and a decentralized exchange supporting NFTs and fractionized assets. Launchpad XYZ's token, LPX, can be staked for VIP rewards and perks. Almost $2 million worth of LPX has already been sold to presale investors.
Arbitrum (ARB) – One of the best bear market discounts available, Arbitrum is down 90% since its March 2023 launch. This project has solid fundamentals; it offers layer 2 solutions for ERC20 projects that seek much higher scalability. Arbitrum can handle up to 65,000 transactions per second, not to mention rock-bottom fees. ARB also has functional utility; it's required when transacting on the Arbitrum network.
Bypass (BYPASS) – This project is building a Telegram bot that supports anonymous cryptocurrency trading. Users can buy and sell hundreds of trading pairs without leaving the Telegram app. Bypass uses global liquidity providers to ensure that traders avoid traditional KYC processes. Its native token, BYPASS, is up 28% in the prior 24 hours.
Pepe (PEPE) – Arguably the greatest success story of 2023, Pepe is up over 1,900% since its March 2023 launch. At one point, Pepe had increased by more than 7,000%, although it has since entered a market correction. Pepe is one of the latest meme coins on the block, with no identifiable use cases or utility. Nonetheless, we like cryptocurrencies that perform well during bearish cycles.
Verge (XVG) – A new cryptocurrency ecosystem aimed at day-to-day transactions, Verge offers low-cost and fast transfers. Its network is 100% open-sourced and run by volunteer developers. Verge has launched proprietary software on multiple operating systems, including iOS, Android, Windows, Mac, and Linux. XVG, its native token, was launched within the prior 24 hours.
Collateral Network (COLT) – Creating a sea-change in the global financing space, Collateral Network allows borrowers to use real-world assets as collateral. This could be anything from real estate and fine art to cars and luxury watches. Collateralized assets are tokenized into small units. They're then passed on to investors who fund loans. COLT, the project's native token, is up 152% in less than a week of trading.
Introducing The Top 11 New Cryptocurrency Launches to Invest in
We'll now evaluate the best new cryptocurrency releases for 2023. Read on to discover which projects could generate returns of 100x or more. 
1. Bitcoin ETF Token (BTCETF) – Overall Best New Crypto To Buy Offering High APY And A Deflationary Model
Bitcoin ETF Token ($BTCETF) is a hot new crypto that strategically links its operations to the anticipated approval and launch of the first Bitcoin ETF.
As investors keenly await the SEC's nod for a Bitcoin ETF, which would enable institutional trading of Bitcoin without holding the actual asset, $BTCETF has designed a system to engage and reward its community in this phase.
The presale of $BTCETF is structured into 10 stages, offering 84 million tokens at each stage. Prices start at an attractive $0.005 per token and incrementally rise to $0.0068.
This pricing model incentivizes early investors with a potential 36% gain alongside a high-yielding staking program.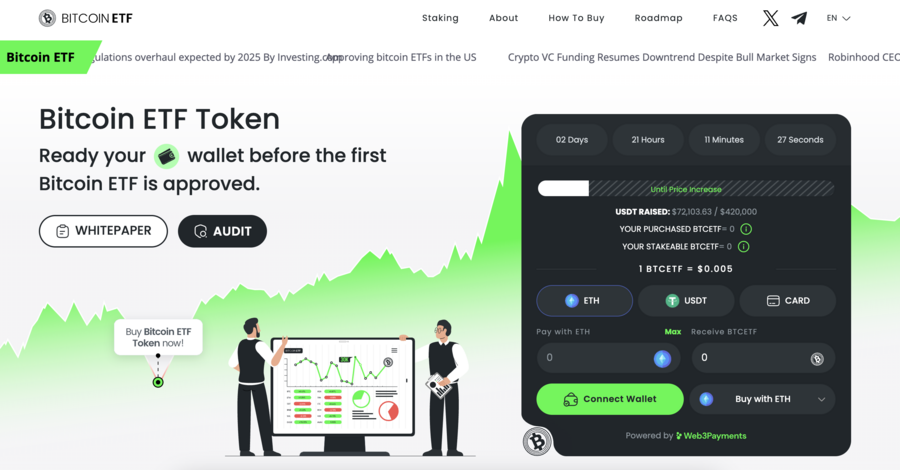 The staking program is particularly enticing during the early presale stages, offering over 1900% APY, although it will decrease as more tokens are staked, suggesting that early participation could be advantageous.
In addition to the high APY, the project has outlined five key milestones linked to the Bitcoin ETF's journey and $BTCETF's market performance.
Per the Bitcoin ETF Token whitepaper, achieving each milestone results in a 5% token burn from the total supply, set at 2.1 billion tokens. This deflationary mechanism is anticipated to impact the token's value positively.
Certain milestones, such as $BTCETF achieving $100 million in trading volume or Bitcoin ETFs securing $1 billion in assets under management, signal significant market events that could boost these burns. Additionally, the trading tax will also be reduced as milestones are reached.

Investors can buy $BTCETF using ETH, USDT, BNB, MATIC, or card payments via an Ethereum-based wallet like MetaMask.
Over 11 million tokens have been staked through a smart contract verified by Coinsult, showing early trust and engagement from the community.
Users can follow the project's updates on X (Twitter) and join the Bitcoin ETF Token Telegram channel for the latest information on the Bitcoin spot ETF approval and the trajectory of the $BTCETF project.
| | |
| --- | --- |
| Total Tokens | 2.1 Billion |
| Tokens Available in Presale | 840 million |
| Blockchain | Ethereum Network |
| Token Type | ERC-20 |
| Minimum Purchase | No Minimum |
| Purchase With | USDT, ETH, BNB, MATIC, Credit Card |
Visit Bitcoin ETF Token Presale
2. Bitcoin Minetrix (BTCMTX) – New Stake-to-Earn Project Revolutionizing the Bitcoin Mining Industry [$3.4 Million Raised so Far]
Bitcoin Minetrix has every chance of becoming the next crypto to explode. But first, this newly launched project is in the midst of its presale campaign. More than $3.4 million has been raised so far, illustrating significant demand from crypto investors. Bitcoin Minetrix has a solid use case; it enables users to earn Bitcoin mining power passively.
This self-sufficient project simply requires users to purchase its native tokens, BTCMTX. Users will then generate credits, which can be burned and exchanged for Bitcoin mining power. There is no requirement to purchase a long-term contract, as is common with Bitcoin cloud mining platforms.
Nor is there a need to invest large amounts; Bitcoin Minetrix doesn't have account minimums. This means that casual users with a few dollars worth of BTCMTX tokens can mine Bitcoin at home. This also removes the need to purchase expensive mining equipment or trust centralized mining pools.
The Bitcoin Minetrix concept is known as 'stake-to-mine', and it's completely decentralized. BTCMTX tokens will also be traded on crypto exchanges after the presale is over. This enables token holders to trade their Bitcoin mining power. As Bitcoin's next halving event gets closer, demand for BTCMTX could increase exponentially.
What's more, presale investors can now secure the lowest token price possible. BTCMTX is currently selling for $0.0114, but this will increase in approximately 30 hours. Investors can use ETH, USDT, BNB, or MATIC to complete their presale investment anonymously. Or, use a credit card after completing a quick ID verification process.
| | |
| --- | --- |
| Total Tokens | 4 Billion |
| Tokens Available in Presale | 2.8 Billion |
| Blockchain | Ethereum Network |
| Token Type | ERC-20 |
| Minimum Purchase | No Minimum |
| Purchase With | USDT, ETH, BNB, MATIC, Credit Card (KYC Required) |
Visit Bitcoin Minetrix Presale
3. Meme Kombat (MK) – Gamification Project With AI-Backed Meme Battles and Betting Rewards
Gamification investors should check out Meme Kombat; a brand-new presale project that's raised over $1.2 million so far. Meme Kombat is developing a battle game that is reminiscent of Mortal Kombat. However, characters are represented by popular crypto memes, such as Shiba, FLOKI, SpongeBob, and Pepe.
Meme Kombat utilizes AI and smart contracts to develop gaming outcomes. This ensures that battles are random, unique, and interactive. The Meme Kombat ecosystem is backed by MK tokens, which have a solid use case. After staking MK tokens, users can place bets on Meme Kombat battle games.
Each battle will come with a range of battle markets at varying odds. Players will even be able to place live bets while battles are still being fought. There will also be player-vs-player markets, allowing friends to compete with one another while earning tokenized rewards. Meme Kombat has every chance of blowing up when the next bull market arrives.
After all, some of the best-performing projects in the prior bull cycle were play-to-earn games. However, investors should remember that Meme Kombat is still being developed – which increases the investment risk. That said, its presale is offering preferential pricing to early investors. MK tokens are currently being sold for just $0.183 – but prices will rise in three days.
| | |
| --- | --- |
| Total Tokens | 120 Million |
| Tokens Available in Presale | 60 Million |
| Blockchain | Ethereum Network |
| Token type | ERC-20 |
| Minimum Purchase | $5 |
| Purchase With | USDT, ETH, BNB |
4. TG.Casino (TGC) – Decentralized Telegram Casino Offering Tokenized Rewards and a Buyback Program
TG.Casino is also one of the best new cryptos to watch. It has developed a decentralized casino platform that operates on Telegram. Players simply need to join the TG.Casino Telegram channel to begin gambling. No account is required, nor any personal data or ID verification documents. TG.Casino accepts payments in cryptocurrencies, which are processed instantly.
Most importantly, TG.Casino is already live on Telegram, with hundreds of casino games available. This includes slots, table games, instant wins, and live dealers. TG.Casino has also launched a sportsbook. It holds a Curaçao e-gaming license and is approved by the Governor of Curaçao.
Although TG.Casino is already being used by gamblers, its presale is still ongoing. This means that investors can buy its native token, TGC, at the best price possible. Tokens are currently selling for just $0.15 each and ETH, USDT, and BNB are accepted. We discovered many use cases, meaning TGC will be purchased for its utility and not just speculation.
For a start, players depositing TGC tokens into TG.Casino receive 25% cashback on losses. Although other cryptocurrencies are supported, they aren't eligible for the promotion. TGC also offers high staking APYs, currently at almost 300%. TG.Casino has developed a deflationary framework too; It frequently buys and burns TGC tokens, removing them from the supply.
| | |
| --- | --- |
| Total Tokens | 100 Million |
| Tokens Available in Presale | 40 Million |
| Blockchain | Ethereum Network |
| Token type | ERC-20 |
| Minimum Purchase | $5 |
| Purchase With | USDT, ETH, BNB |
5. Wall Street Memes (WSM) – Newly Listed Cryptocurrency With Over 90% of Tokens in Circulation and a Huge Marketing Warchest
Wall Street Memes is one of the biggest success stories of 2023. It recently completed its presale campaign, raising over $25 million. It has amassed a loyal following of over 1 million people and its memes are viewed tens of millions of times each month. What's more, its memes have been liked and commented on by Elon Musk, giving the project huge exposure.
However, Musk is not affiliated with the project. Wall Street Memes now trades on cryptocurrency exchanges. Its native token, WSM, has a market capitalization of just $40 million. This offers a solid entry price before the next bull market arrives. Moreover, WSM recently entered a market correction and can be purchased 70% below prior peaks.
We also like that 90% of the total WSM supply is already in circulation. Unlike other new cryptocurrencies, this means that the developers are not holding a large percentage of tokens. Trading volumes are also notable, with over $11 million worth of WSM changing hands in the prior 24 hours.
In terms of use cases, Wall Street Memes has launched a cryptocurrency casino and sportsbook. Gamblers can deposit WSM tokens to receive special perks, such as 200 free spins and a 200% bonus. Its casino supports thousands of games, including roulette, blackjack, baccarat, and slots. WSM can be purchased on OKX, Gate.io, and other leading exchanges.
6. Launchpad XYZ (LPX) – Consumer-Friendly Web 3.0 Ecosystem With DeFi Investment Opportunities and Trading Guidance
Launchpad XYZ is another new cryptocurrency project that's running its presale campaign. Early investors can secure a 10% presale bonus today, with LPX currently selling for just $0.0444. Almost $2 million has been raised so far. Launchpad XYZ is building an ecosystem for Web 3.0 investors who have little experience in this field.
It offers educational tools that explain how the Web 3.0 industry works and which assets have the brightest future. Launchpad XYZ also offers trading signals, based on its proprietary AI framework. Users receive signals telling them which cryptocurrencies to buy – alongside a suggested take-profit price.
Launchpad XYZ also leverages AI to rank cryptocurrency projects based on their investment thesis. It covers various data points, including technical, fundamental, and social sentiment analysis. Launchpad XYZ also allows users to invest in Web 3.0 products. Its decentralized exchanges will support fractional real estate, NFTs, and hundreds of cryptocurrencies.
There are additional perks available to users who staking LPX tokens. This includes priority access to new NFT launches and private ICO rounds. The more tokens staked, the higher the allocation. The Launchpad XYZ presale accepts anonymous purchases with ETH, USDT, and BNB. Credit cards are also accepted after completing a KYC check.
| | |
| --- | --- |
| Total Tokens | 1 Billion |
| Tokens Available in Presale | 250 Million |
| Blockchain | Ethereum Network |
| Token type | ERC-20 |
| Minimum Purchase | 100 LPX |
| Purchase With | USDT, ETH, BNB, Credit Card (KYC Required) |
7. Arbitrum (ARB) – High-Performance Layer 2 Solution for Ethereum Trading 90% Below its March 2023 Listing Price
Although Abitrum was founded in 2018, ARB tokens were launched to the public in March 2023. Therefore, ARB is one of the newest cryptocurrencies to consider buying. This is especially the case based on current prices; ARB is trading 90% below its initial listing price.
Arbitrum has developed a layer 2 solution for Ethereum projects, offering increased scalability, lower fees, and fastest transactions. In fact, the Arbitrum ecosystem – home to over 240 ERC20 tokens, can handle up to 65,000 transactions per second.
Arbitrum is also energy efficient and can support smart contract integration. ARB tokens are required when paying transaction fees. This means demand for ARB will increase as more ERC20 projects join the Arbitrum ecosystem.
Arbitrum currently has a market capitalization of $1.3 billion. This is just a small fraction of Polygon's $6.4 billion valuation, which is Arbitrum's main competitor. The prior bull market proved hugely successful for layer 2 solutions, so ARB offers great value at current prices. Therefore, it firmly makes our list of the best new crypto to buy.
8. Bypass (BYPASS) – Trending Telegram Bot Token With 24-Hour Gains of 28% Offering KYC-Free Crypto Trading
Bypass has developed a Telegram bot that connects to global liquidity providers. It enables users to buy and sell cryptocurrencies directly on the Telegram app. One of the main selling points is that Bypass does not have any KYC processes, meaning users can trade anonymously.
However, this does come at a premium – Bypass charges a trading commission of 1%. This is built into the prices users see when setting up a trade. Bypass has a native ecosystem token, BYPASS, which was recently launched on Uniswap. Buy and sell transactions attract a 5% tax, which is used to fund the project.
BYPASS has increased by 28% in the prior 24 hours. Its market capitalization is not currently published by data aggregation sites, meaning the circulating supply is unknown. That said, the total supply is 1 million BYPASS tokens, which are currently priced at $1.06. This means a fully diluted market capitalization of just over $1 million.
9. Pepe (PEPE) – One of the Best-Performing Meme Coins of 2023 With Gains of Over 1,900%
Pepe is another new cryptocurrency that has already received a stamp of approval from the broader markets. Launched in April 2023, Pepe is nothing more than a meme coin. It doesn't have any long-term objectives nor does its native token have any utility or use cases. Nonetheless, Pepe has generated growth of over 1,900% since its Q2 2023 launch.
In fact, at one stage, Pepe was trading 7,000% above its initial listing price. This feat was achieved in just 17 days. Like many meme coins, Pepe relies on hype, FOMO, and speculation. Although we prefer projects with strong fundamentals, it's notable that Pepe has performed so well in the midst of a bear market.
Therefore, it could grow by many more multiples once the next bull cycle arrives. In the meantime, investors can buy Pepe 73% below its all-time high. Furthermore, Pepe has a market capitalization of just $474 million. This is just a small fraction of other popular meme coins, such as Shiba Inu and Dogecoin.
10. Verge (XVG) – New Payment Digital Currency With Native Apps and Desktop Software
Verge is a newly launched cryptocurrency project that was developed for day-to-day transactions. Its native token, XVG, offers fast and low-cost transfers in a fully decentralized environment. In fact, its underlying technology is 100% open-source.
This community-driven project is operated by volunteers and decisions are made by the XVG community. Verge has developed a native dashboard for multiple devices and operating systems. This includes a mobile app for iOS and Android, plus desktop software for Windows, Mac, and Linux.
The Verge software is required to send and receive XVG tokens. XVG was listed on crypto exchanges within the prior 24 hours. The project has a fully diluted market capitalization of just $3.9 million. Since they were launched, XVG tokens have increased by 26%.
11. Collateral Network – Collateralize and Tokenize Real-World Assets to Access Financing
Collateral Network has created a decentralized ecosystem that supports collateralized loans. More specifically, it enables users to tokenize real-world investments to access secured financing.
For example, suppose a homeowner wants to take out a loan. Through Collateral Network, they can use their property as collateral, which is then tokenized into smaller units. Investors can fund a portion of the loan, using the tokenized real estate as security. Tokenized loans can also be traded on the Collateral Network, should lenders need access to liquidity.
COLT is the native token backing Collateral Network, and it was launched on November 3, 2023. In less than a week of trading, COLT has increased by 152%. Further growth could be in line, considering its fully diluted market capitalization of just $23 million.
Our Methodology When Ranking the Best New Cryptocurrency to Buy
It's important to have a meticulous methodology when choosing the best new cryptocurrency to invest in. In this section, we discuss our own research methods when compiling our top 11 list of new cryptocurrencies.
Project Niche and Long-Term Ambitions
We covered many different niches when exploring new crypto projects to invest in. This ensures that our portfolio is well-diversified and positioned for the next big emerging trend. For example, during the prior bull market, gamification projects performed very well.
Several play-to-earn games went from small-cap startups to multi-billion dollar valuations, including Axie Infinity and Decentraland.
In this niche, we like Meme Kombat – which is building a gaming ecosystem for virtual meme battles. Meme Kombat battles are backed by AI, so each gaming outcome is unique from the next. What's more, Meme Kombat allows users to place bets before and during each battle.
We also like Collateral Network from the real-world asset niche. This project enables users to collateralize assets like real estate and luxury watches, which can then be used to obtain financing.
Blockchain-based gambling is another niche we are strong on. TG.Casino caught our eye, considering its newly launched gambling platform on the Telegram app. TG.Casino offers hundreds of casino games and there's no requirement to open an account. Instead, users place bets via their Telegram username.
There are many other niches worth considering. Investors should explore which niches are likely to explode in the coming months and years. Just make sure your portfolio is diversified across several new cryptocurrencies within each niche.
Token Use Cases
After you've established the long-term objectives of a project, the next step is to understand the use cases of its proprietary token.
With the exception of Pepe – which is a meme coin pure-play, all of the tokens discussed today have solid utility. This means the token offers access to specific features within the respective ecosystem.
Arbitrum is a new cryptocurrency that has an identifiable use case.
ARB tokens are required when paying transaction fees on the Arbitrum network.
This is similar to needing BNB to transact on the Binance network, or BTC on Bitcoin.
Although many popular cryptocurrencies have utility, not all do. For example, CNBC notes that meme coins like Pepe rely on hype and social media. Nonetheless, Pepe increased by 70x within 17 days of launching, showing that utility isn't the only way to attract new buyers.
Small Market Capitalization to Maximize Growth
With the exception of Arbitrum, all of the new cryptocurrencies listed on this page are small-cap projects. This is purposeful, as small-cap cryptocurrencies offer the greatest upside potential. After all, it's best to invest in a new project while it still has a small valuation.
This is like investing in Tesla or Amazon when their shares first went public. Small-cap cryptocurrencies can grow much faster too. This is because they don't need to attract as much buying pressure to increase in value.
For instance, Wall Street Memes – which is one of the best new coins to buy, is worth just $40 million right now. It would only need a valuation of $40 million to grow by 10x. Now compare this to BNB, which is currently valued at $36 billion. Growth of 10x would require a significant market capitalization of $360 billion.
However, small-cap cryptocurrencies can also decline much faster than large-caps. This is why it's also wise to have some large-cap projects in your portfolio. Although large caps offer more modest gains, they can reduce the overall portfolio risk.
Transparent and Sustainable Tokenomics
Our methodology also prefers new crypto coins with transparent and sustainable tokenomics. First, you'll want to know how many tokens are being created by the new cryptocurrency project. You'll also want to know whether the project can create additional tokens or if the supply is finite.
It's also important to know what percentage of tokens are in circulation. If the majority of tokens are still held by the project, this can be risky. The key risk here is that the project could dump the tokens on the open market. This is a surefire way of the token capitulating in value.
Another area to look at is whether the project has a burning mechanism. This means the developers frequently remove tokens from the circulating supply. However, this can have little impact if the burning program isn't self-sufficient.
This is why we like TG.Casino's strategy, which is more synonymous with a share buyback scheme.
The same concept is being developed by TG.Casino. This new cryptocurrency project will repurchase its own tokens from the open market. Repurchases are funded by operational profits – meaning the process is sustainable. TGC holders will benefit from this strategy, as the total supply of tokens is reduced over time.
Community Size and Broader Market Hype
New cryptocurrencies that are able to attract a loyal community following can produce significant growth, even if they have questionable use cases. It's for this reason that Shiba Inu – a self-proclaimed 'Dogecoin Killer', obtained a market capitalization of over $40 billion in under two years of launching.
The concept is simple; the more people that are invested in a project, the more hype and FOMO this creates. It's like a dominos effect, where people are afraid of missing out on the next big project, so they decide to invest themselves.
Dogecoin is another example of a cryptocurrency project with a strong following.
Although Dogecoin is 90% down from its all-time high, the project is still valued at over $10 billion.
Therefore, when searching for a new cryptocurrency to invest in, consider how much exposure it has in the broader market.
We also mentioned that Wall Street Memes raised over $25 million in presale funding. It already had a community of over 1 million people before the presale launched. This was a major factor in Wall Street Memes raising so much capital.
You can also explore social media to see which projects are generating hype. If you come across the same new cryptocurrencies being discussed on Reddit or Twitter, this could be a good sign. Ultimately, you'll want to get in on hyped cryptocurrencies before they become mainstream.
Benefits of Investing in a New Crypto Launch
We'll now explore why new cryptocurrencies can be a great addition to a well-balanced investment portfolio.
Invest in a New Project From the Ground Up
There's a reason why venture capitalists invest in startups – they typically secure the lowest valuation possible. Venture capitalists project long-term growth potential, meaning they can make significant returns if the startup becomes mainstream.
This concept is not too dissimilar to new cryptocurrencies.
Put simply, you can invest in a new crypto project right from the get-go.
This means you'll be able to invest at a significant discount when compared to its long-term potential.
After all, you're taking a huge risk by investing in a new cryptocurrency project that is likely still a work in progress.
Therefore, you should be incentivized with a favorable entry price. As the project meets its objectives and builds a loyal following, this will be reflected in its token price.
For example, consider that BNB was trading at just $0.10 when it first launched in late 2017. Although BNB backs the world's largest exchange – Binance was a new market entrant at the time.
This means those buying BNB in 2017 took a major risk – nobody could have foreseen how successful the exchange would become. And investors were rewarded for their belief – BNB has since hit all-time highs of over $690. That's almost 690,000% above BNB's initial listing price.
Explosive Price Growth
Investing in new cryptocurrencies is inherently risky, but the long-term potential is unprecedented. Should you invest in a newly launched project that archives a billion-dollar valuation, the returns could be life-changing.
For example, in October 2021, Bloomberg reported that Shiba Inu had increased by over 40 million percent in the prior 12 months. As we mentioned earlier, Shiba Inu was created as a 'Dogecoin Killer'. Nonetheless, had you bought just $10 worth of Shiba Inu when it first launched, you could have cashed out $4 million less than a year later.
The Sandbox is another example of how new cryptocurrencies can generate explosive price growth in a short period of time. Launched in late 2020, the Sandbox was originally priced at just $0.066. Just 12 months later, the Sandbox hit all-time highs of $8.44. This translates to 12-month gains of over 12,000%.
In more recent times, we mentioned that Pepe increased by over 7,000% in under three weeks of launching. There are many other examples of cryptocurrencies producing similar growth. However, there are even more instances of new cryptocurrencies that completely capitulate.
We can't stress enough how important it is that you're well-diversified. If you're investing in new cryptocurrencies, make sure you consider at least 10 different projects. You might only need one investment to explode, even if it only represents a small percentage of your portfolio.
Presale Campaigns Offer Preferential Pricing
Presales are the stock IPOs of the cryptocurrency arena. They enable you to buy new cryptocurrencies before the tokens begin trading on exchanges. The presale process enables new projects to raise capital.
This ensures the project has enough funding to operate and meet its long-term goals. The best crypto presales offer preferential pricing to early investors. After the presale is over and the tokens are listed on exchanges, they often increase in value.
This is because pricing is based on demand and supply. In other words, investors missing the presale are willing to pay a higher price to invest. This is similar to IPO stocks increasing rapidly on the first day of trading.
Most presales have very small minimum investment requirements. This is often just a few dollars, so you can diversify to reduce the risk.
Risks to Consider When Searching for the Best New crypto for 2023
New cryptocurrencies are a lot riskier than established projects like Bitcoin. Let's take a much closer look at what risks need to be considered.
Investing in Early-Stage Ideas
There's a common trend with new crypto launches – you're often investing in an 'idea' rather than a workable product or service. Sure, you can wait for the new project to achieve its roadmap targets before investing.
But by this stage, its progress will already be built into its market value. This is why new cryptocurrencies often have a small market capitalization, as they're only at the start of their journey.
The key risk here is that the project never meets its objectives. There are thousands of 'dead' cryptocurrencies in the market. The project developers either lose interest or run out of working capital. Either way, once development comes to a halt, investors are left with worthless tokens.
This is like investing in an off-plan property. You'll get a significant discount for investing before development begins. But if the developer runs into financial issues, the property complex might never be finished.
New Cryptocurrencies Often Trade on Decentralized Exchanges
New cryptocurrencies often begin life on decentralized exchanges (DEXs). This is because DEXs do not have an application process. Due to their decentralized framework, developers can list their new cryptocurrencies on a DEX at any time.
Although this isn't necessarily a drawback, DEXs can be intimidating for casual cryptocurrency investors. Moreover, DEXs cannot directly accept fiat money, meaning new investors will struggle to deposit funds.
Broader Market Conditions
Irrespective of the fundamentals, broader market conditions can impact the value of cryptocurrencies. This is why Bitcoin is still trading almost 50% below its 2021 all-time high. Therefore, you might need to hold onto your new cryptocurrency tokens for extended periods of time.
During bearish cycles, there is less desire to invest in unproven projects, so do bear this in mind. That said, many cryptocurrencies have thrived during the current bear market, so there will always be exceptions to the rule.
Scams and Hacks
According to a recent FBI report, 2022 saw more than $2.57 billion worth of cryptocurrency-related fraud. This was up from $907 million in 2021. There are many different ways that cryptocurrency investors can be scammed.
One way is through new cryptocurrencies that make bold promises but fail to deliver. As we mentioned, there are thousands of cryptocurrency projects that are no longer a going concern. You'll be left holding worthless tokens if this happens to one of your investments.
Some new cryptocurrencies set out to commit fraud from the get-go. They'll raise funds from presale investors before vanishing. You'll likely have no recourse, considering that many cryptocurrency presales are anonymous.
And don't forget about hacking attempts. Scammers are always on the hunt for private keys, which provide access to cryptocurrency wallets. Make sure you avoid sharing information about your investments – and never store your private keys online (e.g. on the cloud or saved on a laptop notepad).
High Volatility
New cryptocurrencies are significantly more volatile than established projects. This is for various reasons. In many cases, new projects have little exposure, meaning they attract low liquidity levels.
Coupled with a small market capitalization; new cryptocurrencies witness rapid price swings.
Even a relatively small trade can move the cryptocurrency's value by wide margins.
This can be great when prices are moving in your favor.
Conversely, you should also be prepared for volatile price declines.
If you don't feel comfortable with extreme volatility, new cryptocurrencies might not be right for you. Instead, check out our guide on the 15 best crypto to buy now, which includes established projects like Solana, Chainlink, and BNB.
How to Find New Crypto Launches
We've discussed best practices when researching a new cryptocurrency to invest in. This section provides insights into where you can find new crypto launches.
Decentralized Exchanges
We mentioned that new cryptocurrencies often trade on decentralized exchanges after launching. This ensures the project operates in live market conditions, meaning anyone can buy and sell its tokens.
The most popular decentralized exchanges for new cryptocurrencies are Uniswap (ERC20) and Pancakeswap (BEP20). However, there are hundreds more. This includes everything from Sushiswap and QuickSwap to ApeX, 1inch, and the OKX DEX.
Decentralized exchanges rarely have a page dedicated to new crypto listings. Fortunately, you can use a data aggregation platform like DexTools. Put simply, DexTools imports data from the majority of decentralized exchanges.
Head over to its 'Live New Pairs' section and see what's available.
Not only does DexTools list new cryptocurrencies by their listing time, but other key data.
This includes the total liquidity, trading volume, price action, and links to the project's website and socials.
This enables you to perform due diligence on new listings before proceeding.
DexTools offers lots of other useful features. This includes a list of the best and worst-performing cryptocurrencies in the previous 24 hours. You can also view which cryptocurrencies are receiving the most views and searches.
CoinMarketCap New Listings
Another way to find a new cryptocurrency to invest in is CoinMarketCap. However your mouse over 'Cryptocurrencies' toward the top of the homepage. Then, click on 'Recently Added'. You'll now see a list of new cryptocurrencies that have been added to CoinMarketCap.
This displays the gains or losses made in the prior 1 and 24 hours. It also shows the market capitalization, trading volume, and the native blockchain network. You can click on a cryptocurrency to get additional information, including links to its website.
It's also worth checking out the 'Trending' page on CoinMarketCap. Similar to 'Hot Pairs' on DexTools, this shows the most searched cryptocurrencies – many of which are new. For example, Memecoin is the most trending cryptocurrency right now, which was launched within the prior 24 hours.
New Presale Launches
One of the best ways to find the newest crypto coins is through presales or ICOs. Both terms are used interchangeably but refer to the same thing; fundraising campaigns run by new cryptocurrency projects.
An increasing number of presales are launching every week, although finding them can be challenging. We'd suggest using a presale listing website like ICObench or ICO Drops.
These platforms display upcoming presales, ensuring you're ready to invest once they launch. After all, presales usually incentivize early investors with discounted prices. As the presale progresses, the price increases.
Centralized Exchange Listings
Some new cryptocurrencies are able to list on centralized exchanges from the very get-go. This could be for various reasons. For example, if the cryptocurrency is backed by an established company or it raised a significant amount during the presale campaign.
Therefore, it's worth checking out listing announcement pages from popular exchanges. For example, the Binance announcement page is the only official place to hear about new listings. You can also check out the KuCoin new listings page.
Ultimately, if a brand-new cryptocurrency is being listed on an exchange like Binance or KuCoin, this is good news. These established exchanges have millions of daily active users. This means the new cryptocurrency project will benefit from huge exposure.
Conclusion
In summary, new cryptocurrencies offer exposure to innovative projects that are just starting out. Investors should remember that many new crypto launches fail to deliver long-term, so there's a chance you could lose all of your investment.
We'd suggest diversifying across many different projects, covering both new and established cryptocurrencies. Bitcoin ETF Token – which offers rewards that are tied to progress in spot Bitcoin ETF approvals, is worth exploring. Its presale campaign is proving popular, with more than $100k already raised in just a few days of launch.
Visit Bitcoin ETF Token Presale
References
FAQs
Which cryptocurrency is newly launched?
There is a new cryptocurrency launch almost every day. Some of the latest new crypto launches include Bitcoin ETF Token, Bitcoin Minetrix, Meme Kombat, and TG.Casino.
How to find new cryptocurrencies to buy?
The best way to find new cryptocurrencies includes CoinMarketCap (Recently Added), DexTools (Live New Pairs), and exchange listing announcements.
Which crypto will boom in 2024?
In addition to Bitcoin and Ethereum, new cryptocurrencies like Bitcoin ETF Token, Bitcoin Minetrix and TG.Casino could boom in 2024. Just make sure your portfolio is well diversified.
Which crypto has 1000x potential?
Realistically, only new cryptocurrencies with small market capitalizations can produce gains of 1,000x or more. Consider new crypto presales like Bitcoin ETF Token, Bitcoin Minetrix, Launchpad XYZ, and Meme Kombat.