Artificial intelligence (AI) is one of the most profound changes to stock trading since the advent of online brokers. With AI, anyone can find patterns in stock prices and use enormous datasets to predict which stocks will soar. The most important thing for traders is to decide which is the best AI stock picking service for their trading approach.
In this guide, we'll review 8 of the best AI stock picking platforms available today. We'll also explain how AI can play a role in trading and how to use an AI stock picker effectively.
The Top AI Stock Pickers Shortlisted
Here's a quick look at the best AI stock picking services:
AltIndex – Daily AI stock picks based on fundamental, technical, and alternative data. Provides deep insights into companies based on web traffic, employment data, and more.
TrendSpider – AI-powered technical analysis helping traders identify day and swing trading opportunities. Identifies candlestick patterns, trendlines, Fibonacci retracements, and more.
Danelfin – Straightforward AI stock picks with fundamental analysis and 3-month price targets. Offers a free list of top AI picks.
Trade Ideas – AI stock scanner built for day traders. Has a steep learning curve, but offers actionable entry and exits for every trade recommendation.
Tickeron – Mix and match AI trading robots based on fundamental and technical signals. Offers both signals and automated trading services.
BlackBoxStocks – Day trading service helping traders find volatile opportunities. Ideal for options traders since it includes an options order flow feed.
Kavout – AI investing platform for building and diagnosing long-term stock portfolios. Offers built-in AI screens for finding new investment ideas.
Candlestick.ai – Mobile app with 3 weekly AI stock picks tailored to different investment styles. Soon to introduce a conversational AI advisor.
A Closer Look at the Best AI Stock Picking Services
Want to know which of these AI stock selector tools is best? We'll cover each in detail below and highlight the types of stock trading they're best suited for.
1. AltIndex – Daily AI Stock Picks Based on Fundamental, Technical, and Alternative Data
AltIndex is a powerful AI stock picker that takes a holistic look at companies to help traders decide which stocks could rise and fall.
The platform uses a combination of fundamental, technical, and alternative data analysis that's relatively unique and helps AltIndex provide accurate recommendations. Some of the unique metrics that AltIndex monitors include social media sentiment, Google Ads spending, employee ratings, ESG efforts, mobile app downloads, and more.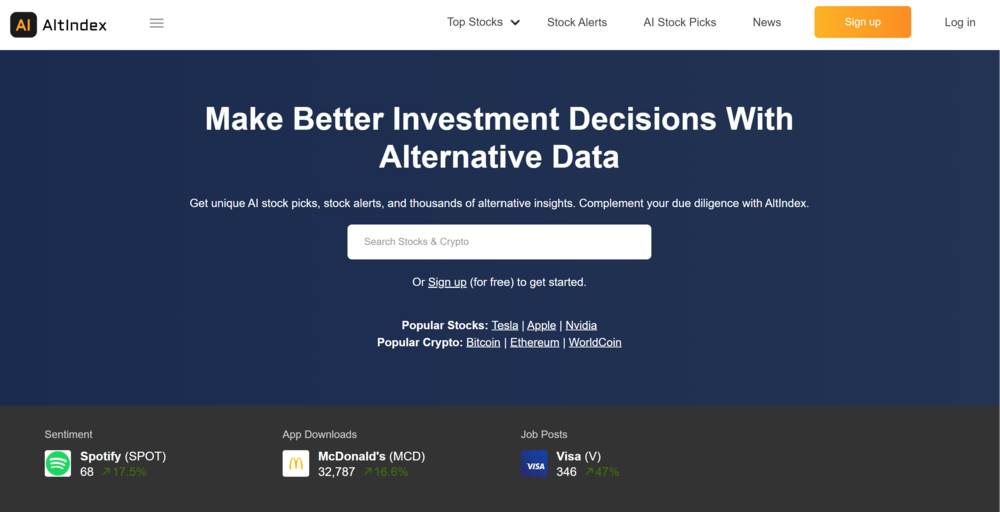 These alternative data points are incredibly helpful in finding out how healthy a company is beyond what's reported on its balance sheet. Factors like ESG and employee ratings also point to whether a company will remain popular in the future. Alternative data has long been used by hedge funds because of the insights it provides.
AltIndex combines this alternative data analysis with traditional fundamental and technical metrics to assign each stock an AI score. This is further broken down into sub-scores like brand score, employment score, user growth score, and fundamental score giving its users the best stock tips on the market.
AltIndex also delivers a 6-month price prediction for each stock in its database. Traders and investors can use this to make decisions based on a stock's predicted upside. AltIndex also provides a list of top-rated stocks based on price predictions, which makes it easy for traders to quickly find actionable ideas.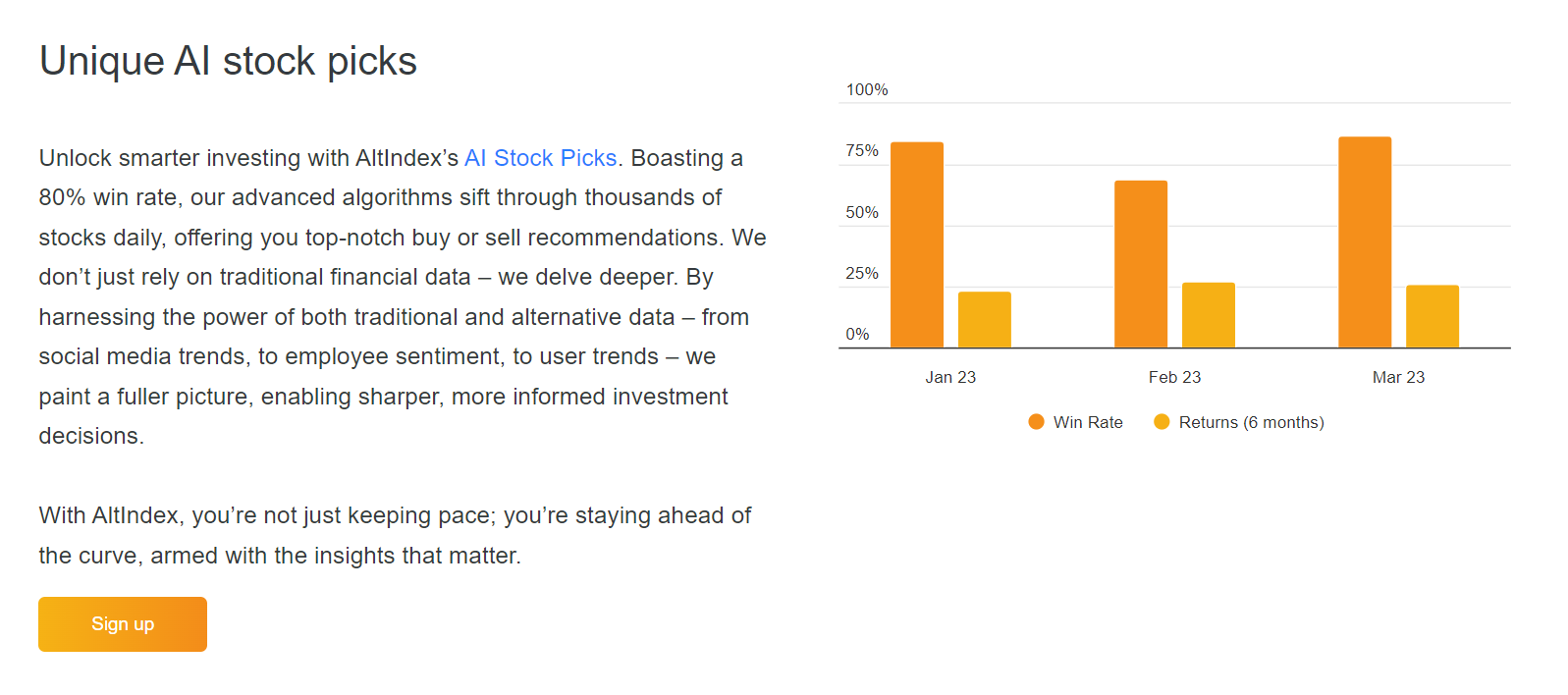 AltIndex claims an 80% win rate on its AI stock picks, which is really impressive. Over the first 3 months of 2023, the picks delivered a 6-month return of 23-26% each month.
A stock screener lets traders dig in deeper, filtering stocks by AI score, predicted upside, and dozens of fundamental, technical, and alternative metrics. The AltIndex screener is really powerful for traders who already have a strategy, but want to narrow down their ideas further using AI.
Traders can start using AltIndex for free and get one AI stock pick plus research into 20 stocks. Paid plans start at just $29 per month for unlimited stock research, full access to the stock screener, and 10 monthly AI stock picks.
| | | | |
| --- | --- | --- | --- |
| Free Plan | Starting Price | Pick Style | Pick Format |
| Yes | $29/month | Fundamental, technical, and alternative data | Daily stock picks |
Pros
6-month price prediction for each stock
AI score broken down into sub-scores
80% win rate for AI picks
Free plan to try out the picks
Cons
Minimal detail about what fundamental and technical data is used
Visit AltIndex Now
2. TrendSpider – AI-powered Technical Analysis and Charting Platform
TrendSpider is a powerful platform for stock charting and technical analysis that includes unparalleled automation features. With this platform, AI can help traders automatically identify trendlines, candlestick patterns, Fibonacci retracements, and more.
The software is surprisingly easy to use, making it a good option even for beginner chartists. Traders can simply select the auto-annotate feature and specify what level of sensitivity they want for the analysis. TrendSpider will find all of the relevant trendlines and patterns within a few seconds.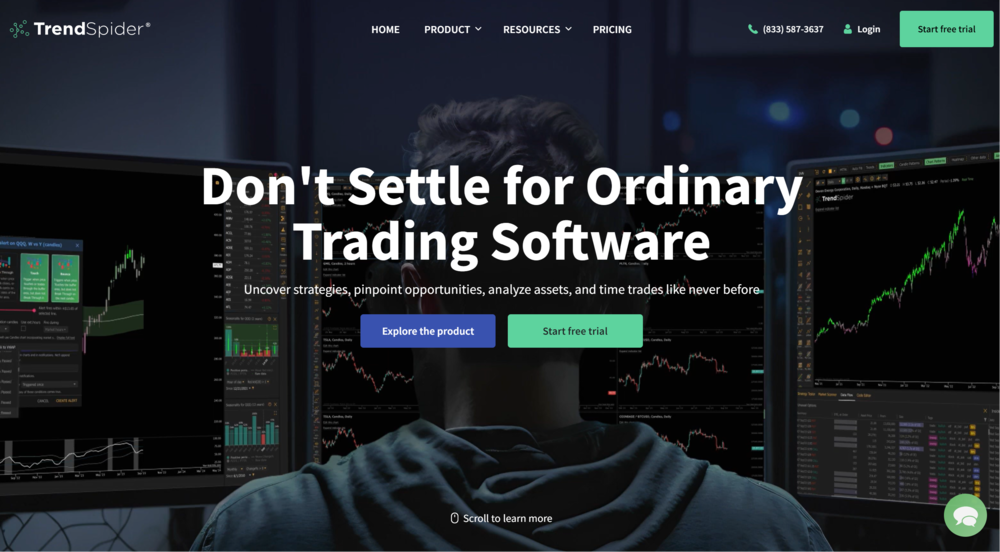 TrendSpider takes this approach one step further, providing traders with a scanner that can search for popular candlestick patterns or stocks setting up for a breakout. This is an incredibly handy tool for swing traders, who can quickly find opportunities before it's too late.
Notably, the scanner is completely code-free. Traders can essentially describe the conditions they want to search for in plain English, and TrendSpider's AI tools will take care of the rest. This is just another way that the platform makes itself as user-friendly as possible.
The platform also enables traders to backtest strategies and run profitable strategies as bots. These bots can be integrated with IFTTT, Zapier, or other automation software to execute trades without manual intervention.
TrendSpider offers a 7-day free trial and paid plans start at $22.40 per month. All plans include real-time market data and all of TrendSpider's pattern recognition tools.
| | | | |
| --- | --- | --- | --- |
| Free Plan | Starting Price | Pick Style | Pick Format |
| 7-day free trial | $22.40/month | Technical analysis | Customizable stock screener |
Pros
Automatically identify trendlines and candlestick patterns
Highly customizable technical screener
Set up bots for automated trading
User-friendly design with no coding required
Cons
Doesn't offer a pre-made list of top opportunities
Visit TrendSpider Now
3. Danelfin – Straightforward AI Stock Picks with 3-month Price Targets to Follow
Danelfin is an easy-to-use stock picking service powered by AI. It offers straightforward top stocks lists, 3-month price targets for thousands of stocks, and understandable stock scores.
The user-friendliness of this platform makes it a great option for new swing traders and active investors who are just getting into AI stock picking for the first time.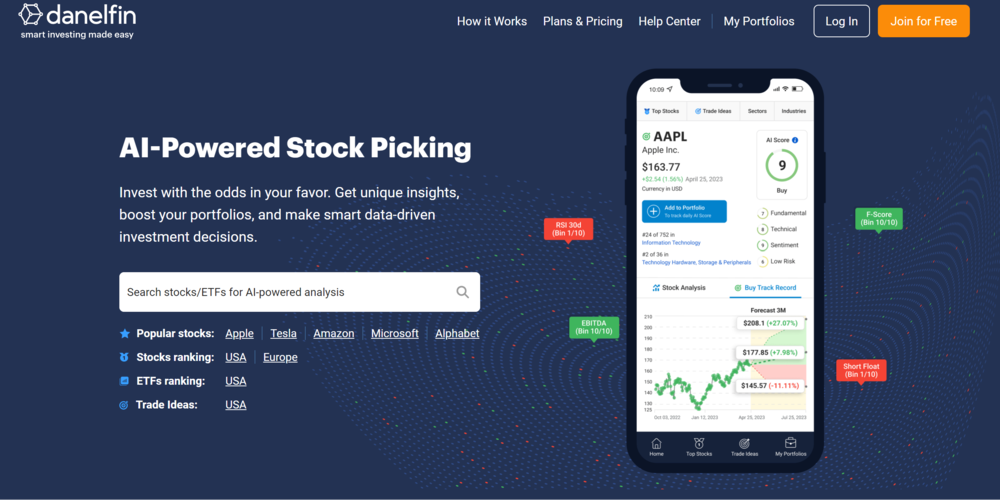 Danelfin assigns each stock in its database—which covers both US and European stocks—an AI score on a scale from 1-10. The higher the score, the greater the likelihood that the stock will outperform the market over the next 3 months.
The overall score is broken down into sub-scores for fundamental, technical, and sentiment analysis, plus another score for risk. So, traders can get some insight into why the AI is recommending a particular stock.
Danelfin offers a list of top stocks that traders can explore as well as a list of actionable long and short trade ideas. One nice thing is that the AI calculates a low, medium, and high price target for each stock, giving traders an idea of the confidence interval in each prediction. The software also displays the results of past predictions for each stock, letting traders know just how well Danelfin has worked for that particular company in the past.
Traders can start using Danelfin for free and get the top 10 stocks recommended by the AI at no cost. Paid plans start at $17 per month and unlock daily trade ideas and more access to the stock research that goes into Danelfin's AI model.
| | | | |
| --- | --- | --- | --- |
| Free Plan | Starting Price | Pick Style | Pick Format |
| Yes | $17/month | Technical and fundamental analysis | Daily list of top 10 picks |
Pros
3-month price predictions for thousands of stocks
Get top 10 daily recommendations for free
Covers US and European stocks
See past signal results for each stock
Cons
Very limited charting and analysis tools for further research
Visit Danelfin Now
4. Trade Ideas – AI Stock Scanner Built for Day Traders
Trade Ideas is arguably the most powerful and comprehensive stock screener on the market today. It's also one of only a handful of screeners that's really harnessed the power of AI for finding stock trading opportunities.
The Trade Ideas AI, nicknamed Holly, scans the market each night and runs millions of scenarios to identify potential trades for the following day. When traders log into Trade Ideas in the morning, they'll see a list of Holly's best ideas complete with entry and exit points.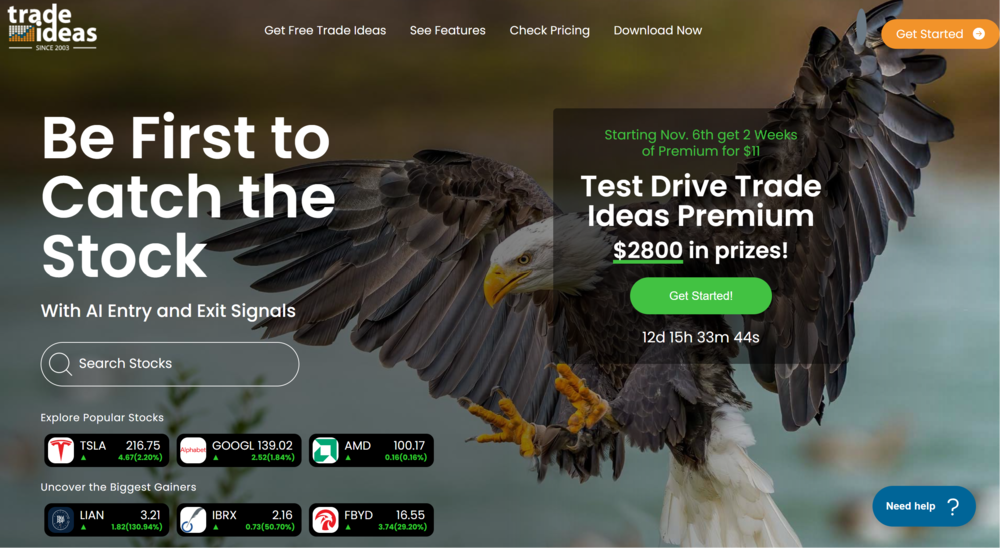 Traders can essentially use Trade Ideas like a signals service, simply following along with Holly's recommendations. The platform even integrates with brokers like Interactive Brokers and TradeZero to let traders execute signals from Holly automatically.
Traders can also use Trade Ideas to build their own stock scans, although the platform has a very steep learning curve. There are basically no limits to how complex scans can be or what custom technical and fundamental metrics a trader can include. This is a platform designed around highly experienced day traders, so beginners should beware that it can be overwhelming.
Another thing to keep in mind about Trade Ideas is that it's expensive. The stock scanning features start at $84 per month, and traders will have to shell out $167 per month for access to the AI trade ideas.
The lofty price can be worthwhile for day traders with a lot of capital to deploy, but pricing is definitely a consideration when deciding whether to use Trade Ideas over another AI stock picking service.
Pros
Extremely powerful AI trading signals daily
Highly customizable stock screens
Integrated charting tools
Automated execution with partner brokerages
Cons
Very steep learning curve
Expensive
Visit Trade Ideas Now
5. Tickeron – Mix and Match AI Trading Robots from a Vibrant Marketplace
Tickeron is a market analysis platform that's leaned heavily into AI. The service offers a marketplace where traders can find and purchase AI trading bots to deliver signals or even trade automatically on their behalf.
There's a wide range of AI bots available on Tickeron. Some are based on fundamental analysis, some on technical analysis, and some on a combination of both. All of the bots are backtested and evaluated by Tickeron's team to ensure they're profitable.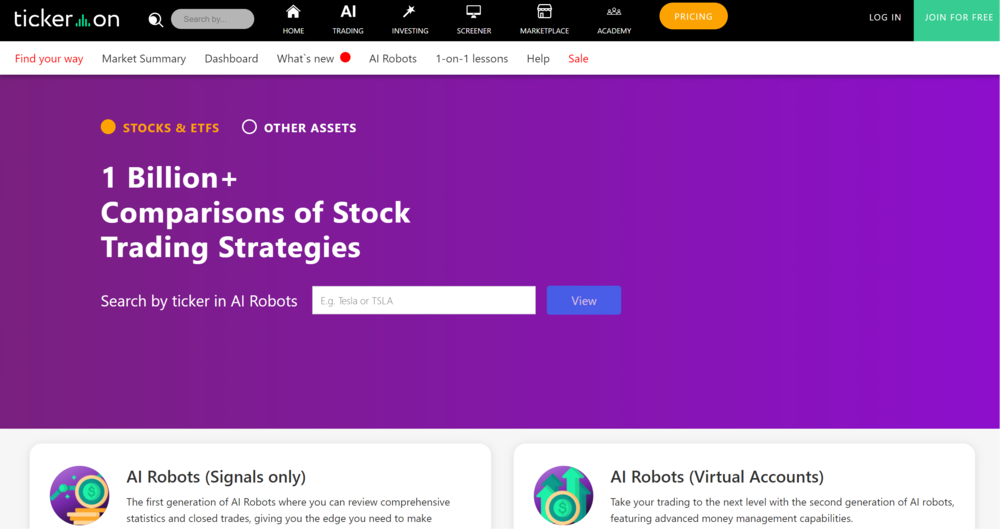 Notably, Tickeron's bots aren't just for stocks. The platform also has bots for forex trading and crypto trading, making this a versatile platform for multi-asset traders.
Tickeron also incorporates AI into its market research tools. Traders can take advantage of a trend prediction engine to find hot stocks and market sectors. There's also a pattern detection tool that can identify common candlestick patterns like double tops, head and shoulders, and ascending triangle patterns.
A stock screener lets traders mix their own custom strategies with Tickeron's AI analysis to find opportunities in the market right now. It's not the most user-friendly screener we've tested, but it does offer a ton of filter parameters.
Tickeron's pricing is confusing. Traders can use the platform for free, but a free plan offers only limited access to stock research and no access to AI tools. Daily AI-generated signals start at $5 per month, while pricing for bots in the marketplace starts at $90 per month for a single bot. There are different plans for day traders, swing traders, and investors, too.
| | | | |
| --- | --- | --- | --- |
| Free Plan | Starting Price | Pick Style | Pick Format |
| Yes | $5/month | Technical and fundamental analysis | Daily trade signals |
Pros
Marketplace for AI bots
Candlestick pattern identification
Supports stock, forex, and crypto trading
Daily AI-powered trading signals
Cons
Pricing options are confusing
Visit Tickeron Now
6. BlackBoxStocks – Options Trading Platform Using AI to Identify High Volatility Opportunities
BlackBoxStocks is an AI-powered trading system with a devoted community of traders around it. The platform delivers a combination of daily signals and deep research to help traders spot and act on highly volatile trading opportunities.
With BlackBoxStocks, traders receive a list of potential stocks to watch at the start of each day. They can follow these stocks using a myriad of research tools including an options order flow feed, a dark pool feed, a volatility indicator, technical charts, and more.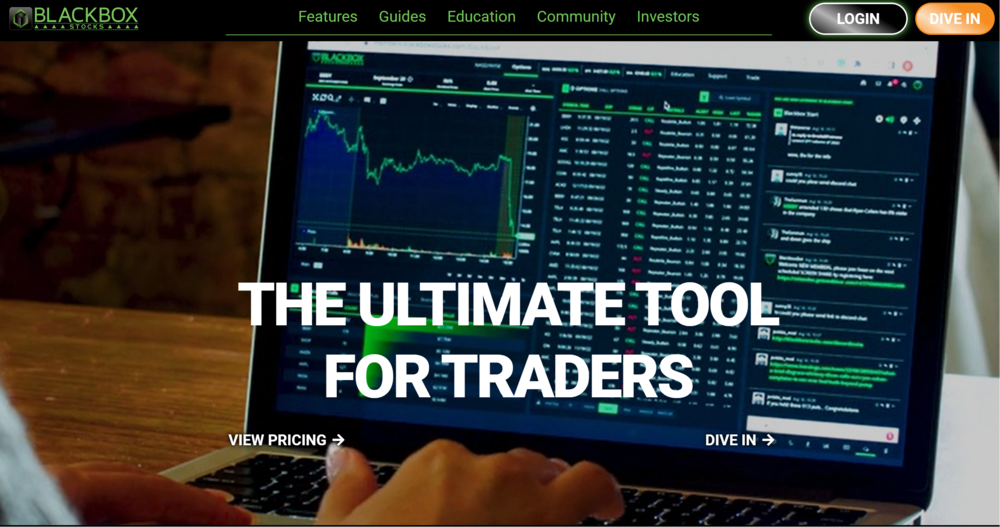 Traders can find even more ideas in BlackBoxStocks using a built-in screener and a community chat. The chat is very active, enabling traders to share their ideas and get feedback from more experienced peers.
Unlike other AI-powered trading platforms, BlackBoxStocks is a self-contained trading system. Everything traders need to make decisions can be found within the software, and there are detailed guides to how to use it effectively. This makes BlackBoxStocks suitable for traders of all experience levels.
BlackBoxStocks costs $99.97 per month or $959 per year. Traders can try out the platform before committing with a 7-day free trial.
| | | | |
| --- | --- | --- | --- |
| Free Plan | Starting Price | Pick Style | Pick Format |
| 7-day free trial | $99.97/month | Technical analysis | Daily trade signals |
Pros
Self-contained trading system with custom indicators
Community chat with other traders
Research tools including stock screener and charts
Includes options order flow feed
Cons
Requires monitoring the market throughout the day
Visit Black Box Stocks
7. Kavout – AI Investing Platform Helping Investors Build the Perfect Portfolio
Kavout is an AI-powered service targeted at active and long-term investors rather than traders. Its goal is to help investors build and maintain the best possible portfolio for their financial goals.
With Kavout's portfolio builder tool, investors can assemble a portfolio of top-rated stocks from multiple sectors. The tool helps investors avoid common pitfalls like buying highly correlated stocks or stocks that are likely to underperform the market.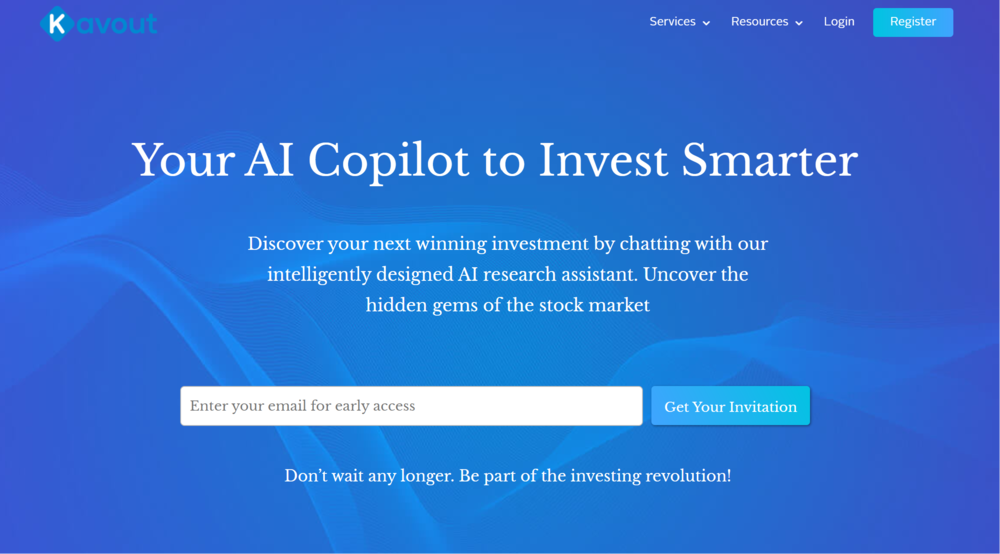 An AI algorithm rates every stock in Kavout's database on its quality, value, momentum, growth, and volatility. Investors can quickly screen stocks based on these ratings, making it easier to decide which stocks to include in their portfolio.
Once investors have assembled their portfolio, they can use Kavout to monitor how diversified it is and weed out underperforming stocks. A dashboard breaks down AI scores for each stock and highlights positive and negative financial metrics that investors should pay attention to.
Kavout can also help investors find additional stocks to add to their portfolio over time using a multi-factor screener. This incorporates all of Kavout's scores, financial ratings, and other fundamental analysis metrics.
Kavout is currently free to use, making it a great option for new investors who want to get their portfolio started on the right foot.
| | | | |
| --- | --- | --- | --- |
| Free Plan | Starting Price | Pick Style | Pick Format |
| Yes | Free | Fundamental analysis | Stock scores |
Pros
Designed for long-term investors
Help achieve truly diversified portfolios
Multiple AI-powered ratings for each stock
Free to use
Cons
Limited tools for portfolio rebalancing
Visit Kavout Now
8. Candlestick.ai – Mobile App with 3 Weekly AI Stock Picks
Candlestick.ai is a mobile AI stock picker for iOS and Android that offers 3 new stock recommendations each week. The app is incredibly easy to use, making it popular among new traders who don't have time to watch the market all day.
Candlestick.ai doesn't reveal exactly what metrics it uses to analyze stocks and make recommendations. However, it says it uses hundreds of technical and fundamental parameters, leading to balanced picks with trade timeframes on the order of a few days to a few weeks.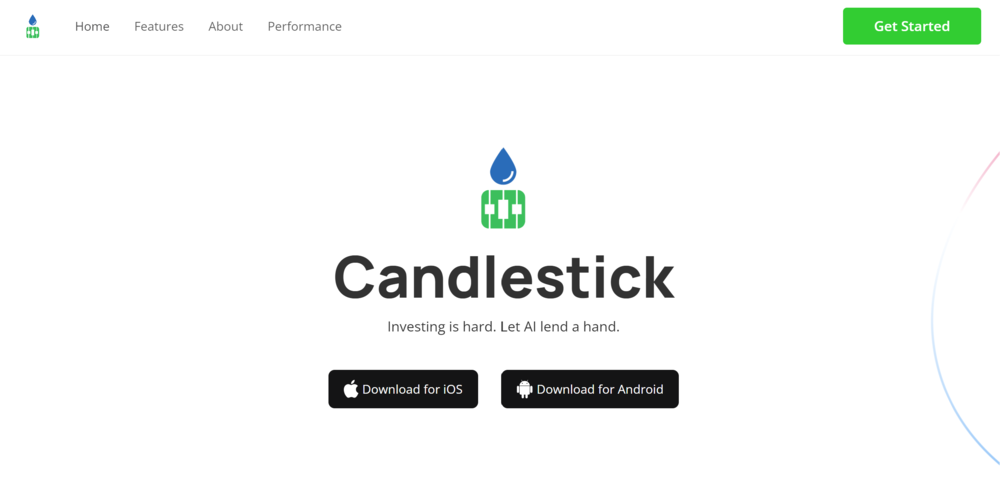 The platform claims a 23% return in 2022, a year in which the S&P 500 lost nearly 20% of its value. Traders can revisit any of Candlestick.ai's past signals to evaluate its performance in more detail. Importantly, this means that Candlestick.ai has proven that its AI model can outperform the market even during bearish conditions.
Candlestick.ai doesn't offer many analysis tools beyond its recommendations. However, the platform is planning to introduce a ChatGPT-based trading advisor in the near future. This will provide more details about each pick, summarize earnings reports, answer questions, and more. Notably, researchers have found that ChatGPT can even predict stock price movements, so the advisor may become a powerful prediction tool on its own.
Candlestick.ai is relatively affordable at only $9.99 per month.
| | | | |
| --- | --- | --- | --- |
| Free Plan | Starting Price | Pick Style | Pick Format |
| Yes | Free | Fundamental analysis | Stock scores |
Pros
Delivers 3 weekly stock picks
Beat the market by a wide margin in 2022
ChatGPT-based advisor coming soon
Transparent about past picks
Cons
Visit Kavout Now
How Do AI Stock Pickers Work?
AI stock picking tools use AI to help traders make better decisions in the market.
Some AI platforms offer clear-cut stock recommendations or trading signals, while others provide AI-powered tools that traders can use to plan out their own trades. Many offer a combination of both, enabling traders to get trade ideas and then research them further on their own.
AI stock picking tools can be used on their own or in combination with traditional trading tools, such as valuation models or technical charts.
Types of AI Stock Picking Websites
While all AI stock picking services use AI, they aren't all the same. These platforms use different types of analysis to make recommendations and provide data in different ways.
Let's take a closer look at some of the common types of AI stock software.
AI Analytics Platforms
AI tools that provide data and analytics are the broadest category of AI stock pickers. These platforms can use AI in a wide variety of ways, including:
Scraping and aggregating data about companies
Analyzing technical charts to identify patterns
Scoring stocks (including in specific categories like technicals or fundamentals)
A good example of this type of service is AltIndex, which uses AI to collect and analyze alternative data about companies. The platform uses alternative data (along with fundamental and technical metrics) to rate stocks based on categories like brand score, employment score, user growth score, and fundamental score.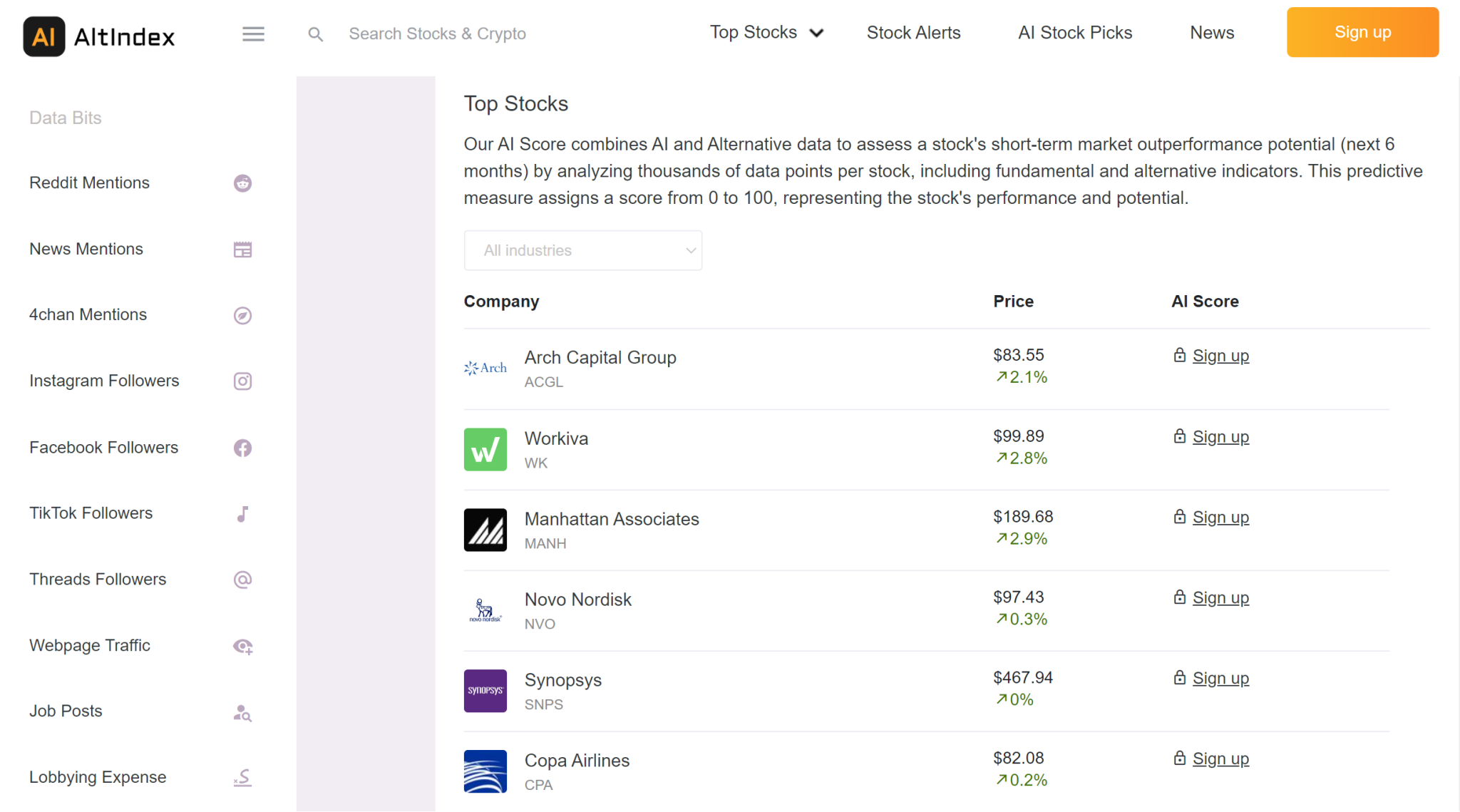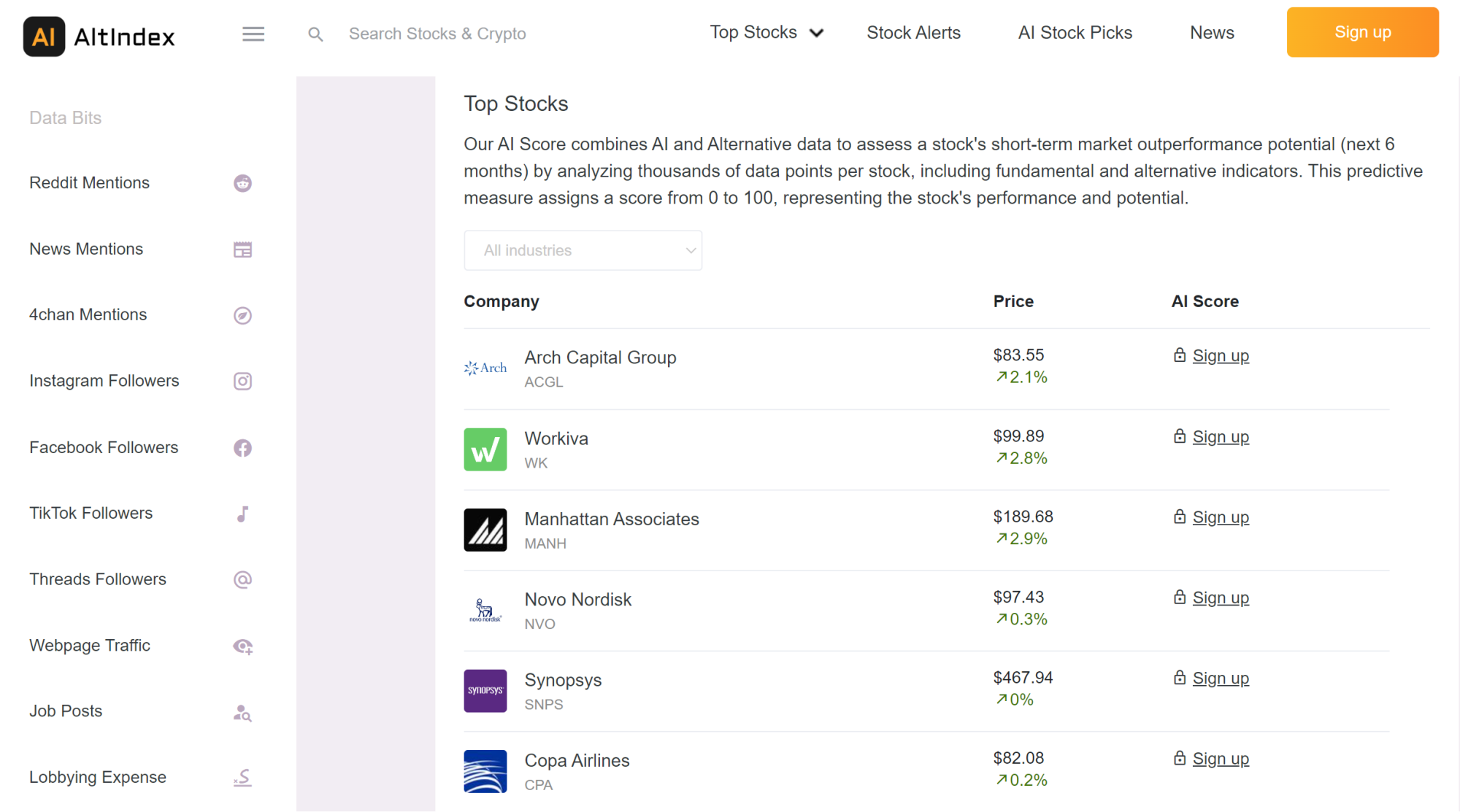 AI Trading Bots
According to Benzinga, automated trading algorithms now account for up to 73% of stock trading in US markets. So, it should be little surprise that these algorithms are now incorporating AI to make them even more powerful.
AI trading bots use AI to recognize specific patterns, such as combinations of technical conditions, and trade around them. For example, an AI trading bot could open a trade when it finds a stock with a moving average crossover and a bullish candlestick pattern.
Traders should use these bots carefully, since they can trade without supervision. A poorly tuned bot can lead to steep losses. On the other hand, a well-designed AI bot can help traders take advantage of opportunities that they would otherwise miss.
AI Signals Services
AI signals services have a lot in common with AI-powered bots. The main difference is that traders can view signals and decide whether to act on them manually—signals are not executed automatically unless traders decide to set up a bot.
AI signals services include Trade Ideas, BlackBoxStocks, and Candlestick.ai. With all of these services, traders receive actionable ideas that they can research further.
Note that some signals are more detailed than others. For example, a signal could simply point to a stock to watch, or it could deliver precise entry and exit conditions for a trade. If a signal comes without entry and exit details, traders will need to develop their own trade plan.
AI Price Prediction Tools
AI price prediction tools like AltIndex and Danelfin use AI to calculate the likely price of a stock at some point in the future. This future time varies based on the platform—for AltIndex, it's 6 months, but other tools offer one-week or multi-year predictions.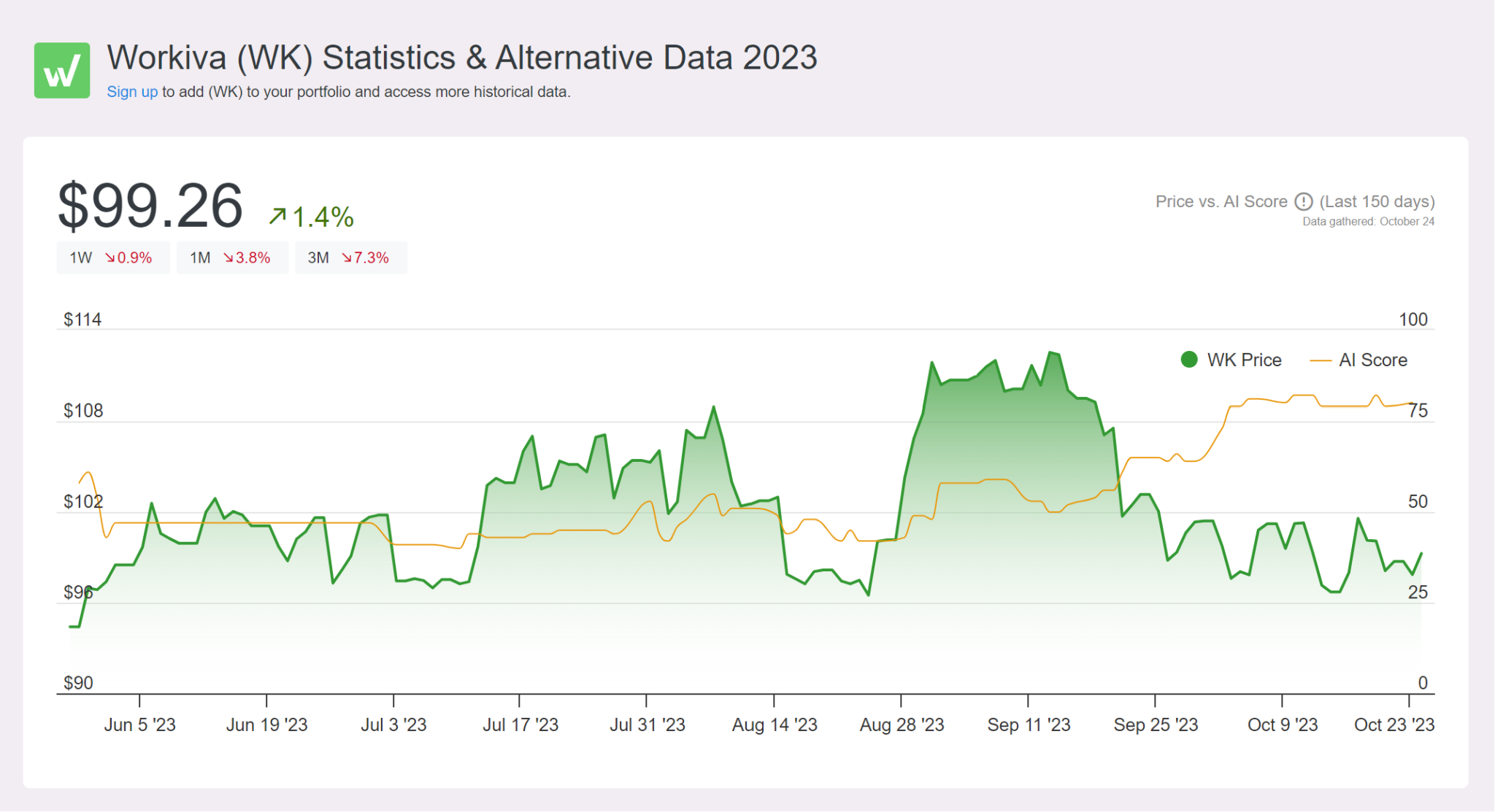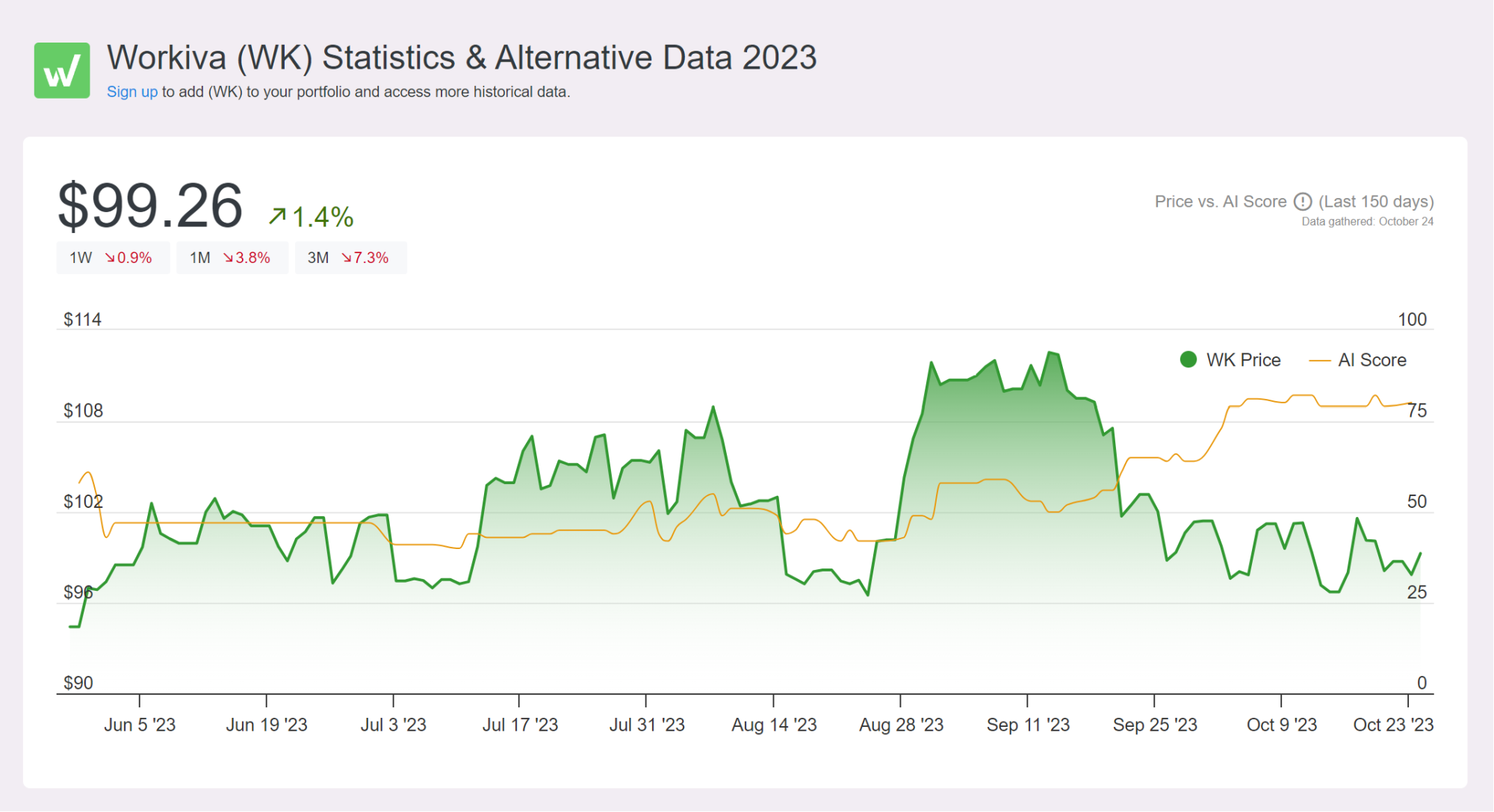 Price prediction tools are useful since they present a clear upside or downside for a stock. Traders can use this information to decide whether a stock is overall bullish or bearish or to set a price target for a trade.
Benefits of Using AI Stock Picks
There are several reasons why a trader might want to use AI for stock trading.
Save Time Watching the Market
AI stock picking tools can save traders a lot of time that they'd otherwise have to spend on research, analysis, and chart-watching. These tools can accomplish in seconds what a human might do in hours.
This time-saving can take several forms. First, traders can skip the time-consuming process of pulling together data. AI does that for them, and analyzes it, too. So, traders can jump straight into a list of actionable ideas instead of spending time every day putting together watchlists.
AI can also save time spent on the manual parts of stock analysis. For example, TrendSpider automates the laborious process of identifying trendlines on stock charts so that it only takes a few seconds. Traders can then spend the extra time they've gotten back on planning out trades.
Find More Opportunities
AI stock pickers can also help traders find more opportunities in the market.
It's all too easy for traders to miss out on ideas that fit their trading strategy simply because they don't have the bandwidth to look at every possible stock. AI can analyze thousands of stocks in seconds and present traders with a shortlist of the ones they should pay attention to.
Supplement Existing Trading Strategies
AI can also help traders find opportunities they may not have thought of using alternative strategies.
For example, if a trader is focused on technical analysis, using an AI platform could help them find opportunities based on fundamental analysis. This could effectively double the number of trading possibilities a trader encounters each day.
Trade Automatically
AI stock picking bots can enable traders to execute buy and sell orders automatically. This allows traders to focus on things other than trade execution and ensures that they never miss an entry or exit.
Automatic trading can also help traders eliminate emotion and bias from their trading. That's a huge benefit since many traders let emotion creep in and suffer losses as a result.
Still, traders should be careful when automating their trades. Automated trading with an unprofitable strategy can quickly lead to large losses. So, it's a good idea for traders to thoroughly test an automated bot before letting it go to work in their trading account.
Can AI Really Help You Make More Money from Trading Stocks?
AI can help traders make more money from trading, but it isn't a guarantee. Like for all trading tools, whether AI stock pickers result in greater profits comes down to how traders use them.
Traders should carefully evaluate the best AI stock picking platforms to ensure they mesh with their strategy. Generally speaking, traders will see the best results if they use AI to find opportunities around an already proven strategy rather than blindly follow AI recommendations without a plan.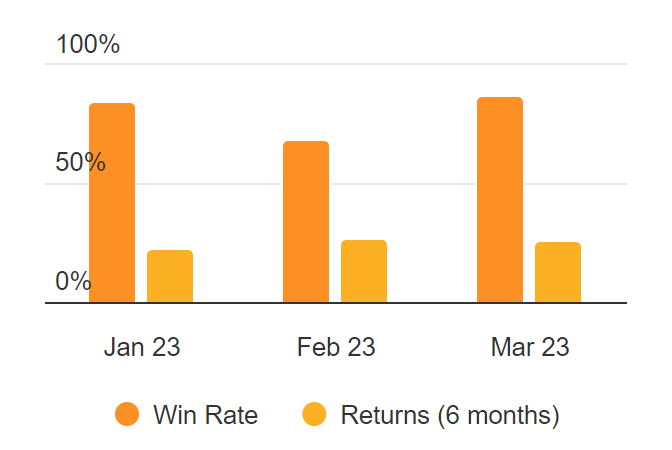 In addition, traders should look at the profitability of an AI tool under different conditions. For example, one AI stock picker might perform well when the market is bullish, but underperform when the market is bearish. It's important to understand when an AI system works well to know when to follow it closely and when to deviate from its recommendations.
Beginner traders should be especially careful when using AI tools. While these platforms can be immensely helpful for new traders, they're not a silver bullet. Traders must still have a strong foundational knowledge of how to trade profitably and how to analyze opportunities, including those presented by an AI stock picker.
How Much Do AI Stock Picking Providers Cost?
Pricing for AI stock picking tools varies widely. Some are completely free, at least for a limited number of weekly stock picks. Others charge nearly $200 per month.
There's no "right" price to pay for an AI stock picking tool. It's more important to get the right AI platform to empower a specific trading strategy than it is to aim for a specific price range. Some traders might get all the AI help they need for $10-$20 per month, while others may need to pay for more expensive tools to see a difference in their profitability.
One thing to keep in mind is that the value of an AI trading tool depends in part on how much capital a trader has to deploy. A trader who only has $5,000 to trade with might not want to spend $1,000 per year on an AI tool. On the other hand, if a trader has $50,000 to trade with, that same $1,000 tool could be very worthwhile.
Conclusion
AI stock picking services can help traders find more opportunities and increase their profitability. These platforms have the potential to revolutionize stock trading and put enormous amounts of analytical power in the hands of individual traders.
We think AltIndex is the overall best stock picking platform to use today. It delivers actionable stock scores and price predictions based on a combination of technical, fundamental, and alternative data. The alternative data analysis that AltIndex provides can also help traders get deep insights into a company's performance.
Get started with AltIndex for free today to see how AI can lead to better trading.
Visit AltIndex Now
References
FAQs
Is there an AI service that can pick stocks?
There are several AI stock picking services including Danelfin, Trade Ideas, and Candlestick.ai. These services use AI to analyze a wide range of technical and fundamental parameters and recommend stocks to trade.
Is AI legal for stock trading?
It's completely legal to use AI tools to trade stocks. Traders can use AI to analyze stock trades or even place trades automatically on their behalf.
What is the best AI service to use for stock prediction?
AltIndex is the best AI stock picking service to use today. AltIndex uses AI to analyze technical, fundamental, and alternative data parameters for thousands of stocks. It delivers an easy-to-understand stock score and a 6-month price prediction that traders can use to make decisions.