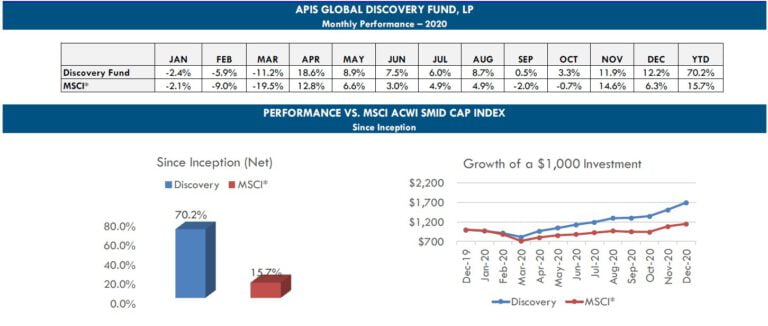 Apis Capital Global Discovery Fund commentary for the fourth quarter and year ended December 31, 2020.
Q3 2020 hedge fund letters, conferences and more
Dear Partners,
Partners Group likes this water play
Partners Group was up 4.6% for November, bringing its fourth-quarter return to more than 3% for the first two months of the quarter. For the first 11 months of 2020, the firm was up by about 10% for each of its two classes. The fund size is $6.7 billion. Partners Group completed four new direct Read More
Apis Capital Global Discovery Fund was up 29.8% net in 4Q20 and ended up 70.2% net in its inaugural year.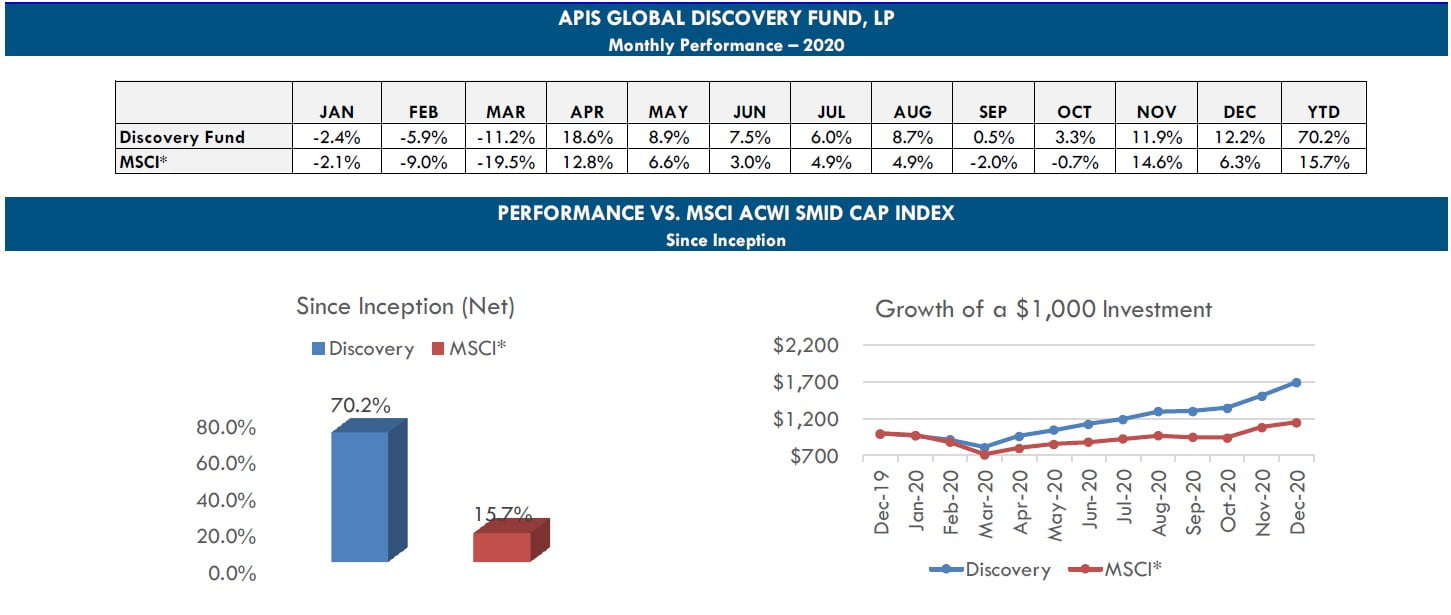 Performance Overview (Gross Returns)
2020 was a year to expect the unexpected and we humbly admit being surprised not only by the market's general strength under the circumstances, but also our ability to successfully navigate it. In the end, 2020 returns are a result of our passion in the never-ending quest to find dynamic companies in a segment of the market (small-cap, especially outside the U.S.) that we feel has been neglected for years or even decades.
As it was the inaugural year of the Apis Capital Global Discovery Fund, there's no direct way to compare macro drivers relative to other periods, but we are pleased with the spread of returns at both the macro and micro (stock-picking) level. Overall, sector returns were balanced with Consumer leading the way (31.3% contribution), followed by Industrials (22.4%) and Technology (19.4%). The geographic mix of returns was also balanced, with North America adding 30.6%, Europe contributing 26.2% and Asia not far behind with 22.5%. Bottom-up stock picking continues to favor Europe where current exposure accounts for nearly half of the fund. Among our examples, Guillemot and Cast S.A. of France as well as LiveChat of Poland are highlighted below.
As self-described "stock-pickers" the most gratifying aspect of 2020 was the strength and breadth of positive contributors. While there were several positions such as Gravity (Korea), West Holdings (Japan), Intellicheck (U.S.), and Solaria (Spain) contributing roughly 5.0% each, there were also 30 names in total that each contributed over 1.0%. On the other side, there were only 4 names in the Apis Capital Global Discovery Fund that detracted more than 1.0% from performance, the worst being Amarin which detracted almost 2.5%.
During the 4th quarter, there were 12 names that each contributed over 1.0% to returns, led by XPEL (2.1% contribution). We highlighted XPEL as an example of a "niche dominator" in our initial quarterly investor letter. Other large contributors not previously discussed included names such as Darling Ingredients (U.S.), Betterware (Mexico), Flatex (Germany), Semler Scientific (U.S.) and BHG (Sweden). Losers in Q4 were almost not worth mentioning, led by KINX (Korea) which detracted 0.3%.
Portfolio Outlook And Positioning
The tendency for a "bad" year to follow an especially strong one tempers our enthusiasm for markets. Social media is rife with retail investors discussing what they are going to do with their "stimmy" (stimulus checks). Many are looking to buy more Tesla or Bitcoin. It's insane, but it's the world we live in currently. There are certainly many parallels with the Internet bubble of 2000 and the most heartening thing we can draw from that experience is that when the bubble pops (and it may not be this year), it should discriminate between real companies and pretenders. The companies we favor – profitable, niche dominating, compounders with low P/E multiples and strong balance sheets – will hold up well. Additionally, just because stocks might have run, it does not mean there isn't more to go. Gravity (our top performer in 2020) rose almost 400%, but is still on 14x this year's forecasted earnings. Given the reusable franchise gaming IP, it would not be unreasonable to see the company further re-rate to become more in-line with other gaming companies, especially as there remains zero Street coverage in the name. Below we highlight several names we believe will perform well in the coming year.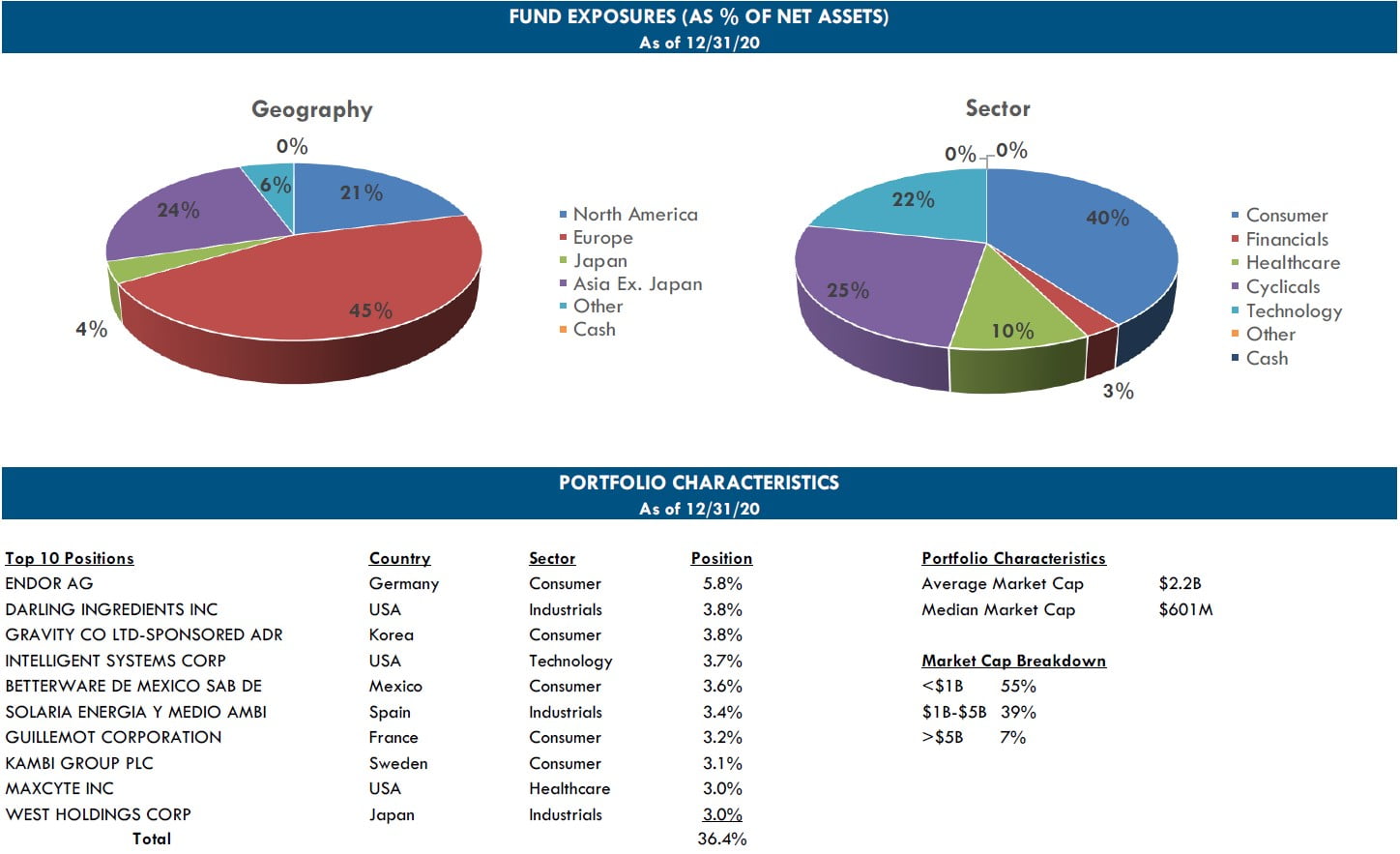 Investment Highlights
Swancor Holding Co., Ltd. (Taiwan – $500mm market cap)
Swancor in Taiwan, which we highlighted in last quarter's letter, offers attractive growth prospects as one of the beneficiaries of the upcoming expansion in the offshore wind market, yet at a much more reasonable valuation than other, more widely recognized "green" energy stocks. Swancor generates more than 75% of its revenues from resins and carbon fiber that are used in offshore wind turbines and their blades. The company had early success supplying to Chinese wind turbine producers, but had not broken into the major international producers until recently. Helped by localization requirements in the burgeoning Taiwanese offshore wind market, Swancor signed its first supply deals with major turbine players Siemens Gamesa and MHI Vestas in 2018 and 2019, respectively, which are now starting to bear fruit. The Taiwanese market will be one of the fastest growing offshore wind markets in the next 10 years, growing installed capacity by a 55% CAGR and providing Swancor with plenty of runway for growth. In fact, Swancor should also benefit from the growth in other Asian markets like Japan and South Korea which are forecasted to expand offshore installed capacity by 10 year CAGRs of 81% and 50% respectively, compared to a CAGR of just 15% in Europe over the same time frame. Thanks to Swancor's new customer wins and exposure to the fast-growing Taiwanese market, we forecast core earnings to grow by approximately 50% in 2021. This puts the stock on a very reasonable 15x P/E, especially compared to other renewable energy suppliers like TPI Composites (TPIC US) on 37x, CS Wind in Korea on 38x, or Gurit (GUR SW) on 27x.
Gravity Co., Ltd (South Korea – $1.65bn market cap)
Gravity is a mobile video game developer based in Korea and listed in the U.S., which creates games based on the Norse mythology story of Ragnarök. We have liked Gravity for a while now, largely because we view its Ragnarök IP as the foundation to a valuable franchise, much like Grand Theft Auto or Call of Duty. Each of Gravity's games have been increasingly successful, and it has grown sales at a 55% CAGR the last 5 years, an incredible growth rate. Despite this, no one on the Street covers it. We estimate the company will do approximately $10 in EPS this year and roughly $15 next year, putting them at less than 15x 2021 earnings despite continued 50% growth. Similar gaming companies trade between 30-50x EPS, so we think a re-rating is imminent. Their popular Ragnarök: Origin game is slated to be launched in Japan in 2021, a huge market. Their Ragnarök: Next Generation game is to be expanded into Southeast Asia, another big market. Additionally, it is working with Tencent to secure approval of a game in China; a giant opportunity which we haven't even factored into our numbers. Gravity is starting to get too big for investors to ignore, and we think it will soon get the multiple it deserves.
Guillemot Corporation, S.A. (France – €135mm market cap)
Guillemot, listed in France, sells sim-racing gaming peripherals (e.g., wheels, pedals, shifters) under the Thrustmaster brand. It also has a nearly 80% market share in joysticks, which we expect to be a big business in Q4 given the new console releases and its highly anticipated joystick-based games, Star Wars (October launch) and Microsoft Flight Simulator (August launch). Guillemot is small and has historically flown under the Street's radar. It has no sell-side coverage and has no real investor relations effort to speak of, largely because it is closely held by the founding family. But sales have growing rapidly despite some supply shortages, and shares are incredibly cheap. We expect revenue to be up an impressive 80%+ this year, and if you back out the €30mm worth of Ubisoft shares held on its balance sheet, the core business is trading at a mere 8x 2020 operating profit. The stock has flown under the radar for a long time, but it is starting to work and we think shares are getting ready for take-off.
LiveChat, S.A. (Poland – PLN2.7bn market cap)
LiveChat is a Polish software company that, as its name suggests, provides online live chat solutions to businesses across the globe through a SaaS model. It is the #3 live chat provider globally with 11% market share, competing with more widely followed U.S.-listed companies like Zendesk and LivePerson. Since 2011, LiveChat has grown revenues at a 48% CAGR, compared to approximately 9% for the overall live chat software market. Unlike its U.S.-listed competitors, LiveChat is profitable and has been since its start, boasting EBITDA margins in excess of 60% and FCF margins over 45%. While its competitors routinely spend 50% of revenues on sales & marketing, LiveChat is spending less than 15%, primarily relying on word of mouth and organic search discovery (the company's name is what it does) to grow just as fast.
Like most SaaS companies, LiveChat has experienced an acceleration of user growth this year, but prior to COVID-19, revenue had already been accelerating as the move from a "per station" model to a "per agent" model in January which helped drive a 15% increase in Average Revenue Per Unit (ARPU). And while it is likely that the live chat product will experience an eventual slowdown as the market matures, the recent launches of adjacent products like Chatbot and HelpDesk are showing promising signs of driving continued growth. Shares are trading on about 22x our FY22 (March) EPS and 19x EV/EBITDA compared to U.S.-listed competitors that are trading on P/E and EV/EBITDA multiples in the hundreds.
Cast, S.A. (France – €69mm market cap)
Cast is a French software provider that describes itself as the "MRI for software." The company's products are used to analyze source code of an enterprise's applications to give insight for cloud readiness and resiliency, as well as open source and security vulnerabilities. The most popular customer use cases include analysis for cloud migration, application quality and security control, and M&A due diligence.
The company is exiting a multi-year strategic investment phase that has seen it transition from perpetual licenses to SaaS and refocus its sales effort from in-house to partnerships (e.g., BCG, Deloitte, IBM, etc.). We believe 2021 should be an inflection year for Cast as its SaaS product, Highlight, begins to approach a meaningful share of sales. The company should be breakeven this year and if management can achieve its target of 20% annual growth over the next few years, operating margins should approach the mid-teens. Shares are currently trading at approximately13x our estimate of FY22 EPS and are at a discount to most global software peers at an EV/sales of roughly 1.5x.
Betterware de Mexico S.A.B. de C.V. (Mexico – MXN24bn market cap)
Betterware is a recently public multi-level-marketing ("MLM") company that sells kitchen, bathroom, and houseware goods in rural Mexico where traditional retail and e-commerce struggles to operate. It has been around since 1995, but was purchased by the current Chairman in 2001 and has finally reached critical mass. While a Mexican MLM might normally give us some pause, we love the high-quality management team. The Chairman and 54% owner was previously head of Tupperware Americas and led both Sara Lee and Hasbro's Mexican businesses. Here's the best part: its 3-year sales CAGR is 70% and growth will accelerate this year to 135%+. It has approximately 20% net income margins, and the stock is valued an outrageous 16.5x 2020 EPS.
Betterware has nearly 100% cash conversion and pays 75% out as dividends, is not covered by the sell-side, and is impossibly cheap. The company is finally beginning its long-anticipated expansion into other Latin American countries which should drive growth for many years. We think it's only a matter of time before this wildly underpriced stock gets discovered by others.
Firm Update
During the 4th quarter, the firm onboarded and implemented Enfusion, which will strengthen our current infrastructure and operational processes by providing enhanced institutional methods to combine our order management & execution, portfolio management, real-time risk monitoring, and a general accounting ledger into a fully integrated, cloud-based system. We will also be using the Enfusion Managed Services offering to outsource and further support our middle- and back-office functionalities.
In addition to these updates, we continue to focus on expanding and diversifying our firm's overall asset base by leveraging the long-term alpha generated for our partners. More specifically, we'll seek to strengthen our investor mix by introducing new institutional clients to our successfully launched Global Discovery long-only Fund, which ended its inaugural year up in excess of +70% net.
As always, we encourage your questions and comments, so please do not hesitate to call our team here at Apis or Will Dombrowski at +1.203.409.6301.
Sincerely,
Daniel Barker
Portfolio Manager & Managing Member
Eric Almeraz
Director of Research & Managing Member
Apis Capital Global Discovery Fund