Mittleman Brothers Investment Management commentary for the third quarter ended September 30,2018.
Dear Investors,
I've had conversations with some of you recently that lacked the usual holiday cheer for this time of year, clearly due to our weak results YTD, which have us still stuck in negative territory after hitting our high water mark on August 30, 2014, just over 4.25 year ago, having slid back down from a strong Q3 2018 performance that had us break-even to up slightly for the year.
But over 10 years and longer, our performance remains outstanding. As shown below for the most recently available comparisons (as of Q3 2018, obviously we're down a bit since then but so are most of our peers), we were ranked by Broadridge/Lipper as #3 out of 426 investment managers in their International Equity category. That's 40 quarters which is 10 years, inclusive of the past 5 years.
Q3 hedge fund letters, conference, scoops etc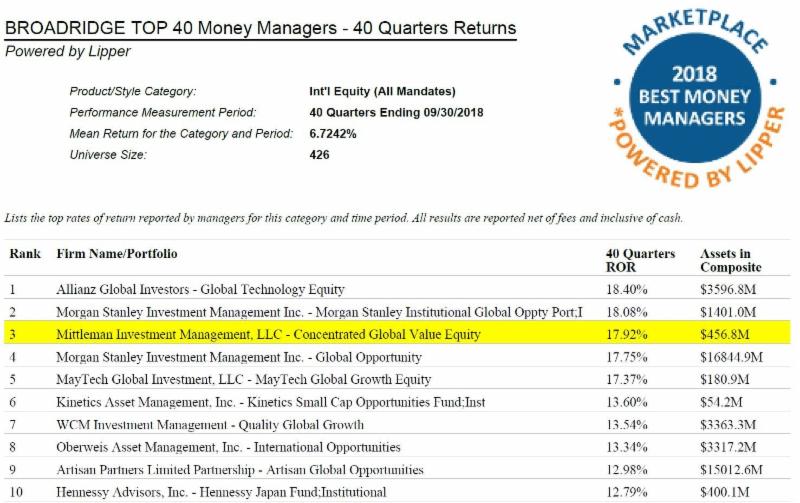 We also took a look at how we've done against the best known publicly traded investment vehicles over 5 years, 10 years, and since the 12/31/02 inception date of our composite performance (nearly 16 years). So while the 5 year numbers are terrible, the 10 year and 15.75 year results look very good. So it is about perspective and time horizon. But what's interesting to note here is that while someone who started 10 years ago should still be very happy with his or her results, if we went back in time to 9/30/08 and that investor had been with us for any time immediately prior to 9/30/08, whether it be 1, 3, or 5 years, they would have been miserable at that moment, because the months and years leading up to 9/30/08 were atrocious. And yet 10 years later, quite a different story. So it's the same old lesson, patience usually pays off.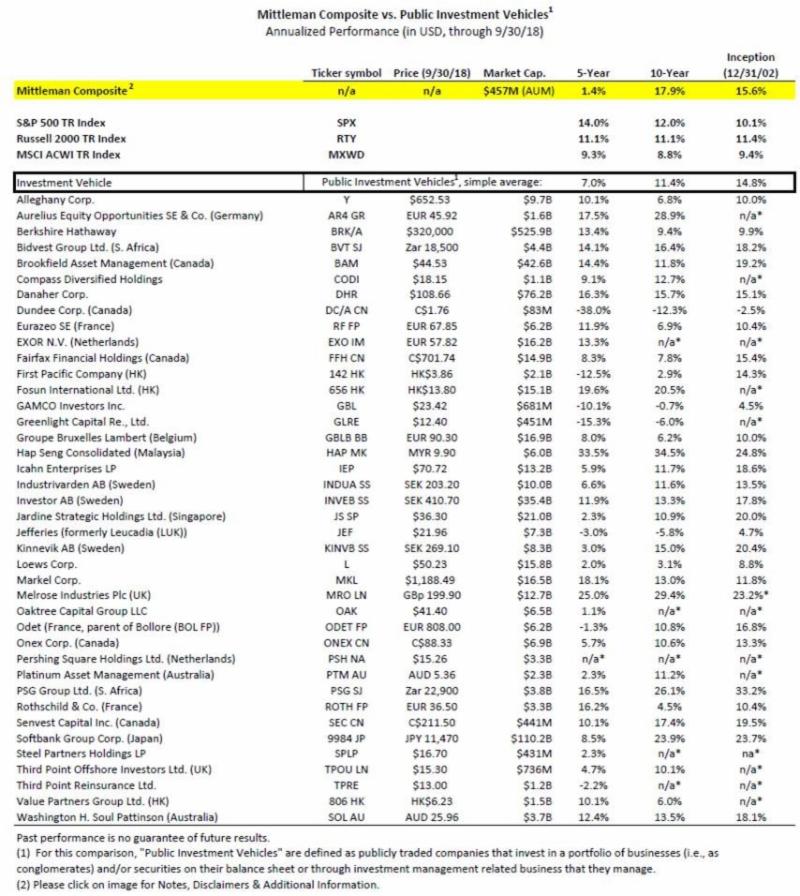 I wanted to send these comparisons along to remind you all of the longer term history we've had together, and in hopes of cheering you up a bit. Hopefully we'll close out the year on an positive note, and I look forward to updating you on our progress and prospects in early January. Until then, have a happy holiday season and feel free to call or email me anytime.
Best regards,
Chris
Christopher P. Mittleman
Chief Investment Officer | Managing Partner
Mittleman Brothers LLC
This article first appeared on ValueWalk Premium