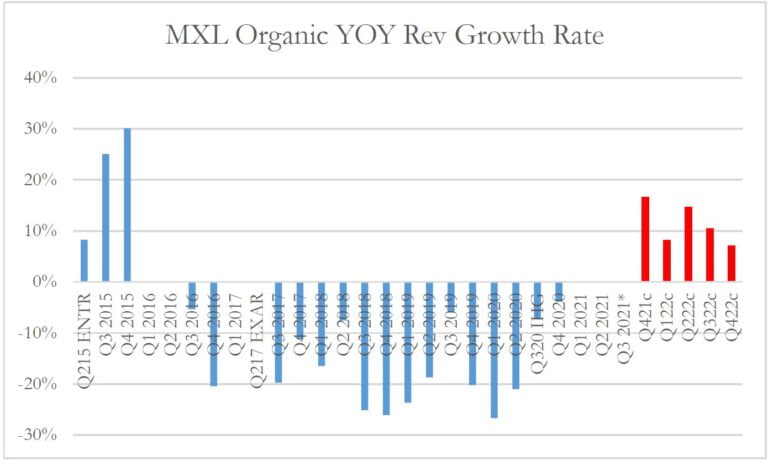 Jehoshaphat Research is short MaxLinear, Inc. (NYSE:MXL).
Q3 2021 hedge fund letters, conferences and more
Gates Capital Management Reduces Risk After Rare Down Year [Exclusive]
Gates Capital Management's ECF Value Funds have a fantastic track record. The funds (full-name Excess Cash Flow Value Funds), which invest in an event-driven equity and credit strategy, have produced a 12.6% annualised return over the past 26 years. The funds added 7.7% overall in the second half of 2022, outperforming the 3.4% return for Read More
MaxLinear: A $4Bn Roll-Up That's About To Roll-Over
MaxLinear (MXL) is a semiconductor company whose shareholders and analysts believe that it is growing.
In reality, MXL's organic growth today is zero. Management has successfully covered up MXL's long-term spiral with increasingly large and desperate acquisitions of other declining assets. This culminated in a huge 2020 deal that created a brief honeymoon period, which investors have mistaken for sustainable growth. Consensus has unwittingly set estimates that would require heroic and sustained improvement in this stagnant business: double-digit growth in future quarters and 9% growth in 2022.
To hit such aggressive expectations would also fly in the face of the defining pattern of this company. We've dissected MXL's acquisition history and found a consistent template: acquire declining asset, exceed short-term expectations with sudden, short-lived surges of growth from said asset, and then suffer the predictable evaporation of that growth. The Entropic and Exar acquisitions – two disasters that enjoyed short-term, post-acquisition "pops" followed by structural decay across disparate categories – exemplify this pattern.
But no structurally declining asset that MXL has acquired has enjoyed such a "transitory" holiday as one, the prototypical COVID beneficiary: the Intel Home Gateway (IHG) business, acquired in 2020. IHG was a home networking chip supplier that catered directly to the work-from-home explosion. Sure enough, we've discovered that like other MXL acquisitions, IHG's growth has hit the wall after a few banner quarters.
The 0% growth rate that post-merger MXL now suffers may be surprising, but it shouldn't be. MXL doesn't go around shouting this, but IHG was a structurally declining asset to begin with. Management merely created the impression of its sudden growth by sandbagging: they "estimated" $65m/quarter of revenues for a business that they knew had been doing $97m/quarter in 2019. And then, surprise! They "beat and raised" several times.
We've also identified a strikingly consistent record of broken promises by MXL. Its various product portfolios inevitably disappoint, and miserably so, because management overpromises so wildly. This is how you ended up with today's double-digit organic growth expectations for a declining roll-up. We calculate that MXL's historical organic growth rate is approximately negative -10% over a long period of time. But MXL's terrible underlying fundamentals only revisit investors when the company is in between large acquisitions – so 0% organic growth is becoming visible only now, as we are about to lap the IHG deal.
MXL's own executives and directors, of course, are wise to this unflattering setup. The CEO has sold more stock in the past 12 months than he had sold in the prior six years combined. Various other insiders have also been selling stock at unprecedented rates (and in huge percentages of their ownership in some cases).
MXL has only 3% short interest, not a single Sell rating, and after a ~400% run since the IHG acquisition announcement it is near an all-time high. Similar to the disappointments for FDX, NTGR, ZM and other "COVID" stocks, we expect MXL to round-trip its way back to a level fitting its fundamentals (around -60%).
We invite readers to contact us with questions at www.jehoshaphatresearch.com.
Executive Summary
MXL's History Reflects Chronic Organic Decline Obscured by Acquisitions and COVID:
MXL has done a lot of M&A over the years and has failed to disclose all inorganic contributions, so its organic growth hasn't always been obvious. We went over the last six years, quarter-by-quarter and deal-by-deal, and found that legacy (pre-IHG) MXL's average YOY organic growth over this time is around negative -10%.
Another way to see that MXL's long-term decline has been horrific: MXL was doing $133m in revenues in 2014. From then until Q220, the last quarter before it bought IHG, it acquired companies generating a combined ~$364m in annual revenues. So if MXL's long-term organic growth were merely zero, its revenue would be ~$497m just before buying IHG (legacy $133m + acquired $364m).
In reality, MXL's LTM revenues as of Q220 were only $277m, a shortfall of 44%. It's not easy to see this at first glance because MXL's total revenues grew so much via acquisition between 2014 and 2020. But if you dissect these numbers, you'll see the business is nothing but a pile of rolled-up assets in terminal decline, purchased on the cheap because they're all garbage.
Further, thanks to pro forma historical disclosures and other publicly available information, we can also back into the historical growth rate of the recently acquired IHG business. IHG was similarly a roll-up of multiple businesses in long-term organic decline. It was declining at an approximately mid-teens rate in 2019 and similarly in 1H20, the last period before MXL bought it.

IHG did enjoy a brief, powerful holiday from decline during the work-from-home boom, but that "COVID boost" is now over, just like it is for other WFH-exposed businesses. We think this is why MXL's organic growth for Q321 is approximately zero percent.
There's a reason why Intel was willing to unload its Home Gateway business onto MXL for 0.4x 2019 revenues. It's not because Intel doesn't know how to value its own assets.
• Don't get us wrong; there is nothing inherently wrong with buying declining assets at cheap prices. But melting ice cubes should be valued, and forecasted, as such. At ~$50/share, MXL is getting credit for being a hot, high-growth business, rather than the cold, slimy mashup of melting ice cubes it actually is.
MXL is Doing Approximately 0% Organic Growth Today, but Consensus Estimates Require 9%+ Organic Growth:
(*Q321 growth rate of 0% reflects midpoint of guidance compared to Q320 pro forma revenue for MXL if IHG were included for the full quarter. Other quarters without bars represent unknown organic growth due to incomplete company disclosures.)
MXL completed a major acquisition (IHG) in Q320. The combined companies' revenue run rate for that quarter, if they had included the stub period before the deals closed, was $219.4m. This number was buried in the notes of a 10-Q issued almost a year ago, and it had very little significance at the time.
One year later, MXL has given Q321 revenue guidance of almost exactly this amount at the midpoint, which implicitly means 0.0% organic growth YOY.
This is a problem, because the Street is estimating 7-17% YOY growth in the quarters after Q3, estimates which are entirely organic. Analysts don't realize the amount of acceleration embedded in their estimates. MXL needs its organic growth to accelerate from zero to phenomenal, and then stay there, to make its numbers after Q321.
MXL is constrained by its balance sheet after its latest deal, so another huge acquisition that would allow it to dig out from this hole is unlikely. We have seen this movie before with this company. After the last acquisition that took debt to this level, MXL had to sit out from M&A for years while it paid down that debt. During this time while the company could not buy growth, total revenues fell sharply and the stock underperformed by over 100%.
Broken Promises Galore! Management Walks Investors off the Cliff with Remarkable Consistency:
We'll walk through a series of broken promises by MXL: product lines or major portfolios that management claimed had healthy, durable growth outlooks but were in the midst of chronic or even terminal decline. Management's lack of credibility has obvious implications, considering their recent string of promises of long-term, double-digit growth.
MXL has gotten some predictions of its business so bizarrely wrong that it strikes us as intentional. For instance, continually promising a rebound in the home satellite business despite a secular downward trend in underlying subscriber demand, or promising sustained, high-single-digit growth from the acquired Exar portfolio which was an insane proposition for anyone familiar with that asset.
The CEO of MXL has been a smart buyer and seller of his stock since the company's IPO 11 years ago. Unsurprisingly, today he is a seller. In fact, he's been selling at his most aggressive rate ever, worth about $20m in the past twelve months which is around seven times his annual average.
While many insiders are selling, three stand out with recent (2H21) sales worth anywhere from ~35-75% of their personal holdings. One of these insiders, selling for the first time since joining MXL's board years ago, used to run the Intel Connected Home business that the recent IHG acquisition came from.
Gallingly, these same insiders decided to initiate MXL's first-ever corporate buyback, right in the middle of this unusual insider selling frenzy.
MXL has no organic growth, but almost all the companies in its comp set are achieving mid-single-digit growth or better. It does not have a special gross margin profile, and it is levered while most of its peers in this cyclical industry are not. It therefore deserves a solid discount to the valuation of its semiconductor peer group. Instead, MXL trades at a large premium on book value and cash flows, and roughly in line on earnings and revenues.ii
These metrics indicate that the market writ large simply doesn't realize that MXL is a declining business, so it takes consensus growth numbers at face value. Given the starkly different growth and leverage profile for MXL, we would put a 15x multiple of FCF, or a 3.5x multiple of book value, on MXL, for a market cap of about $1.5bn or a price target of about $20 per share.
Read the full report here by Jehoshaphat Research