Exchange-traded funds continue to play a major role in investment portfolios amid the shift toward passive investment options, but even ETFs aren't immune from liquidations and flow problems. UBS reports that although there are more than 100 issuers of ETFs, the market is still very concentrated. BlackRock, Vanguard and State Street hold an 81% share of the ETF market, leaving the others scrambling for what's left.
Fixed income ETFs and low cost dominate flows
In his "ETF Quarterly Report," UBS ETF Strategist David Perlman said there are more than 2,100 ETFs with $3.8 trillion in assets under management listed in the U.S.
Q1 hedge fund letters, conference, scoops etc
The 20 biggest ETFs hold 39% of the U.S.-listed ETF assets, he added.
Inflows to U.S.-listed ETFs have reached $70 billion so far this year, although May has been a particularly difficult month for them. CNBC estimated earlier this week that U.S.-based ETFs racked up $7 billion in outflows this month alone, putting them on track for the first negative month of this year so far. Matthew Bartolini of State Street Global Advisors told CNBC this week that investors aren't losing faith in ETFs in general, but rather, they're rotating their positions to focus on quality.
The great rotation
This rotation is being demonstrated in the types of ETFs which are seeing inflows. According to UBS, Fixed income ETFs have dominated the inflows year to date with $40 billion of the inflows. Other strong categories include corporate bond ETFs, U.S. treasury ETFs and broad market fixed income ETFs.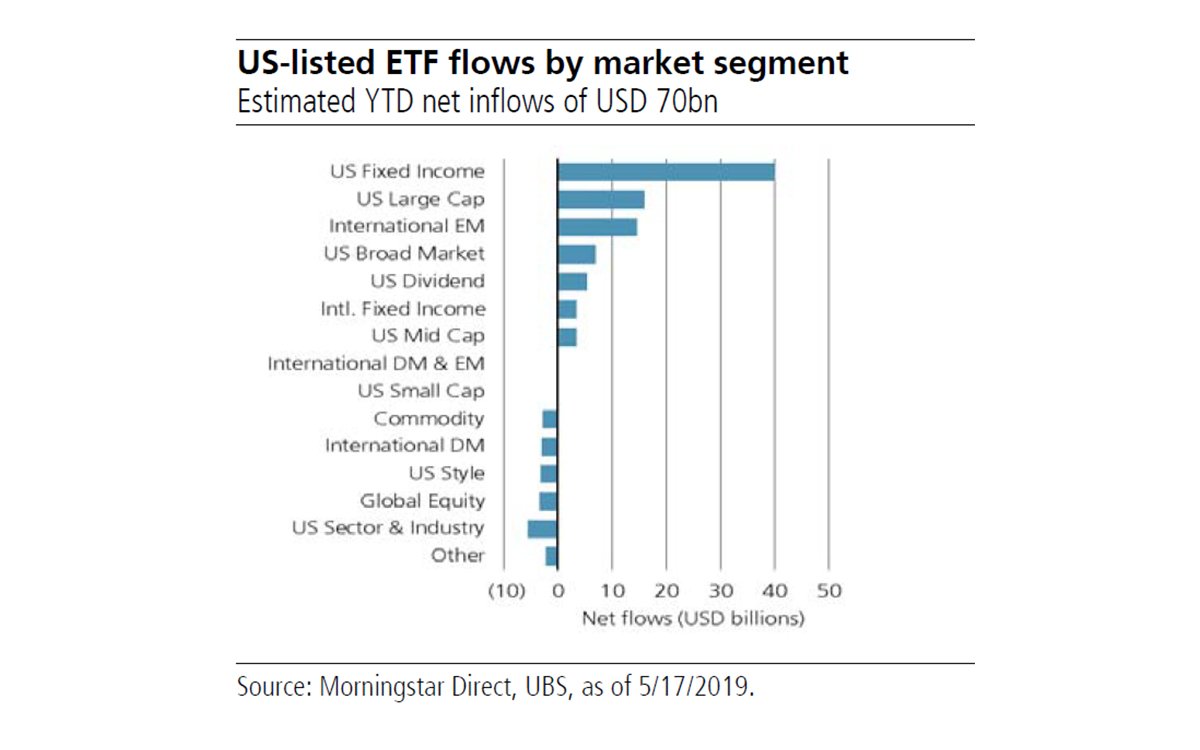 Perlman also said inflows continue to favor low-cost options. Last year saw about 85% of the inflows go into ETFs with expense ratios no higher than 0.15%. This year so far, this category has accounted for 118% of the flows. Although many of these funds are tracking traditional benchmarks, he said some active ETFs which aim to outperform benchmarks are also included.
He estimates that each of the last four years has seen well over 200 ETFs issued. This year so far, 96 ETFs have been issued while 48 have been liquidated. He added that liquidations have accelerated, and he expects them to remain high because 29% of ETFs are holding less than $25 million in assets.
Active and smart beta gaining in popularity
Perlman also said many of this year's issuances have focused on smart beta or active management. Smart beta ETFs do track benchmarks, but they rely on criteria other than market capitalization to choose and weight securities. Smart beta ETFs act like active funds in that they aim to outperform their benchmarks. Perlman estimates the number of smart beta ETFs at 642. They account for 12% of ETF assets. Active ETFs are still a tiny niche of the market at 2% of ETF assets.
He also said thematic ETFs are becoming popular as investors look for funds with greater potential for growth while issuers try to focus on areas of demand with less intense competition.
This article first appeared on ValueWalk Premium