Airbnb launched its IPO with much fanfare in mid-December 2020. Its share price opened at US$146 on the Nasdaq more than twice the IPO price of US$68 and hit a high of US$165 before closing at US$144. This pushes Airbnb's valuation to above US$100 billion.
Q3 2020 hedge fund letters, conferences and more
Airbnb IPO: Is The Company Worth A Valuation Of Above US$100 Billion?
The market demand and interest in Airbnb's shares is clearly high, yet if we were to look at the fundamentals, is Airbnb worth a valuation of above US$100 billion? In order to answer this question, we are going to be looking at three questions, (the short answer is also provided for your convenience)
Is Airbnb profitable today? (Nope)
Will Airbnb be profitable going into the future? (Maybe)
How can we position ourselves to profit from Airbnb's growth? (By buying at the right time)
Is Airbnb Profitable Today?
Profit is made up of two key components, Revenue and Costs. In order to understand Airbnb's profit position, it is best to first understand Airbnb's revenue position. Airbnb's revenue is impressive. Annual revenue numbers are consistently above US$2 billion. In 2020, Airbnb clocked US$2.5 billion. While this number looks impressive, it is 30% lower than Airbnb's revenue in 2019 where they clocked US$4.8 billion. This is understandable as the travel industry has been hit hard in 2020 with the Covid-19 pandemic. Before the pandemic, Airbnb has achieved a steady revenue growth of around US$1.1 billion year on year.
Airbnb's growth did not come easy nor cheap. Airbnb's sales, marketing and product development have incurred significant costs. Before Covid-19, this typically translates to around US$2 billion a year. Airbnb's cost of revenue is also high, this tends to float around the US$1 billion mark. The other operations and general costs make up the rest of their cost structure. In 2019, Airbnb incurred costs of US$5.3 billion and in 2020, Airbnb incurred costs of US$3 billion so far.
While Airbnb's cost position is high, they do have a better cost position than most of their competitors. Being a pure marketplace player, they do not have real estate assets which require constant maintenance and upkeep like other hotel operators. Most of their cost which is directed at product development and sales and marketing are long term investments which would pay dividends in time to come as more brands join the Airbnb network and more users use Airbnb's services.
By now, we can see that Airbnb has not turned an annual profit in the past few years. Their revenue growth has also been slowing down due to reduced global travel given the Covid-19 pandemic. This is coupled with increasing costs to attract users and develop their platform, resulting in net losses over the past few years. In 2019, Airbnb sustained a net loss of US$674 million and in 2020, Airbnb sustained a net loss of US$696 million so far.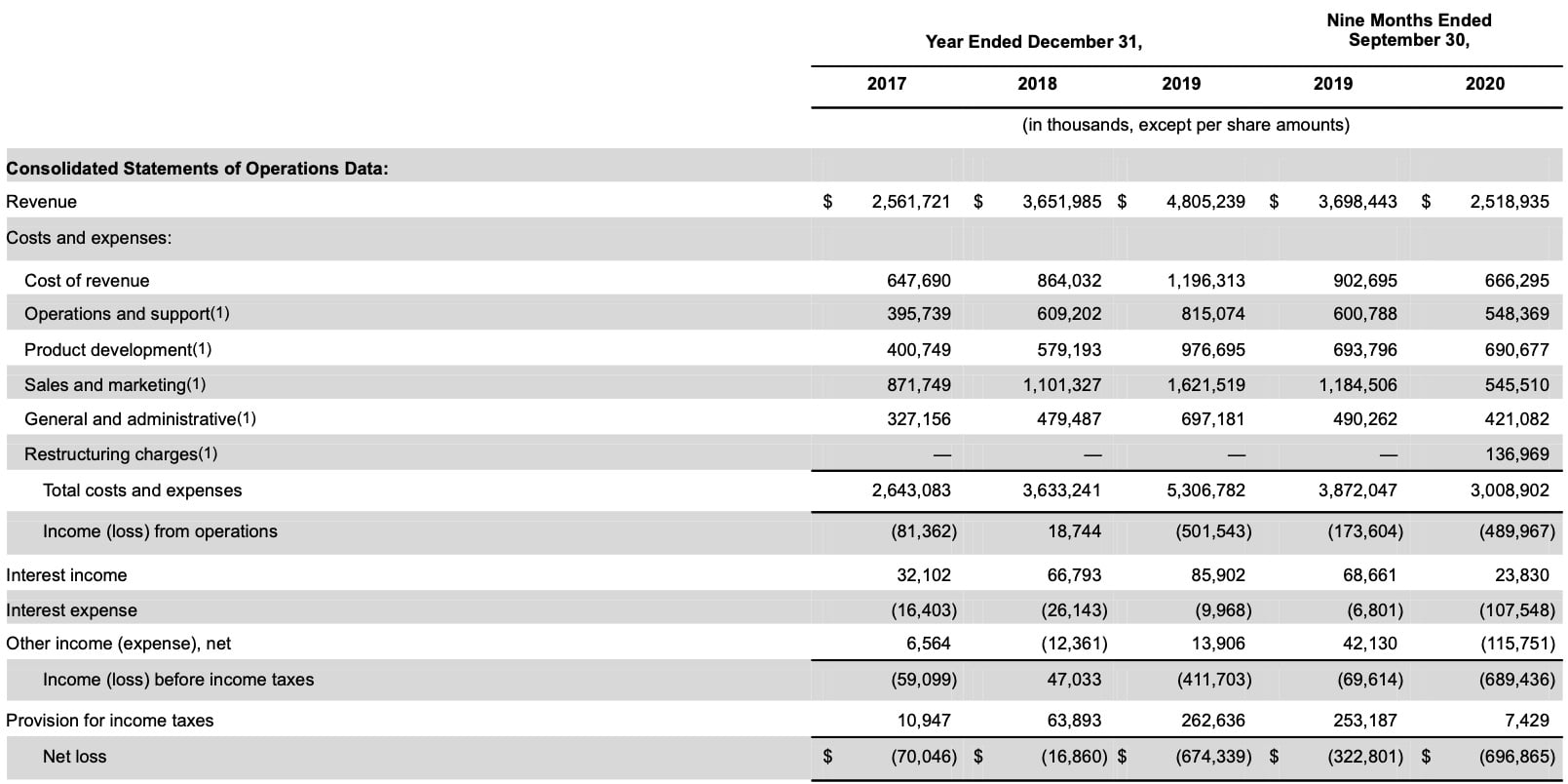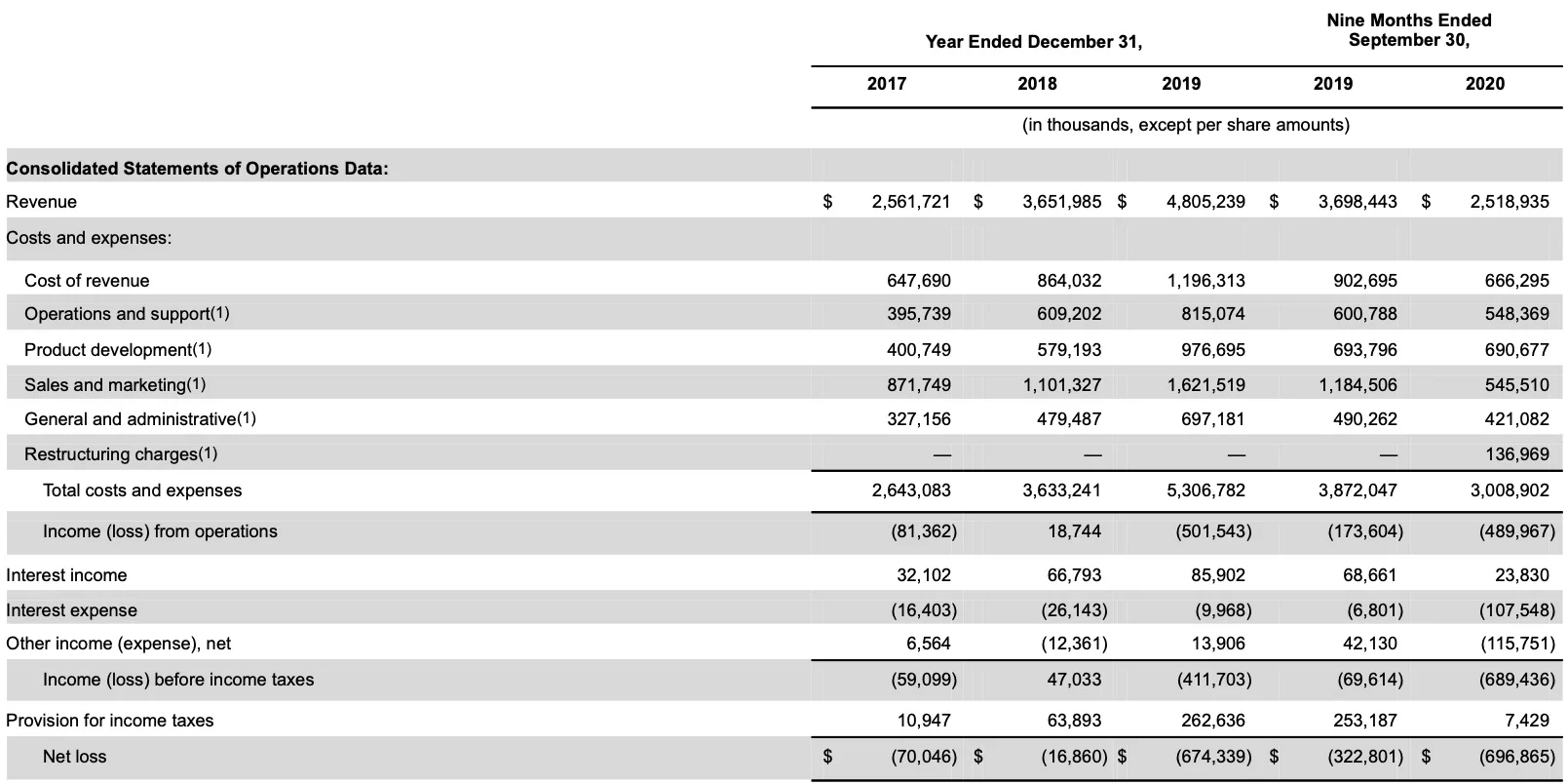 Will Airbnb Be Profitable Going Into The Future?
Given how Airbnb has never turned a profit, is this all doom and gloom then? Don't worry, this is unfortunately the market standard nowadays where many listed technology companies do not make profit until a few years after they are listed (if ever).
Unlike many other technology companies in the market, Airbnb has showed that they are able to be profitable across certain quarter and they are moving towards being profitable on an annual basis. This can be attributed to the nature of their business where there are particular quarters where there is high demand for travel, and certain quarters where travel numbers are lower.
Airbnb is aware of this and they have been trying to pivot away from traditional bed-and-breakfast stays which are subjected to quarterly travel patterns to introduce new experiential products and features which are capable of attracting revenue throughout the year.
Airbnb is also slowly building a natural monopoly around its services as it increases its offerings across the globe. It boasts 7.4 million available listings which comprises of 5.6 million active listings. This is more listings that the largest hotel chains added together. This also results in strong network effects and heightens its organic reach where more than 90% of Airbnb's traffic comes through direct or unpaid channels.
Airbnb also faces various challenges to their business models. In a number of countries, the Airbnb model of short-term rental is illegal. While Airbnb has normalised this consumption pattern, it would take some time for legal regulations to catchup. There has also been a number of abuse cases of the Airbnb listings where users rent Airbnb's listed locations for illicit purposes. These are all challenges which Airbnb have to address and strategise for in order to ensure their strong growth and sustainable profits in the years to come.
In the long run, Airbnb is definitely a force to be reckoned and respected. They have changed the landscape of global travel, and will continue changing our experiences in new cities. They also have a much better chance than other technology companies in turning a profit, but whether they will actually do so, remains to be seen, especially given the current Covid-19 pandemic.
How Can We Position Ourselves To Profit From Airbnb's Growth?
What does this mean for us then? How can we profit from Airbnb? I personally believe that Airbnb is a company which is worth investing in for the long run. The real question is when should we buy in Airbnb's stock?
US capital markets has always been strong, the IPOs for technology companies is also an event watched with much interest by the investing community. As a result, most companies see a huge spike in their share price when they start trading because of the strong demand from retail public. (The shares available for subscription at IPO price tend to only be available to selected investors at the pre-IPO stage)
As we can see from the table below, many companies experience the same spike in their share price similar to Airbnb when they launch.
| | | | |
| --- | --- | --- | --- |
| Company name | IPO Price | Opening Price | Difference |
| Airbnb | $68 | $146 | 115% |
| Doordash | $102 | $182 | 78% |
| Snowflake | $120 | $245 | 104% |
| Palantir | $7.25 | $10.00 | 38% |
| Unity Software | $52 | $75 | 44% |
| C3.ai | $42 | $100 | 138% |
The real question is whether it is worth buying Airbnb's shares at more than twice the IPO Price? In my opinion, the current hype which has pushed Airbnb's share price to new heights is driven by hype and market frenzy buoyed on the expectations that the Covid-19 vaccine would return global travel to 2019 days.
While I believe that Airbnb is a good company to hold, I am skeptical that the travelling industry would take off anytime in the short run. As a result, my strategy for Airbnb would be to keep it on my watch list and only buy in when the price has dipped into an acceptable range. (I am personally looking at anywhere between $100 to $120.)
2020 has provided many good examples of when quality companies were trading on the cheap – eg. Google and Facebook in March 2020. These will be good opportunities to buy in such tech companies and have a comfortable margin of safety to rely on. When in doubt, always remember, Be afraid when people are excited and be excited when people are afraid.
Article by Terrance, The Asia Report