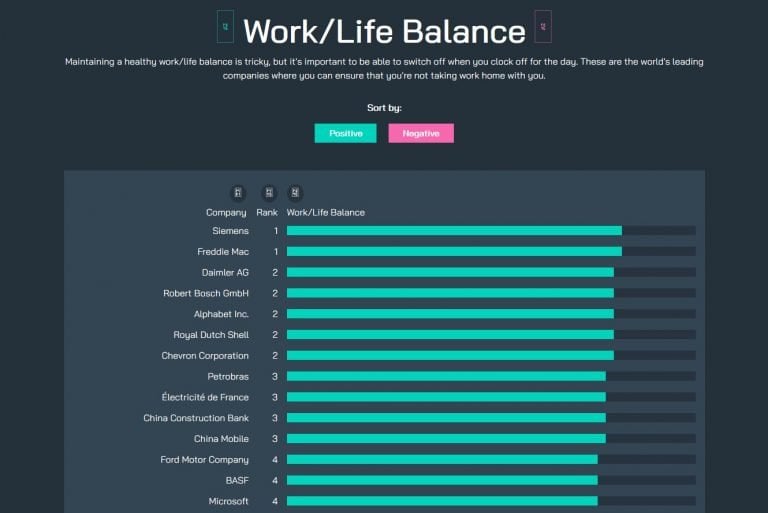 These days, it's more important than ever before for companies to look after their employees and go the extra mile to make them feel comfortable and happy at work. While a nice healthy salary is a good starting point, the world's biggest brands are paying more and more attention to perks and benefits, work/life balance and more, to keep their employees happy and motivated.
Q3 hedge fund letters, conference, scoops etc
So just how well do the world's biggest brands in the world fare when it comes to employee satisfaction?
Carlson Capital Tells Investors: Twitter Still Has Tremendous Upside [Exclusive]
Carlson Capital's Double Black Diamond Fund returned 85 basis points net in August, bringing its year-to-date net return to 4.51%. According to a copy of the fund's September update, which ValueWalk has been able to review, its equity relative value and event-driven strategies outperformed during the month, contributing 131 basis points to overall P&L. Double Read More
Recent research from Digital ID has sought to found out, analysing data from jobs website Glassdoor to find out 'What's It Really Like to Work for the World's Biggest Brands'.
Glassdoor allows employees to anonymously, and the research looked at employee review scores for 100 of the world's biggest brands on the Fortune Global 500 list and ranked them on five factors:
Work/Life Balance
Comp & Benefits
CEO Approval
Interview Difficulty
Interview Experience
The research just looked at those companies which had received more than 100 ratings on the site.
Work/Life Balance
For some people, it can be very difficult to switch off when you get home for the evening, and with the rise of remote working, it can be all too easy to literally 'take your work home with you'.
However, striking a good work-life balance is crucial and your employer goes a long way to helping with this, because a good work-life balance doesn't just make you happier, but it also helps to make you a more productive employee.
Among those companies which performed best for work-life balance on Glassdoor were Siemens, US mortgage company Freddie Mac and car manufacturers Daimler AG.
These companies understand the importance of life outside of the office and go out of their way to ensure that your work and home lives can coexist.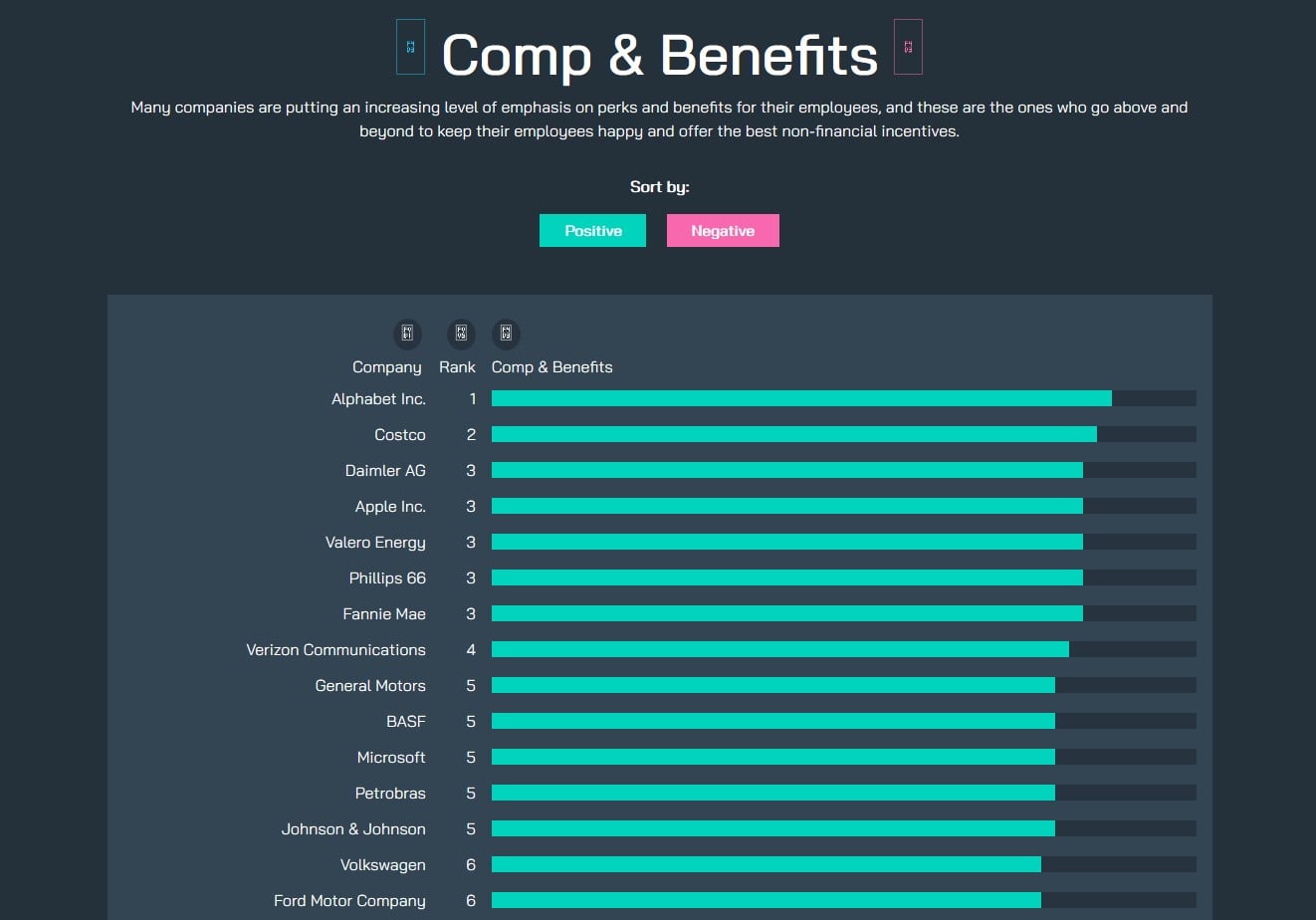 Comp & Benefits
Adequate compensation and benefits are vital for making employees feel valued and they can come in all shapes and sizes.
Whether it's a simple bonus or other perks such as free gym membership or deals on restaurants, perks are a great way to ensure that employees know they're being looked after.
Some companies even offer some pretty crazy perks, such as Airbnb, who give their employees a $2,000 travel allowance every year, or Virgin and Netflix, who offer unlimited holidays.
The research found that Alphabet Inc., better known as the holding company that owns Google, provided the best benefits.
Google have long been known for their great offering of perks, such as free gourmet meals for breakfast, lunch and dinner and access to new products that are being tested. Workers are even allowed to take their dogs to work!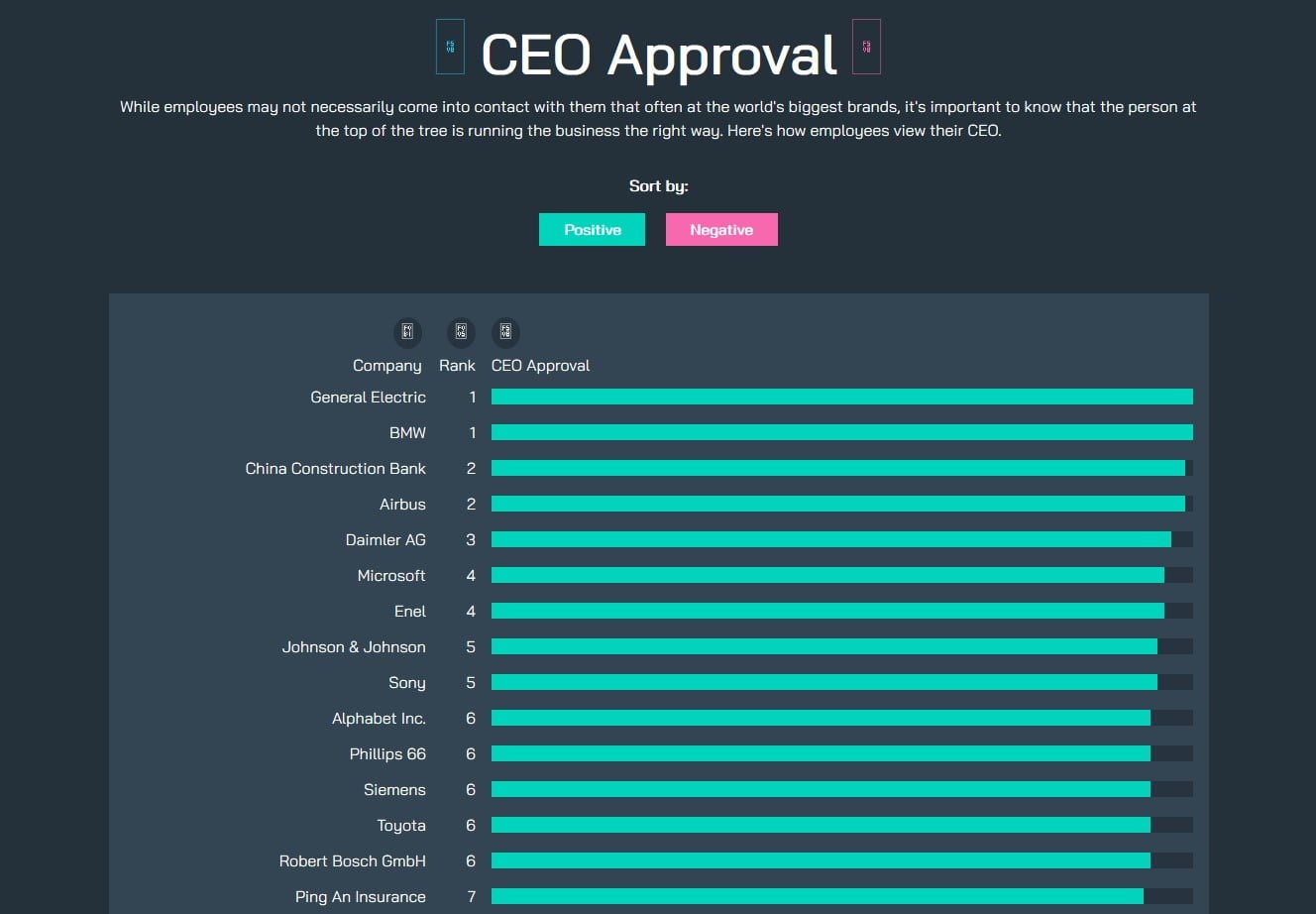 World's biggest brands = CEO Approval
At bigger businesses, it's likely that you might never run into the person at the top of the tree, but it's still important to know that they're doing things in the right way, so the research looked into what percentage of employees approved of their CEO.
The two companies which came out on top of world's biggest brands here were General Electric and BMW, both of which scored 100% approval ratings for their CEOs.
Among the more well-known CEOs who scored highly were Larry Page of Alphabet (94%) and Tim Cook of Apple (92%).
Even if you don't deal directly with a CEO, they need to lead by example and show strong leadership, or risk undermining their authority.
Thankfully though, the research shows that the vast majority of CEOs at the world's biggest brands have the approval of their employees.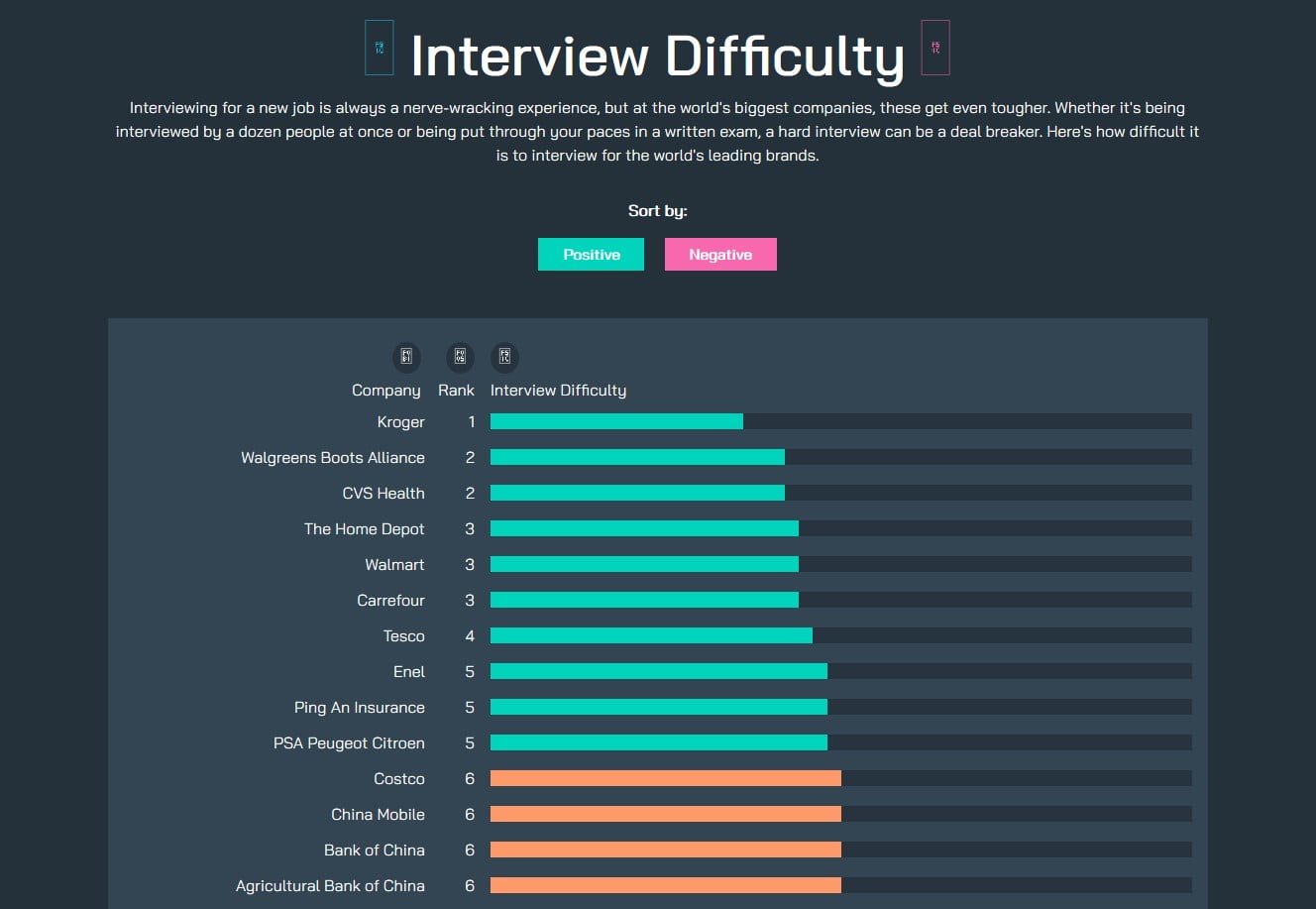 Interview Difficulty
Interviewing for a new job can be a very nerve wracking experience, especially at some of the biggest companies in the world.
Large company interviews can often be very long and difficult, whether you're being grilled by as many as a dozen different people, or put through your paces in written and practical tests.
In fact, a tough interview can sometimes put people off even applying with some companies in the first place.
And while it performed well when it comes to perks and benefits, Alphabet actually came out as the joint toughest company to interview for (alongside Royal Dutch Shell).
The company has a reputation for tasking its potential employees with tricky brainteaser-style questions which really put the candidate on the spot, so it's definitely worth doing a little bit of extra interview prep!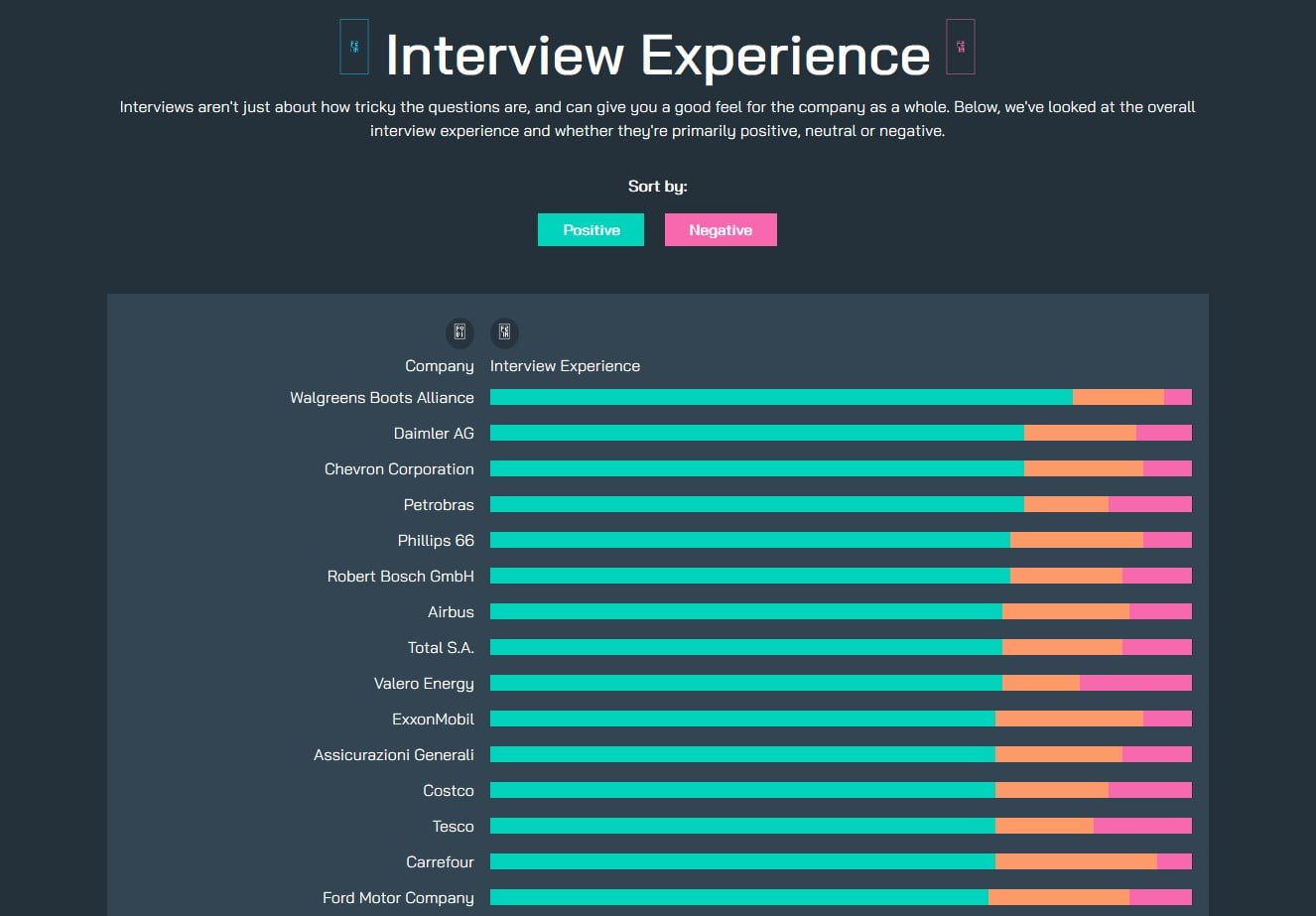 Interview Experience
An interview isn't necessarily just about how difficult or easy the questions are, so the research also looked into whether candidates had an overall experience that was positive, negative or neutral.
Even if you don't get the job, an interview should be a valuable experience for both you and the company.
The highest rated world's biggest brands, such as Walgreens Boots Alliance, Petrobras and Daimler AG are those where candidates were made to feel comfortable and welcome, with the interviewers being open, engaged and honest.
However, at the other end of the scale, those world's biggest brands with high 'negative' ratings were more likely to have had rude or disinterested interviewers, made the candidate feel uneasy, or failed to get back in touch in a timely manner.
It's clear from looking at the research that the world's biggest brands are taking more and more care at keeping their employees happy and on the whole, their efforts are paying off.
Click here to see the research for yourself and see just how well some of the world's biggest brands stack up.