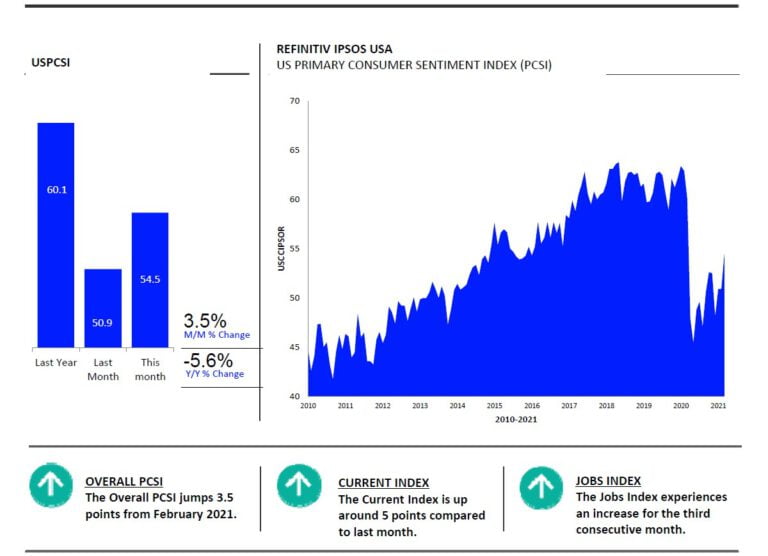 Primary Consumer Sentiment Index, fielded from February 19 ‐ March 5, 2021, reveals significantly improved American consumer confidence for March 2021 at 54.5, up more than 3 points compared to last month.
Q4 2020 hedge fund letters, conferences and more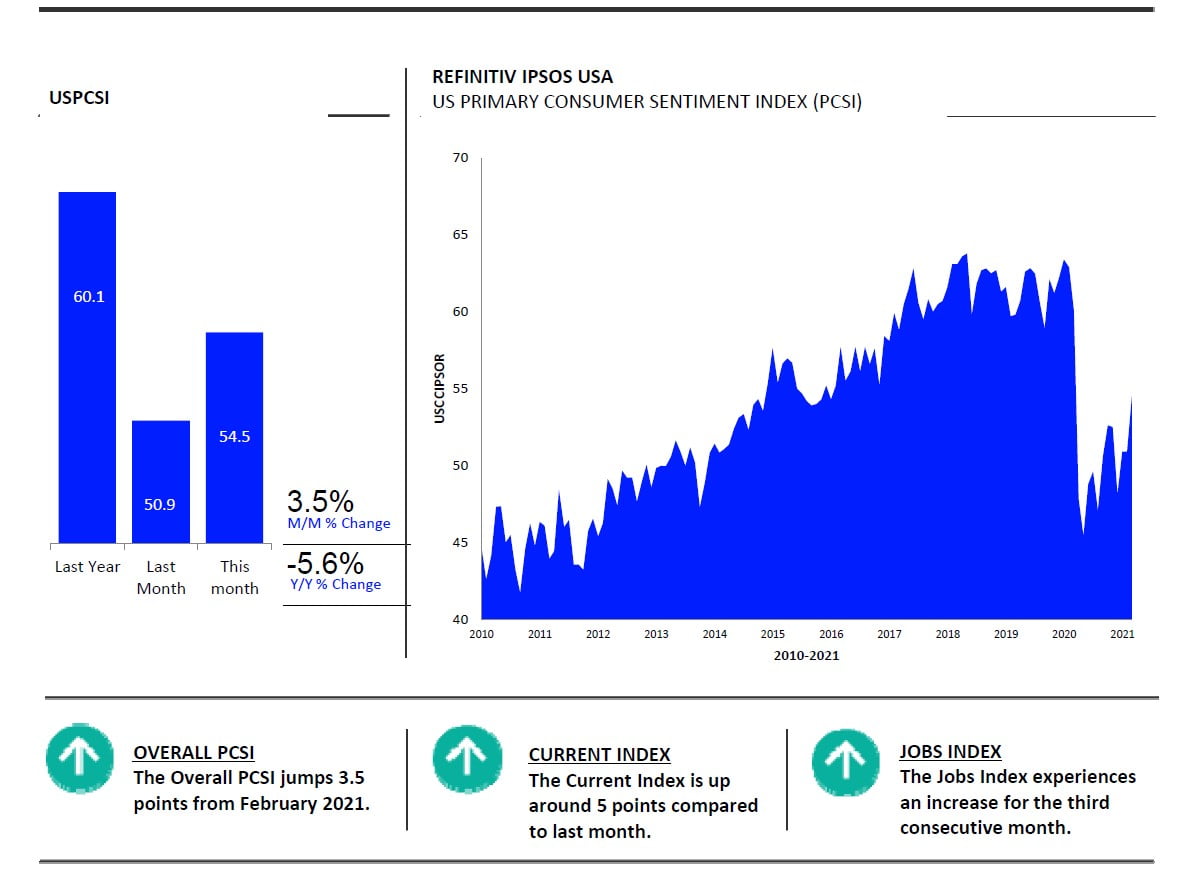 Consistency is what makes the top 50 best-performing hedge funds so strong
Every month and quarter, multiple reports on average hedge fund returns are released from several sources. However, it can be difficult to sift through the many returns to uncover the most consistent hedge funds. The good news is that Eric Uhlfelder recently released his "2022 Survey of the Top 50 Hedge Funds," which ranks the Read More
Consumer Confidence Up 3 Points In March 2021
This reading marks the index's pandemic high, but it remains 5.6 points behind where it was in March 2020. Along with increased optimism in American consumer confidence, significant improvements can be seen across all sub‐indices.
The Current Index (46.4) reports the largest month‐on‐month increase of 5.1 points. The Investment (49.4) and Expectations (65.1) indices see improvements of 4.7 and 4.0 points, respectively. While the Current and Investment readings fall below their March 2020 levels, the Expectations Index is the only sub‐index to rise above its March 2020 reading (+1.5 points).
At 60.3, the Jobs index shows the smallest increase this month (+1.0 point). This marks the third consecutive month displaying improvements to the Jobs index. Despite these improvements, the Jobs Index has the largest year‐on‐year deficit, falling behind its March 2020 reading by 9.4 points.
"American consumer confidence this month displays a significant improvement and represents a new pandemic high for the measure. Moreover, this increase in optimism can be seen across all sub‐indices, most dramatically with the Current and Investment sub‐indices," Chris Jackson of Ipsos notes. "This positivity comes at a time when the Biden administration moved up the COVID‐19 mass vaccination schedule from July to May 2021. This news, along with dropping COVID‐ 19 cases, could be contributing to this burgeoning optimism."
Jharonne Martis, Director of Consumer Research at Refinitiv, said, "Retailers and restaurants are reporting Q4 2020 earnings results. Of the 178 companies in the Refinitiv Retail/Restaurant index that have reported Q4 earnings to date, 70% have reported earnings above analyst expectations. Analysts polled by Refinitiv are also raising their Q1 2021 earnings forecasts as another round of stimulus checks will likely boost spending in 2021."
Current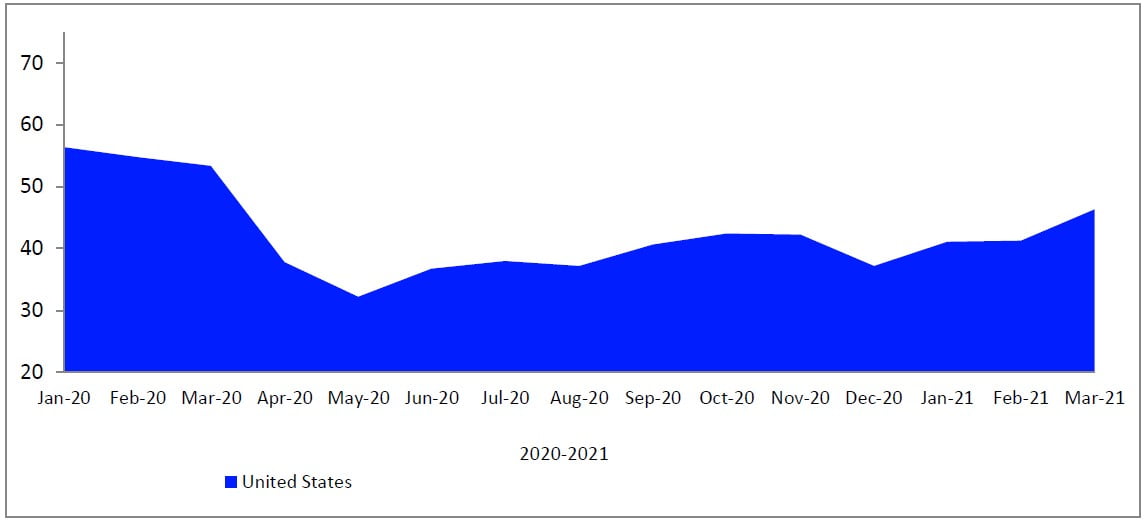 With an increase of 5.1 points from last month, the PCSI Current Condition Index is currently at 46.4. This month‐on‐month jump is the largest seen across all sub‐indices. Even though the index trails its March 2020 score by 7 points, this month marks its highest pandemic reading.
Expectations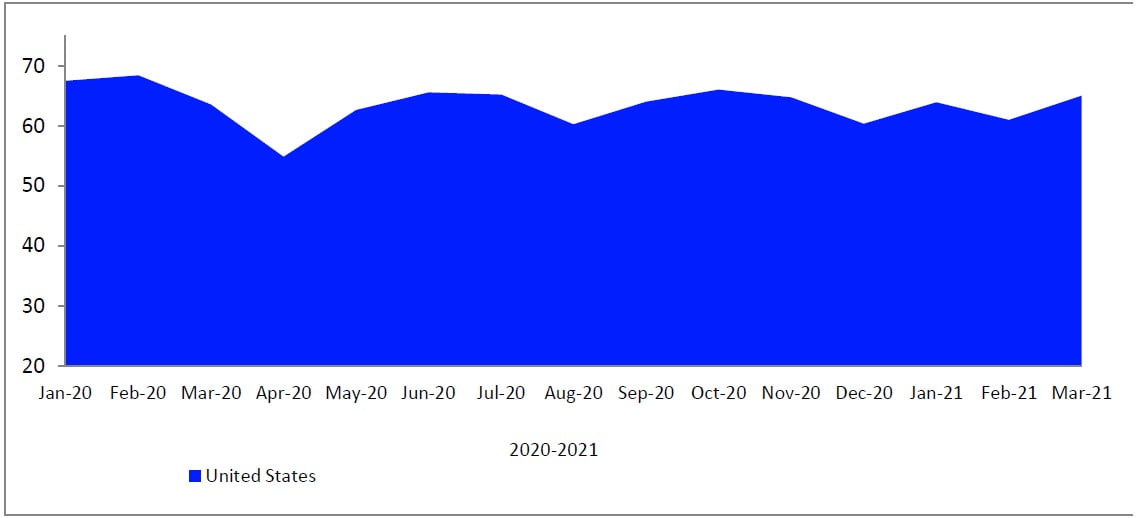 At 65.1, the PCSI Expectations Index is up 4.0 points from last month. While it currently trails its pandemic high in November 2020 of 66.1, it remains significantly higher than its pandemic average. All the same, the Expectations Index is the only sub‐index to surpass its March 2020 reading (+1.5)
Investment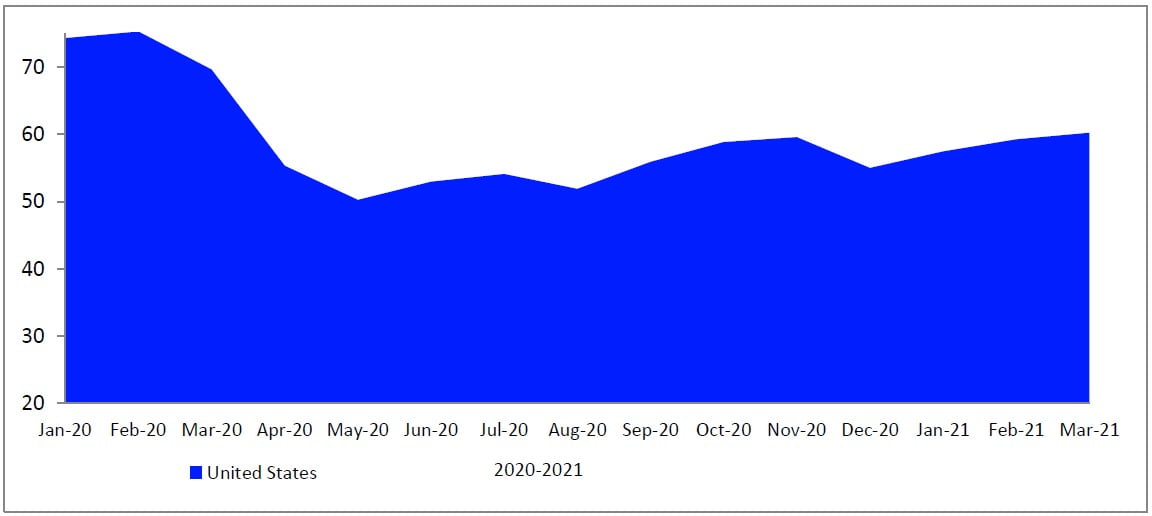 Experiencing similar increases as the Current and Expectations indices, the PCSI Investment Index posts a 4.7 point gain from last month and now sits at 49.4. The Investment Index trails its March 2020 reading by 5.2 points, but it is currently at its highest pandemic reading. The slightly inconsistent, yet significant growth in the index since May 2020 indicates that Americans are slowly becoming more confident in their financial security, despite some unsteadiness.
Jobs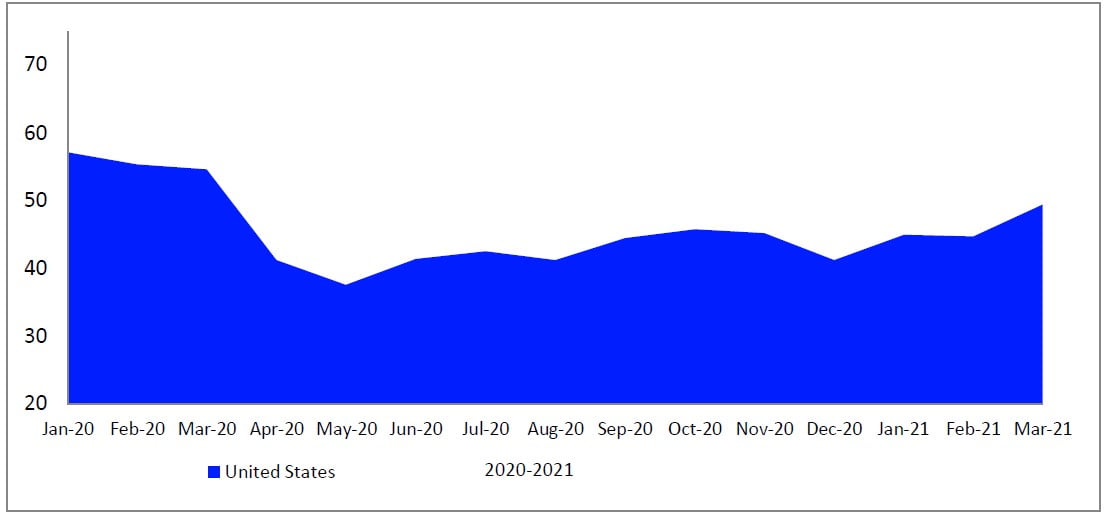 Marking its third consecutive month of gains, the Jobs Index is now at 60.3, up 1.0 point from last month. Since December 2020, the measure has experienced significant upwards movement, gaining 5.3 points. In comparison to last March and the start of the pandemic, the Jobs Index lags by nearly 10 points (‐9.4).
Updated on