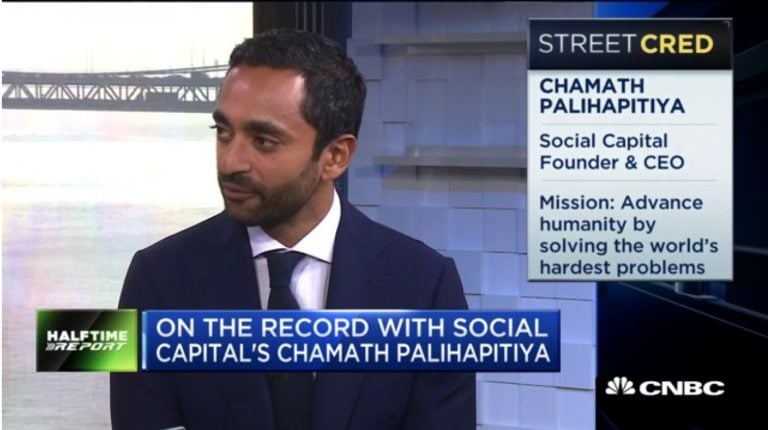 Following are excerpts from the unofficial transcript of a CNBC EXCLUSIVE interview with Chamath Palihapitiya, Social Capital Founder and CEO, from the CNBC Delivering Alpha Conference, which took place on Wednesday, September 29th.
Q2 2021 hedge fund letters, conferences and more
Gates Capital Management Reduces Risk After Rare Down Year [Exclusive]
Gates Capital Management's ECF Value Funds have a fantastic track record. The funds (full-name Excess Cash Flow Value Funds), which invest in an event-driven equity and credit strategy, have produced a 12.6% annualised return over the past 26 years. The funds added 7.7% overall in the second half of 2022, outperforming the 3.4% return for Read More
Palihapitiya On China
I have always said that I can only invest in a place if I really understand how the money goes in, the rule of law, and then most importantly, how the money can come out. And what I've seen over the last six months has really shaken my confidence in my ability to predict what happens next. And so from my perspective, it's a place that I right now will read about and not invest in.
Palihapitiya On Virgin Galactic
I still own a lot of Virgin Galactic Holdings Inc (NYSE:SPCE). I didn't step out to try to clear this up but in a moment, I generated some liquidity to manage my risk, and then to be able to make a big investment in climate change. It was misreported.
Palihapitiya On A SPAC Bubble
No, but I do think that in the beginning of every market you have a few people that pioneer something, and then you have a lot of fast followers. And I think it's always important to take a step back when you have all that fast following to sort it out. And I think we're in the midst of sorting that out and separating the wheat from the chaff. Who are the quality sponsors, who underwrites good deals, and most importantly -- and I've said this to you before – who has skin in the game.
Palihapitiya On Being Skittish About The Market
We own businesses that we think can grow a lot. But outside of that, I really like offline businesses that are highly cash flow generative right now because I think it'll be a very protective asset. Broadly speaking in the market. I'm a little skittish
Palihapitiya On Bitcoin Replacing Gold
It's very hard for me sitting here to give you a price prediction, but I can pretty confidently say that bitcoin, I think, has effectively replaced gold. And it will continue to do so. And so that market cap is just going to grow.
Palihapitiya On Tesla
My thesis has changed slightly. You know, last time you and I spoke about Tesla Inc (NASDAQ:TSLA) what I said is I think it's a distributed energy company. I would slightly refine that by saying, I actually completely underestimated how big EV's will be. And when you see it now, the market has flipped. I mean when Ford, General Motors, I mean, it is incredible. So I actually think now that Tesla will be very busy just being a best in class, EV car company.
Palihapitiya On Selling Tesla
Wapner: You still have a sizable stock position in Tesla?
Palihapitiya: No.
Wapner: You've sold it?
Palihapitiya: Yes.
Wapner: When?
Palihapitiya: Over the last few years we've sort of, you know, not last years. It is like really in the last year or so, particularly, you know the prices, allowed me to, again –
Wapner: I'm surprised to hear you say that after what you just said about the company.
Palihapitiya: I don't have an infinite pool of capital. You know, I'm myself. I don't raise funds. I can't go to other people. And so when I have these ideas, the money has to come from someplace.
Palihapitiya On Paying Taxes
I don't care about what I pay in taxes. I care that things get better. Whether I pay 40% or 60% I really don't care.