Whitney Tilson's email to investors discussing one of this favorite stocks, Howard Hughes Corp (NYSE:HHC) skyrockets; his kerfuffle with Elizabeth Warren.
1) It's nice to see one of my favorite stocks, Howard Hughes (HHC), up more than 35% on breaking news this morning: Howard Hughes Corp hires Centerview Partners to explore alternatives, including a sale. Excerpt:
Q1 hedge fund letters, conference, scoops etc
Howard Hughes Corp. has hired bankers at Centerview Partners to explore strategic alternatives that include a sale of the company, according to people familiar with the situation.

The stock's performance the last three years has led management and the board, including Chairman Bill Ackman, to explore a sale.

The bankers are also exploring joint ventures or spinoffs as part of their mandate, according to the people.

Centerview hopes to complete the review process by the end of the summer.
I recommended the stock to my subscribers in last month's issue of the Empire Investment Report. You can read it, including a detailed sum-of-the-parts analysis, by clicking here and becoming a subscriber. We're so confident you'll like it that we're offering a 30-day money-back guarantee.
My quick take: The stock was briefly halted at $120 and has since traded north of $126, which is still well below my conservative estimate of its intrinsic value of $145, which I detailed in my report.
Howard Hughes Corp has always been something of an orphan stock for two reasons: One, because of its hugely diverse collection of assets. And two, the fact that it's a real estate company, yet is structured as a C-corp, not a real estate investment trust ("REIT"). In addition, it can't be valued using traditional metrics like current funds from operations ("FFO"), as it's still developing many of its properties, or on its dividend yield (it doesn't pay one).
Thus, its true value wasn't reflected in its share price. Today's news is obviously rectifying that, at least in part. I think that a transaction – a sale of some assets or the entire company – is likely later this year, and I continue to recommend the stock.
2) I generally try to keep my political views out of my investing e-mails. It's not what my readers signed up for. Plus, in this era of extreme political polarization, no matter what I say, I'm likely to irritate a substantial number of my readers and subscribers – I already do that enough with my investing-related opinions!
That said, it's not every day that I'm prominently mentioned on the editorial page of the New York Times – in this case, in an op-ed by my old friend (and one of my heroes) Nicholas Kristof, Why I Was Wrong About Elizabeth Warren. Here's the part in which he mentions me:
I worried about a tendency to shoot from the hip when Warren misread an article and in 2016 wrote a Facebook rant denouncing a supposedly greedy Trump-supporting investor, Whitney Tilson. In fact: Tilson opposed Trump and agrees with Warren on most issues; indeed, Tilson had previously donated to Warren.

The unbalanced screed resembled a Trump tweet and made me wonder about Warren's judgment. But Warren later apologized, and she has been more careful since. Tilson told me that he thinks the rant was not part of a pattern but perhaps reflected a sleep-deprived moment.
The story Kristof is referring to is a wild one, with elements that both Republicans and Democrats will love...
As background, Professor Warren (as she was known at the time) was my wife's favorite professor at Harvard Law School. She had done a great deal of original research on why so many American families were filing for bankruptcy, revealing that, unlike what the financial industry would have you believe, most folks who filed weren't deadbeats, but rather had been walloped by factors beyond their control like medical bills. Warren had such great knowledge and passion that she made a normally dry topic interesting for my wife and her classmates.
Thanks to this personal connection, we followed her career closely and, when she ran for Senate, were happy to make a couple of small donations. While I don't agree with all of her ideas, I agree with her general assessment that we've allowed multiple systems to develop in this country that screw average folks in countless ways, from education to health care, criminal justice, trade, etc.
But the financial system may be the worst. As I've written many times before, I can't think of a single element of it – credit cards, mortgages, auto loans, student loans, and so forth – in which the industry isn't preying on its customers, especially the least-sophisticated ones, to increase its profits. (For an excellent book on this, I recommend Broke, USA: From Pawnshops to Poverty, Inc. – How the Working Poor Became Big Business.) Thus, I cheered Sen. Warren's successful efforts to create the Consumer Financial Protection Bureau ("CFPB"), which, because of its effectiveness (at least, until recently) is reviled in the financial sector.
Thus, imagine my surprise when, on December 1, 2016, shortly after Trump's election, she posted this misguided attack on me on her Facebook page, where she has millions of followers: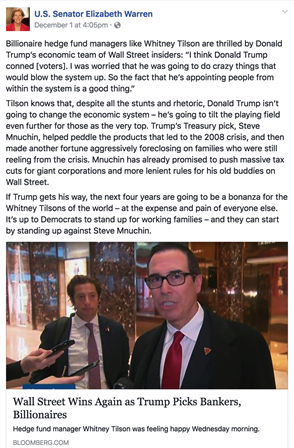 It was so wrongheaded that, initially, I laughed it off – all publicity is good publicity, right? But ultimately, I decided that Sen. Warren should correct her mistake, so I contacted her chief of staff, and my wife also wrote her this beautiful letter. To our surprise, however, she refused to correct or remove her post.
Few things piss me off more than powerful people, companies, or organizations picking on the little guy. I suppose I get this from my parents, who met and married in the Peace Corps in 1962. They're wonderful people who've always taught me to not only stick up for myself, but also for others who might not be able to stick up for themselves.
It's part of what motivates all of my philanthropic activities. It's also a major reason why I write so often and publicly about investing, and why I decided earlier this year to launch an investment newsletter, rather than starting another hedge fund (which, let's be honest, involves helping the very rich get even richer)... I want to serve as many people as possible and help individual investors avoid all the hype, promotions, scams, and overvalued dreck that Wall Street is constantly foisting on them.
Sen. Warren must have thought I was some nobody who she could bully, but she was wrong... Over the years, I've developed relationships with many journalists, which has proven valuable on a handful of occasions (like giving 60 Minutes the Lumber Liquidators formaldehyde story). In this case, I thought Andrew Ross Sorkin of the New York Times would be interested in the story... and I was right. He published this article on the front page of the Business section on December 12: Elizabeth Warren Condemns the Wrong Man, which triggered a firestorm of bad publicity for her.
The next day, the Boston Globe ran a front-page story, In Warren, Some Are Seeing Shades of Trump's Antics, and other media also piled on. Finally, a day later, she apologized, both publicly (see: From Senator Warren, a regret) and privately. She called me that day and my wife and I had a half-hour meeting with her when she was in New York City a couple of months later...
Best regards,
Whitney