Advanced technology has enabled us to be more flexible, giving us the ability to easily upload, edit and share files of any kind. In the digital age, video has become a key element for online content creation. Allowing creatives, of any caliber, to be more versatile with their talents and how they can use video to their advantage.
Q3 2021 hedge fund letters, conferences and more
We've become somewhat accustomed to an online and digital world, yet small mishaps can still occur within our seemingly perfect modernized lifestyles. Corrupt and damaged video files are one of the main issues consumers struggle with, and while it's left many of them somewhat clueless, solutions have become more widely available.
Primitive solutions are no longer acceptable, and the development of innovative software has made it easier for many of us to work better, faster, and more effectively.
In this post, we explore how to repair corrupt video files, and what you can do to recover broken video files on both Windows and macOS computers. Yet, traditional solutions may not seem as effective as you'd like them to be, tech-savvy software has allowed us to explore solutions that offer seamless results, time and time again.
Common Causes Of Corrupt Or Damaged Video Files
It's not always a given what the specific cause or issue may be when working to restore broken or corrupt video files. But some of the most common causes one can encounter are system errors or crashes, defective storage devices, inaccurate data or video transfers.
How To Repair Corrupt Video Files
As mentioned, it is possible to repair video files that have endured some damage during transfer or while it has been stored on your computer or a storage device. It's always a good idea to start with a basic analysis of the problem, before looking towards complex and elaborate solutions.
Method One: VLC Media Player
The fastest, and easiest way to repair a corrupt video file is with the built-in VLC media index repair system on Windows. This option can be enabled and disabled manually, allowing the user more leverage to make use of the program.
Right-click on the file, and change the format to .avi.
Launch VLC and select Tools, click on Preferences.
Open the media player, and switch to Input/Codes Section.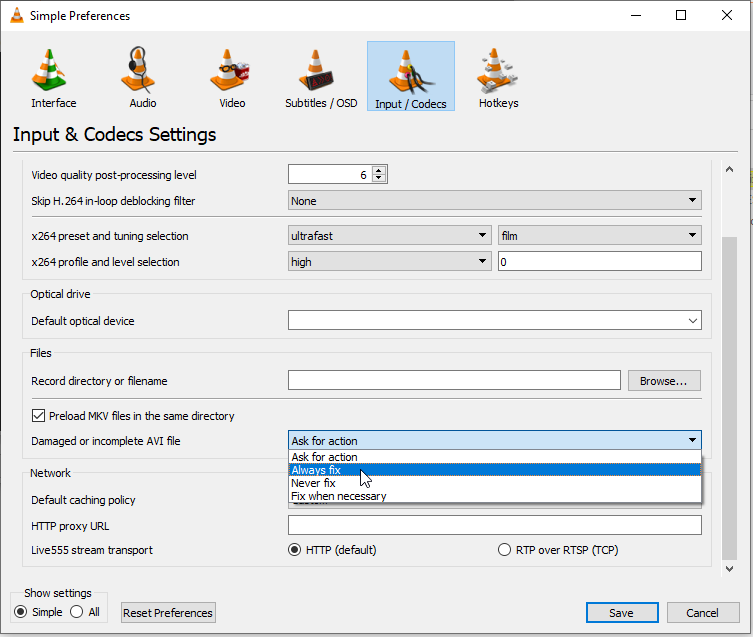 Once the window opens, select Always Fix in the Damaged or Incomplete AVI file.
Once clicked, save the changes.
After saving, re-open the VLC and it should be working.
Method Two: Stellar Repair for Video
New software and technology have been developed such as Stellar Repair for Video, which has now become commonplace in the digital era. While more and more videographers are coming to life, users, just like you and I, are looking for trustworthy and credible software programs that can assist with fixing corrupt, damaged and broken video files.
Stellar Repair for Video has advanced repair capabilities that can repair videos using sample files. This enables users to repair from any point where new changes have been made to their videos.
There are additional features that allow for better compliance, such as fixing video transferred from cameras, smartphones and tablets, drones, SD cards, camcorders, and dash cams among others.
Once the software has been loaded onto your computer, you can follow these easy steps.
Step 1: Launch the program
Step 2: Select the file you can to get fixed and load it onto the program.
Step 3: The repair process will run for several minutes, once complete, preview and save the repaired files.
It's good to consider always making an additional copy of any video file before loading it onto the program. More so, once the process has been completed reviewing the changes and only then ensure you save a copy of the new video file.
Software such as this works on both Windows and macOS systems, and you will find it easy to understand how to recover broken video files from Windows.
How to Repair Corrupt Files on Mac
The Stellar Repair for Video works for Mac computers as well. Although macOS may seem a bit more complex to run third-party software, Stellar Repair for Video runs without any glitches and can fix video files that have been uploaded from a variety of different devices.
Try the following steps on how to restore corrupt files, Mac:
Download and Install the Stellar Repair for Video.
Once installed, launch the program until the screen is loaded.
Upload any video file, those deemed damaged or unplayable.
The repair process will start running.
Preview all the files again, and save them onto your Mac computer.
You can also click all the files and save them to a new folder on your Mac.
In some cases, it's shown that system updates on both computer and hardware devices are required before proceeding. See whether or not a device needs a software update. Finally, if this doesn't work, you can consider software options such as Stellar Repair for Video.
Additionally, you may also want to consider looking at how to recover broken video files from Windows as an alternative to the above-mentioned methods. Software such as the above mentioned, Stellar Repair for Video can recover video files of nearly any format such as MP4, 3GP, Divx, VID, TOD, HDMOV, and M4V among others.
Method Three: Check Your Hardware
If a video file seems to not be working properly, the problem or issue may be caused by faulty hardware. Thus, it can be a good idea to check your hardware before making any other types of adjustments to the file.
Try to ensure that the hardware, i.e. the USB storage device is properly plugged in at both the computer and the storage unit. Some devices can lack transfer if a connection is weak. Once checked, see if you can move the file to the computer, or perhaps by opening it on the storage unit in VLC.
Final Thoughts
Once you have located a corrupt or damaged video file on your computer, it's essential to get it fixed immediately. Resolving these issues gives you a better idea of which files may be damaged, and what type of solution is needed to restore or recover any broken or damaged files.
Your best bet is to check your hardware and its connections to see whether or not there are any faulty connections in the cabling. Once complete, run your VLC media player repair tool, or make use of repair software such as designed by Stellar. Always use trusted software that can be supported by your operating system.