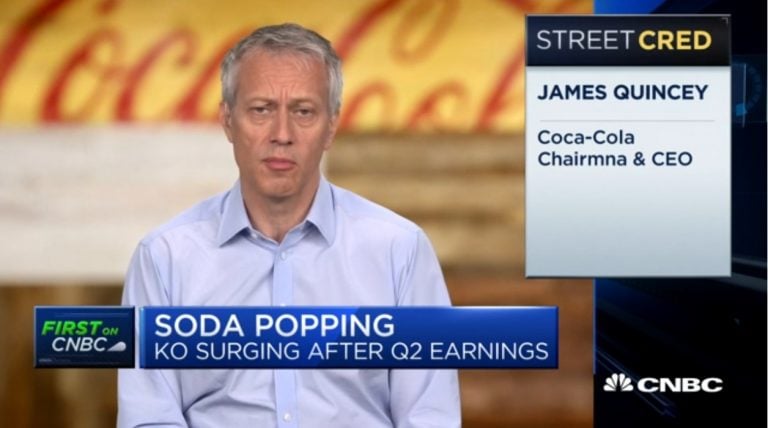 First On CNBC: CNBC Transcript: The Coca-Cola Co (NYSE:KO) Chairman and CEO James Quincey Speaks with CNBC's Sara Eisen Today
WHEN: Today, Tuesday, July 23, 2019
WHERE: CNBC's "Squawk on the Street"
DG Value Adds 23.7% In 2020, Plans New SPAC Fund
Dov Gertzulin's DG Value Funds returned approximately 19.2% in the quarter ending December 31, 2020, according to a copy of the hedge fund's full-year 2020 letter to investors, a copy of which ValueWalk has been able to review. Following the fourth-quarter performance, DG's flagship value strategy ended 2020 with a positive return of 23.7%. That Read More
The following is the unofficial transcript of a FIRST ON CNBC interview with Coca-Cola Chairman and CEO James Quincey and CNBC's Sara Eisen on CNBC's "Squawk on the Street" (M-F 9AM – 11AM) today, Tuesday, July 23rd. The following is a link to video from the interview on CNBC.com:
Q2 hedge fund letters, conference, scoops etc
Coca-Cola CEO James Quincey on earnings and growth
All references must be sourced to CNBC.
DAVID FABER: Right. Which is why we're having that conversation with Jim that the Fed Chair, perhaps, wants to tone it all out, go to the golf course and not necessarily listen to decent, if not particularly good, earnings report. Sara, specific to Coca-Cola, which you cover closely, I mean, Pepsi also had quite a good quarter. Is there something across the board here that we can read into or are they separate situations?
SARA EISEN: They're not totally separate. But, what I would say is that you're seeing, especially in household products and beverage categories, a newfound growth. And I think it's a number of factors driving it. New leadership. Both companies do have new CEOs. They have instilled a new sense of, sort of urgency and better execution in certain items. There's increased marketing spends, on brand Pepsi, on brand Coca-Cola. That was a common theme in both quarters. And there's new innovation. Speaking of, let's talk to the man himself. Shares of Coca-Cola surging this morning. One of the Dow stories of the day. Earnings beat and revenue guidance raise. James Quincy joins us now from Atlanta. First on CNBC, Chairman and CEO of Coca-Cola. Welcome, James, nice to see you. So, why don't you tell us, in your own words, what's driving the growth at Coke right now and the better outlook?
JAMES QUINCEY: Yeah. We had a great quarter, actually. I think that the big story is that this is another quarter of growth on, you know, an improving trend of momentum. We're now getting multiple years of good growth rates. Really the numbers are probably more like a five – multi-year growth. And I think it's a sign that the transformation of our business to being more consumer-centric, more innovation and marketing-led and being faster and more nimble with our bottling partners on executing is really bringing together increased momentum across the global business system. And I think it's very heartening for everyone that works in the Coke system.
SARA EISEN: I mean, we see it in the share price reaction up 5%, as Carl mentioned. The numbers were a lot better than expected. And the stock has underperformed. The market this year, Pepsi this year, what did the Street have wrong?
JAMES QUINCEY: I think in a way we, at the beginning of the year, we came out – to some guidance. You were just talking about the macro environment. We saw some clouds on the horizon, too, but the storm never arrived. So, by sticking to our plan, by executing against our strategy, we've been able to deliver stronger momentum than even we were expecting. And that's why it's allowed us to raise our guidance for the full year, expecting a 5% organic revenue growth in the full year. Clouds are still there but the storm doesn't arrive and so we're going to stick to our strategy, focus on executing, and really drive for a better underlying operational result for the year.
SARA EISEN: Talk about what you saw in different markets in terms of the balance between pricing and actual unit growth or volume growth and what that says about underlying demand.
JAMES QUINCEY: I think what's really, really encouraging for everyone is the fact we're getting a good mix of volume and price. This quarter was a 3% unit volume growth. The average of the last four quarters has been two. Average of the last four quarters of pricing has been three. So, really, we're getting into the sweet-spot of balance of volume and price, which is really symbolic of the fact there's a tremendous opportunity ahead in the beverage industry. Ultimately, commercial beverages have a tremendous growth runway, particularly in emerging markets where 80% of the world's population lives and only a quarter of what they drink is a commercial beverage of any sort. So, there's a massive runway ahead of us. And I think our ability to find a sweet-spot of volume growth with price, driven by the marketing, innovation and execution, really sets us up for sustained long-term momentum.
SARA EISEN: What about in North America specifically, where pricing is obviously a bigger growth driver than volume growth? Is that just we're going to get used to smaller packages and that's going to be the norm, or can you do anything to lift those volumes?
JAMES QUINCEY: Well, we're really focused in the U.S. on driving our business through transactions. And so, we have been bringing down some of the package sizes as part of our overall effort to grow our business and reduce our calorie footprint. So, really in the U.S. we're looking to see the balance of the revenue growth driven by a little bit more price and package mix and brand mix than volume. Of course, we'd love to see a little bit of positive volume, but we think that sticking to our strategy is going to help us reengage very constructively with consumers well into the future. And so, we're seeing household penetration of our brands growing, interaction with the brands growing, and, importantly, we're seeing growth both in the sparkling beverages and some of our premium stills beverages. So, setting ourselves for many good quarters to come.
SARA EISEN: Let's go through the portfolio. Coke Zero Sugar, got to start there, another quarter, another double-digit growth. Is this the new Diet? Are these Diet Coke drinkers transferring over to Coke Zero Sugar? Is it attracting a new crowd? What is it about this product?
JAMES QUINCEY: It's really three things. It's some Diet Coke consumers coming over. But, generally, that's not the biggest source, because people are super loyal to Diet Coke. Some of the people are going from Coke, as they want to balance things out. They maybe have a Coke, Coke Classic and Coke Zero Sugar, coming from Coke. And then coming in from other categories. Coming in from that sparkling water categories, coming in from other sparkling categories. So, really the sources of growth of Coke Zero are broad-based, which also gives us a lot of confidence that we have a lot of runway ahead for this brand.
SARA EISEN: I did see in the release there was a shout out to the new Coke, the big "Stranger Things" promo that you guys did, the new Coca-Cola Orange Vanilla. How do you turn up the notch on innovation where you can get products out there that younger consumers are interested in?
JAMES QUINCEY: Well, I think it's that trying to find the sweet-spot of engaging with them on something that's relevant, whether it's a new flavor, like the Orange Vanilla, which had kind of a whimsical marketing campaign behind it between the two guys that kept appearing at basketball games, or it's in the smaller cans or different market approach like integration of New Coke into the latest season of "Stranger Things," which is, of course, a super-hot program for teens and adults. So, really finding ways to gain reconsideration. And sometimes you come in on the moment of reconsideration and you stick with the franchise in one of the different barriers. But it's about that constant need to reengage with consumers because there's so much choice out there, so much competition, it's about sticking with them and staying relevant.
SARA EISEN: What about Coke Energy? I saw that you shared that it's doing well. It's available in more markets. You won that arbitration against Monster. Some people—investors are wondering what that's going to do to your stake in Monster and whether you need to be there if you're developing your own product—competitor?
JAMES QUINCEY: Obviously we've got the arbitration, we launched Coke Energy. We absolutely think there's room for both. We've got a great partnership with Monster. It's created a lot of value. They have created a great business and a great brand and we've helped them take it to the next level. And Monster is still growing. We see a lot of future for that. And we see Coke Energy playing in a different space. Being a sort of more inclusive brand, a softer flavor compared to some of the other energy drinks. And the early data, and it is still early days, shows it's attracting consumers from outside the energy category, also from non-Monster consumers of energy predominantly. So, we really do think this is a complimentary approach for the Coke system and it will work for our partners, too.
SARA EISEN: Just wanted to go global with you a little bit. Asia has been a big story and growth driver for you. And how do you balance what you're seeing in consumer spending across Asia, particularly China, with weaker economic numbers that we're getting out of the region?
JAMES QUINCEY: Yeah, I mean, there have been some headlines softening but still growth in the region. What we've seen is continued consumer demand across a broad range of consumables, including beverages. And I think some of the higher ticket item categories, or durables, have been a little softer in China. But in consumables, we have seen continued strength. And ultimately, for the long-term growth trajectory of the Coke system, we see China, the ASEAN countries, the Indian subcontinent and Africa as four real large opportunities to extend out our growth into the future.
SARA EISEN: Yeah, your native UK got a new Prime Minister today, a Brexiteer. What's your expectation right now as someone who does a lot of business in this country about whether there will be a Brexit deal before October 31st or a crash out of Europe?
JAMES QUINCEY: I wish I knew the answer to that question. Firstly, congratulations on Boris for becoming Prime Minister. I'm hopeful that we will get some sort of negotiated deal ultimately to bring this all to some sort of conclusion. I have my own personal points of view. But I think most importantly we need resolution of the uncertainty in the least disruptive way possible.
SARA EISEN: Yes. You've said that before. Currency was no joke, again, nine-point currency headwind for earnings per share. Do you welcome a rate cut from the Fed Chair at next week's meeting?
JAMES QUINCEY: I mean, I think whether he comes up with a rate cut or not, what we've definitely seen is some more stability in the Foreign Exchange Markets. There was a big strengthening of the dollar coming out of the summer last year. But since then, since the third quarter last year, from our perspective, the dollar has been relatively stable. It got a little bit stronger over the last 12 months. But it's basically been stable. So, you know, from our point of view, seeing that stability continue into the future, you know, whether the Fed comes down a little bit, I mean you're going to have to balance that against whether the ECB starts pursuing more buying or not, ultimately it would certainly suit us to see the stability we have now continue into the future.
SARA EISEN: And finally, a hard turn from Fed easing to alcohol and CBD. Wall Street wants to know where you are on both. We're going to get an alcohol product in Japan. How bullish are you that could go beyond Japan? And CBD—what's your latest thinking in terms of experimentation?
JAMES QUINCEY: Well, in Japan the alcohol drink we have there is – it plays a very Japanese logic. We face a full range of competitors from soft drinks to spirits to beers to all sorts of other things selling the same customers, often same consumers for the same occasions. So, the drink there is very specific to Japan, and not projectable globally. And then CBD, there's absolutely zero change in my position that there is nothing happening.
SARA EISEN: Okay. Keep us posted on that one. James Quincey, always a pleasure having you on earnings day.
JAMES QUINCEY: Thank you.
SARA EISEN: Thank you. CEO, Chairman of Coca-Cola.