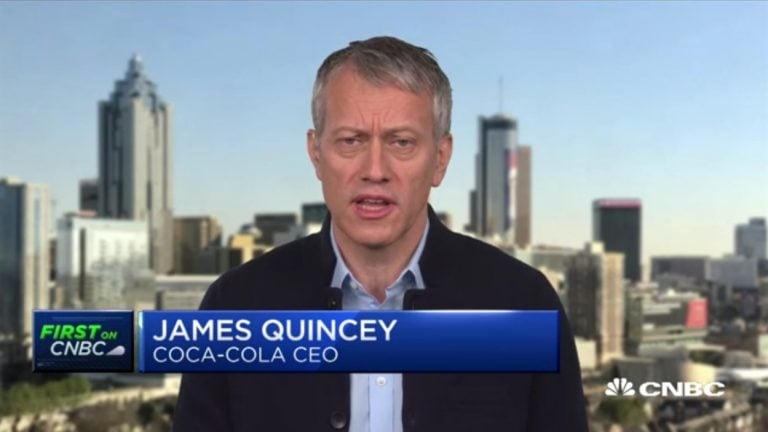 First On CNBC: CNBC Transcript: Coca-Cola CEO and Incoming Chairman James Quincey Speaks with CNBC's Sara Eisen Today
WHEN: Today, Tuesday, April 23, 2019
WHERE: CNBC's "Squawk on the Street"
Hedge Fund Launches Jump Despite Equity Market Declines
Last year was a bumper year for hedge fund launches. According to a Hedge Fund Research report released towards the end of March, 614 new funds hit the market in 2021. That was the highest number of launches since 2017, when a record 735 new hedge funds were rolled out to investors. What's interesting about Read More
The following is the unofficial transcript of a FIRST ON CNBC interview with Coca-Cola CEO and Incoming Chairman James Quincey and CNBC's Sara Eisen on CNBC's "Squawk on the Street" (M-F 9AM – 11AM) today, Tuesday, April 23rd. The following is a link to video of the interview on CNBC.com:
Watch CNBC's full interview with Coca-Cola CEO James Quincey
Q1 hedge fund letters, conference, scoops etc
All references must be sourced to CNBC.
SARA EISEN: Let's focus a little bit more on Coca-Cola right now. Earnings beat organic revenue growth 6%. For more, James Quincey, CEO and Incoming Chairman of Coca-Cola joins us from Atlanta. Good morning, James.
JAMES QUINCEY: Good morning, Sara. Good morning.
SARA EISEN: So, we were just talking about the growth drivers happening at companies like yours. I know there were funky timing issues with Brexit and Easter. How would you characterize the underlying growth?
JAMES QUINCEY: Yeah, I think the first quarter was a very strong start to the year. I think once you strip down all the numbers and the timing effects, the simplest way to look at it is a solid organic growth of 5%, which is a strong number. The momentum continuing from a strong 2018. So, we're happy with how the innovation and the execution has allowed us to start the year. It's a good start.
SARA EISEN: If you go through the portfolio, you know, you and I have talked about the strength you're seeing in Coke Zero Sugar. Pepsi is also seeing that with Pepsi Zero Sugar. What's driving that trend and is that going to be the new diet?
JAMES QUINCEY: I think globally for sure it's the new diet. I mean, Coke Zero Sugar is much bigger than Diet Coke globally. Diet Coke is principally the U.S., and the U.K. and a couple of other countries. And I think what it is, is it's really about the consumer dynamic. They love the coke brand, they love what the brand stands for, love the taste of the product, they love what it delivers—there's just some of them who want less sugar on those occasions. And that's really been what's behind Coke Zero Sugar. Again, double digit volume growth, double digit revenue growth, building on the momentum of the last few years. It's really on trend for consumers and I think it has a lot of room left to grow.
SARA EISEN: Also noticed there was real growth in the water and sports drinks category. What's driving it? Is it still Topo Chico, beyond just my household?
JAMES QUINCEY: Yes, indeed. Topo Chico had another great quarter here in the U.S. It's a fantastic brand and product. It's really, really on fire in the U.S. It's-- it grew really strongly here in the U.S. in the first quarter. And generally speaking, premium waters around the world, whether it be Smart Water, or Ice Dew in China, our focus on the more premium orders, on smaller packages, on single serve packages is help reinvigorate that part of the portfolio, along with some of the sports drinks brands and in-house hydration. So, that's very on trend, too, with consumers and a lot of momentum and a lot of innovation going behind that, backed up by the execution of the bottlers. It was a very good bright spot in the first quarter.
SARA EISEN: So thanks to the team for figuring this out, actually on this day -- I don't know if you realized it, 1985, Coca-Cola announced it was changing the formula to New Coke. Never caught on. You had to go back to the original strategy less than three months later. Total disaster. Now that you're sort of tweaking the products, Orange, Vanilla, the new Diet flavors, how do you do that without having a mishap like the New Coke?
JAMES QUINCEY: I think the central learning ultimately was that Coke Original, Coke Classic is the enduring center of the brand on our whole portfolio of the variants. So I think we've been very clear as we experiment, whether it be flavors or the Zero Sugars or the blending with other categories, with Coke, with coffee, at the center of all that, we have to do justice to the original Coca-Cola. Even better it comes in a small eight-ounce glass bottle. And as long as we preserve and keep that iconic brand and product as the center of the idea, I think all will be well.
SARA EISEN: Yeah, last quarter when you joined us we spoke a lot about the outlook. It was disappointing. The stock reacted. The stock actually fell in the three months that followed. And today we saw why: 11-point hit because of foreign exchange. That strong dollar. Can you just explain to investors why that is hurting Coke so much and disproportionately to some of the other companies right now and where we go from here on 4x?
JAMES QUINCEY: Yeah, I think firstly, it's a recognition or it's a representation of the incredible global nature of the Coke company and the Coke system. I mean we truly probably are the most broad global company. We're in virtually every corner of the globe. We deal with over 70 functional currencies. And as our businesses continue to be successful over the years, the weight of emerging market or non-top ten currencies in our total business has increased. And actually, in recent years it's gone past 50% of our business. So more volatile currencies have increased their weight in our total business. And in the third quart last year there was a big strengthening of the dollar. And that hit us in the third and the fourth quarter last year, and obviously, it's going to—it's affected us heavily, double digits, in the first quarter of this year. And as we start to lap that cycle going into the back of the year, those effects will have passed through. And then, I think the strong operational performance will really show through and the momentum of the operation resolves, the volume and price and margins will really start to deliver for the Coke shareholders. But we are a big global company. We represent the success or greater success of the global economy.
SARA EISEN: Have you seen the global growth slowdown in consumer spending?
JAMES QUINCEY: Clearly our first quarter doesn't look like. Obviously, the IMF – since the last earning call, the IMF has reduced its forecast. Perhaps those forecasts are a little more of a lag indicator, in the sense that some of the private sector signals come a little earlier. I think it's really cementing the idea that 2019 will have slightly less growth than 2018. But there's no question the first quarter started well. There are parts of the world, some of the economies like Argentina, bits of the Middle East, which are really under pressure. So, we're seeing a 2019 with growth, just a bit less than '18 in terms of the macros. And we're focused on what we can execute. Hopefully, we'll continue to execute well like we did in the first quarter, but we do see 2019 softer in the macros.
SARA EISEN: Do you see 2019 softer, with regard to the U.S. consumer behavior?
JAMES QUINCEY: I think the U.S. forecasts are pretty similar. I think they are slightly less than 2018. Obviously, there was a benefit of some of the tax reform flowing through last year and the anticipation of that flowing through. And so, I think this year, obviously as we start cycling out at the back end of the year, it's yet to be seen. I think the overall take we would see is it's pretty much going to be similar from a consumer spend to 2018.
SARA EISEN: Also, I wanted to get your thoughts on pricing. It's been a big theme for a lot of consumer companies: we, the consumer, paying more or at least getting less in terms of packaging. We saw it in Kimberly Clark, we saw it in Pepsi, we saw it in your quarter. How much longer is that going to continue at this rate?
JAMES QUINCEY: I think, you know, pricing is part of what the whole bundle of the brand and the package and the benefit to the consumer is. I mean, the consumer is not going to pay if he doesn't see a benefit. And so, I think what we focus on is are we, as we think about each individual consumer and the occasion they're buying our product for, is are we delivering a brand that's relevant to them in a package and with a customer that delivers value for them? And in the end, if they get value out of it, and all the bundle that comes with it, then the pricing will be there. And if they don't, then they won't. So I think it's really a measure of are we able to deliver on the proposition for the consumer in  a way that's compelling for them.
SARA EISEN: A lot of focus on Wall Street around the cost to deal. It finally closed this quarter. So, can you lay out what your vision is there, for taking this out beyond the UK, globally and potentially to the U.S.?
JAMES QUINCEY: Yeah, so obviously we closed the deal early January, well ahead of schedule, which was satisfying. We've been able to transition the business from the previous owner ahead of schedule as well, we've been able to integrate it and stand it up within the Coke system, so that's good. We're in early days of working out exactly how we're going to bring to life the synergy plans for greater revenue growth and profit growth. Obviously, we've started to work that through with management and that will start to take shape in the coming months and quarters. The first thing that everyone will see is the beginnings of ready-to-drink coffee in the European business and then into more markets later in the year. And as we get into the year, we'll be clear on how we see us being able to leverage the cost of business and creating that growth platform for coffee that we think can help us be a better total beverage partner for our customers.
SARA EISEN: Speaking of beverages, we actually just got some news today that a bill in California that would have imposed a tax of two cents per fluid ounce for soda tax, essentially, is going to be shelved and pushed back. Are you encouraged by what you're seeing when it comes to the legislation front, these soda taxes being pushed back or, in some cases, some of the results being quite negative on jobs?
JAMES QUINCEY: Yeah, look, I think the reality and our thought, our position on this, is look, the overconsumption of calories and overconsumption of sugar by any one person is not good and we're very clear for our support for the global objectives on consumptions of sugar. And therefore, the problem has to be solved. And therefore, our focus has been how can we help do things within our control, do what we can, and what public policies should we support or not support in order to get there? So, we've been focused on reformulating to offer products with less sugar, witness the growth of Coke Zero Sugar, double digit growth, very strong growth there. Smaller packaging. So, we have to do some things within our business. We are supportive of government policies that look at broad ways of trying to reshape the diet or encourage people to moderate their consumption of certain ingredients, whether it be sugar or salts or fats. Therefore, we've opposed some of the very narrow taxes on just sugared soft drinks, because we don't think you'll achieve the objective -- the health objective that we're all trying to be a part of solving. So I think to the extent the public policy moves towards places that encourage both industry innovation and broader changes of behaviors for the consumers, that will help to be part of the solution.
SARA EISEN: So finally, James, tomorrow -- this week is a big one for you. The board is set to hand you the reins over as Chairman and not just CEO. Finally cementing that succession from Muhtar Kent. What would you say is the biggest difference under your watch as Chairman, soon-to-be Chairman and CEO Quincey versus Kent?
JAMES QUINCEY: Well, I think, look, the strategy is clear. I think the role of the Chairman is to work with the board to continue to push for the execution and the accelerated execution and the strategy and of course, question the whole management, accountable for that. And so, I think it's just going to be a natural evolution and a reinforcement of the strategy that we're pursuing and the reinvigoration of the company that's been under way for a number of years.
SARA EISEN: James Quincey, thank you very much.
JAMES QUINCEY: Thank you.
SARA EISEN: CEO of Coca-Cola.
Updated on