Whitney Tilson's email to investors providing an update on Tesla Inc (NASDAQ:TSLA); he also won a gold and silver in the National Senior Games.
1) With the quarter coming to an end this week, I thought I'd give an update on Tesla (TSLA).
Q1 hedge fund letters, conference, scoops etc
Despite its recent bounce, the stock is still down 30% since my March 4 prediction that it would hit $100 by the end of the year, while the Nasdaq is up 7%...
TSLA has bounced off its early June lows thanks to some optimism that second-quarter deliveries won't be as bad as feared. CEO Elon Musk is leading the cheers, e-mailing employees in late May:
Based on current trends, we have a good chance of exceeding the record 90,700 deliveries of Q4 last year and making this the highest deliveries/sales quarter in Tesla history!
This is unlikely. Recall that when the company reported first-quarter earnings, it guided to 90,000-100,000 deliveries in the second quarter.
For a while, it looked like it wouldn't even hit 80,000. But as usual, there's been a mad rush of late-quarter deliveries. My best estimate is that the company might hit 85,000. That's still more than 10% below the guidance midpoint, but not a total debacle on this metric. Thus, the stock might even pop when the company releases this number (likely sometime between July 1 and July 3), especially if it maintains its outlook for full-year deliveries to be between 360,000 and 400,000 vehicles.
The key question is, how much price-cutting did Tesla have to do to move cars? After all, if the company sold cars for $1, it could sell an almost infinite number... This, plus how well it controlled expenses, will determine how much money Tesla made or lost in the second quarter. (We won't know this until the company reports earnings on or about August 7.) I expect the company to show a big loss in the second quarter – though less than it did in the first quarter, when it only delivered 63,000 cars and lost a staggering $702 million.
In the meantime, the avalanche of senior executive departures continues and another analyst admitted he "got it wrong this year" and cut his price target from $400 to $300. Plus, Morgan Stanley analyst Adam Jonas is sticking to his $230-a-share price target, but last month he admitted it could go as low as $10 in a worst-case scenario. He says the stock is "fundamentally overvalued, but potentially strategically undervalued."
I stand by my $100 target by year-end.
2) I just finished competing in the National Senior Games in Albuquerque, New Mexico yesterday and am flying home on the redeye tonight.
I won a gold medal in the triathlon relay with my cousin Steve Piotrow (who swam the 500-meter leg) and a local ringer we found, Van Billups (who cycled the 20-kilometer leg). I ran the anchor five-kilometer leg in a slower-than-normal 24:19 (the altitude of 5,700 feet affected me more than I thought it would), but Steve and Van had given me a big enough lead that it didn't matter. Here are pictures of me running and us with our medals: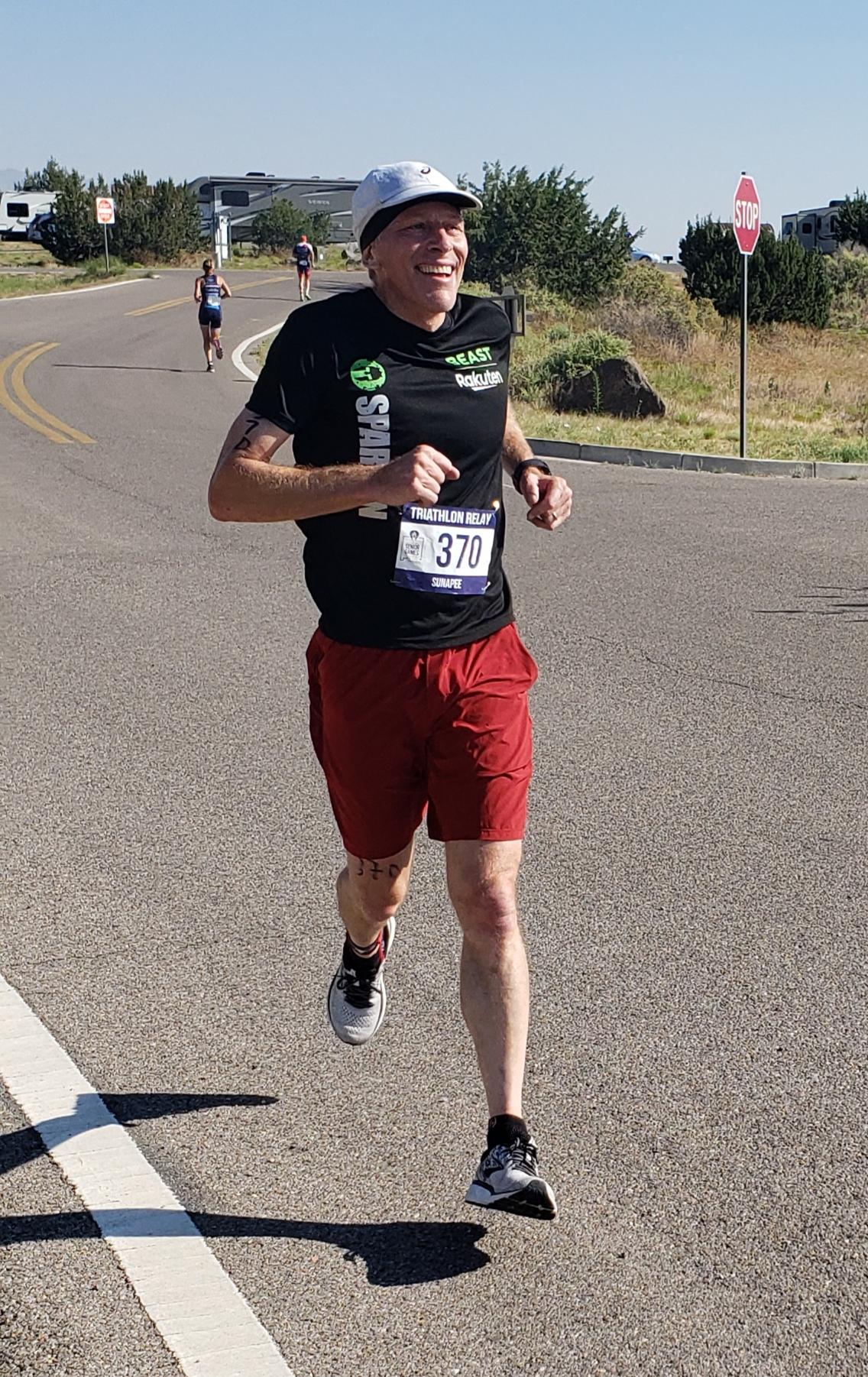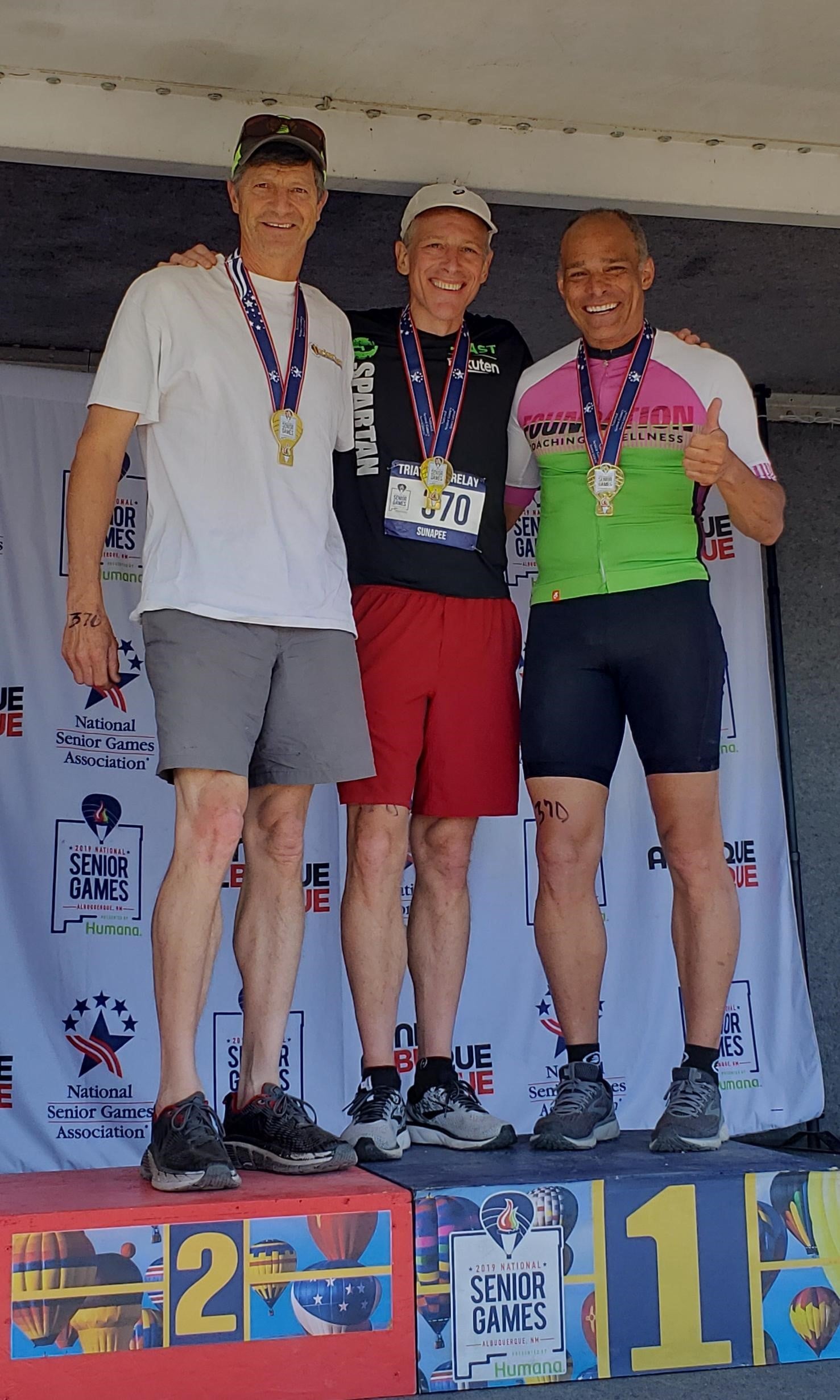 I should have won two more golds in the age 50-54 singles and doubles in tennis, but I got tennis elbow (lateral epicondylitis) a few months ago – a 66% tear in the tendon – which has completely messed up my game.
I had a cortisone shot two weeks ago, which was a miracle – it eliminated all pain – for the first 11 days. But after my opening singles match on Friday morning (an 8-1 win), something happened and all the pain returned, so I lost the next three singles matches to guys I should have beaten – grrrrrr!
Fortunately, in doubles you don't have to hit as many groundstrokes, and Steve is a strong player, so we scraped our way to a silver medal. (Again, had I been 100%, we likely would have won.) Here we are on the podium: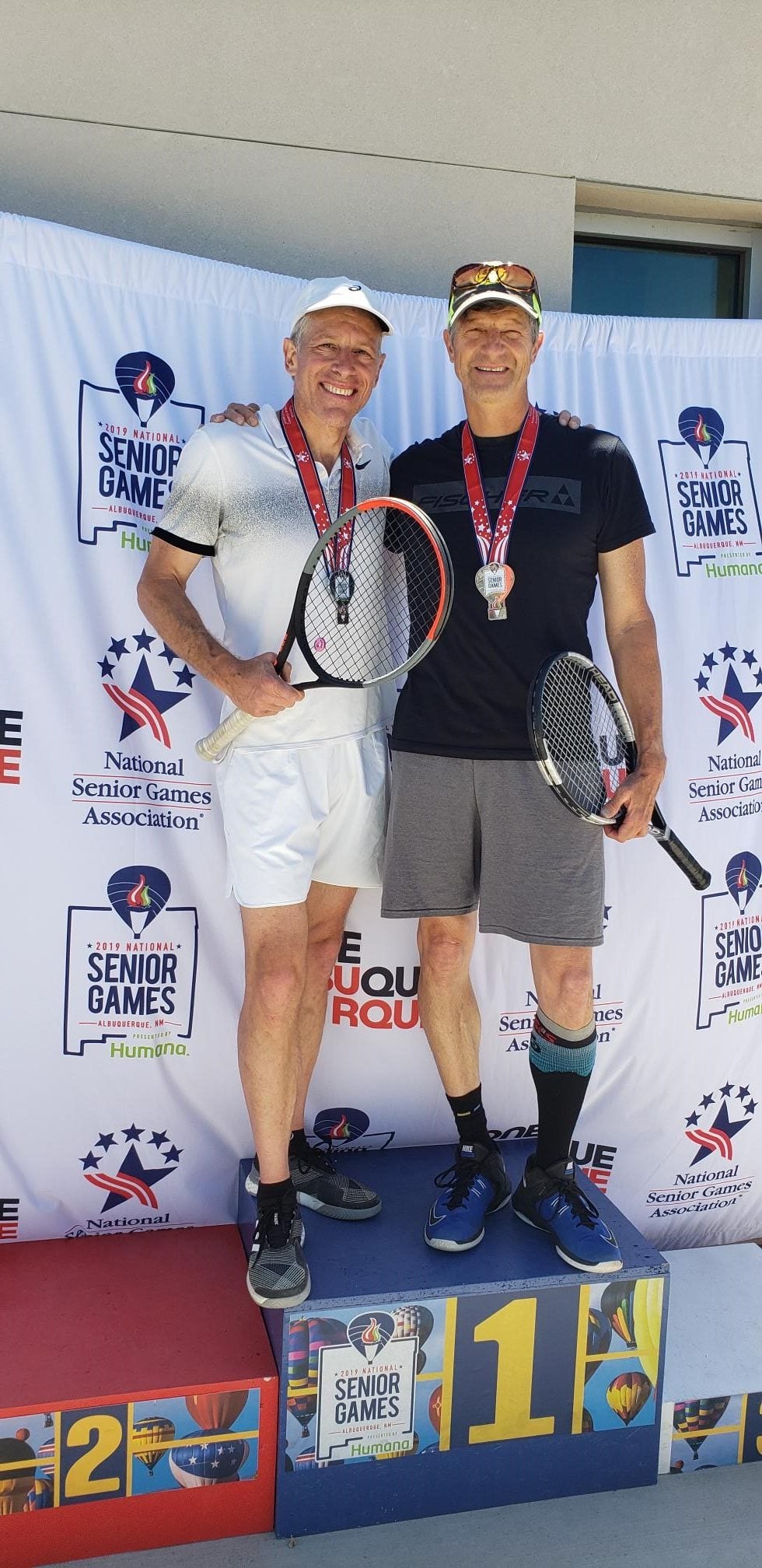 After our two doubles matches this morning, Steve, Van, and I did a beautiful, vigorous, seven-mile, 4,200-vertical-foot hike up to the top of Sandia Crest where we saw this magnificent view overlooking the city before going back to the base via the 2.7-mile aerial tramway (the third-longest in the world):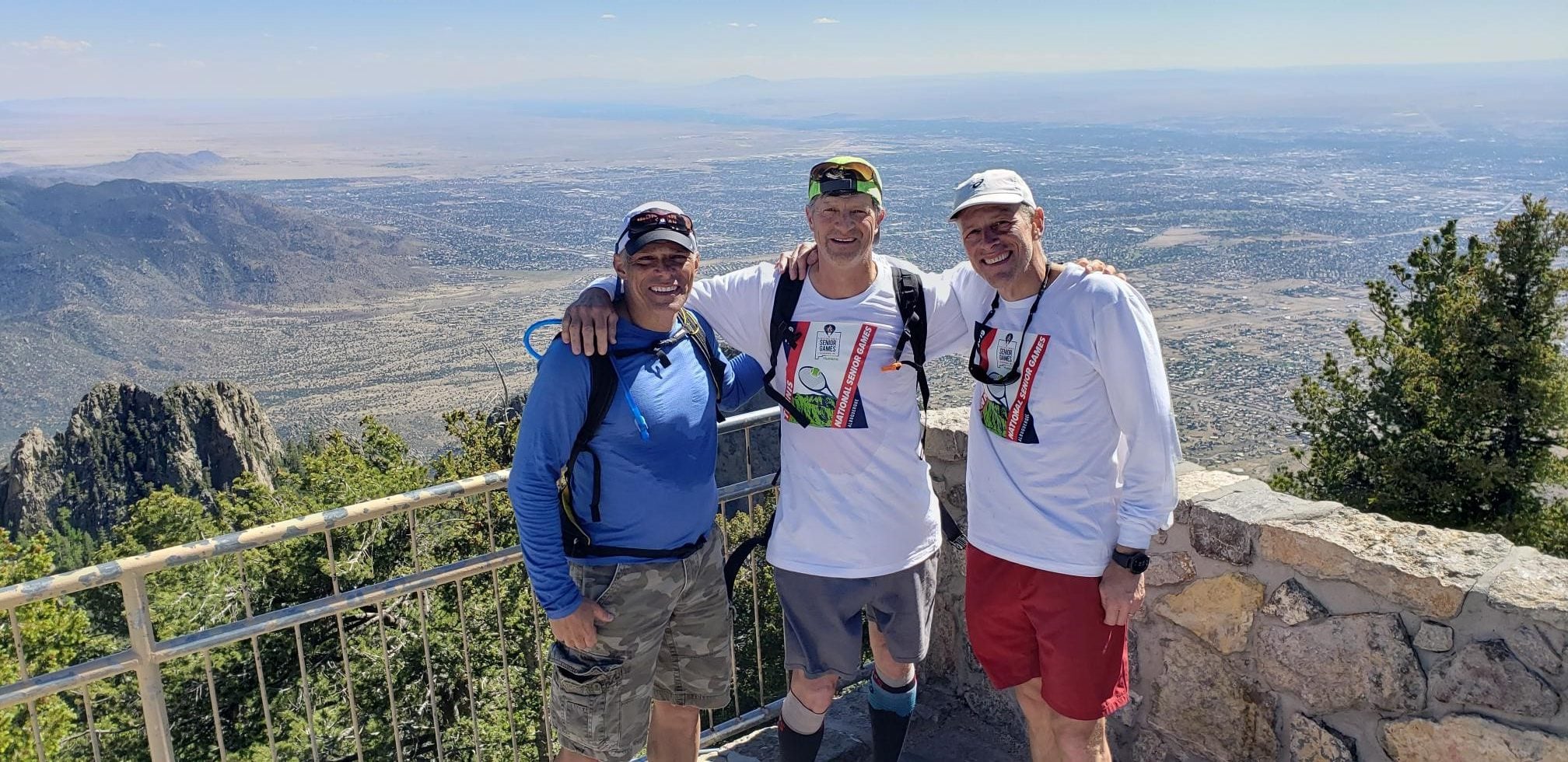 Best regards,
Whitney