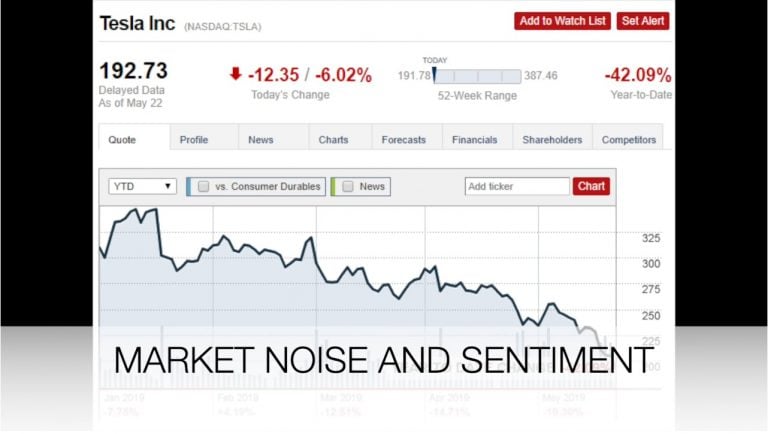 Tesla stock crash analysis. Investing in a stock like Tesla Inc (NASDAQ:TSLA) has to be part of a growth stock portfolio strategy without panicking on 50% declines.
0:00 Market Sentiment
2:08 3 Things With TSLA Stock
2:56 What Is Smart Money Doing?
4:03 Growth Stocks Strategy
6:50 Buy, Sell Or Hold
8:23 Keep Learning
Tesla Stock Crash Analysis – How to Invest Now – Personal Portfolio Strategy
[transcript]
Q1 hedge fund letters, conference, scoops etc
Crypto Hedge Fund Three Arrows Blows Up, Others Could Follow
A few years ago, crypto hedge funds were all the rage. As cryptocurrencies rose in value, hundreds of hedge funds specializing in digital assets launched to try and capitalize on investor demand. Some of these funds recorded double-digit gains in 2020 and 2021 as cryptocurrencies surged in value. However, this year, cryptocurrencies have been under Read More
Transcript
Good day fellow investors. The situation with Tesla stock is not nice. And even if I have been a Tesla bear for the past years I really think I can add value to Tesla investors by discussing free crucial things that they can apply to the current situation. The first thing is that you should completely forget about the noise. Secondly you should put Tesla and keep it as part of an investment strategy into growth stocks that should have a clear portfolio allocation. So you have to see where you are on that. And thirdly I'll try to give you a way to find the solution on whether you should buy hold or sell. That's very personal. But as always as I have seen a lot of stocks and I have held a lot of stocks that would go down 50 percent I think I can help you on the matter. Let's start. So this is a huge decline of 42 percent year to date over the last about five months. And I really don't think that the risks have increased that much compared to their reward in relation to what was the situation a few months ago. So I really believe that this decline is due to market sentiment as was the upside earlier. So if you can eliminate the noise from this let's say a speculative investment then you can make the proper decision.
If we look at what the market now is saying it's all doom and gloom. The market targets of 10 dollars slicing prices selling crises how much money famous YouTube burst lost on their stock etc.. Wall Street predicts Armageddon but this is crazy. Just five months the stock went from being a market darling with 3000 price targets to being the most hated with ten dollar price targets in this crazy environment. You should really focus on three things in this crazy environment. You should really focus on three things the reason you bought the stock in the first place. What was your strategy then and did it change. Now just because the market sentiment change Tesla is still making cars is still planning on growing just issued capital. They are still selling cars everything is still like it was a few months ago with the same projections in the same range and better higher etc.. So see how the risk reward of the long term picture fits your investment and your portfolio's strategy and don't again don't get confused by the talking heads around YouTube or on Wall Street. Those will always be talking heads. One thing to see is to look at what institutional investors are doing. And as you can see they are also under the influence of market sentiment. The yield on the Tesla Motors 2025 Bond has really increased over the last week. But we can see that those ups and downs have been regular over the last years. In this case since the bonds was issued 2017 so OK.
Interest rates are going up but those increases are not that significant. And we can see that actually. UPDATE A few weeks the bond was priced at 86 as it was at the beginning of the year so institutional investors didn't see much change even if Tesla's stock price fell 40 percent over the period. Only in the last few weeks the yield increased again but again not that much to justify a 40 percent stock price. So be careful about market noise because institutional investors are still pretty stable and they just added capital to Tesla. The second thing you have to keep in mind is OK. Tesla is a growth stock. It's a risky stock. As long as they need capital injections it means it is risky. Now this doesn't mean nobody should invest in it. It just means that you should keep it as part of a strategy which makes things much much easier. There is a chance Tesla will go bankrupt. There is a chance Tesla will explode and if you go to the master of such investments if we go to Peter Lynch this guy is beating the street. Then you can see how he used to hold such growth investments and then he would be happy if just one of the 10 growth stocks he owned did very well. Because if let's say you own 10 such growth stocks as Tesla and it is part of a strategy one becomes a 10 bagger. Even if the other 9 which is unlikely go bankrupt.
Updated on