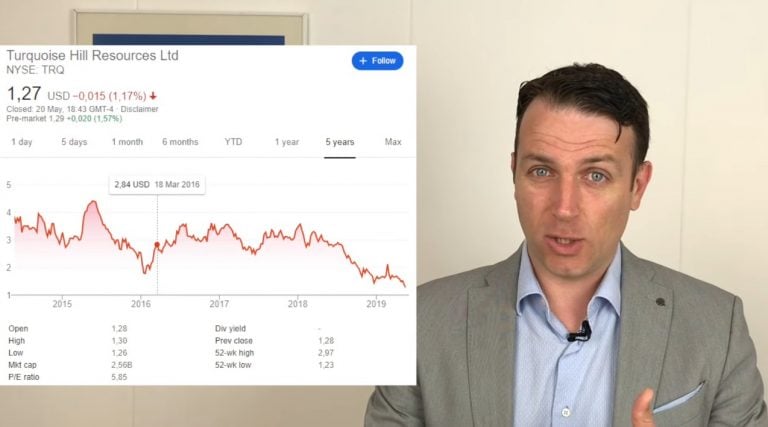 Stock analysis of Turquoise Hill Resources Ltd (NYSE:TRQ). It owns 66% of the Oyu Tolgoi mine in Mongolia and is owned by Rio Tinto plc (NYSE:RIO).
Turquoise Hill Resources Stock Analysis
Guy Spier And Mohnish Pabrai On What Makes A Great Investor
"I am a better investor because I am a businessman, and a better businessman because I am no investor" - Warren Buffett In the past, the value investor Mohnish Pabrai has spoken about why investors need to have some first-hand business experience. Pabrai started his own IT consulting and systems integration company, TransTech, Inc, in Read More
0:00 Current situation
3:17 Company Overview
5:44 Oyu Tolgoi Technical report 4 issues plaguing TRQ
8:18 build own power plant
9:13 Tax issue – $150 added
9:33 Ore body stability
9:50 New agreement with government
11:13 Financials
11:50 Valuation model
14:27 Long term copper/gold play
15:38 Investing in copper
Turquoise Hill Resources Ltd (TRQ) Stock Analysis – Copper And Gold Mining Stock For The Long Term – Rio Tinto Owns It
Q1 hedge fund letters, conference, scoops etc
Transcript
There fell investors over the last few days. There were a lot of comments on my two year old video on Turquoise Hill. So the stock is down 70 percent. It's a copper gold miner with expected production for the next century. So we have copper a great metal for the electrification and where our world is going with renewables electric vehicles and everything. If you build all that infrastructure you need a lot of copper. There is a lot of gold to be mined so it is a hedge against the inflationary pressures that we have here. So it is a very very interesting investment. A very interesting proposition. However the stock is down more than 70 percent since from its five year highs. And we have to see what's going on. And I really want to answer the comments that have been wondering what's going on and what is the current valuation.
So the topics for today are of course Turkey is down 70 percent the bargain will give you a quick Company Overview The current issues the four big unknowns that pushed the stock price down. We'll just discuss the financial situation quickly and then I'll show you my earnings models to make a valuation on turquoise here and I'll conclude with the copper conclusion how many copper miners are in the same situation. And you have to be careful how and what to buy to expose your portfolio to the metal. The last time I made the proper analysis of Turquoise Hill was in 2016 and my conclusion wasn't positive. I said that at 2016 copper prices earnings per share do not justify the project. Therefore turquoise was a pure bet on copper and then also it should be defined as highly risky as a lot of things can happen in seven years. That was the plan from 2016 to build and expand the mine and expect production in 2020 free more than three years have passed now since then and actually a lot of bad things happened in the meantime. If we look at the stock price the five year high was four point four dollars. So we are now 70 percent below that. And the risks never materialized. So the stock is more than what more than 50 percent below the price that was there when I wrote that article. And plus copper prices have increased 40 percent. So the stock price should have exploded as it was a bet on copper. But when you have an asset like turquoise you also have Mongolia you have the government there and then it's a huge ore body. So a lot of things can happen when you plan something and then things might not turn out that way. It's always the same with such long term huge projects.
You can always expect delays and there is one little hint that might help you estimate whether those will come or not. And I'll show you that in a moment just the Company Overview by 2025 or your Tolgoi should be the third largest copper mine in the world with extremely low cash flows of around 50 cents per pound which means that if you sell the copper at three dollars per pound the profits the gross profit margin should be two point five dollars per pound. That would lead to EBITDA of 3 billion and that's not bad when you compare to the current market cap of 2.5 billion. Even if it take only 66 percent of the EBITDA it's still a great number one gets to two billion on a market cap of two point five billion. And that's because all you tall guys is jointly owned by the government of Mongolia 44 percent and Turquoise Hill that owns 66 percent and Rio Tinto owns 51 percent of Turquoise Hill and is the manager of the project for those that don't know the story Oyu Tolgoi is mine already producing mine in Mongolia but with huge growth expectations over the next years as they expand the mine they will invest more than 5 billion in the mine and expect huge cash flows over the long term. As I said we are into the renewable electric vehicle driven revolution urbanization electrification etc. There is less and less copper the mines have to go deeper. The costs are higher. So supply will be challenged let's say to meet demand and the expectations are that copper prices might go up up and up and that's a very big positive for Turquoise Hill especially