Whitney Tilson's email to investors discussing his report from CES; Samsung; 3D printing bubble; Tesla; 2018: The Year in Charts; Hands off my data!; The Space Barons.
1) I'm wrapping up my 48-hour trip to the Consumer Electronics Show in Las Vegas today and flying home this afternoon. This is my second time here and it's a blast! I've posted pictures of some of the coolest things I saw on my Facebook page here, and I spent the day yesterday with my friends from Stansberry Research, who interviewed me here (starting at 6:15) about my experience and lessons learned from owning Samsung stock.
Q3 hedge fund letters, conference, scoops etc
2) Five years ago this week when I was at my first CES, it was the very peak of the 3D printing bubble and I was short all five publicly traded stocks in the sector, the largest of which were (and still are) 3D Systems (DDD) and Stratasys (SSYS). At CES, I gained even more conviction when I saw many Chinese competitors all selling knock-off printers at a fraction of the price of the market leaders, so I doubled down on my bet and went very public with my thesis, which paid off spectacularly, as every stock dropped ~90% in less than two years (and have never really recovered). Here are two articles by Julia La Roche: Whitney Tilson Says 3D Printing Stock Is Going To Plunge 90% and Here's The Hilarious And Brutal Chart That Whitney Tilson Sent Out To Explain The Crash In A Big 3D Printing Company
The lessons here are timeless: don't get sucked into bubbles (the latest of which are cryptocurrencies and pot stocks), growth doesn't equal profits, and valuation matters (DDD was trading north of 20x revenues at the peak).
Incidentally, I am not seeing any obvious bubbles this time around – other than perhaps Tesla, which isn't here, but most of its competitors are and the beautiful new electric cars by Audi, Mercedes and others are going to materially impact Tesla – which is not built into its stock price!
3) Charlie Bilello, Director of Research at Pension Partners, with dozens of charts capturing what happened last year: 2018: The Year in Charts. I thought this was especially interesting:
If someone told you that earnings would increase 26% in 2018 and that profit margins would hit record highs, you would probably guess that stocks would be higher.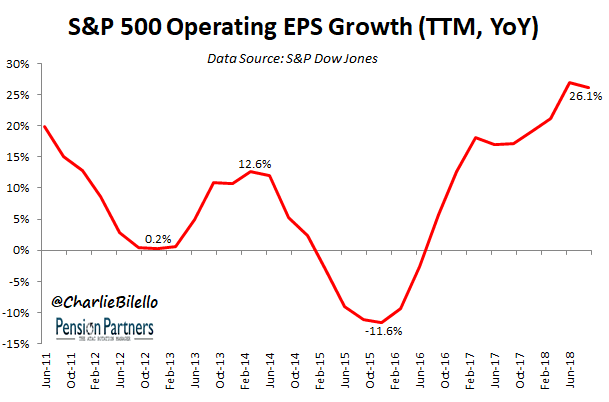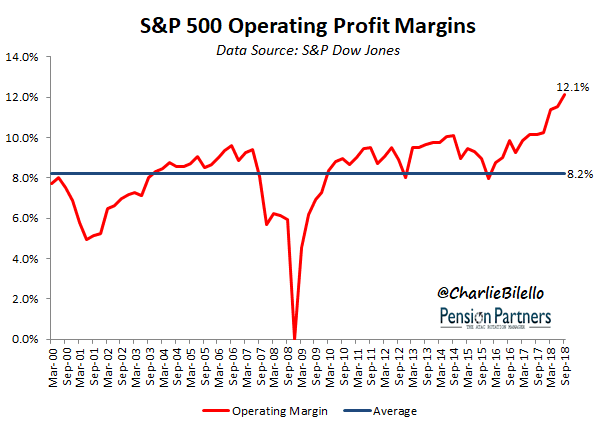 That would've been a reasonable assumption in most years, but not in 2018. For the first time since 2011, we saw multiples contract (-25%), with the P/E ratio on the S&P 500 moving from 21.4 at the start of the year to 16 at the end.
4) I'm getting increasingly uncomfortable with how much information the big tech companies collect about me and what they do with it. For example, I think it's creepy that if I buy or even search for a product on Amazon or Google, ads for that product (or similar ones) follow me around the internet for quite some time, so I just implemented all of the suggestions in this article: Hands off my data! 15 default privacy settings you should change right now. The companies warn me that I'm going to get the same number of ads, only not personalized – but that's fine with me. Excerpt:
On the Internet, the devil's in the defaults.
You're not reading all those updated data policies flooding your inbox. You probably haven't even looked for your privacy settings. And that's exactly what Facebook, Google and other tech giants are counting on.
They tout we're "in control" of our personal data, but they know most of us won't change the settings that let them grab it like cash in a game show wind machine. Call it the Rule of Defaults: 95 percent of people are too busy, or too confused, to change a darn thing.
Give me 15 minutes, and I can help you join the 5 percent who are actually in control. I dug through the privacy settings for the five biggest consumer tech companies and picked a few of the most egregious defaults you should consider changing. These links will take you directly to what to tap, click and toggle for Facebook, Google, Amazon, Microsoft and Apple.
PS—Here's the follow-up article, which covers your TV, LinkedIn, Twitter, Yahoo, cellphone provider, and wifi router: Hands off my data! 15 more default privacy settings you should change on your TV, cellphone plan, LinkedIn and more.
5) I really enjoyed this new book: The Space Barons: Elon Musk, Jeff Bezos, and the Quest to Colonize the Cosmos. Here's an excerpt from the review in the Washington Post, Jeff Bezos and Elon Musk going head-to-head to conquer space travel:
The extreme challenge of space travel is the backdrop for Christian Davenport's new book, "The Space Barons: Elon Musk, Jeff Bezos, and the Quest to Colonize the Cosmos." Davenport is a staff writer at The Washington Post, where he covers the space and defense industries. His book documents the emergence of a commercial space industry in the past 15 years, from the first flight of SpaceShipOne to the prospect of Earth orbit as a venue for tourism and recreation.
...The story arc follows Bezos and Musk as they each use personal wealth to realize childhood dreams that are too large to be contained by the Earth.