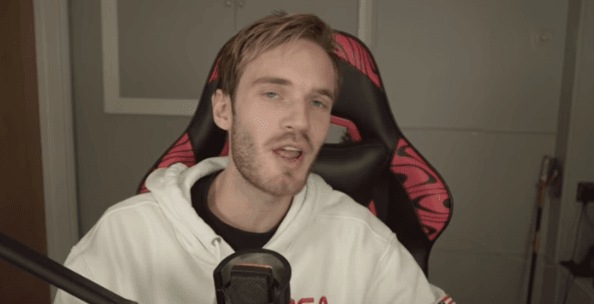 PewDiePie's ongoing battle for supremacy with T-Series, a Bollywood-based YouTube channel, is growing bigger with each day. Now if a new video is to be believed, it has reached classrooms as well.
Anti-Semitism claims are not new to PewDiePie
A Twitter user who goes by the handle Rissian recently shared a video in which someone is heard warning kids against retweeting or liking content from the Swedish YouTuber. Rissian claims the person in the video is their history teacher at school.
The person alleges that by supporting PewDiePie, students are promoting "anti-Semitism, racism, ignorance, etc." The person is also heard saying that students supporting the Swedish YouTuber could even get into trouble for allegedly supporting "anti-Semitic things."
ValueWalk's October 2022 Hedge Fund Update: Haidar Capital Surges 225%
Welcome to our latest issue of ValueWalk's hedge fund update. Below subscribers can find an excerpt in text and the full issue in PDF format. Please send us your feedback! Featuring investors exit long-short hedge funds, the oil market is now "broken", and Haidar Capital surges 225%. Q2 2022 hedge fund letters, conferences and more
Whether or not a teacher should discuss such things in class is a matter of debate. Some could argue that discussing such topics in class is not appropriate, while others could say that part of a teacher's job is to let students know the difference between right and wrong and make them aware of the consequences of wrongdoing.
PewDiePie himself also took note of the tweet and replied to it in his own style.
RT if you're against everything this dumbass teacher is saying. https://t.co/VpevlwVgAu

— ƿ૯ωძɿ૯ƿɿ૯ (@pewdiepie) December 18, 2018
This is not the first time the famed Swedish YouTuber has been associated with anti-Semitism. He has taken flak on several occasions for using racist and anti-Semitic language. For instance, Twitter suspended his account in 2016 after he made an ISIS-related joke.
Last year YouTube canceled his original series and Disney Maker Studios ended their deal with him following his anti-Semitic jokes.
"Although Felix has created a following by being provocative and irreverent, he clearly went too far in this case and the resulting videos are inappropriate," a spokesperson from the studio said at the time.
More recently, he came under first last week for promoting a channel known for homophobic, anti-Semitic and racist content.
PewDiePie fans hack the WSJ
Meanwhile, the battle between PewDiePie and T-Series continues to heat up. On Monday, fans hacked a section of The Wall Street Journal's website to post an apology on behalf of the paper. PewDiePie's fans have been against the Journal since its February 2017 investigation into the YouTuber's channel. The WSJ investigation was related to the use of anti-Semitic language and was apparently responsible for Disney's Maker Studios' decision to end its deal with him.
To hit back at the YouTuber's long-standing opposition, a sponsored post on one of the Journal's affiliated sites was edited to say that the publication would "like to apologize to pewdiepie [sic]" because of the misrepresentation by its journalists. The apology article also stated that the WSJ would now be assisting the Swedish YouTuber with beating the rival YouTube channel.
The Wall Street Journal was quick to pull down the fake page and has launched an investigation into the apparent hack.
WSJ joins the fight vs tseries ?https://t.co/O0WbSSNedI

— ƿ૯ωძɿ૯ƿɿ૯ (@pewdiepie) December 17, 2018
Fans call for others to subscribe to PewDiePie
We have already seen PewDiePie's fans doing all sorts of things to keep him in the lead as the battle for the most popular YouTube channel intensifies. Last month it was reported that a hacker broke into a series of about 50,000 printers to print pages asking people to subscribe to PewDiePie.
Like they did last month, hackers again took control of the printers this month. However, this time with the message to subscribe to PewDiePie, the hacker also warned the victims to improve their web security.
"I've been trying to show that 'hacking' isn't a game or toy, it can have serious real-life consequences," the hacker told the BBC anonymously online.
Further, the hacker said they could cause "physical damage" to the printer by putting too big of a load on the printer chips, which "have a limited lifetime of 'writes.'" This time the hacker reportedly printed their message on over 100,000 machines.
Additionally, fans posted messages on billboards in New York's Times Square and purchased signage around the U.S. asking people to subscribe to PewDiePie.
PewDiePie was pretty close to losing his crown as the top YouTube channel recently, but thanks to YouTube, he was able to increase his lead. The video platform conducted a massive crackdown on spam accounts. This led the Swedish YouTuber to lose just 40,000 accounts, while T-Series lost more than 200,000 accounts. The Swedish YouTuber now has almost 77 million subscribers, while T-Series is around the 75-million mark.