Spruce Point Capital Management issues "Strong Sell" Opinion on Heska Corp (NASDAQ:HSKA) with 50% – 60% long-term downside risk.
Q3 2021 hedge fund letters, conferences and more
Heska is a distributor of diagnostic equipment and related consumables to veterinarians and a supplier of various animal health test kits, preventatives, and pharmaceuticals, largely manufactured on a contract basis for others. Following a period of negative organic growth and significant margin contraction from 2017 through 2019, Heska embarked on an acquisition spree and campaign to re-position the Company in the eyes of investors. Despite benefitting handsomely from the market's embrace of the animal health investment theme, resulting in a more than doubling of its revenue multiple and a 140% rise in its stock price since the end of 2019, we find that Heska's business, capabilities, and competitive position have barely changed.
We urge investors to review key findings in Spruce Point's report ahead of the Company's third quarter 2021 earnings on November 4th, and hold management accountable for answers to the following issues:
Evidence shows that management has materially embellished Heska's market share, business model, and product development capabilities while failing to disclose increasing risks to its challenged competitive positioning
Our in-depth analysis of Heska's recent acquisitions reveals a pattern of acquiring low-quality assets to create the perception of an expanded product offering on par with the sector's leaders.
Market due diligence and management commentary suggest Heska's highly anticipated product, the Element AIM, will disappoint.
We have identified numerous examples of incorrect, inconsistent, or inadequate financial disclosures, including a large disposal of the hazardous chemical mercury.
We find numerous governance failures at Heska – including that its underwriter and bullish equity promoter Piper Sandler employs the children of Heska Chief Executive Officer Kevin Wilson – that should make the shares un-investable for funds that place even the slightest weight on ESG considerations.
Heska's current premium valuation is nonsensical, which is why Spruce Point estimates up to 60% downside in the Company's shares.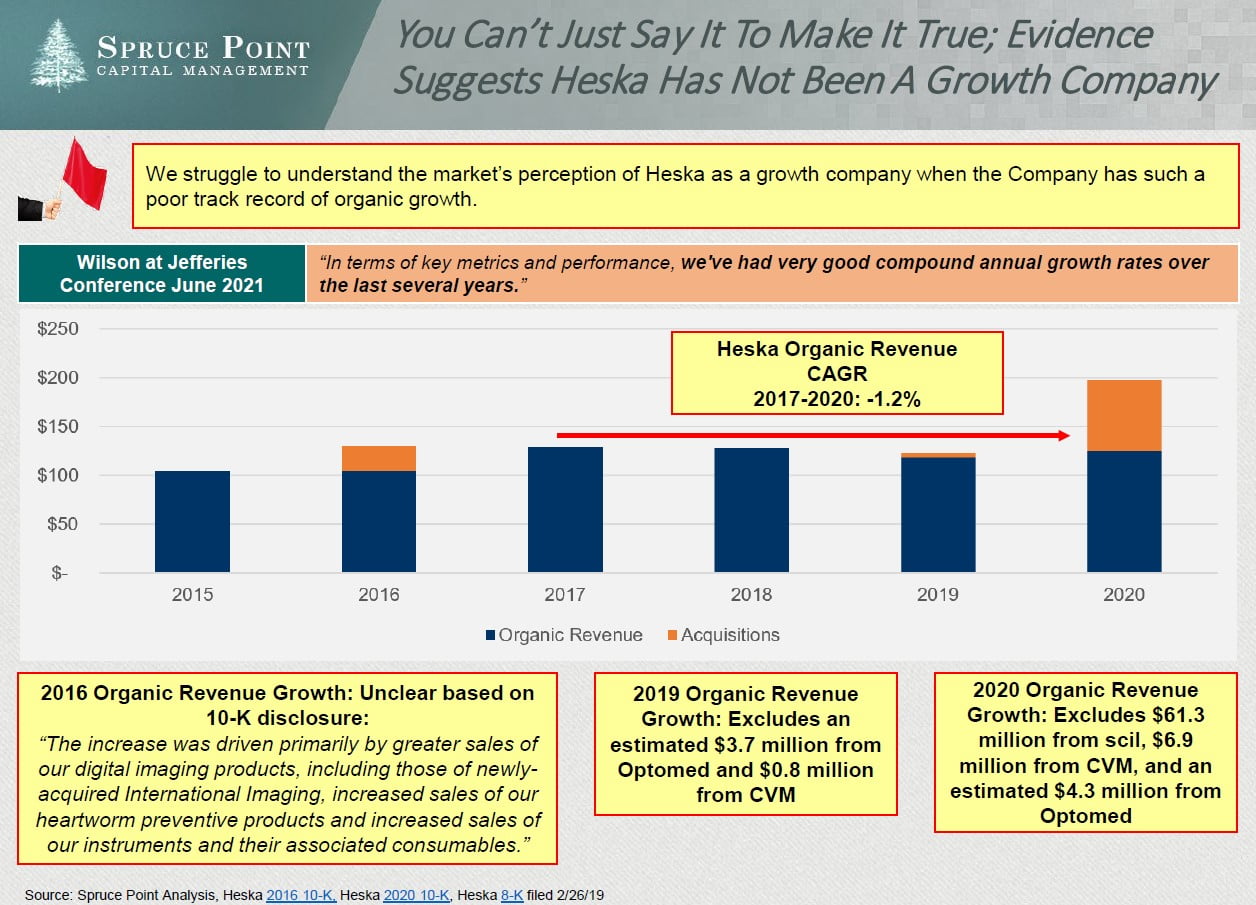 Executive Summary
CEO Wilson Wants Investors To Believe Heska Is An Innovative And Transformed Company With Upside: Our Polar Opposite View PointsTo 50% -60% Downside
Spruce Point believes Heska Corp (Nasdaq: HSKA or "the Company"), a $2.8 billion market cap animal health equipment distributor, has been struggling to grow organically and has been using low-quality acquisitions as a means todeflect market share loss and margin erosion and to generate investor enthusiasm. Our forensic financial investigation into the Company reveals a broad range of environmental, social, and governance ("ESG") concerns that make it difficult for us to justify its industry premium 9x 2022E sales multiple. We see 50% -60% downside risk (to $90 -$115 per share).
We believe Heska is un-investable for any funds with an Environmental, Social, and Governance ("ESG") focus
Environmental: We believe Heska failed to disclose to investors a massive mercury chemical disposal related to its Tri-Heart business. This incident involved a large product return from a major customer. As such, we question if Heska avoided a large asset impairment related to nearly $15 million of returned product. Of note, Heska has says it generally does not accept returns
Social: We believe Heska misportrays itself to the public as an innovative developer of new products, when in reality, itis largely a distributor of others' products. We view Heska's level of financial disclosure, particularly as it relates to its recent acquisition spree, to be inadequate compared with industry norms. We are uncomfortable with Heska's historical auditor, who also served as audit partner of MusclePharm, an SEC-charged company. A new auditor appointment is coincident with a major acquisition and a change in segment reporting. Heska's CFO has a prior disciplinary record with the Colorado State Board of Accountancy and has already made reporting errors. Heska has inexplicably elevated two lawyers with no operating or domain expertise to key operating roles. Management was actively selling stock before its recent run, and sales have continued
Governance: Heska's CEO Kevin Wilson has been the source of a long history of conflicts of interest and poor governance, and we believe investors are overlooking these facts surrounding both him and the Board

We won't rehash old news related to Heska's past commercial relationships with Wilson-owned Cuattro other than to state that there were clear violations of the Company's code of ethics. Wilson continues to spend time on outside business interests
Wilson's recently announced compensation package is simply egregious, including a stock grant equal to 1.5x the net income generated by Heska since Wilson joined eight years ago
Wilson's brother is employed at Heskaand we believe he is extracting an above market salary and bonus for his marketing role
Both of Wilson's sons work at broker-dealer Piper Sandler, which has served as an underwriter to Heska, thereby receiving fees and publishing highly supportive research on the Company. Piper Sandler has a glowing "Overweight" recommendation, and the secondhighest share price target of $305/sh. We believe this compromises Piper's objectivity and it should revoke its research rating
Director Sveen is Trustee of a charity that extracts high fees to an entity he controls at the same address. The fees appear high in relation to the scale of the charity and are not clearly to an independent service provider
Heska chairman Humphrey has a biography that says he's retired, yet we find two undisclosed roles at a U.S. and Canadian M&A
Read the full report here by Spruce Point Capital Management