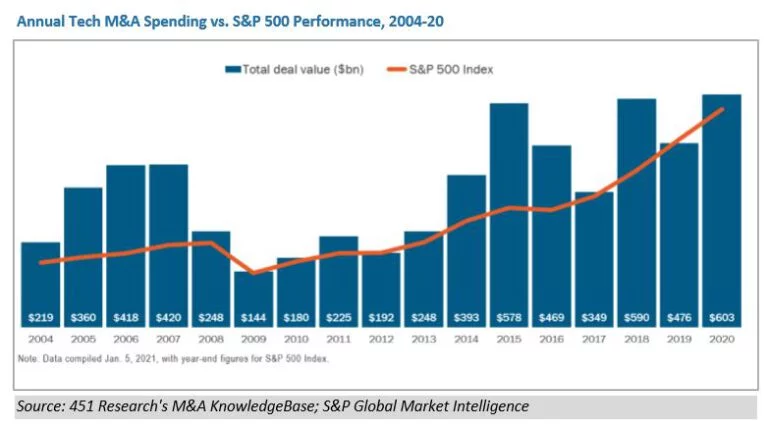 In a year dominated by a global health disaster that no one saw coming, 2020 also notched a record that virtually no one could have predicted: Tech M&A spending last year soared to its highest level since the dot-com collapse. Astonishingly, almost impossibly, the total value of tech and telecom transactions announced around the plague-ravaged world in 2020 topped $600bn, according to 451 Research's M&A KnowledgeBase.
Q4 2020 hedge fund letters, conferences and more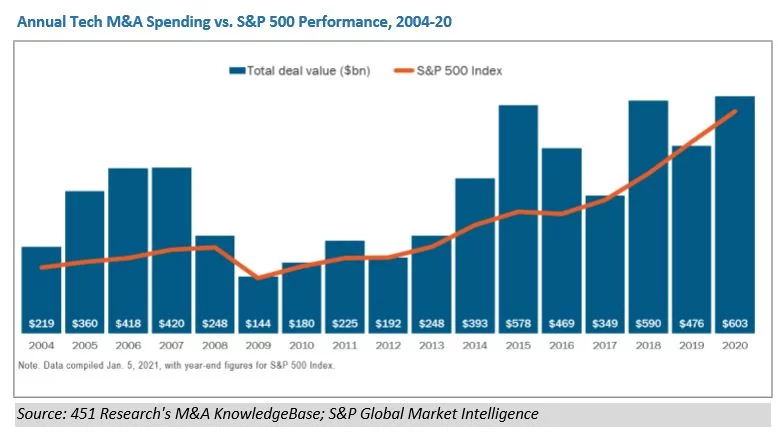 Exclusive: Millennium Reports Its Highest Return In 20 Years As Firm Boosts Hiring
Millennium USA was up 25.9% net for 2020, its highest full-year return of the last two decades. The return also exceeds the fund's annualized average net returns over three, five, and 10 years and since inception. Q4 2020 hedge fund letters, conferences and more High-quality returns In their 2020 annual letter to investors, which was Read More
Key Highlights: Tech M&A Market Outlook
Key highlights from our S&P Global Market Intelligence's annual Tech M&A market outlook includes:
Last year's record spending came in more than 25% higher than we recorded for the 'before times' year of 2019 and more than four times the amount spent in the similarly recession-scarred year of 2009, our data shows. Even more, the unprecedented activity played in a historically abrupt boombust cycle.
As they looked ahead, just one in 20 senior investment bankers (6%) said coronavirus would be significantly disruptive to M&A in the coming year. That represents a sharp drop from the 40% who said the outbreak hit their business hard in 2020
Our data shows a staggering $485bn worth of spending on tech and telecom acquisitions in aggregate for the final two quarters of 2020. That shopping spree pushed the value of deals announced in just the final half of last year higher than the full-year totals for every year except two since 2002, according to the M&A KnowledgeBase. Astonishingly, the tech M&A market exited the plague-ravaged year of 2020 at a trillion-dollar run rate.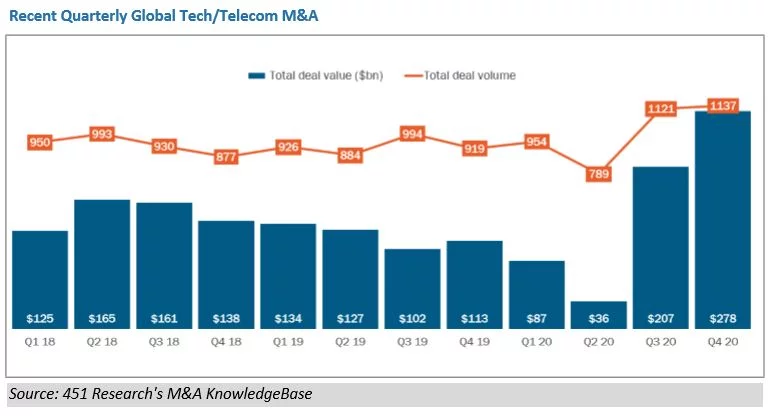 The second half of 2020 marked a record level of spending as increasingly confident acquirers started signing off on ever-larger tech purchases. Tech vendors announced multibillion-dollar deals that would have been unimaginable just a few months earlier.
In the case of COVID-19, the slowdown was measured in mere months, rather than years. Already by summer, acquirers' pent-up demand – combined with Wall Street's confidence in the tech sector to thrive, not just survive, during the lockdown – flooded into the tech M&A market:
After spending on acquisitions in Q2 dropped to its lowest quarterly level in a decade, the average totals for both Q3 and Q4 came in more than six times higher than spring's slump, according to the M&A KnowledgeBase.
The late shopping spree in the second half of 2020 pushed the value of deals announced in the final six months of last year higher than the full-year totals for every year except two since 2002.
Deal volume also picked up dramatically in the back half of the year, our data indicates. Acquirers in both the fall and winter quarters announced 40% more transactions than Q2, helping to make 2020 the busiest overall year for tech transactions since 2016.