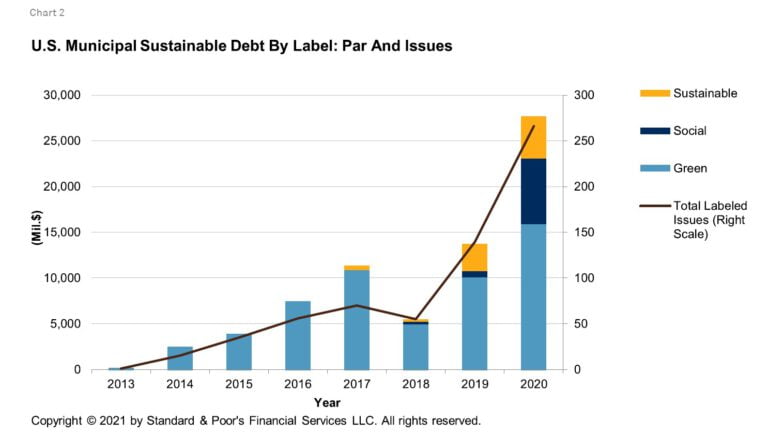 2021 Sustainable Finance Outlook: Large Growth In Green, Social, Sustainable Labels As Municipal Market Embraces ESG

Q4 2020 hedge fund letters, conferences and more
Key Takeaways
[Exclusive] ExodusPoint Is In The Green YTD Led By Rates And EM/ Macro Strategies
The ExodusPoint Partners International Fund returned 0.36% for May, bringing its year-to-date return to 3.31% in a year that's been particularly challenging for most hedge funds, pushing many into the red. Macroeconomic factors continued to weigh on the market, resulting in significant intra-month volatility for May, although risk assets generally ended the month flat. Macro Read More
We expect the municipal sustainable debt market to grow in 2021, building on momentum and substantial growth in social and sustainability labeled bonds. We estimate municipal green-labeled debt issuance of about $18 billion and total municipal sustainable debt issuance potentially surpassing $30 billion.
Low interest rates, increasing market embrace of ESG concepts, and the coronavirus pandemic drove robust sustainable debt issuance growth in the municipal markets during 2020.
More municipal market issuers are adding green, social, and sustainability labels to bonds, but concentration remains: The 10 largest sustainable debt issuers accounted for more than 50% of total issuances in 2020.
With an average par amount of $103.6 million in 2020, 2.8x the average U.S. municipal issuance, sustainable debt issuances are larger and more heavily focused on new money (75%) than the overall municipal market.
Investor appetite for use of proceeds verification is increasing, and 2020 was the first year that most sustainable debt issuances carried some form of external review.
Sustainable Debt Growth Trend Emerges Amid Pandemic
Market segment growth ahead
S&P Global Ratings expects U.S. municipal green-labeled debt to continue grabbing a larger share of the municipal market in 2021, estimating green-labeled issuance of about $18 billion, or 4.1% of total municipal issuance, as projected by S&P Global Ratings Research. For the total sustainable debt market, we believe it is possible that issuance could surpass $30 billion for 2021, bringing cumulative issuances to more than $100 billion since the first municipal green bond was issued by the Commonwealth of Massachusetts in 2013. The extraordinary pace of growth in social and sustainability bonds, combined with the role of the pandemic in driving social bonds forward in 2020, adds complexity to the forecast.
Chart 1 depicts the growth in green bonds as a percentage of total municipal market issuance. The green bond market share has increased to 3.4% in 2020 from 0.03% in 2013. Including all sustainable debt, the market share expanded to 5.8% in 2020, from 3.2% in 2019 and it has never been higher than 2.5% in all prior years. On average, sustainable debt's share of total municipal market issuances increased 51% per year from 2014 through 2020.
Pandemic's repercussions help push municipal sustainable debt to new heights
Amid the COVID-19 pandemic, the municipal bond market saw a record $474 billion in issuances during 2020. Sustainable debt followed suit, soaring to a new peak with municipal issuers adding $27.6 billion in debt with green, social, or sustainability labels, more than double 2019's level. It was an extraordinary 2020 for this market segment, and S&P Global Ratings has seen a clear growth trend emerge since the first municipal green bond was issued in 2013.
Although this market sector was growing prior to 2020, the pandemic and its related risks were clear factors driving 2020's extraordinary growth in all three types of labeled sustainable debt, particularly social bonds. As the pandemic curtailed tax revenue and drove health and safety expenditures upward, for example, state and local governments increasingly turned to the municipal market to fund capital projects and to create or preserve budgetary flexibility. The U.S. Federal Reserve System's actions to lower interest rates and steady bond markets made borrowing even more appealing for many municipal entities. Some entities that issued labeled bonds cited the pandemic and its drain on government and nonprofit finances as the driving factors bringing them to market. The pandemic's influence was clearly a factor driving market segment growth last year, but we believe the overall growth trend will likely continue. The rapid growth of sustainable debt issuances, by both par amount and number of issues, is illustrated in chart 2.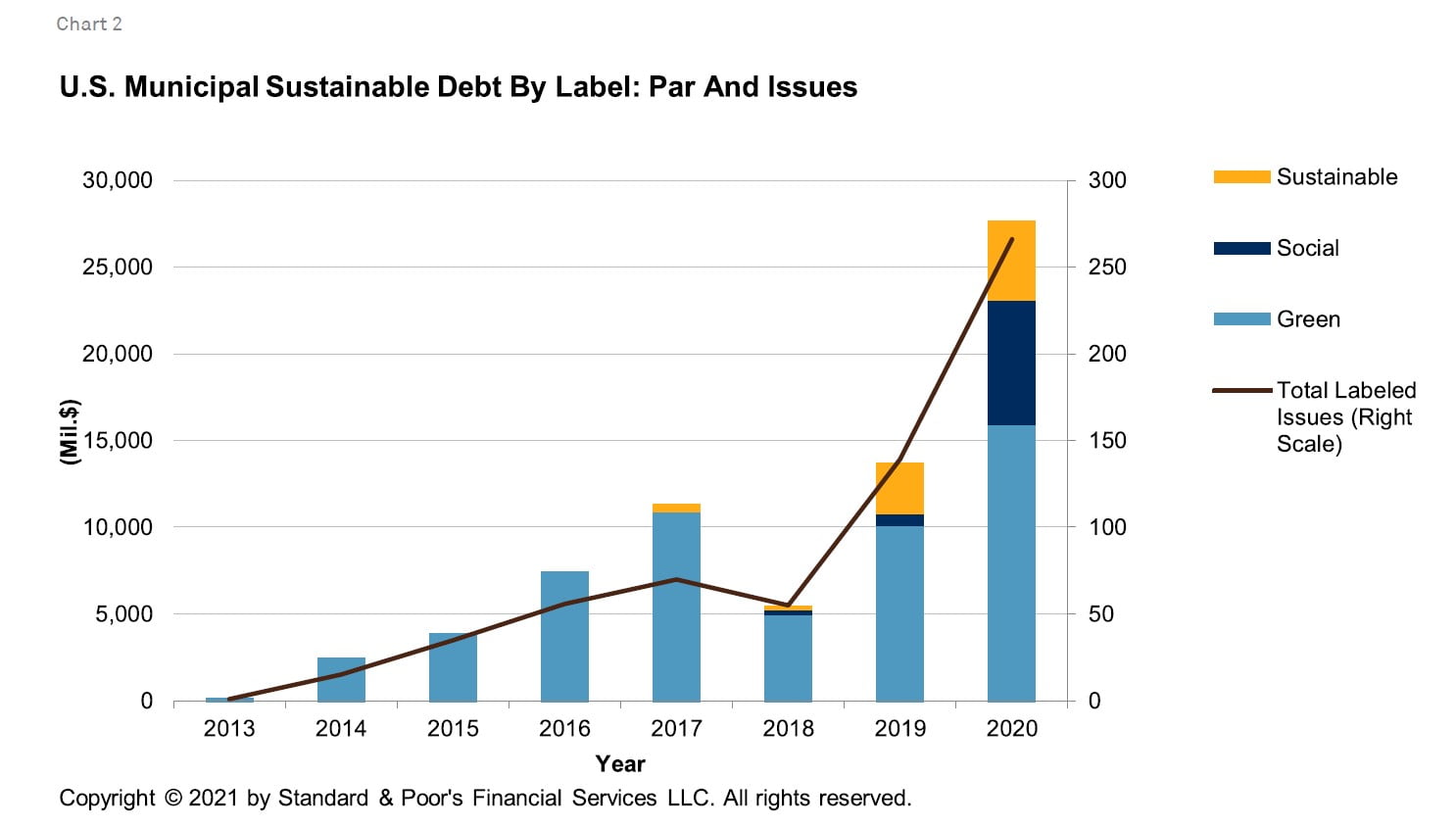 While we believe sustainable debt is poised for growth in 2021, we believe the segment will face ongoing volatility due to the influence of very large, or mega-issues, on total volume. In addition, S&P Global Ratings Research expects total municipal issues to decline 5% in 2021 (see "Global Financing Conditions: Bond Issuance Could Decline 3% To $8 Trillion In 2021" published Jan. 28, 2021, on RatingsDirect).
Since 2013, only one year (2018) saw sustainable debt decline in both absolute terms and as a percentage of the municipal market. Total municipal issues declined 24% in 2018, while green-labeled bonds fell 54%. We attributed the disproportionate decline in green bond issuances largely to an absence of the mega-issues by entities that have become established green bond issuers. For 2021, we believe that the relatively newer social and sustainability labels will comprise a significant amount of debt issues beyond the green label. We believe these labels, along with the market's increasing focus on environmental, social, and governance (ESG), will likely offset the projected decline in overall municipal issues, driving overall labeled debt higher.
Read the full report here by S&P Global Market Intelligence.
Updated on