Stocks drooped last week and continued to fall this week, based on major indices. Hedge funds bought the dip last week while corporates also took advantage of their lower stock prices. Inflows to Financials, Energy and Communication Services remained especially strong last week, as did inflows to Tech exchange-traded funds. Meanwhile, pension funds bought Financials stocks and sold ETFs last week.
Hedge funds bought the dip
In their weekly "Equity Client Flow Trends" report, Bank of America Merrill Lynch strategist Jill Carey Hall and team noted the S&P 500 was down 1.2% and added that their firm's clients kept buying U.S. stocks for the fourth week in a row.
Q1 hedge fund letters, conference, scoops etc
However, inflows decelerated last week, and the only net buyers during the week were hedge funds. It was the second straight week in which hedge funds were net buyers. Retail clients sold stocks for the second week in a row, while institutional clients sold equities after buying them for two weeks.
Like the previous week, BofAML clients bought both single stocks and ETFs. However, overall, they were net sellers of single stocks, excluding share repurchases. Last week was a strong week for buybacks, although the week marked a deceleration from early this month. Year to date, buybacks are up 17% from last year. Hall and team noted that buybacks typically peak in mid-May and then slow in the weeks after.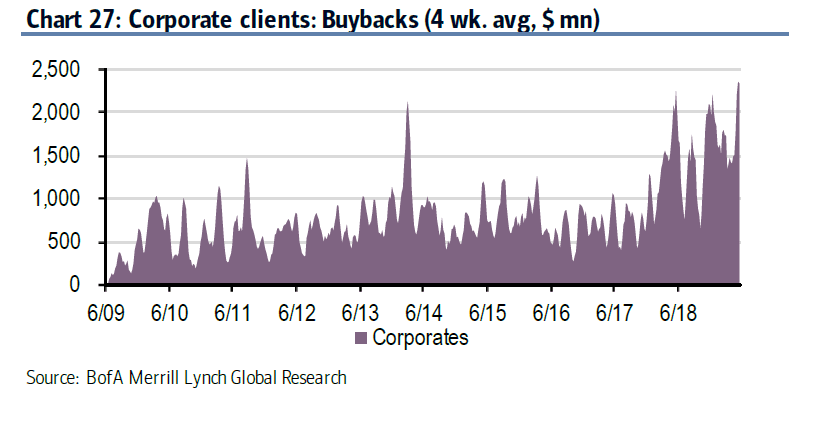 Investors preferred Financials, Energy, Communication Services
The BofAML team said their firm's clients bought equities in six of the 11 sectors last week, especially cyclical sectors. Domestic sectors also saw strong inflows last week, while sectors exposed to foreign markets recorded sales overall.
The biggest inflows when to the Financials, Energy and Communication Services sectors, with all three sectors recording near-record inflows. In fact, inflows to all three sectors were still in the green even when buybacks were excluded, which couldn't be said of the other sectors.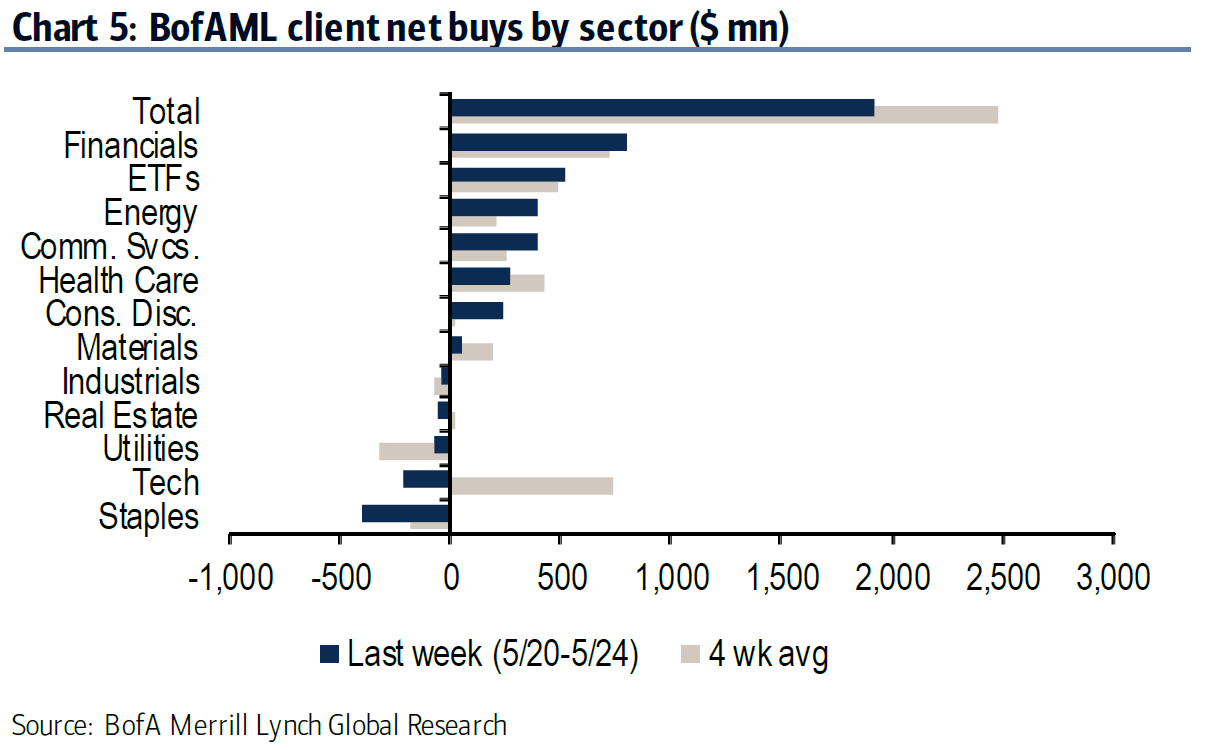 The BofAML team said they especially detected a shift in positive sentiment in Energy flows based on rolling three-month inflows. Additionally, they said year-to-date cumulative flows are now in the green for the first year since the financial crisis.

Health Care also saw big flows last week following the "capitulation-like outflows" of several weeks ago. Four-week average inflows to the sector were the highest in a year.
Hedge funds, institutional clients and retail clients all were net buyers in Energy, Materials and Communication Services, and no sector saw net sales from all three client types. Utilities had the longest selling streak at eight weeks even though rates are lower.
Inflows to Tech ETFs ramp up
Last week marked the second consecutive week in which BofAML clients bought equity ETFs. Last week also brought a reversal in fixed-income ETFs as clients sold them last week after buying them the previous week.
Overall, ETFs did not perform well last week as eight of the 11 sectors racked up net sales. Sales of Financials, Energy and Health Care ETFs recorded large sales even though purchases of single stocks in those three sectors were strong. On the other hand, Tech ETFs saw massive inflows, the second-biggest so far this year.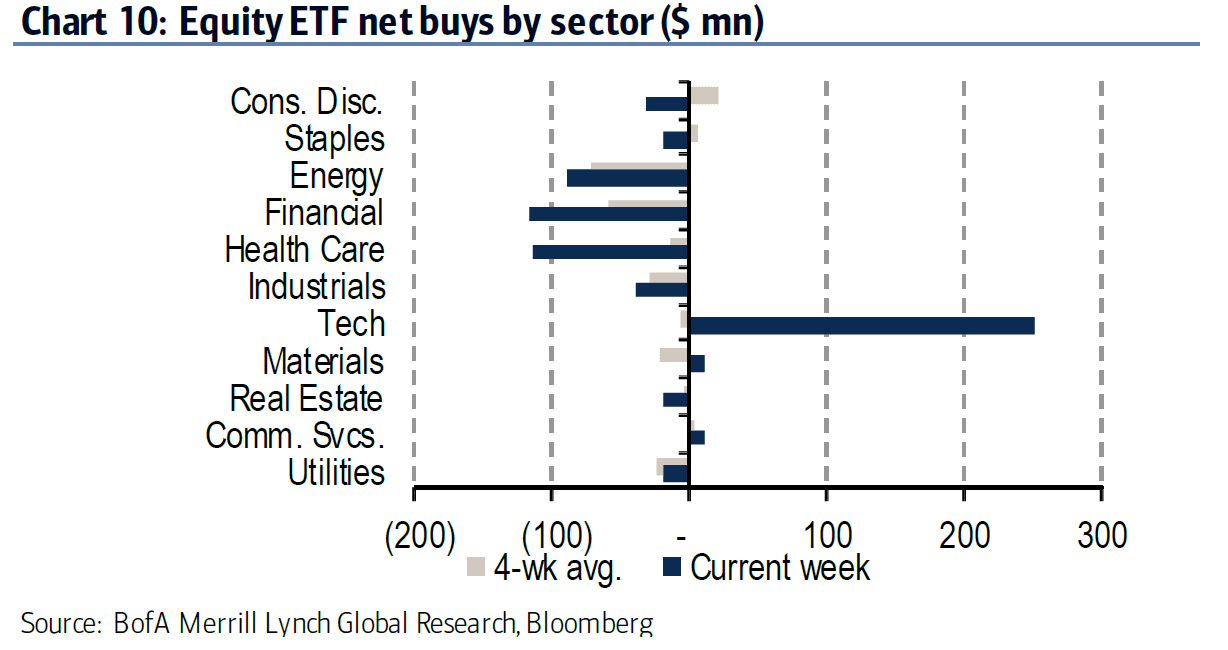 Based on styles, BofAML clients bought Value, Growth and Blend ETFs, with large-cap ETFs seeing the largest inflows.
Pension flows drove institutional client buying
Hall and team also provided a breakdown of pension fund flows, although pensions are classified under institutional investors. Interestingly, pensions have been buying equities steadily, while buying among other institutional clients has dropped off dramatically.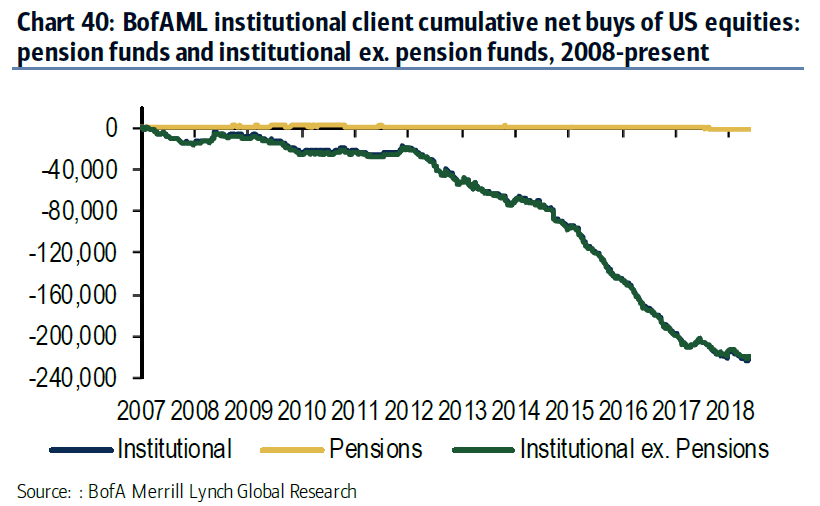 Even though pension funds drove stock purchases among institutional clients, their cumulative net buyers have declined quite a bit over the last two years.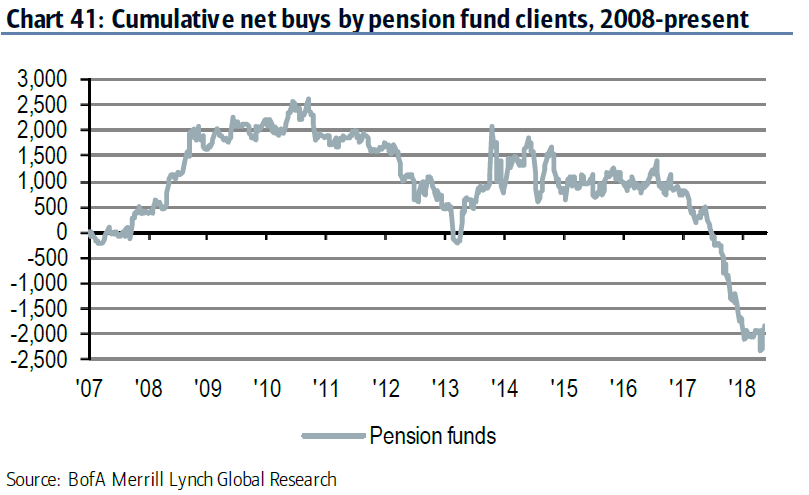 Despite the long-term decline, pension funds have been net buyers since early May. Pension funds overwhelmingly preferred Financials last week, while they were also net buyers of Industrials. They sold ETFs last week.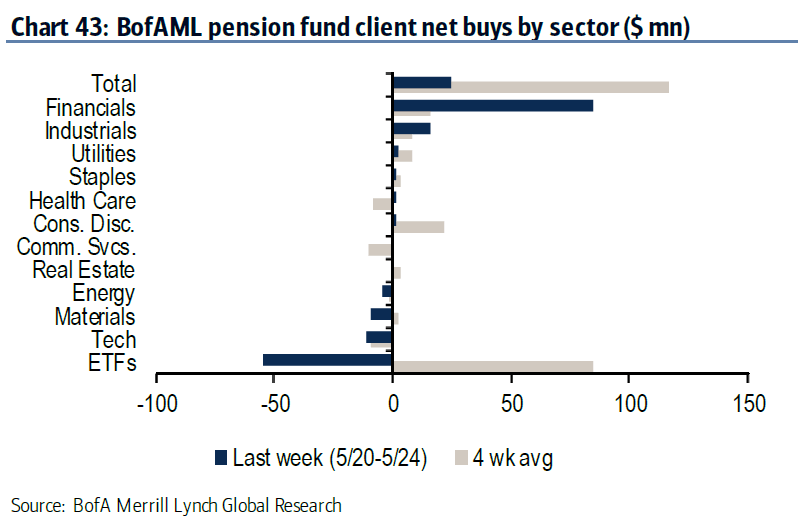 This article first appeared on ValueWalk Premium