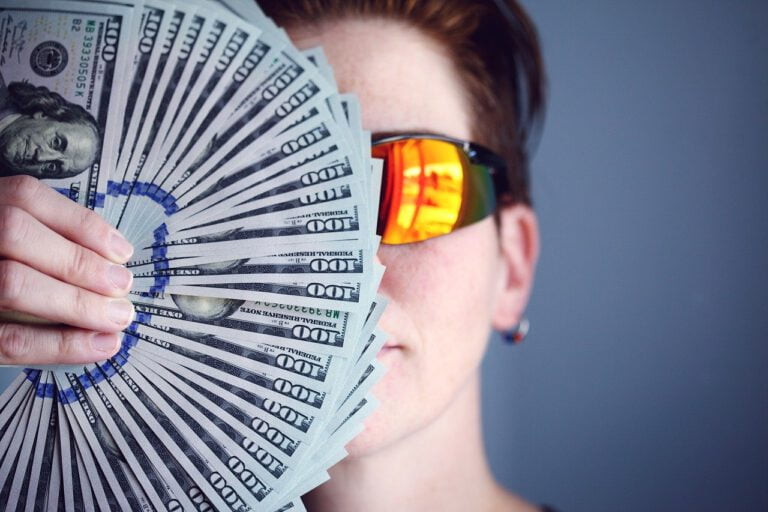 Look Ahead To FTSE 350 Companies Reporting From 18 To 22 January
Q3 2020 hedge fund letters, conferences and more
Experian should show resilience as the US and South American markets see uptake in credit reports checks
Netflix had a bumper start to the year but subscriptions have been slower due to the front loaded first half
Burberry Group's figures will provde insight into how the luxury sector is holding up given fresh lockdowns
Dixons Carphone's focus on digital has seen it storm ahead with electrical sales but demand could be on the wane
WH Smith update is unlikely to make pretty reading given many stores were closed during peak Christmas trading
Ibstock will tell us how much the second wave has disrupted demand
EMIS could see revenue and profits remain stable
We'll be looking for evidence that Pets at Home can translate its lockdown boom into online growth and higher margin sales
FTSE 350 Companies: Experian, Q3 Trading Statement, Tuesday 19 January
Susannah Streeter, senior investment and markets analyst, Hargreaves Lansdown
Partners Group likes this water play
Partners Group was up 4.6% for November, bringing its fourth-quarter return to more than 3% for the first two months of the quarter. For the first 11 months of 2020, the firm was up by about 10% for each of its two classes. The fund size is $6.7 billion. Partners Group completed four new direct Read More
''Even though lending dried up during lockdowns around the globe, denting its credit bureau data business, Experian has still showed resilience in the face of adversity, with first half organic growth of 2%. Experian's consumer division, which gives people access to their credit reports to help them understand their finances better, has been the standout performer in North and South America. Credit matching services in particular have become more attractive when banks are less willing to lend and consumers have a more pressing need for the best possible deal. The introduction of Experian Boost in the US, which allows consumers to add utility bills and subscriptions to their credit report, seems to have helped drive performance. The expansion of this service to the UK may have helped bolster its weak performance here where lower lending and slower investment decisions have hurt the B2B business as well. However recovery is likely to have been hampered with fresh lockdowns introduced from November onwards weighing on the economy and the availability of credit.''
Netflix, Q4 Trading Statement, Tuesday 19 January
Susannah Streeter, senior investment and markets analyst, Hargreaves Lansdown
"As a star 'stay at home' stock Netflix reaped bumper rewards early on during the pandemic, as the number of customers signing up surged during initial lockdowns. But there was a marked slowdown in the third quarter, reflecting the fact that the expected steady rise in subscriptions had been front loaded to the first half of the year. The group expected to have added another 6 million new paying subscribers this quarter and that may be achievable given the growth being seen in emerging economies, particularly Asia Pacific, which are key for ongoing growth. With fresh lockdowns being brought in during the winter, cinemas are once again out of bounds for entertainment seekers, and the demand for content from the comfort of the sofa is likely to have risen again. The devastating effect of the pandemic on cinema chains may end up being long term if movie fans get used to watching new releases on the small screen instead and Netflix is well positioned to capitalise on such a behaviour shift. Its pipeline of productions is flowing but the competition in the streaming business is fierce and attracting and retaining customers will depend on whether its pick of original content is a hit with viewers. New shows, dramas and formats don't come cheap, and raising prices might have to follow if the pace of new subscribers doesn't pick up."
Burberry Group, Q3 Trading Statement, Wednesday 20 January
Susannah Streeter, senior investment and markets analyst, Hargreaves Lansdown
''Luxury goods will take centre stage with Burberry's latest trading figures and give an insight into how the sector is holding up given fresh lockdowns in key markets. Burberry's half year revenues fell 30% but improved in the second quarter, helped by the brand's ability to attract new and younger customers. It's also tried to resist the temptation of sales to shift stock to keep an emphasis on brand preservation and elevation, key parts of its current strategy. Cost saving efforts have been coming in ahead of plan and there has been impressive growth in its online business though, helped also by better trading in Mainland China, Korea and the US.  Its customers are mainly from higher income brackets with significant buying power, but with the economic outlook uncertain there may well be more reticence than usual to spend on big ticket accessories. Burberry also relies quite heavily on tourists and the latest rounds of store closures across Europe in particular is likely to have weighed on demand and its prospects for recovery are likely to be linked to a rebound in global travel."
Dixons Carphone, Q3 Trading Statement, Wednesday 20 January
Susannah Streeter, senior investment and markets analyst, Hargreaves Lansdown
''Dixons Carphone may not be firing on all cylinders due to recent lockdowns but it's most recent results showed it has been storming ahead with sales of electrical goods, demonstrating how smoothly it's navigated the shift to digital. It's embraced the e-commerce revolution through its Shoplive platform where customers have been able to book virtual appointments with assistants in store and see video demos for goods from the comfort of their own homes, helping to offset store closures.  Not surprisingly, given the rise in coronavirus cases, the company has still been very cautious in its outlook, concerned that its performance could be affected by a slowdown in consumer spending, given the difficult economic conditions. It performed very well over the key Black Friday period, but consumers may have brought forward purchases to take advantage of offers. Online orders are also lower margin in general, so if there has been a slowdown in sales, margins may have come under pressure."
WH Smith, Christmas Trading Statement, Wednesday 20 January
Susannah Streeter, senior investment and markets analyst, Hargreaves Lansdown
''This trading update from WH Smith is unlikely to make pretty reading given hundreds of its stores were once again forced to close smack-bang in the middle of the crucial Christmas shopping period. The fresh lockdowns following spikes of Covid-19 cases caused by a more infectious strain in London and the South East would have been another bitter blow for the group which was already facing an uphill struggle. The company had become highly reliant on its convenience shops dotted across the transport network. But this captive market where shoppers made impulse purchases all but evaporated during the pandemic. Vaccine roll outs will have come with a sigh of relief for the company, offering some light at the end of a very dark tunnel. But with the third national lockdown that tunnel has become even longer and the company will no doubt be continuing negotiations with landlords to extend payment terms and reduce rents to help it survive the crisis.''
Ibstock, Full Year Trading Statement, Thursday 21 January
Will Ryder, equity analyst, Hargreaves Lansdown
"In October Ibstock was expecting full year cash profits (EBITDA) of around £50m, compared to £122m last year. Since the year-end was 31 December, the most recent national lockdown shouldn't have affected results.  The group has primarily been hurt by lower demand for construction materials due to disruption to building activity, especially during the first lockdown. However, by September volumes had recovered to 90% of 2019 levels. The November lockdown and Christmas disruption may have hurt results but, as building sites kept running, we doubt the effect will be significant. Margins were also improving in October thanks to the group's cost control measures and improving volumes. Net debt has increased over the year, but in October Ibstock was expecting a reduction from the £103m reported at the half year. Management plans to reduce debt quickly in 2021, although this will rely on construction demand remaining stable. In the medium term we expect government support for housebuilding and investment in infrastructure to help the group, but if lockdown measures tighten it could cause disruption in the months ahead."
EMIS, Trading Statement, Thursday 21 January
Nicholas Hyett, equity analyst, Hargreaves Lansdown
"As the UK's leading provider of practice management software to GP's surgeries, EMIS has been able to navigate the pandemic without too many problems.
Sales fell just 2% in the first half of 2020, largely down to coronavirus related disruption to new implementations, with recurring revenues improving. The group has seen sales of some of its remote working products, such as EMIS Mobile and Anywhere Consult, rise as doctors seek to reduce face-to-face contact. Meanwhile, direct to patient services have added millions of new users as digital delivery of healthcare services increased. We'd expect those recent trends to have continued over the last quarter. Given the very strong cash conversion in the first half, that's likely to leave the company with plenty of cash in the bank. Analysts are forecasting a 3% yield over the next 12 months, but we think that will still leave the company with extra cash. How that gets used is something to watch – acquisitions, increased investment or bonus shareholder returns are all possibilities."
Pets at Home, Q3 Trading Statement, Thursday 21 January
Sophie Lund-Yates, equity analyst, Hargreaves Lansdown
"We already know things are going well at Pets at Home. The group upgraded full year profit expectations at the start of January. Underlying pre-tax profit is now expected to be ahead of previous guidance, at £77m - this includes the repayment of business rate relief. Pet ownership increased massively in the pandemic, helping group sales rise over 5% at the half year. But that doesn't mean there aren't things to watch out for. Lower margin items like cat litter have been flying off the shelves. Eventually Pets will want customers to snap up more profitable items. We'd like to know if there was any evidence of a spending shift in Q3. Stricter lockdowns are also likely to impact performance, any update on more recent trading would be good.
Momentum has accelerated both in store and online, with high-teens like-for-like growth overall in December. It will be worth paying particular attention to how fast the online business is growing. There is huge competition online, and Pets has invested heavily in new infrastructure. In order to be profitable this division needs to continue growing at an impressive rate. At the half year, online sales were up 65.8%."
FTSE 350 companies reporting: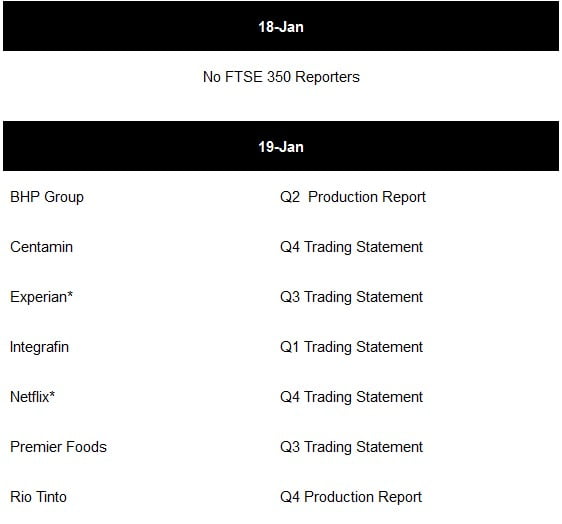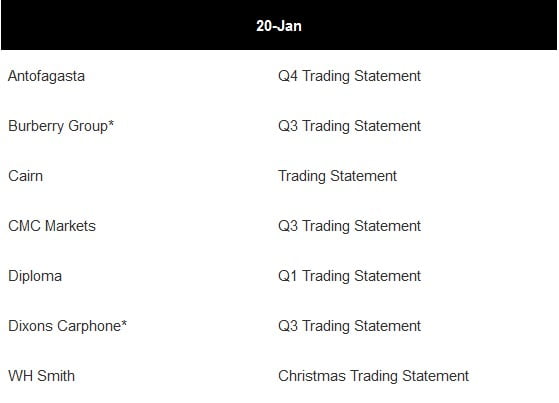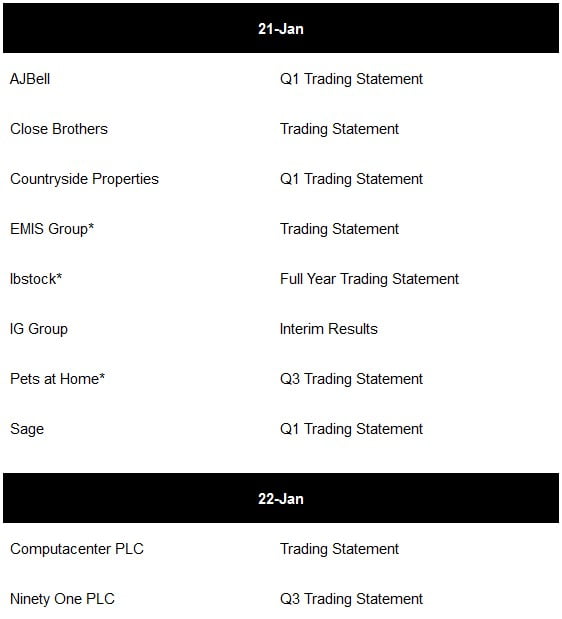 *Companies on which we will be writing research
---
About us
Over 1.4 million investors trust us with £106.9 billion (as at 30 September 2020), making us the UK's largest direct-to-investor service.
Our purpose is to empower people to save and invest with confidence. We want to provide a lifelong, secure home for people's savings and investments that offers great value and an incredible service, and makes their financial life easy.
Clients rate our service highly, 90% say we are good, very good or excellent.
Our expert research has been helping investors for almost 40 years through thick and thin – we've seen many market downturns.
We make things easy – it takes just five minutes to open or top up an ISA. More clients log into their accounts via our mobile app than through a desktop PC.
In 2018 we also launched Active Savings, an online savings marketplace that lets savers move money easily between banks, to help their money work harder without the hassle.
Our helpdesk is based in our HQ in Bristol. We have a tech hub in Warsaw Poland and around 100 financial advisers based across the UK. We are a financially secure, FTSE 100 company.
For more information: www.hl.co.uk/about-us
Press centre: https://www.hl.co.uk/about-us/press
Investor relations: www.hl.co.uk/investor-relations
This press release is for media use only. It's not intended for individual investors, and doesn't include personal advice or recommendations. If you don't want to receive our press releases, please let us know and we'll remove you from our distribution list.