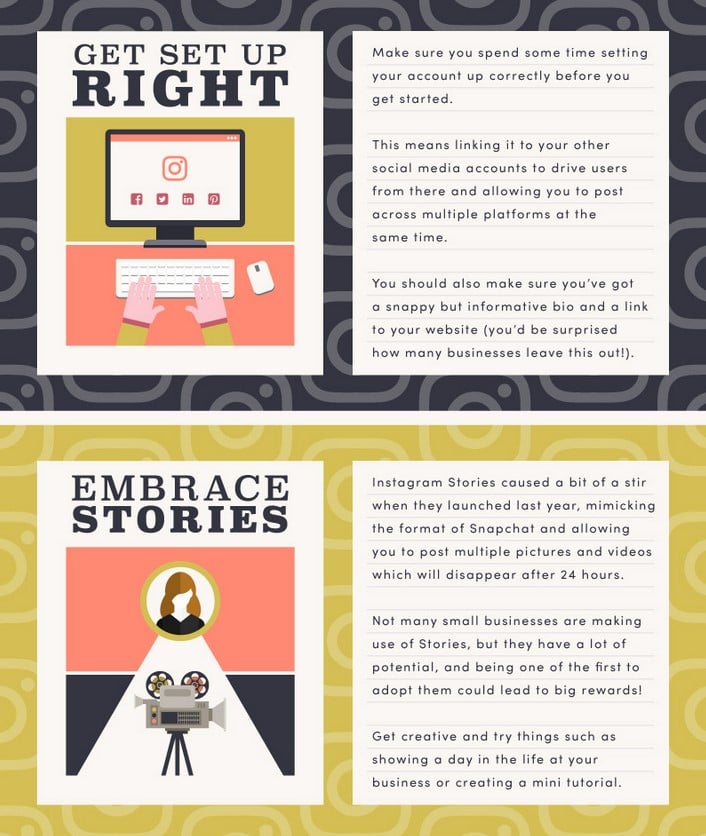 In recent years Instagram has risen to become one of the social media giants, with over 800 million monthly active users, it can be a fantastic tool for businesses and brands. Not only is it a great platform to showcase what you have to offer, it's also a great place to make connections, get involved in influencer marketing and reach new clients and customers. So how can you use the platform to make money? Here are some Instagram tips for small business owners.
One scroll through your timeline and it's evident to see that the big brands are aware of Instagram's significance and that's why small business owners should too. ASOS, Airbnb, Nike and National Geographic are just some of the bigger companies that are utilising Instagram to it's best ability. Many of these brands succeed in two areas, effective visual content and strong influencer marketing, something that all businesses can put into place with a little thought and strategy.
Of course, many of these big businesses not only have big budgets and dedicated social teams, they are also already recognised brands, making it all the more easy for them to pull in millions of likes and followers. However, as a small business, many don't have social teams or budgets to supply Instagram stars with their latest products, so how do they grow their Instagram presence?
Qualivian Investment Partners 2Q22 Investor Letter
Dear Friends of the Fund, Please find enclosed our Q2 2022 investor letter for your review.  Qualivian reached its four-year mark in December of 2021. We are actively weighing investment proposals. Please refer to our Q2 2022 investor letter for our performance and commentary on the second quarter of 2022. A fact sheet is 
Small business owners can be put off by the sheer volume of competition on Instagram, however, if you have a unique message and creative direction, you can really stand out from the crowd and make a name for yourself. It's all about utilising what you have and thinking outside the box. At the moment, the stories feature is what many brands are leaning towards, whether it's showcasing images or uploading videos, Instagram stories is a great place to tell your story! Why not try a video series of a day in the life of your business or a tutorial using one of your best products?
In addition to working on your profile, it's important to engage and connect with other influential people. Influencer marketing is on the rise and showing no signs of stopping, with it being reported that 48% of marketers are planning to increase their influencer budgets over the next 12 months. With this in mind, it's crucial for small businesses to get involved in this where they can. Be selective about who you engage with, find your niche and others who appreciate what you have to offer. If you strike the right cord, there's a lot of gains to be made for both you and the influencers you chose to work with.
There are a number of Instagram tips and tricks small business owners can do to build their social presence. So to lend a helping hand to all the small businesses struggling to break the Instagram mould, Instagram experts, Inkifi, have created a guide with eight simple steps to steer small businesses in the right direction. These Instagram tips aim to not only earn followers but increase engagement, a vital component when creating a successful profile. Read ahead to find out more…