A renowned author of several books on marketing and branding, David Aaker says that "customer experiences are driven by dynamic adaptation to customer needs". Here, Mr. Aaker keeps customer needs in the first place because of its unavoidable significance for a lasting customer relationship. Great customer relationships build on excellent customer service. So, all three are mutually dependent, marketing leads to customer service, and customer service leads to a lasting customer relationship. In this way, not in a direct manner but marketing and customer relationship walk together hand in hand and consolidate each other.
Q1 hedge fund letters, conference, scoops etc, Also read Lear Capital: Financial Products You Should Avoid?
We will try to prove this with examples how marketing is becoming a vital part of good customer service and how they are collaborating with each other to bring in more productive results. Customer service environment has seen many upgradations, and several tools and technologies have been introduced to make it more efficient and result oriented.
In the recent times, the ideas of social media marketing have come to the fore and companies are trying more to leverage the social media channels. The approach towards making effective marketing strategies that could create brand awareness and sell more products or services with a higher number of customers.
Several factors work behind good customer service, and among those factors, customer service is the prominent one.
In the age of social media, customers are always available on the social media where they share their feedbacks and ask for opinions. Taking prompt actions to answer a customer query on the social media provoke two significant points to the customer's mindset. The first point is to realize that the customer is using a platform to socialize, and he also utilizes it to find a solution.
The second important point is purposeful engagement with the customers. Treating customer just like equal partners of your business help the customers engage as collaborators. This has emerged as the new form of marketing in the recent times, and a number of companies are making efforts to collaborate with customers on platforms like social media. After all, marketing is all about perfect product placement and winning loyal customers. Here are few exceptional examples that suggest how some companies like Zappos, Southwest Airlines, and Nordstrom went beyond their usual limitations and won some loyal customers. Eventually, they fulfilled the purpose of marketing but via a different way.
In a recent study, it has been found that there were more than 4 billion internet users and 3.3 billion used social media in April 2018.
There is a study done by JD Power survey that suggested 67% of consumers use social media to resolve their consumer service issues. These results have become big reasons to force companies to build a strong social presence and execute the marketing and customer service activities.
However, the presence built and responses delivered by companies on social media carry a significant impact on what prompts the customers to make the final purchase.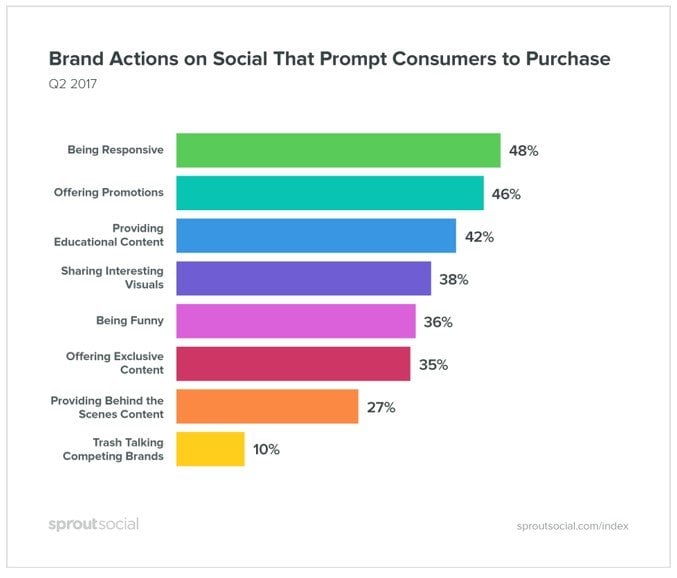 Source: sproutsocial.com
The statistics above clearly suggests that on social media customers are looking for such companies that take responsibility for the customers' needs. These results equally resonate with the marketing as well as social media activities. The more a company becomes accountable for its marketing activities, the more it influences the customers. The more a company becomes answerable on the social media, the more customers get likely to take an interest in their offered product and services. Here we can see customer service and marketing have found a common platform, social media. Moreover, an active social customer service supports marketing with a better business sense.
The Big Question: Where to Focus
The big question is where exactly one needs to focus while trying to connect with the customers and doing perfect product placement.
Now, in the process of marketing, the first thing comes to the fore is 'you don't know the customer'. You have just a bulk of raw data that is mostly about their demographics and inclination, interest or need for a service. However, customer service is way different from the other. You have a bit of information about the customer in your hands. This factor itself creates the big difference.
However, customer service is complementing the overall marketing activities by making the most relevant ideas work for both the purposes.  According to Hubspot, amid all the marketing activities the companies are doing today, 70% of the companies have prioritized lead conversion to the customers. Moreover, 45% of the respondents have said they want to increase the revenue from the customers.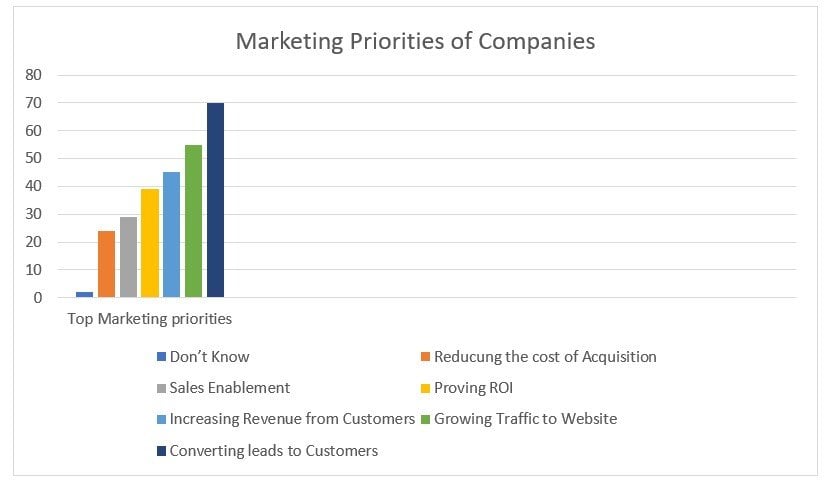 Source: Hubspot
Converting leads into customers is an important thing. However, here in this statistical result, the most critical aspect of marketing is excellent customer service. Any company with really good customer service can be easily relied upon because whatever they do they always take responsibility to answer. Here it gets obvious that customer service cannot be ignored because of its long-term benefits. After all, the happy customers are the most significant opportunities for marketing. The happiness of the customers depends on the pre-sale and post-sale customer services being provided to the customers.
A happy customer has one thought in his mind; he is positive and confident about your product or service. So, what is linking the two domains, marketing, and customer service? The answer is Trust. Every good and long-lasting customer relationship is built on the grounds of trust through relevant marketing and purposeful customer service.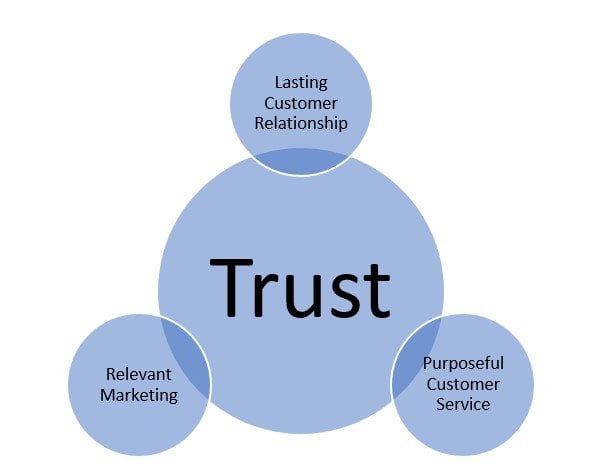 So, the focus should be on building trust among the customers, and this can only be achieved by taking genuine steps towards making a customer happy through marketing or customer service. Every step should take into the consideration of every individual customer.
Every genuine response on social media concerning a customer issue leads to garnering some trust among the customers. So, the answer to the great question lies in focusing the loopholes where the customer's need is not getting fulfilled or instead customer is not happy. If one is aware of these particular situations, then the decision towards picking a point to focus will be the right one on its own. After all, marketing and customer service are walking together, today. So, keep your focus on customer's happiness, and everything will fall into place.
---
Author Bio

Vipul Srivastav loves to explore and share his understanding and ideas related to cloud-based innovations. He is an Editor at Call Center Hosting, which delivers cloud-hosted call center solutions with a global clientele. In his free time, Vipul likes to read books and listen to music.
Email- [email protected]
Twitter- https://twitter.com/vipulsri96
Linked In- https://in.linkedin.com/in/vipul-srivastav-37a559115