Last spring, when the lockdowns first took place, almost everyone felt the pain of working from home with distributed teams. It was particularly difficult for finance professionals, who faced the predicament of closing the books remotely on top of unprecedented pressure and uncertainty around revenue and expenses.
Q2 2020 hedge fund letters, conferences and more
Six months into this new mode of work, we wanted to know more about how finance teams are dealing with the effects of COVID-19 today. Is work-from-home still a challenge, or have other issues risen to the surface?
The Impact Of Covid-19 On Expense Management
To find out, we surveyed finance professionals at a range of companies, from small businesses to large companies with more than 1,000 employees, for our second annual Expense Management Survey. CFOs, controllers, and managers shared how COVID has affected them, what their most pressing challenges are, and what actions their organizations are taking now and in the months to come.
Some of the findings we expected, while others were surprising.
We weren't surprised to hear that 99% of respondents experienced at least one challenge in their finance team due to COVID-19. Moving to remote work practically overnight while urgently reassessing finances showed just how inefficient many existing workflows and processes are.
I spoke with one customer who was previously using a paper-based expense management process. During the lockdown, she needed to make special arrangements with the office manager to come into the office to pick up important receipts and documentation so her company could bill their clients to recover project-based expenses. To her, it was both annoying and a bit nerve-racking, which set a resolve to move away from paper-based processes entirely.
The good news is that finance teams are highly adaptable. While most respondents cited numerous challenges at the onset of the COVID-19 outbreak, many of those initial challenges have subsided.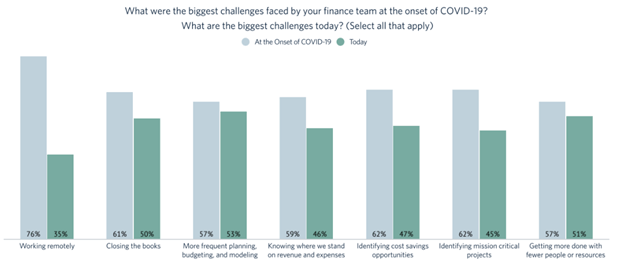 What Is And The Challenge Of Working Remotely
More than half who stated that working remotely was originally challenging no longer rank it as a difficulty today. In fact, working remotely has moved to the bottom of the list of COVID-19 issues, which surprised us. While some teams have gone back to the office, the majority have adapted their procedures to remote work.
While down slightly from the outset of the pandemic, by contrast, more than half of respondents report on-going challenges with closing the books, getting more done with fewer resources, and adapting to more frequent planning, budgeting, and modeling. If your organization is feeling pain in these areas, you're not alone.
Our survey showed that while many CFOs feel the worst is behind them, controllers' lives have gotten more difficult. We've actually seen this split before, where CFOs think things are going great, and controllers really feel the pain in terms of the day-to-day processes. This pattern holds true in our most recent research, where CFOs said they generally feel that operational challenges have subsided, whereas controllers feel the problems are more pronounced than ever.

In the past, finance leaders we talked to said they planned to hire additional help to manage workloads. Today, many organizations I speak to have indefinite hiring freezes in place or have been forced to make layoffs, and the reality is many organizations can't hire their way out of this problem.
Implementing Technology Initiative In Response To COVID-19
So what are organizations doing about these challenges?
Of those surveyed, 91% said their organization plans to implement at least one technology initiative in response to COVID-19. The majority (84%) have more than one initiative planned or underway, and on average, companies have 3.5 initiatives planned. We were surprised at how aggressively firms are undergoing digital transformation in the face of COVID-19.
The top initiative finance organizations are undertaking is improving invoice and expense processes – 68% of respondents are currently improving or planning to improve this traditionally manual and often paper-based process.
We've long felt that the expense management process should be far less burdensome to teams, and COVID-19 seems to have been a breaking point. We found that 62% of respondents are planning to or are currently in the process of upgrading legacy software like expense management software. With business travel still largely on hold, there's never been a better time to do it.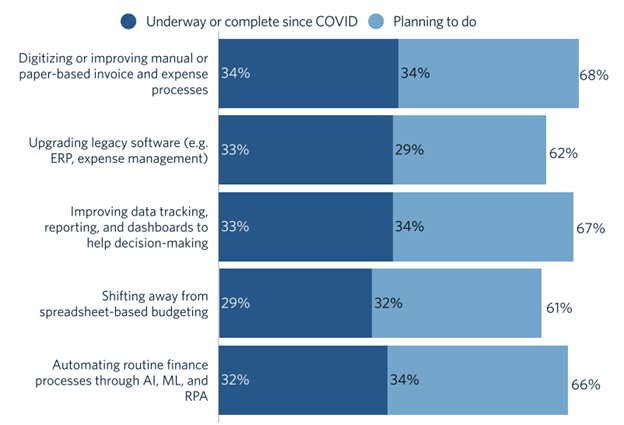 It was no surprise to find that having modern systems and processes in place is critical for companies to navigate the current COVID-19 environment and set themselves up for success on the other side of this crisis. Companies that still use spreadsheets for expense management were 48% less likely to say their month-end close process was "great"—no surprise there!
On the other hand, companies that had already invested in modernizing their processes had a smoother transition to work from home and adapting to the other challenges COVID-19 brought, such as re-budgeting and needing to know where your organization stands on revenues and expenses. Making the switch to automated, real-time software solutions is a high-value, low-impact way to set your finance team up to emerge from this crisis stronger.
I invite you to download our free report, use the data to benchmark your team, and consider what digital transformation initiatives might help your own team get better visibility into expenses, close the books faster, and free up constrained employee resources.
For more on how organizations can streamline their current expense management processes, download Center's full 2020 Expense Management Report, Adapting to New Realities: COVID-19 Forces Finance Teams to Rethink Inefficient Processes and Systems.
---
Survey Methodology
In August 2020, Center surveyed over 200 finance professionals from U.S.-based companies of all sizes for this report.
About Center
Center helps organizations thrive by getting the most of every dollar—and hour—spent. With its integrated corporate card and expense software, Center uses real-time data to track spend as it happens for better visibility, live analytics, and cost savings. For more information on Center, please visit getcenter.com.