Last week, I had an annual check-up with my cardiologist. His office happens to be located in the same building as CNBC's world headquarters, in Englewood Cliffs, NJ – if Jim Cramer ever has ticker trouble on set, help is right downstairs. My cardiologist asked if I had been exercising, and I mentioned I'd just bought a used Soloflex.
The cardiologist asked if I meant a Bowflex, since he hadn't heard of a Soloflex. In the event you haven't either, Mental Floss published an entertaining article about the history of Soloflex recently, which noted that Bowflex was a later imitator which was sued by Soloflex's inventor. In a nutshell though, a Soloflex is a home gym apparatus that uses rubber "weight" straps instead of iron weights.
Q1 2020 hedge fund letters, conferences and more
The Soloflex apparatus itself is made of heavy steel and wood, built (in America) to last: I bought mine (for $175) from a second owner in Brooklyn, who'd had it since 1990.
The Soloflex Economy
I bought the Soloflex because the gyms have been closed here for more than a month due to the COVID-19 lockdown, and it offers a decent approximation of the main barbell lifts I was doing before. My purchase decision, multiplied by millions of similar ones, suggests a challenge the economy will face after the lockdowns end: consumers' behaviors may have changed, in sticky ways. Namely, they may be more frugal, and more risk-averse, with Great Depression-levels of unemployment reinforcing both attributes. Heather Mac Donald of the Manhattan Institute wrote about the trend toward risk aversion in a recent Spectator essay.
She mentioned getting hit by a bicyclist in Central Park who had swerved in her direct to avoid being within 6 feet of an unmasked individual, as if there were high risk of contracting the virus outdoors. She's fortunate New York's parks are still open: New Jersey's have been closed, by order of our governor. But I have seen another act of extreme risk aversion she described: drivers wearing masks while alone in their cars.
For some insight into virus-induced frugality, CNBC contributor Jeff Macke pointed to revised guidance from Starbucks (SBUX) on their Chinese units.
After the government-imposed lockdowns, Starbucks expects a significant decline in China sales in the third quarter. Maybe we'll see something similar in the U.S. after our lockdowns. Maybe we'll see more Americans exercising on used Soloflexes instead of paying $60 per month to work out in gyms, and making their own protein shakes in a refurbished Vitamix instead of spending $8 on one at the gym.
The Risk Of Over-Extrapolation
Silicon Valley angel investor Balaji Srinivasan was ahead of the curve on COVID-19, warning about the impact of the novel coronavirus in January. He's still ahead of the curve, perhaps too far ahead of it. He's now predicting, among other things, esports (i.e., multiplayer video games) replacing actual sports.
My Twitter correspondent Seth Largo pointed out that if real sports survived the deadlier Spanish Flu, they'll survive this.
Ideally, we'll end up with a bit more of a Soloflex economy in the sense that we'll make more durable products here, but since one person's consumption is another's income, let's hope we don't take the frugality and risk aversion too far.
Investing Amid Uncertainty
One of the annoying cliches of advertising during this pandemic has been the phrase "In these uncertain times...". As opposed to what, the certain times that preceded this? Uncertainty is constant. If I were a thematic stock picker, I'd try to guess which companies might benefit from a post-COVID-19 world, but that seems hard (Soloflex is privately held, in case you were wondering); the closest I've come to prescience was suggesting readers hedge Coronavirus risk in mid-February.
Instead of prescience, Portfolio Armor uses two main tools to deal with uncertainty. The first is a focus on a discrete time period: the next six months. The second is hedging in the event that it's wrong. For an idea of how that has worked out, let's look the most aggressive and most conservative portfolios the system created about six months ago, and how they've done since.
The Most Aggressive Portfolio
The most aggressive portfolio created at the end of October was this one, hedged against a >30% decline.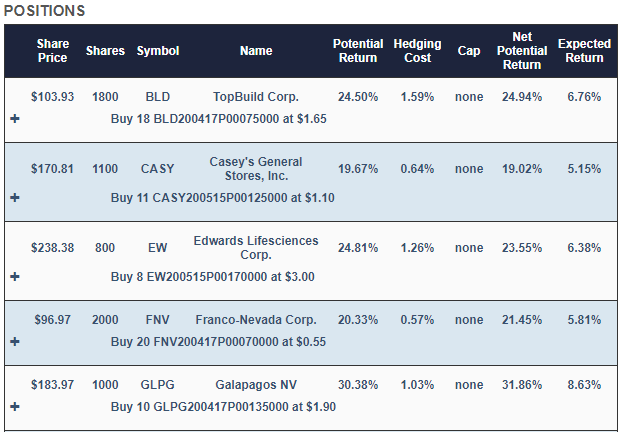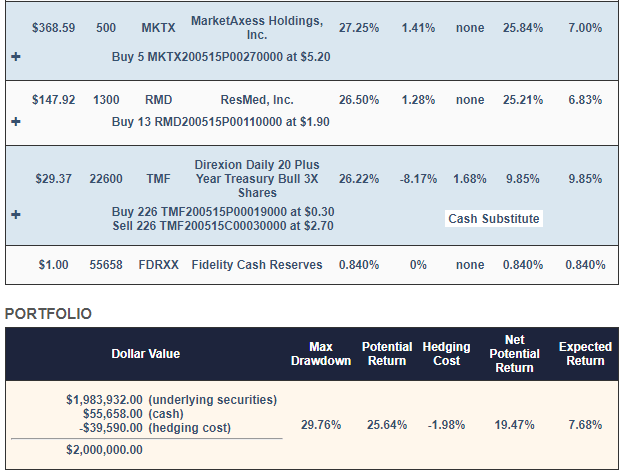 The primary securities here were all stocks, including, most auspiciously, the gold-focused royalty company Franco-Nevada (FNV). After dollar amounts of those seven stocks were rounded down to round lots, most of the excess cash was swept into a tightly-collared position in the Direxion Daily 20 Plus Treasury Bull 3X ETF (TMF). The expected return here was 7.68%.
Here's how that portfolio has performed since.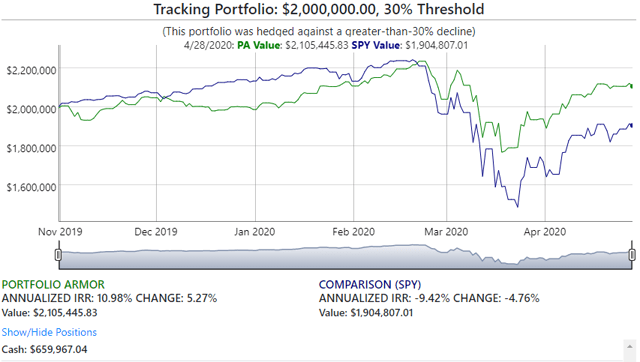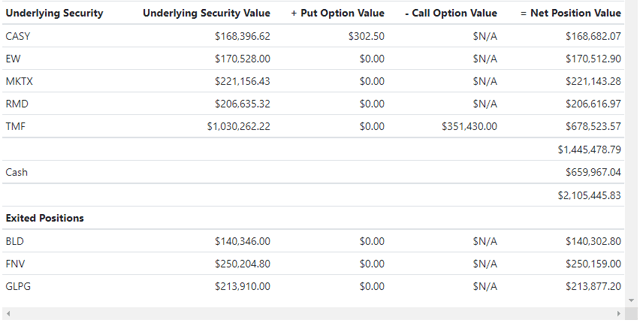 This portfolio was up 5.27% as of Tuesday's close, underperforming its expected return of 7.68%, but outperforming the -4.76% return of the SPDR S&P 500 ETF (SPY) over the same time frame.
The Most Conservative Portfolio 
The most conservative portfolio from October 31st was hedged against a >4% decline.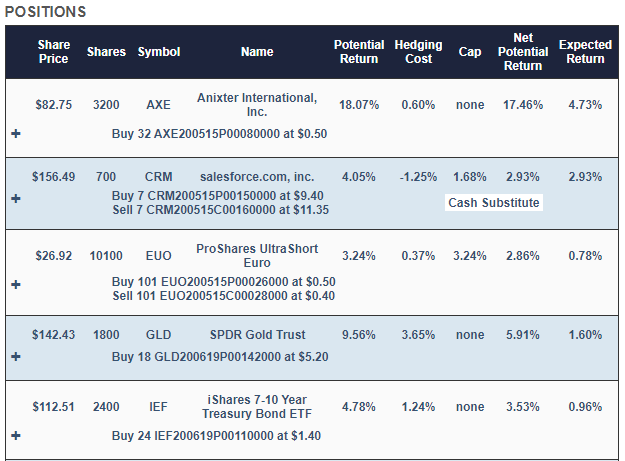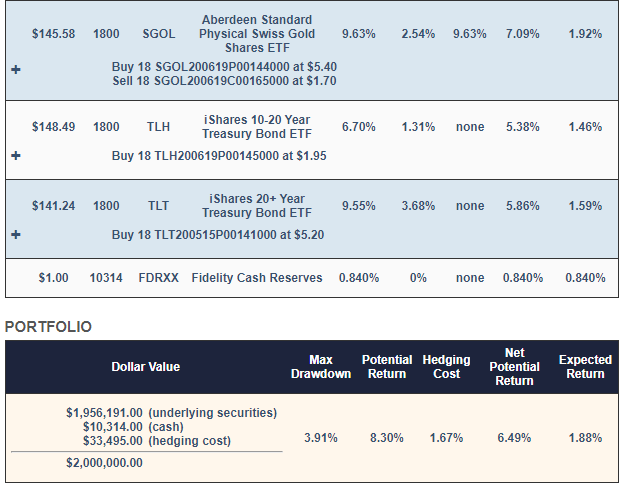 There weren't many stocks hedgeable against >4% declines last October. One exception was Anixter International (AXE), which had just been acquired by Wesco (WCC). That was the only stock among the primary securities in this portfolio. The rest were fixed income and precious metals ETFs, such as the iShares 20+ Year Treasury Bond ETF (TLT) and the SPDR Gold ETF (GLD). The expected return here was 1.88%.
Here's how that portfolio has performed since: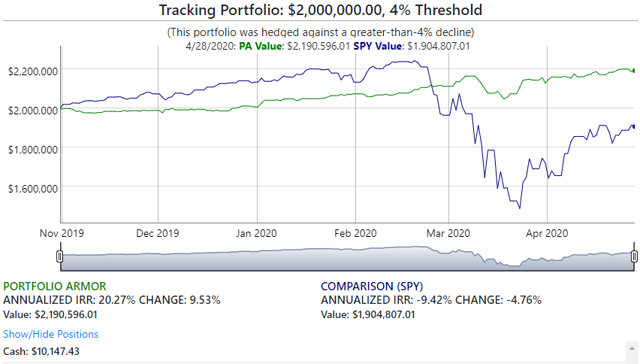 This one was up 9.53% as of Tuesday's close.