Whitney Tilson's email to investors discussing his visit to Lumber Liquidators Holdings Inc (NYSE:LL) headquarters; Trade War Starts Changing Manufacturers; GSEs return to private ownership; Warnings in the bond market.
1) This New York Times article resonated with me because it was exactly what I heard yesterday when I met with the CEO of Lumber Liquidators (LL), Dennis Knowles: Trade War Starts Changing Manufacturers in Hard-to-Reverse Ways. Excerpt:
[bufffett]
Q1 hedge fund letters, conference, scoops etc
Nearly a year later, the trade war shows no sign of cooling off. So ControlTek, the electronics manufacturer that Mr. LaFrazia runs near Portland, is taking steps to protect itself, a strategic shift that has been repeated in boardrooms and executive suites around the world in recent weeks.
ControlTek is rewriting contract language to make it easier to pass the cost of tariffs on to its customers. It is shifting supply chains out of China where possible, and redesigning products to avoid Chinese components where it isn't. And as a tiny player in an enormous global industry, it is discovering that there is only so much it can do…
Tariffs have not yet compelled businesses to return large-scale production to the United States, where labor and other costs tend to be much higher than in China and other overseas manufacturing hubs.
But trade tensions are accelerating a corporate trend of shifting supply chains away from China.
In the next issue of the Empire Investment Report, I'll share what I learned from Knowles and his team during our two-hour meeting and why I think LL stock is deeply undervalued. Click here to get started with your 30-day, risk-free trial.
Here's a picture of my analyst Steve Culbertson and me outside Lumber Liquidators' headquarters in Toano, VA yesterday (there was no sign with the company's logo – just for Bellawood, one of its best-selling brands)…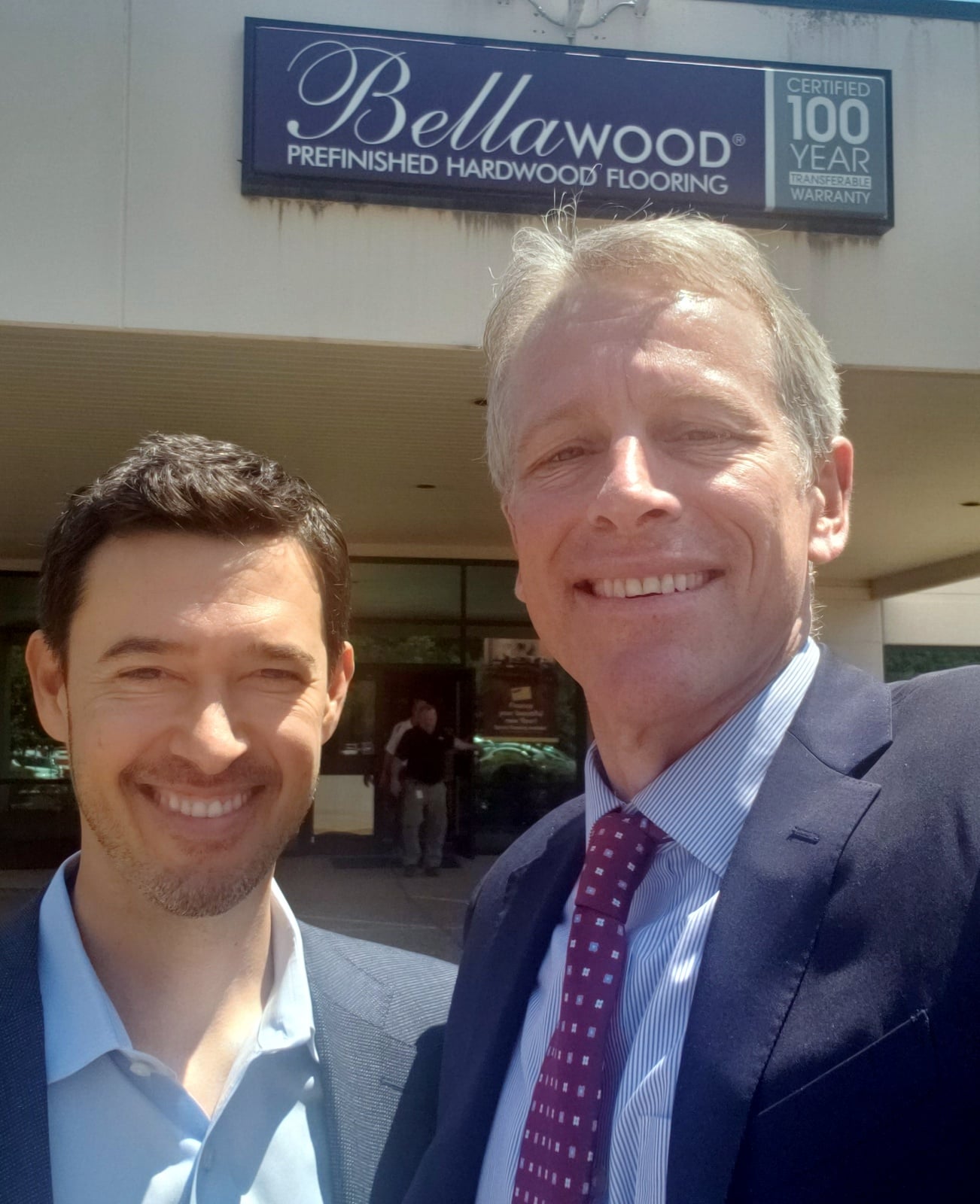 2) Today's Stock Ideas of the Day are Fannie Mae (FNMA) and Freddie Mac (FMCC). I owned both for many years after the government bailed them out during the financial crisis, in anticipation of them eventually being privatized, which increasingly looks like it might happen: Administration Nears Plan to Return Fannie Mae, Freddie Mac to Private Ownership. Excerpt:
Trump administration officials are putting the finishing touches on a plan to return mortgage-finance giants Fannie Mae and Freddie Mac to private-shareholder ownership, people familiar with the matter said.
The proposal, coming more than a decade after the government seized the firms to save them from collapse, would seek to put the companies on sounder financial footing and then release them from government control, if Congress doesn't enact a more fundamental overhaul, these people said.
To understand what's likely to happen, I highly recommend Bill Ackman's brilliant presentation at the Sohn Investment Conference on May 5, 2014.
P.S. Hat tip to my friend Porter Stansberry, who predicted in June 2008 that Freddie Mac and Fannie Mae Are Both Going to Zero. Only a few months later, they pretty much did, and shareholders got destroyed…
3) I generally don't spend much time thinking about (much less acting on) macro factors, but I nevertheless found this column by Neil Irwin in the New York Times interesting: The Bond Market Is Giving Ominous Warnings About the Global Economy. Excerpt:
This is not normal. It is called an inverted yield curve, and historically it has been viewed as a sign of a recession in the offing. At a minimum, it indicates that bond investors believe the Federal Reserve will soon need to cut interest rates – in effect, that it overshot with those four rate increases last year.
There is also a soft underbelly to some of the good economic data of late. Orders for capital goods like business equipment fell 0.9% in April, suggesting companies may not be in an expansionary mood. The Institute for Supply Management's index of activity at manufacturing companies fell sharply in the most recent reading, though it remained in expansion territory.
The financial markets don't always tell a tidy little story about what is happening, but here's a theory about reconciling the apparent calm in the economy with the many worrying signs.
Best regards,
Whitney
---
Barclay's on TSLA; US EV sales
1) I don't often say this of analyst reports, but this one, in which Barclay's cuts its price target to Tesla Inc. (NASDAQ:TSLA), is outstanding. Here's the summary and attached is the full report: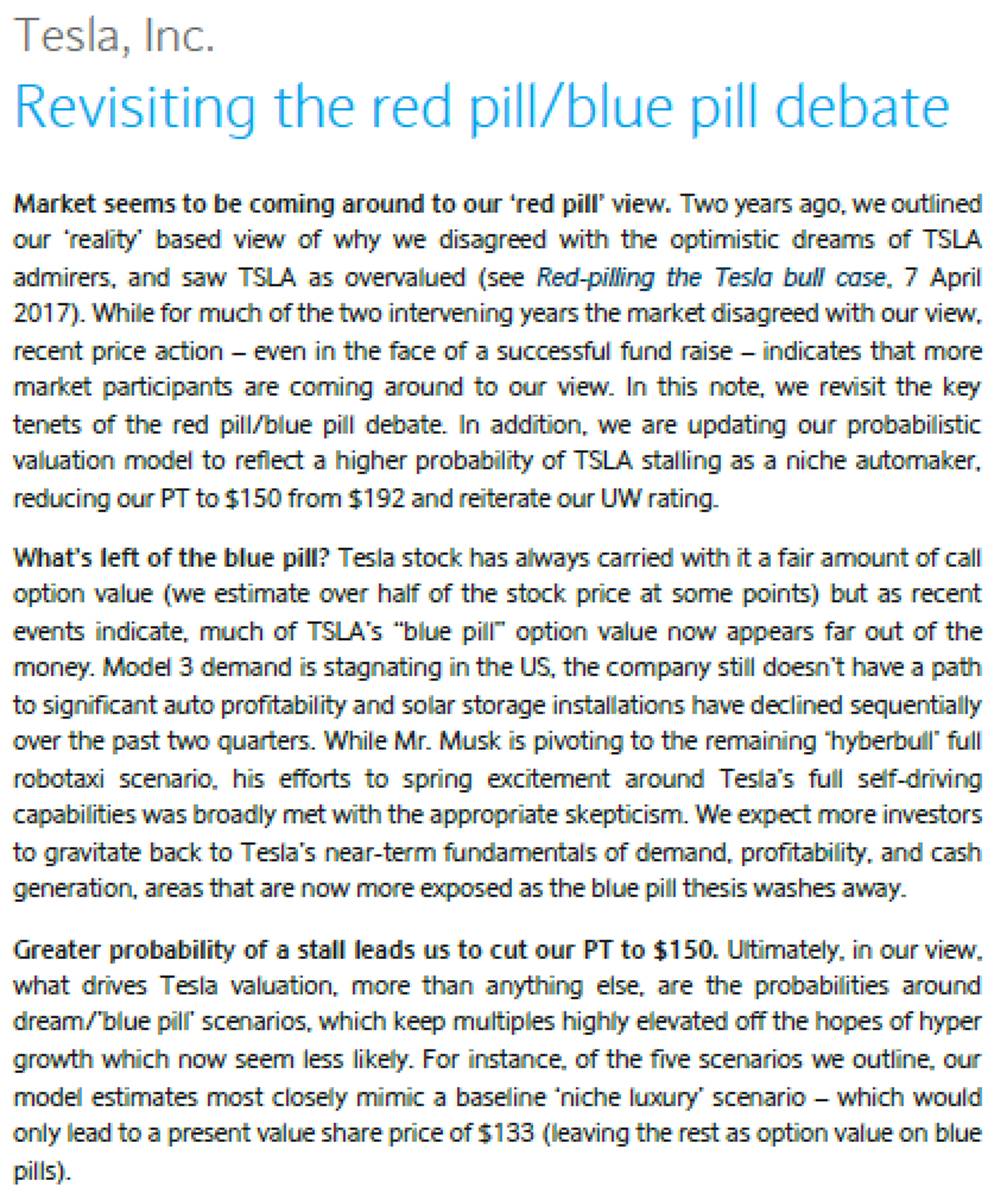 2) This site, http://www.ev-volumes.com/country/usa/, tracks U.S. EV sales. It shows that the Model 3 was the driver of most growth last year. Excerpt:
Since it started with volume production, Tesla has been the largest single contributor to EV growth in the US. Without the Model-3, the market had continued at the previous, leisurely pace. Its arrival is a game changer, raising the bar for plug-ins and ICE cars alike. The monthly sales volumes during the 2nd half were among the best sellers in the US car market, close to household nameplates like Toyota Camry, Honda Civic, Honda Accord and Toyota Corolla, all of them ICE driven.
Tesla now stands for half of the USA plug-in volume and, counting BEVs only, 3 out of 4 are from Tesla. The real impact on competition will become more visible when sales comprise more recent orders and less reservation back-log.