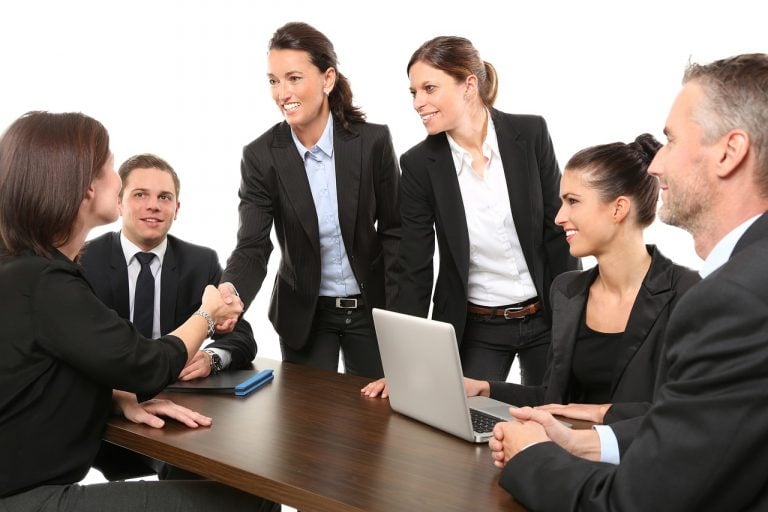 Whitney Tilson's email to investors discussing Cardtronics PLC (NASDAQ:CATM) crashed yesterday; Rhone and other start-ups challenging incumbents; Women-led hedge funds try to crack the boys' club; Profitless IPOs; The tweet of the year.
1) Wow. It speaks to the quality of Justin Hughes' presentation  that the stock of ATM operator Cardtronics (CATM) dropped like a stone, falling more than 10%, shortly after my e-mail went out yesterday just after 1:30 p.m., as you can see in this intraday chart:
Q1 hedge fund letters, conference, scoops etc
Ray Dalio At Robin Hood 2021: The Market Is Not In A Bubble
At this year's annual Robin Hood conference, which was held virtually, the founder of the world's largest hedge fund, Ray Dalio, talked about asset bubbles and how investors could detect as well as deal with bubbles in the marketplace. Q1 2021 hedge fund letters, conferences and more Dalio believes that by studying past market cycles Read More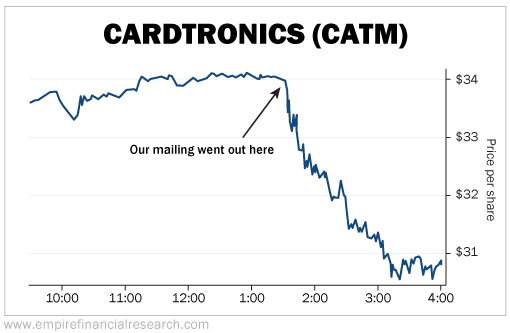 2) I want to share a personal story that I think provides an illuminating case study of how small start-ups are taking sales away from incumbents...
I've long recommended Facebook's (FB) stock and am a regular user of the app, but I tend to quickly skip through ads and don't recall ever clicking on one, much less buying something... until last week when, for some reason I can't pinpoint, I clicked an ad for Rhone shorts. At $88, they were pricey, but I figured why not give them a try – they have a 45-day return policy.
I got them last week, have worn them a few times, and love them so much that I just ordered another $374 worth of shorts, shirts, and a bathing suit. (I hate to shop for clothing, so when I find something I like, I tend to go all in! Also, they gave me this referral code for my friends – you can save $20 on any order over $50, and I get some sort of credit as well.)
There are two lessons relevant to investors here: First, wow, did Rhone ever get a payback on that Facebook ad! I don't know how much it paid, but I'll bet that it was very cost-effective, even if there was only a 0.5% clickthrough rate. How much of Rhone's marketing budget do you think is spent on traditional media (print, TV, radio)? Zero, I'll bet...
Second, it shows how small start-ups (Rhone was only launched in 2014) can quickly generate meaningful sales by cleverly using Facebook, Google, and Instagram, taking sales away from well-established (and, typically, high-cost) incumbents.
Other examples that come to mind – all of which I use and love – are Warby Parker glasses, Bonobos shirts (bought by Walmart), Bombas socks, and my good friend Porter Stansberry's own OneBlade razor. Or look at what all of the small, craft brewers are doing to Anheuser-Busch InBev (BUD)...
Individually, these companies are a minor nuisance to the big players. But collectively, they can be like a pack of piranhas. This is a new phenomenon that every investor needs to consider carefully, especially when investing in incumbent players...
3) It's great to see more women starting hedge funds. It's an embarrassment that there are so few – not to mention it's a detriment to investors, as every study shows that women are better investors than men due, no doubt, to less testosterone and overconfidence, leading to less portfolio churn, lower leverage, and better avoidance of risk. Women-led hedge funds try to crack the boys' club. Excerpt:
48% of the funds' investor relations teams are women but in portfolio management it is only 10%.
And among those actually running funds, women are even rarer...
Yet finally there are signs of an infusion of women at the top. Six years after Morgan Stanley's inaugural event, the number of female managers attending the bank's Women's Investment Roundtable had tripled.
For the first time ever, many of the highest-profile hedge fund launches this year are led by women. They include: Impactive Capital, an activist investing fund run by Lauren Taylor Wolfe; Snowcat Capital, an alternative risk premia fund run by Rebecca Pacholder; Bayberry Capital, a long-short equities fund run by Angela Aldrich; and Martlet Asset Management, an alternative risk premia fund run by Jane Buchan.
Note: Angela Aldrich of Bayberry Capital pitched the short of Treasury Wine Estates, which I covered in my May 15 e-mail.
4) More evidence that we're in an IPO bubble: We're approaching the 2000 peak of the percentage of companies (nearly 90%!) that are going public while losing money: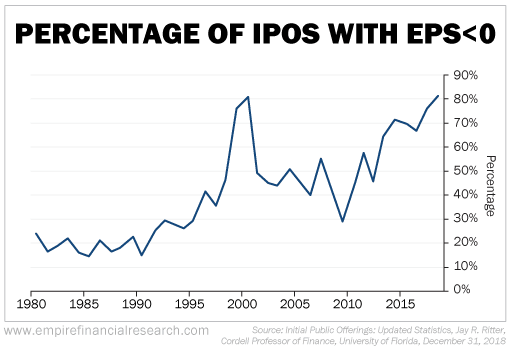 5) ZeroHedge with the tweet of the year: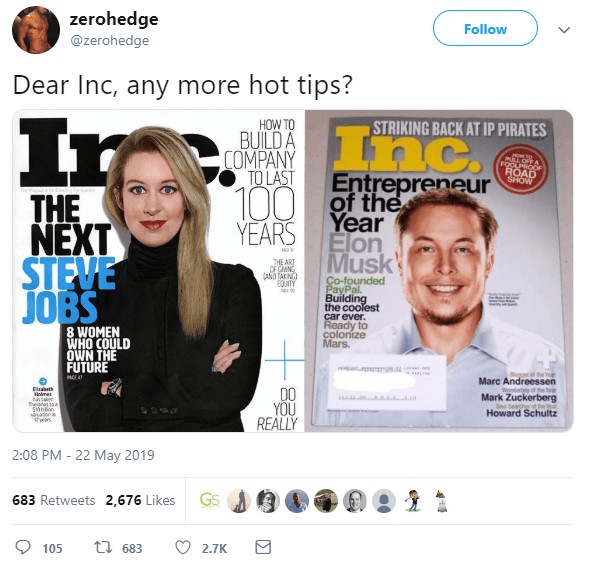 Best regards,
Whitney