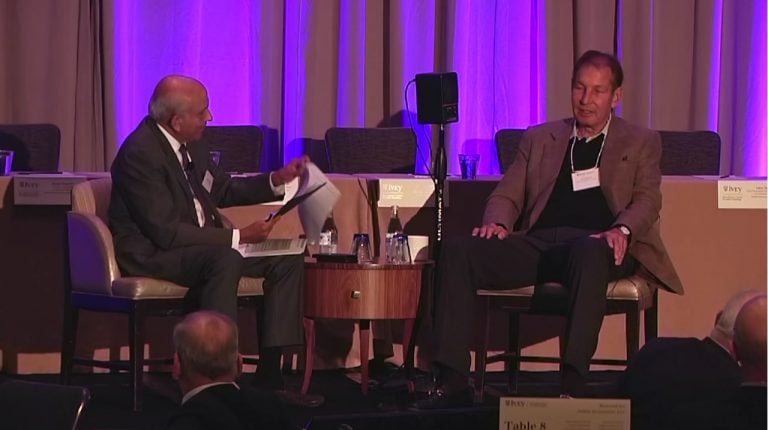 Kiril Sokoloff, Founder and Chairman of 13D Global Strategy & Research, was the Keynote Speaker at the Ben Graham Centre for Value Investing's 2019 Value Investing Conference in Toronto, Ontario, Canada. Mr. Sokoloff sat down for a conversation with Prem Watsa, Chairman and CEO of Fairfax Financial Holdings Ltd., to discuss the topic "Opportunities and Risks in the World Economies and Stock Markets".
2019 Value Investing Conference Keynote Speaker: Kiril Sokoloff
Q1 hedge fund letters, conference, scoops etc
Transcript
Seth Klarman Describes His Approach In Rare Harvard Interview
In a rare interview with Harvard Business School that was published online earlier this month, (it has since been taken down) value investor Seth Klarman spoke at length about his investment process, philosophy and the changes value investors have had to overcome during the past decade. Klarman's hedge fund, the Boston-based Baupost has one of Read More
Well Prem, thank you for inviting me. I can't imagine a group that I would more rather be talking to than value investors because I'm the ultimate contrarian and being a contrarian is a very lonely place to be. And it's hard to run a business. Being a contrarian. But it's my passion so I'm most happy when I'm the only person doing something I think would be interesting is to talk about the signals that I've used as a indicator. So one of them is by when they're giving it away. But I say give away. I mean literally giving away. So it's 1977. I'm walking up the streets of Manhattan with a guy who is works for us trust. He is a trustee of this estate. He said Today we sold a triplex on East End Avenue for one dollar he cuts the maintenance was too high. Three thousand dollars in bonds at that time you could buy a townhouse in New York City for forty thousand but they were giving it away literally giving it away. So fast forward then we had double digit inflation double digit interest rates. Stocks were selling way below breakup value 13 days.
Now my company is filing with the S.E.C. if you buy 5 percent of a public company. So I got involved in that weighed about 180 of our investments taken over. You need a catalyst in this case which Mike Milken then the next day was very sick. Big companies were rushing into areas at the peak of a cycle. They all buy and then they all sell. So the big oil companies in the late 70s bought all these metal and mining companies and they just became so ugly by eighty four that were just you know just take it. So a friend of mine was a controller at ARCO and he got a aluminum smelter from them for 0 two years later it was generating 100 hundred million of profits. I mean how many times. Fantastic. It's just it's just classic. In nineteen eighty five the dollar had gotten extremely strong and the US export competitiveness was just eviscerated. And if you'd gone into a caterpillar dealership and said you would take over your business here are the keys. I hate this business the caterpillars were given away for free. The business was going for free. So these opportunities don't happen all the time but when they do it's great. Now let's look at the 2015 we had of course the big commodity boom from 2002 say to 2011 depending on what it was.
In the case of iron ore in some cases it was oil and other cases peak early in some cases. But as usual the big mining companies forgot asset allocation forgot discipline invested hugely in capacity. They all were producing too much. They all were hemorrhaging. And that's the management gets kicked out new management comes in. They don't work in another barge one comes in and finally they end up just divesting of all the stuff they paid a fortune for. So the summer of 2015 the major commodity producers were just selling stuff that they bought for eight and 10 billion for a couple of hundred million. Another example by when they're giving it away. And that was the time to buy that whole commodity sector went down a little bit more for a couple of months. But that was the bottom. And you can see some of these BHP and others are hitting new highs. Another indicator I use is an entrenched perma bear or form of bull who gives up. Julian Robertson is a great friend of mine. He would say the same thing I'm saying. He closed his value hedge fund which was the largest the day the Nasdaq peaked in March 2000. Andy Hall a perma oil bull close to his fund in August 2017 when oil was forty two but then it went up to eighty five. Aubrey McClendon who another client of mine who destroyed the natural gas industry by overproducing and I warned him all the way I said you know you're making a mistake here. He said I want to kill King Coal. All right really mad it kills. King called Billy kill the natural gas industry.
Updated on