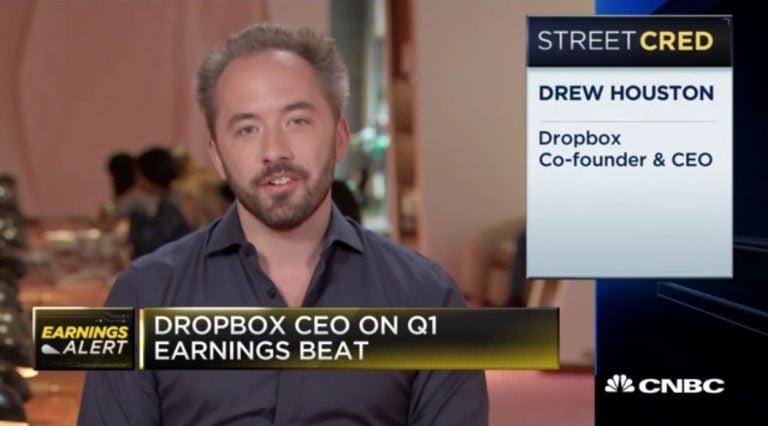 CNBC Exclusive: CNBC Transcript: Dropbox CEO Drew Houston Speaks with CNBC's Deirdre Bosa Today
WHEN: Today, Thursday, May 9, 2019
WHERE: CNBC's "Closing Bell"
Hedge fund thesis for Spirit Airlines and AerSale, a recent SPAC merger
Prescience Partners returned 6.75% for the second quarter, underperforming the S&P 500's 8.55% return but coming out ahead of the Barclay Equity Long/ Short Index's 2.62% return. However, for the first six months of the year, Prescience is up 30.66%, doubling the S&P's 15.25% return and smashing the Barclay Equity Long/ Short Index's 9.27% return. Read More
The following is the unofficial transcript of a CNBC EXCLUSIVE interview with Dropbox CEO Drew Houston and CNBC's Deirdre Bosa on CNBC's "Closing Bell" (M-F 3PM – 5PM) today, Thursday, May 9th. The following is a link to video of the interview on CNBC.com:
Q1 hedge fund letters, conference, scoops etc
Dropbox CEO Drew Houston breaks down the company's earnings report
SARA EISEN: Shares of Dropbox trading higher, up almost 4% after hours, after an earnings beat. Our Deirdre Bosa is back now along with us and she brings a special guest, Dropbox CEO Drew Houston, to break down the numbers. Deirdre, take it away.
DEIRDRE BOSA: Yeah, thank you  Sara. And Drew, thanks so much for being with us in San Francisco this quarter. Now, you've managed to beat expectations every quarter as a public company, and you've improved some key metrics like paid users. But your shares have underperformed the broader markets during that time since you've been a public company. So what is it the markets are missing or do you think that perhaps they want you guys to move faster?
DREW HOUSTON: Well, we've had a great first year as a public company, and every quarter meeting or exceeding our expectations and we've had a great start to this year too. So we're really happy with our results. And as I told our team when we went public, our stock price will fluctuate for a while and so a little bit of volatility in the first year is totally normal. We've had a great start to this year across the board. As you said, growing revenue by 22% year over year, over 13 million paying users now. So, we're really excited about how we're doing.
DEIRDRE BOSA: Right, it was another good quarter but of course we're waiting to get that guidance on the call. But I want to talk to you, stay on this sort of how you've been as a public company. Now, you guys went public with losses. How much did that matter on your roadshow or how much were investors questioning that? And why do you think this is such a huge sticking point and such a major point in the narrative for companies like Uber and Lyft? Are investors more focused on it or is it because your losses are just so much bigger than anything we've seen before?
DREW HOUSTON: Well, investors really appreciated the stability and steady growth of our business. And the fact that we've been free cash flow positive the last few years is a big selling point for a lot of them. And so that's been our focus as a company and I think that's contributed to some of the stability in the stock. And you know, it's hard to say -- the companies that are going public with higher growth but big losses, it will just be a different profile. We'll see what happens.
DIERDRE BOSA: Right. Certainly a different business model. Now, Uber of course, is going public tomorrow. We can't avoid it. And I know that you know Travis Kalanick personally. We now know he's not going to be up here on the balcony tomorrow ringing that bell, he's going to be down here on the floor. As a founder yourself, do you think that this is the right decision? Who's done more to grow this company, Dara or Travis?
DREW HOUSTON: Well, I think -- I wasn't close to that decision. I think Uber's an amazing company. I think they should all be very proud of what they've built. I think Travis should be very proud of starting the company and leading it to what it's become and then Dara's also done a great job as CEO. I think it's a great milestone. I think they should celebrate it.
WILFRED FROST: Drew, thanks for joining us. The 20% or so revenue growth, it was a little ahead of expectations. Some of which, though, comes from ARPU growth, average revenue per user growth, which also slightly beat expectations. How many more levers have you got to pull on that point in order to maintain the overall top line growth?
DREW HOUSTON: Well, two of the biggest levers that we continue to improve are our subscriber growths and then the average revenue for subscriber, or ARPU growth. And both are a focus of us -- both are a focus for us. And the ARPU growth has been driven by adoption of higher tier plans, whether that's higher tier individual plans or the business version of Dropbox. As we've added new functionality to the product, for example, this quarter we rolled out an integration with G-suite where you can have Google docs sheets inside Dropbox, things like that drive engagement and then drive value and then as people see more value in Dropbox they buy higher tier plans.
DEIRDRE BOSA: Hey, Drew, my last question for you, Slack is getting ready to go public and some people are drawing the comparison to you guys and Slack, the low sales and marketing costs, the word of mouth business model. So has being a public company helped you guys expand further into enterprise and do you think that will be a positive thing for Slack?
DREW HOUSTON: Yeah, absolutely. I mean, and Slack and Zoom are great companies and examples of folks that have a similar model to us. So we -- in our case people start using Dropbox at home or as an individual. They bring it to work and start using it as a team. And adoption scales virally and organically, and which contributes to lower sales and marketing costs and we're really efficient in scaling the business that's been how we've -- that's been a big part of how we've done and then I think Slack and Zoom -- I'm really excited for slack. They've built a great company. And I think it will be fun to see them in the public market.
DEIRDRE BOSA: Certainly, Drew. Thank you very much for being with us today.
DREW HOUSTON: Thank you.