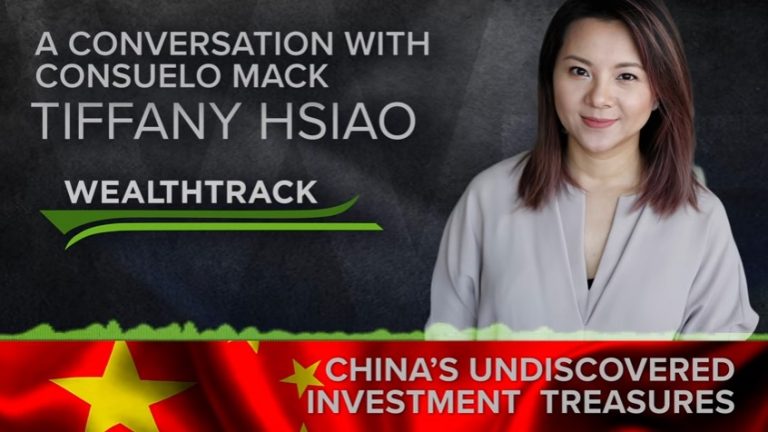 Chinese small company stocks are an undiscovered asset with enormous potential. Tiffany Hsiao, the lead portfolio manager of Matthews China Small Companies fund explains the attraction.
Tiffany Hsiao: Unlocking China's Undiscovered Treasures With Matthews China Small Companies Fund's, Tiffany Hsiao
Peter Lynch: How Investors Can Find Their Edge
Peter Lynch was one of the best growth investors of all time. As the Magellan Fund manager at Fidelity Investments between 1977 and 1990, he averaged a 29.2% annual return. Q1 2021 hedge fund letters, conferences and more The fund manager's investment strategy was straightforward. He wanted to find growth companies and sit on them Read More
[REITs]
Q3 hedge fund letters, conference, scoops etc
Transcript
Hello and welcome to this podcast edition of wealth track I'm Consuelo Mack. Our focus today is investing in China. Specifically it's robust small company universe an asset class mostly overlooked by U.S. investors. Our guest is Tiffany Hsiao. She is lead portfolio manager of Matthews China small companies upon which she has led since 2015 raided Forestar by Morningstar Matthews.
China small companies fund has delivered benchmark and Pyr beating annualized returns of 6 percent over the last five years and 10 percent over the last three placing it in the top 20 percent of all China region funds. However it has not escaped the pressure of China's 2018 bear markets. The fund has declined in recent months. Tiffany welcome to wealth track and excited to be here. TIFFANY I'm going to start with a big picture question why China now. When the world's second largest economy is slowing down its offshore and onshore markets are in bear markets its leadership under President Xi is consolidating power and his trade relationship with the U.S. a key trading partner is under stress.
Great question. So the way we look at China is that we try to identify areas of structural growth. So even though China they off the very large base is going to slow. Each and every year by just a little bit there are still many areas within China that can find long term structural growth where we could comfortably generate alpha phi investors.
That's a good reason. All of the the negatives or certainly challenges that I mentioned in the question we can invest in China whenever we want to. And the question is why now. In particular would this be a good time to enter the Chinese market.
So beside the fact that China is a lot cheaper and now the key there is what hasn't changed is China structural growth towards a more consumption and services led economy. So you have to remember that the China we're investing in today is very different than the China that a lot of Americans may have an impression of 20 30 years ago the Chinese economy today is 80 percent driven by consumer and services and discretionary parts of its economy. And those structural forces are very much at play. Even though the overall numbers as you can see from the GDP numbers on industrial production or even retail sales numbers well seem to have come off year by year. But that's really just a lot of large numbers. It's a large base for a economy of its size. We expect that a slower and more sustainable growth rate is actually a positive thing for China in terms of catalyst for the economy though the government is very much focused on the areas that will continue to drive China structural growth. So with government support in areas such as semiconductors or biotech or software industries we see a lot of opportunities to invest in China that are relatively immune from some of the macro risks that you've highlighted .
All right. So that's really interesting. So you're the lead portfolio manager of the Mathew's China small companies fund which is ranked in the top fifth of China region funds by Morningstar. For the last three and five years and your performance you've outperformed your MSCI China Smallcap index and which is why Morningstar has ranked you so high. But I've asked the question about why we should be interested.