Logos LP year end commentary discussing the Santa Claus rally and what they think of 2019.
Santa Claus rally? No Santa Claus rally? Naughty or nice? One thing is for sure the last two weeks on Wall Street have been gut wrenching. Not for the faint of heart. During that time, the major U.S. stock indexes have suffered losses that put them on track for their worst December performance since the Great Depression. Investors have also been gripped by volatile swings in the market as they grapple with a host of issues.
The S&P 500 has logged six moves of more than 1 percent over the period, three of which were of more than 2 percent. For context, the broad index posted just eight 1 percent moves in all of 2017.
Q3 hedge fund letters, conference, scoops etc
The Dow Jones Industrial Average, meanwhile, has seen seven days of moves greater than 1 percent. Its intraday points ranges also widely expanded. The 30-stock index has swung at least 548 points in eight of its past nine sessions, and also posted its first single-day 1,000-point gain ever on Wednesday. The index ended down 76 points Friday after vacillating throughout the session.
These moves are remarkable and what has been equally remarkable has been that fact that many pundits and astute market veterans haven't had much of a satisfying explanation; fears of the Fed after Chairman Jerome Powell said he did not anticipate the central bank changing its strategy for trimming its massive balance sheet, a U.S. federal government shutdown, disfunction in Washington (almost every part of Trump's life is now under investigation), slowing global growth, weaker data coming out of the U.S., "end of cycle", and thus fears of a recession. All of which seem convincing as a root cause of this vicious selling. Watching CNBC has been almost comical with pundits like Jim Cramer recommending gold one day only to see markets move higher and then recommends nibbling on stock the next.
2018 was the year nothing worked: In fact, in 2018, just about every single asset class one can invest in — from stocks around the globe to government debt to corporate bonds to commodities — have posted negative returns or unchanged performance year to date.
Even during the financial crisis in 2008, government bonds and gold worked...
What gives?
Our Take
While any 20 percent sell-off hurts (both the Russell 2000 and Nasdaq led the way into bear market territory. The S&P 500 (-19.8%) and the Dow 30 (-18.8%) did manage to fall just short of the 20% threshold yet the average stock is down far more than that) the one happening now is far from unheard of in terms of depth or velocity. Over the past 100 years, there are almost too many examples to count of stocks tumbling with comparable force.
THIS IS INEVITABLE AND NORMAL. WELCOME TO THE STOCK MARKET.
Investors over the Holidays have time to reflect on history, now that stocks have avoided a fourth straight down week via the biggest one-day rally since 2009. After coming within a few points of a bear market on Wednesday, the damage in the S&P 500 stands at 15 percent since Sept. 20.
This is normal but seems abnormal because we are all talking about it from morning to night.
As we are reminded by a recent article in Bloomberg: "A fair amount of complaining has gone on in recent months about the role of high-frequency traders and quantitative funds in the drubbing that reached its peak around Christmas. Perhaps. Those groups are big, and in the search for villains, they make easy targets. Treasury Secretary Steven Mnuchin is among the people who have made the connection.
One thing that makes it tough to lay blame for the meltdown on machine-based traders is the many past instances when markets fell just as hard without their help. The Crash of 1929 is one big example. However bad this market is, it's a walk in the park compared with then."
This pattern holds for the Dot-com Bust (S&P 500 lost 35 percent over the course of two months), Black Monday of 1987 (S&P 500 rose 36 percent between January and August 1987 in what was set to be the best year in almost three decades. Then the October sell-off pushed the S&P into a 31 percent correction over just 15 days), 1974 Sell-Off (the S&P 500 saw the index fall 33 percent in 115 days as a weakening economy, rising unemployment and spiking inflation pushed investors to head for the exits. Stocks subsequently rebounded, surging more than 50 percent between October 1974 and July 1975), 1962 Rout (S&P 500 Index lost a quarter of its value between March and June 1962), Not so Fat '57 (20 percent correction over 99 days in 1957).
Last I checked there were no high frequency traders then BUT there were equally dysfunctional administrations and equally irrational humans…
The selling is likely overdone. When the SP 500 peaked in late September '18, the forward 4 quarter estimate was $168.72; today, that same estimate is $169.58. The point is with the S&P 500 index falling some 15%, the forward estimate on which it's valued is actually slightly higher. The question is will these estimates hold. Clearly the stock market is not so sure despite the fact that the U.S. economy is in a good position to sustain a 2.5-3 percent growth rate in 2019.
With the selling frenzy pushing stock prices lower, investors are now pricing in zero growth in earnings for 2019. Is this reasonable? 2018 earnings will come in at around $162 for the year. Clearly, the market has lost a lot of confidence in the staying power of earnings and the health of the economy. If we apply a conservative 14-15 multiple to that, it yields a range for the S&P at 2,268-2,430. So with the index closing at 2,488 Friday, we are just above that range. The issue is that the stock market generally to overshoots in either direction when it sees change. Emotion takes over and causes the rapid move.
Despite existing negativity, the market's valuation has changed for the better. The S&P 500 is actually heading into 2019 with a P/E ratio right in line with its historical average going back to 1929. And if you look just at the last 30 years going back to 1990, it is actually undervalued.
Unless one sees another financial crisis upon us (which at this time we do not), the probability is high that this could also mark a near term low.
As for investor sentiment, bearishness sits at record highs. In fact, half of individual investors now describe themselves as "bearish" for the first time since 2013. The latest AAII Sentiment Survey shows greater polarization, with neutral sentiment falling to an eight-year low.
On December 24 73% of financial stocks hit 52-week lows. That exceeds all days from the worldwide financial crisis…
In the past 28 years, there have been 2 times when every stock in the 2&P 500 Energy sector was below their 10-, 50-, and 200 day average and more than half were trading at 52 week lows.
1) During the depths of the 2008 financial crisis
2) Now
The pendulum of the market may be set for a swing in the other direction.
A Few Things We Like for 2019 That We Have Been Nibbling On During The 2018 Rout
Cerner Corp. (CERN:NASDAQ): major player in the healthcare IT industry as its software is highly integrated into the operations of several large provider networks. The firm has internally developed much of its software, which makes its product lineup close to seamless and effective within the healthcare IT sector. The secular demand tailwinds for Cerner's products are robust given ACA mandates that require providers to upgrade their health records management systems. This highly positive trend will be enhanced over the next several years by changing payer reimbursement structures. Trading at a roughly 30% discount to intrinsic value (earnings based DCF), 10 year low P/E, P/S and P/FCF.
CGI Group Inc. (GIB.A:TSX): deeply embedded in government agencies across North America and Europe. Gained greater scale with its acquisition of Logica in 2012. This scale will allow the firm to better meet the needs of global clients. The firm has a backlog of signed contracts of more than CAD 21 billion, with an average duration of approximately five to seven years. Growing IT complexity is expected to support long-term demand for IT services as companies look to simplify and streamline their IT landscape. Trading at a roughly 20% discount to intrinsic value (earnings based DCF), attractive 10 year low p/e, PEG ratio and EV/EBIT.
Chart(s) of the Month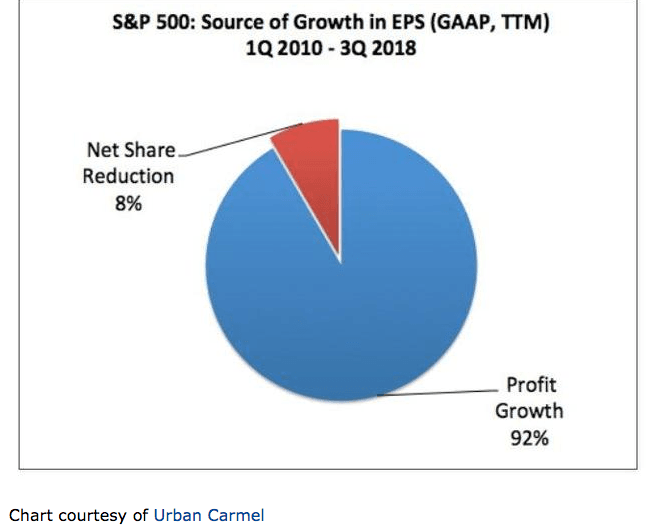 "Equity prices are said to have far outpaced earnings during this bull market. In fact, better profits accounts for about 70% of the appreciation in the S&P over the past 8 years. Of course valuations have also risen, that is a feature of every bull market, as investors transition from pessimism to optimism. But this has been a much smaller contributor. In comparison, 75% of the gain in the S&P between 1982-2000 was derived from a valuation increase (that data from Barry Ritholtz)."
Musings
I began reading a fantastic book over the break which I highly recommend entitled "The Laws of Human Nature" by Robert Greene. The book takes as its fundamental premise that we humans tend to think of our behaviour as largely conscious and willed. To imagine that we are not always in control of what we do is a frightening thought, but in fact is the reality. We live on the surface, reacting emotionally to what people say and do. We settle for the easiest and most convenient story to tell ourselves.
Greene writes: "Human nature is stronger than any individual, than any institution or technological invention. It ends up shaping what we create to reflect itself and its primitive roots. It moves us like pawns. Ignore the laws at your own peril. Refusing to come to terms with human nature means that you are dooming yourself to patterns beyond your control and to feelings of confusion and helplessness."
These principles are all the more relevant in light of 2018's market action. What is interesting is that like this sell off (including the cryptocurrencies sell off), when we look back at other selloffs like that of 2008, most explanations emphasize our helplessness. We were tricked by greedy banking insiders, mortgage lenders, poor government oversight, computer models and algorithmic traders etc.
What is often not acknowledged is the basic irrationality that drove these millions of buyers and sellers up and down the line.
They became infected with the lure of easy money. The taste of wealth and the envy of their fellow market participants appearing to make effortless gains.
This made even the most rational, experienced and educated investor emotional. Hungry for his own slice of the action. Ideas were rounded up to fortify such behaviour such as "this is game changing technology, this time it is different and housing prices never go down". A wave of unbridled optimism takes hold of the mind and panic sets in as reality clashes with the story most people have accepted.
Once "smart people" start looking like idiots, fingers begin to get pointed at outside forces to deflect the real sources of the madness. THIS IS NOTHING NEW. IT IS AS OLD AS THE HUMAN RACE.
Understand: Bubbles/corrections/bear markets "occur because of the intense emotional pull they have on people, which overwhelm any reasoning powers an individual mind might possess. They stimulate our natural tendencies toward greed, easy money, quick results and loss aversion."
It is hard to see other people making money and not want to join in. It is also equally hard to watch one's assets drop in value day after day. THERE IS NO REGULATORY FORCE ON THE PLANET THAT CAN CONTROL HUMAN NATURE.
As such, as demonstrated above, the occurrence of these selloffs will continue as they have until our fundamental human nature is altered or managed.
As such, it is important during these periods that we look inward to acknowledge and understand the true causes of these phenomenon and even take advantage of them as they occur. The most common emotion of all being the desire for pleasure and the avoidance of pain. The most meaningful experiences of pleasure typically follow the most most meaningful experiences of pain…
Logos LP July 2018 Performance
November 2018 Return: 0.15%
2018 YTD (November) Return: -11.06%
Trailing Twelve Month Return: -7.60%
CAGR since inception March 26, 2014: +14.06%
Thought of the Month
"If you have trouble imagining a 20% loss in the stock market, you shouldn't be in stocks."

-- John Bogle
Articles and Ideas of Interest
2018: The Year of the Woeful World Leader. Trump, May, Macron, Merkel. Italy, Spain, Sweden, Latvia. Even the dictators stumbled. So much bad governing, so little time.
What the Fall of the Roman Republic can teach us about America. The bad news is that the coming decades are unlikely to afford us many moments of calm and tranquillity. For though four generations stand between Tiberius Gracchus' violent death and Augustus' rapid ascent to plenipotentiary power, the intervening century was one of virtually incessant fear and chaos. If the central analogy that animates "Mortal Republic" is correct, the current challenge to America's political system is likely to persist long after its present occupant has left the White House.
Low fertility rates aren't a cause for worry. AI, migration, and being healthier in old age mean that countries don't need to rely on new births to keep growing economically.
Start-Ups aren't cool anymore. A lack of personal savings, competition from abroad, and the threat of another economic downturn make it harder for Millennials to thrive as entrepreneurs.
This McKinsey study of 300 companies reveals what every business needs to know about design for 2019. In a sweeping study of 2 million pieces of financial data and 100,000 design actions over five years, McKinsey finds that design-led companies had 32% more revenue and 56% higher total returns to shareholders compared with other companies.
What do we actually know about the risks of screen time and digital social media? Some tentative links are in place, but many crucial details are fuzzy.
Start-up economy is a 'Ponzi scheme,' says Chamath Palihapitiya. Tech investor Chamath Palihapitiya addressed concerns about his investment firm, Social Capital, while also calling the start-up economy "a multivariate kind of Ponzi scheme."
Missed a Post? Here's the Last 5:
Market Cycles
The Art of the Deal
Mistakes Happen
Do Bull Die of Old Age
Less Is More