Google Finance has finally hammered the last nail into the coffin.
Say goodbye to the perfectly good finance page, and say hello to the new trendy page that does less and takes 3x more clicks to show less.
This Tiger Cub Giant Is Betting On Banks And Tech Stocks In The Recovery
The first two months of the third quarter were the best months for D1 Capital Partners' public portfolio since inception, that's according to a copy of the firm's August update, which ValueWalk has been able to review. Q2 2020 hedge fund letters, conferences and more According to the update, D1's public portfolio returned 20.1% gross Read More
We all knew this was coming as Google has a habit of discontinuing perfectly well run apps.
I used Google mainly to:
look up quick quotes
chart multiple stocks
check what the market was doing
read news associated with some stocks I was tracking
Looks like more things to do on OSV
Many people used the Google portfolio, but I've included the link to our google sheets version that is still working. Hopefully they don't kill the GoogleFinance function from Google Sheets completely. Now that would be a disaster.
For a much better portfolio, you should also use the OSV portfolio function to accurately track your stocks and performance.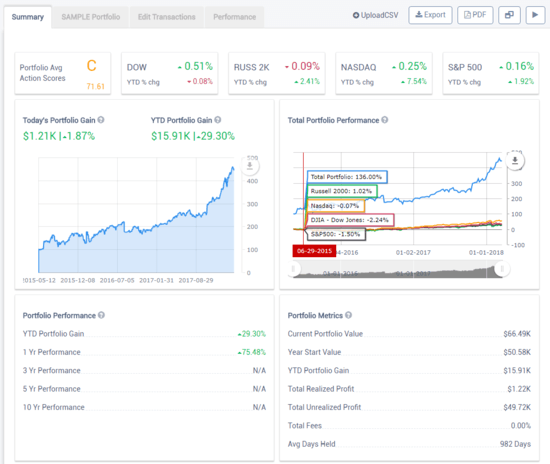 Old School Value Articles You May Have Missed
The Best Free Stock Portfolio Tracking Spreadsheet using Google Drive
Google Finance Portfolio Discontinued. Our Alternative Portfolio.
Free Stock News Aggregator Google Spreadsheet
What We're Reading in the Media
Here's a motivational photo to get your Wednesday started.
If the photo is squashed for you, click the link below the photo to see the full size.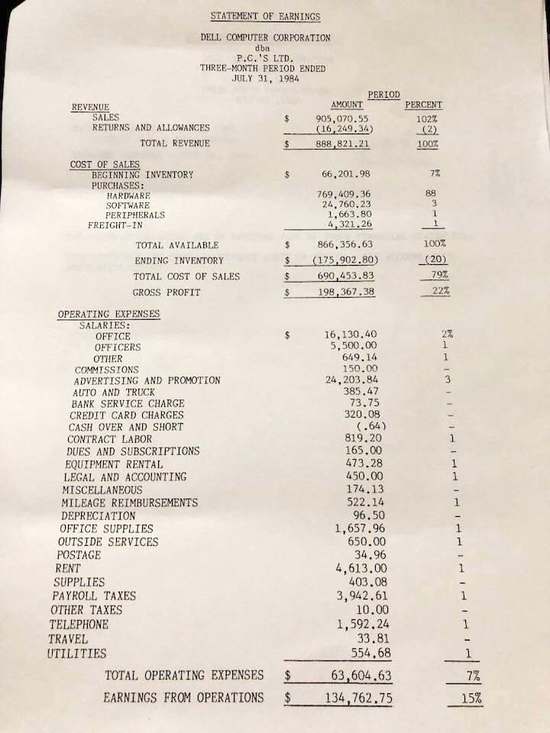 This is Michael Dell's first financial statement for Dell when it doing business as P.C.'s LTD.
It's a quarterly income statement showing
Total revenue of $888K
22% gross margins
He paid himself $1,833 a month
Only spent 2.7% of revenue on ads
Obviously traveled in first class by spending $33.81 on travel
Telephone bill is one of the top expenses. Must have cold called everyone.
15% operating margins
Like any start up, it was a lean and mean operation which Dell used to take over market share to become one of the biggest computer brands in the world.
A lesson for any entrepreneur on how to run a business.
​Mr. Buffett on the Stock Market The most celebrated of investors says stocks can't possibly meet the public's expectations. As for the Internet? He notes how few people got rich from two other transforming industries, auto and aviation.
A 1999 Fortune article by Buffett and Carol Loomis discussing the market hype and expectations of "investors". A year later, the dot com bust rears its ugly head and Buffett is proven right. And the only tool he uses is common sense and basic valuation.
Ultimately, an investment is judged on what price you pay. There are two ways to profit in the stock market.
1. Buy low and sell high.
2. Buy high and sell higher.
#1 is the typical value investing approach. #2 is the Buffett and Munger approach of buying fair valued or buying at a premium expecting it to become a behemoth.
In any case, an article definitely work re-reading again.
Other reading links:
What is Old School Value?
Old School Value is a suite of value investing tools designed to fatten your portfolio by identifying what stocks to buy and sell.
It is a stock grader, value screener, and valuation tools for the busy investor designed to help you pick stocks 4x faster.
Check out the live preview of AMZN, MSFT, BAC, AAPL and FB.