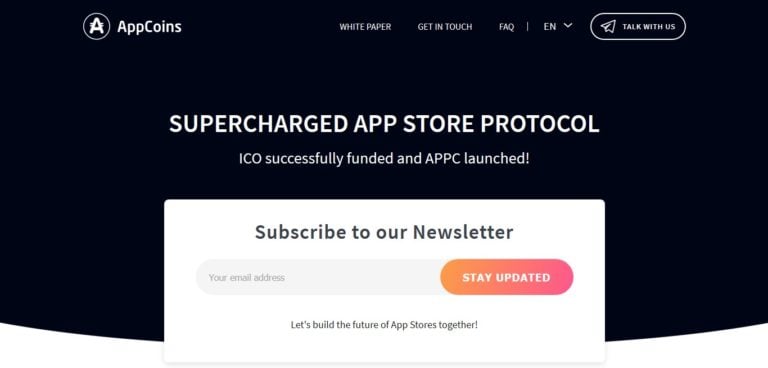 The world of cryptocurrencies is ever changing. With it come new cryptocurrencies on what seems like a daily basis. Just in the past 24 hours, CoinMarketcap.com added 15 new cryptocurrencies. With growth at that speed, it's hard to keep track of everything, especially with some being only traded on a single exchange.
There are some newer coins that have seen great traction and have already been listed on larger exchanges like Binance. This is not investing or financial advice, this is just a quick look at several new cryptocurrencies.
After 10.1% Return In 2020, Mohnish Pabrai Changes Strategy [2020 Letter]
Mohnish Pabrai's flagship hedge fund, the Pabrai Investment Fund II, returned 29.6% in the second half of 2020. Following this performance, the fund returned 10.1% net for the year, underperforming the S&P 500 but outperforming the Dow Jones Industrial Average, which returned just 9.7%. According to a copy of the investment manager's year-end letter to Read More
APPCoins
APPCoins (APPC), as the name implies, is blockchain technology for app stores. It wants to fix what it sees as problems in the app ecosystem. These problems include the inefficiency of mobile advertising with its layers of intermediaries. It also looks to solve inaccessibility of in-app purchases as it states only 5% of users are making them. Finally, it want to add transparency to the app approval process. They are supported by the Aptoide Android app store.
Almost three weeks ago Binance announced new cryptocurrencies being listed and APPCoins was one of them. A few days after that it was listed on CoinMarketCap. Since then, it has had quite the wild ride. On the 8th, it was at $2.45 and it rode a wave up to about $4.50. Since then it's been on a downward slide falling all the way to $1.35 today.
INS Ecosystem
INS Ecosystem is a blockchain platform for grocery manufacturers and consumers. It is looking to do both payment processing with a low 1% transaction fee and a loyalty rewards program. That's all for direct purchase between consumers and manufacturers. It aims to bypass the grocery stores with groceries bought online. The advantage for the manufacturers is that they control their product listing and price, they can market directly to consumers and have closer interaction with those same consumers. It's gained some interest from consumer packaged goods makers already.
It was listed on CMC on the 12th, and on Binance on Jan. 15th. The token sale was back in September with a total of 50 million INS tokens. Currently there are 27.8M in circulation. When it was listed on CMC it opened the day at $4.93 and quickly launched to $9.00 before settling in the middle at $6.82 at the end of the day. Since then it's reached nearly $12.00 but is trading today at just below its starting price. The market cap is at $135M with some pretty low volume this week.
IOSToken
The Internet of Services token is looking to revolutionize online services. The IOSToken is aimed at high transaction throughput, 100,000 transactions per second, and at horizontal scalability. What they are aiming to create is a platform that can handle online services with digital goods, think games and apps. Part of their technology is the Efficient Distributed Sharding and a Believable-First consensus. The prior is the distribution of data on various machines and uses Algorand and Omniledger.
IOST was added to CoinMarketCap.com just 9 days ago. In that time it has gone from around 2.5 cents to a high of around 13.6 cents. This week its volume jumped drastically and its market cap is up to $634M. There are nearly 6.8 billion IOST in circulation of a total of 21 billion. Today it is sitting at 9.4 cents.