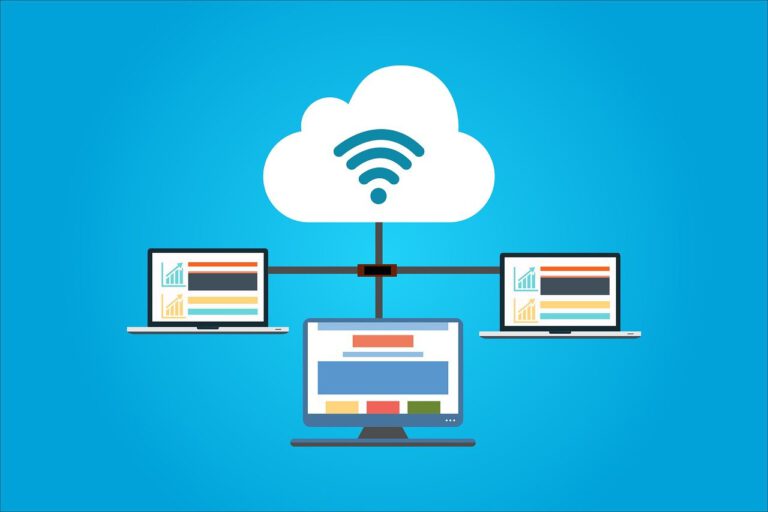 Cloud industry will grow from $371.4 Billion in 2021 to $832.1 Billion by 2025
TRUiC Analysts just released their latest report on web builders
Q4 2020 hedge fund letters, conferences and more

The limitations of growth on Web hosting is merely macro-economic, with top Web hosting providers deploying various innovative ways of attracting new customers and increasing their share of the market. The top market players now offer free website builders and logo makers in a bid to capture market share in one of the most competitive but profitable marketplaces right now.
You may have heard that "It is all in the cloud": Not quite. actually, many data centers are underwater. Web hosting is a service that manages internet servers, web hosting providers facilitate this service by allowing corporations and private individuals to host websites and other content on the internet using their servers. Web hosting is the core function of most providers, yet the most successful market players offer additional resources, such as free or inexpensive website builders or logo designers to attract new customers and increase their market share. One thing all participants in the market knows, is that speed matters a lot - and they are all geared up to compete on this metric.
How A Weakening PE Market Serves As Another Sign Of A Weakening Economy
Amid the turmoil in the public markets and the staggering macroeconomic environment, it should come as no surprise that the private markets are also struggling. In fact, there are some important links between private equity and the current economic environment. A closer look at PE reveals that the industry often serves as a leading indicator Read More
The biggest players in the cloud
Clearly with Amazon, Microsoft and Google Cloud dominating this space, smaller brands had to be innovative to capture a share of the market - hence the motivation to launch tools such as web builders, logo makers etc.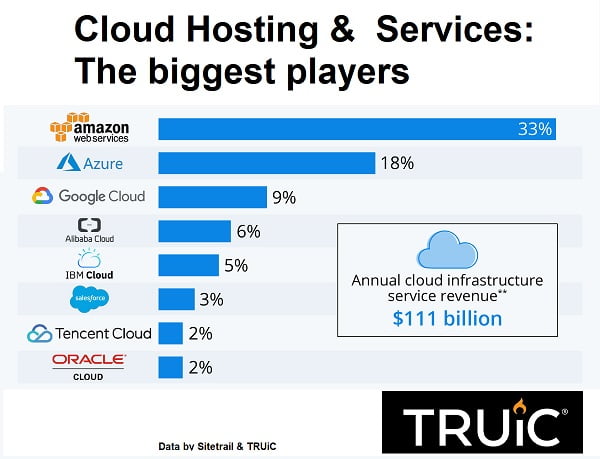 Web hosting providers offering website builders
Bluehost
Bluehost is one the biggest hosting providers worldwide and continues to grow in popularity due to its host of added features and competitive prices. Bluehost offers extremely affordable hosting plans that cover almost every aspect of their customers' hosting needs. BlueHost also includes the free Weebly website builder in their most basic plan. It is a very basic website builder with no templates, but customers can easily use it to create websites of up to six pages.
GoDaddy
GoDaddy offers a wide-ranging list of web hosting plans suited to all budgets and website needs. They are one of the fastest hosting providers with exceptional page loading speed and 99,97% uptime. They also offer their own website builder, GoCentral, an all-in-one website builder with integrated marketing tools and hundreds of designer-made templates.
Weebly
Weebly is considered one of the more powerful free web hosting providers with exceptional site speed and reliability. Weebly's website builder is one of the easiest to use, however it is limited in its range of add-on features and customization. Yet, unlike other free hosting platforms with website builders, Weebly's customers are not plagued by recurring ads.
Squarespace
Squarespace has a range of four hosting plans all offering unlimited bandwidth and storage. Sqaurespace's website builder is slightly more complex than your average drag-and-drop website builder, but customers will not find better quality templates or in-house features in other providers. Squarespace's website builder is not free but they do offer a free 14-day trial for customers to try out.
Wix
Wix is also one of the biggest hosting providers with over 1,1 million websites built on their website builder. Wix's most basic hosting plan includes the use of their free website builder allowing customers to create websites using all their templates, customers will however experience recurring ads. To avoid the ads, customers will have to opt for Wix's Combo or Business VIP plan, both of which carry monthly chargers.
Web hosting providers often use inexpensive and easy-to-use website builders to attract new customers. A vast majority of customers are people who originally only wanted to build a website and then found themselves needing a web hosting provider to host their website. The total number of websites a web hosting provider can power, sourced directly from their website builder can have a dramatic impact on their total market share.
Wix, Squarespace, GoDaddy and Weebly, in that order, are the top website builders with the most powered websites and although Squarespace, Wix and Weebly also have the most powered websites in the Top 1m, Webflow (2,67%), Bubble (2,36%) and Tilda (2,36%) have the highest percentage of websites, in relation to the total number of websites they host, on the list of Top 1m websites.
Regardless of the impressive standing of providers like Squarespace, Wix and Weebly, the website builders with the highest expected growth rate is Strikingly, expected to grow by 12%, Carrd by 11% and Webflow by 11%, and interestingly both Strikingly and Webflow offer web hosting plans.
Web hosting providers are using website builders to dominate the market
TRUiC analysts have produced a report on the best vendors to use when you want to build a website. Free and inexpensive website builders and logo designers are the perfect lure for web hosting providers in search of new customers. Customers are lured into building their website on a free website builder without realizing they will still require a hosting provider to host their website. There are countless website builders for people to build a website for free. Customers in need of easy-to-use website builders is simply another customer pool from which the top hosting providers draw new customers.
What are the implications for the web and cloud hosting industry?
The growing demand for easy-to-use website builders has significantly impacted the web and cloud hosting industry as well as how hosting providers are able to improve their share of the web hosting market by tapping into the website building market.
Web hosting providers are one by one adding website builders and logo designers to their range of hosting services. This has proven to work well for hosting providers like GoDaddy, Wix, Weebly and Squarespace.
Will this enable these players to square up against Microsoft, Amazon and Google? Judging by their recent growth on the S&P 500 (For example Wix), they may be onto the right path.
Updated on